Oral history interview of George Schmidt
Melena Grace Nicholson - November 01, 2023
Chicago Public School teacher and union activist, George Schmidt discusses his work as editor of Substance a newspaper covering public education that he helped found in 1975. A two and a half hour recording and a text of the interview are available at the Digital Commons, Columbia College website linked here.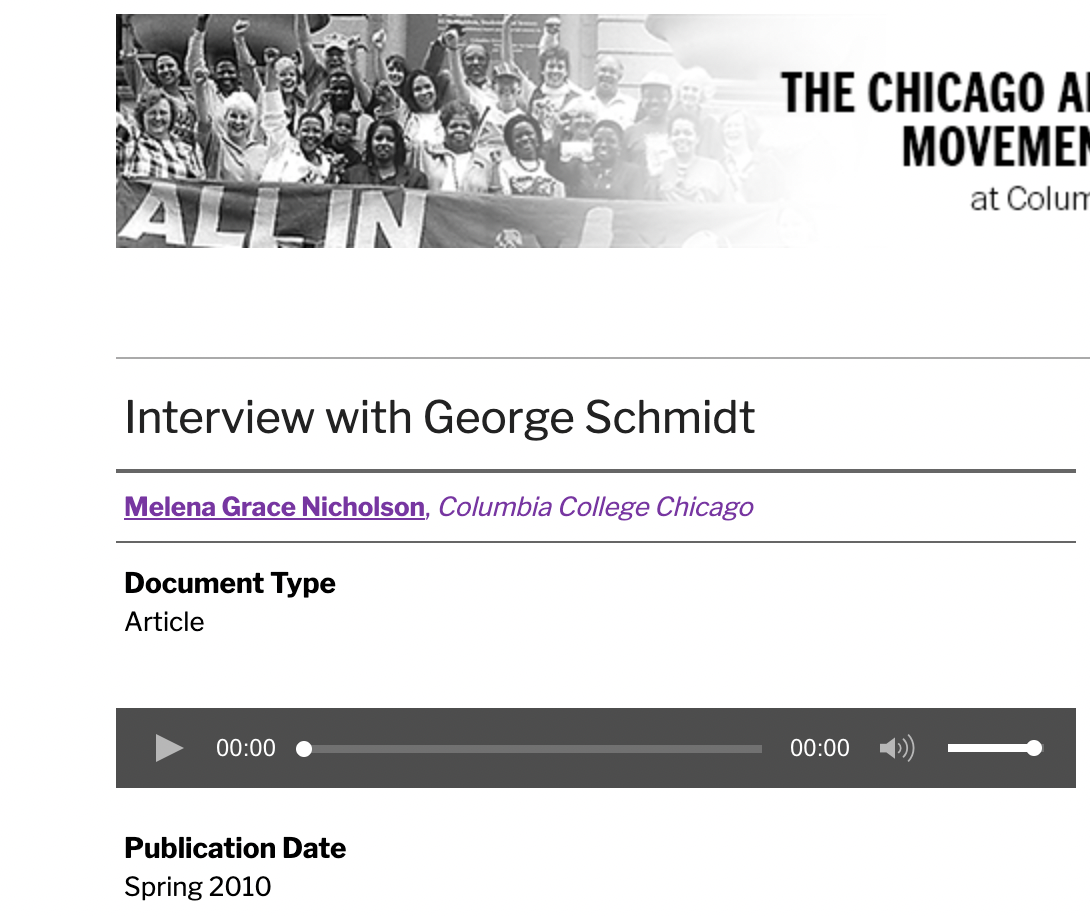 While many of us have written our memories and biographical sketches of George, his own words are so much better.
His activism was sparked during his college years and he recounts his work during his teaching career. He was involved in the G.I. movement and military counseling, working with ZANU (Zimbabwe African National Union), and people in Angola and Mozambique, before becoming a teacher. His interest in military counseling and the G.I. movement stems from his own parents' experience during World War II, where his mother, a nurse, served in Okinawa and his father served in the army, stationed in Europe. His mother returned to the states suffering from what is known as PTSD. Through his GI movement work is where he learned the business of publishing newspapers. During his Chicago Public School teacher career, he recounts establishing the newspaper Substance, and its impact in Chicago and on Chicago education.
Biography and Comments
George Schmidt was born and raised in New Jersey. The oldest of four children, he moved to Chicago in 1964 to attend college at University of Chicago, graduating with a degree in English and Humanities. He worked with soldiers, organizing against the Vietnam War during the 1960s and with African organizations and people in the anti-imperialist movement in the 1970s, primarily through the publication of underground newspapers. Those who had been part of the anti-war movement and the GI movement, including him, worked with SAMRAF, South Africa Military Refugee Aid Fund. He then taught English in Chicago Public Schools and was active in the Chicago Teachers Union. In 1975 he helped found Substance, a newspaper whose name derives from SUBS: Substitutes United for Better Schools.
The interviewer conducted this oral history as part of her coursework for the Spring 2010 class, Oral History: The Art of the Interview. Nicholson, Melena Grace. "Interview with George Schmidt" (Spring 2010). Oral Histories, Chicago Anti-Apartheid Collection, College Archives & Special Collections, Columbia College Chicago. http://digitalcommons.colum.edu/cadc_caam_oralhistories/15