Substance News to honor founder George Schmidt (1946-2018)
Sharon Schmidt - November 01, 2023
After Substance founder George Schmidt died in September 2018, many of us felt it was very important to keep Substance News alive and to continue George's work of advocating for economic justice, professional respect for teachers, democracy within the Chicago Teachers Union, and improved public schools. So from October 2018 until May 2020 I edited the website, and from June 2020 through April 2023 John Kugler ran the site. But Substance isn't Substance without George.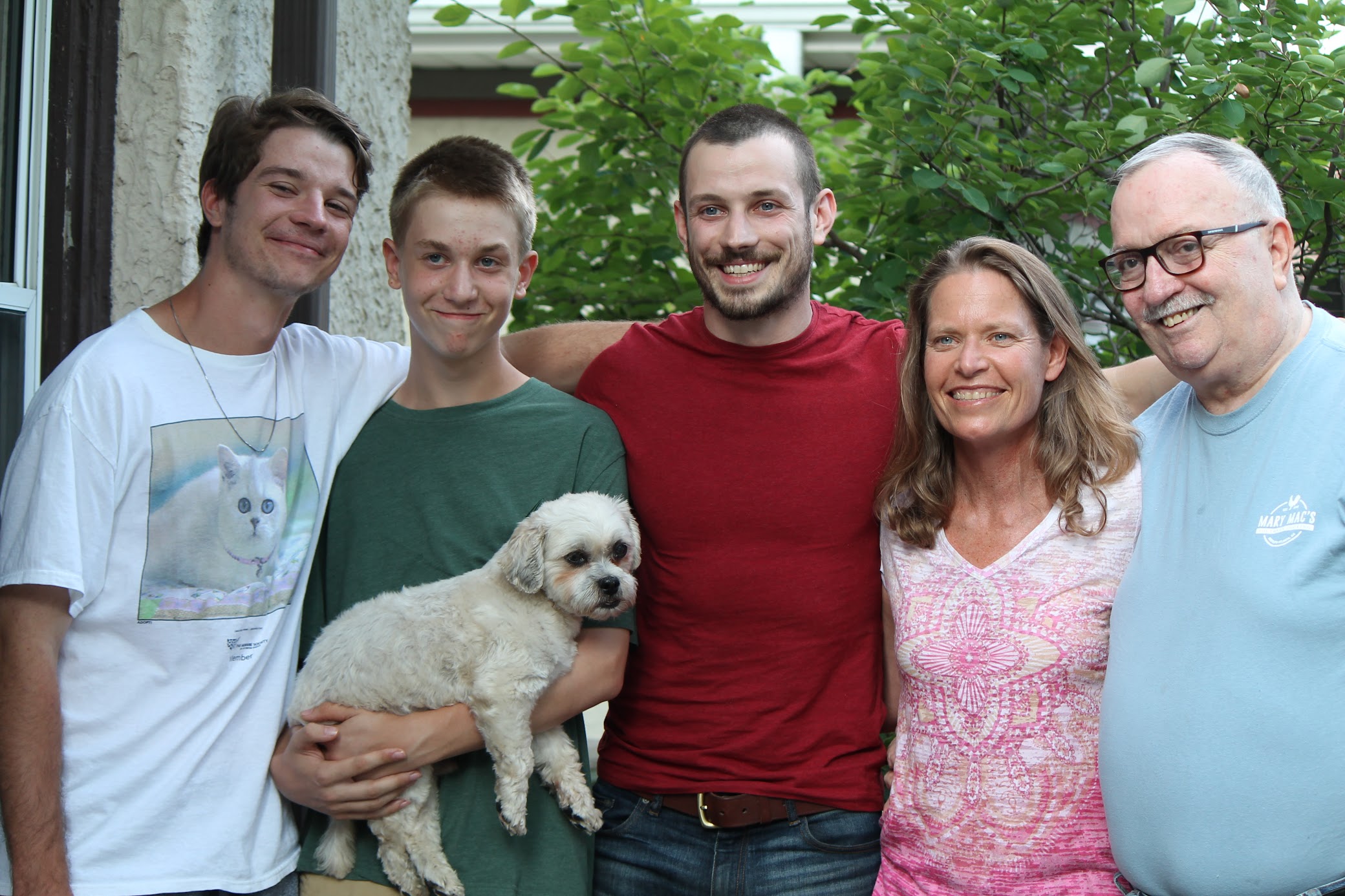 Sam, Josh, Dan, Sharon, and George Schmidt in 2018, two months prior to George's death. George founded Substance in 1975. He taught in more than 15 Chicago public schools from 1969 until 1999, then worked as a researcher for the CTU and SEIU Local 73 when his career was cut short after Paul Vallas and Mayor Richard M. Daley's BOE filed a lawsuit against Substance and fired George for our publication of the CASE (Chicago Academic Standard Exams). Sharon teaches at Steinmetz High School. The Schmidt sons graduated from Whitney Young High School in 2007, 2019, 2023. Sam is a CPS social work intern.
However, a lot of his work is here. George's reporting of April 2007 through July 2018, and hundreds of other articles by dozens of Substance reporters George published remain at Substance News. Readers may use our search tool, or go to "back issues" and select a month and year to see dozens of articles on each monthly homepage.
Photocopies of Substance newspapers printed from 1975 until 2012 are available at the Chicago Teachers Union's offices. To honor George's legacy, we will continue to keep the Substance News site active, but at this point, we are highlighting articles on the homepage that tell George's personal and professional stories, not new content. If readers want other news sources that advocate for economic justice, professional respect for teachers, democracy within the Chicago Teachers Union, and improved public schools, there are other options published by friends of Substance. These include:
Susan Ohanian's Writing About What Matters: https://susanohanian.net/
Jim Vail's Second City Teachers: https://secondcityteachers.substack.com/
Norm Scott's Ed Notes (NYC): https://ednotesonline.blogspot.com/
FAIR's (Fairness and Accuracy in Reporting) newsletter Extra: https://fair.org/extra-newsletter/
Our website Substance News was created by George's son Dan when he was a high school student in 2007. Over the years, the site has become antiquated with much of the page furniture obsolete because we've lost the ability to modify the structure of the sites. In addition to the kludgy clutter, two major problems exist with Substance News: spam infiltrates our comments sections, and the site wasn't created to be viewed on a phone. In addition to George Schmidt and his Substance co-founder Larry MacDonald, this reporter and John Kugler, other editors of Substance have included the late Leo Gorenstein and the late Terry Czernik, both who worked closely with George.