Domestic Terrorist Bill Ayers sitting next to Brandon Johnson talking like friends
John Kugler - April 01, 2023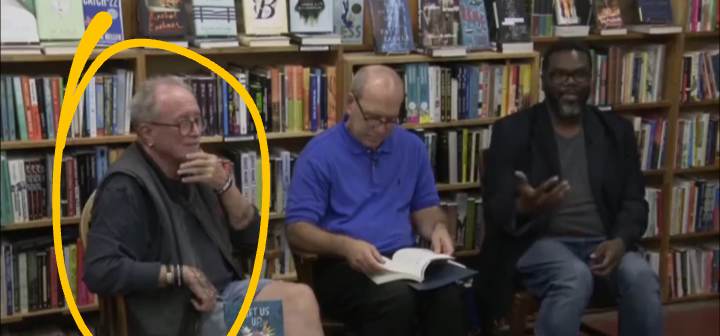 Educational Justice with Bill Ayers, Mark Warren and Brandon Johnson Sept 25, 2018 at 57th Street Books, Chicago .. Screenshot from video

Educational Justice with Bill Ayers, Mark Warren and Brandon Johnson by Midwest Socialist
October 26, 2018 https://youtu.be/6fwZ68nX8uk Brandon Johnson a candidate for Chicago Mayor was taking about education in the Chicago Public Schools with Bill Ayers and Mark Warren on Sept 25, 2018 at 57th Street Books, Chicago, Illinois. The event was recorded and distributed by the organization Midwest Socialist.
Ayers participated in the bombings of New York City Police Department headquarters in 1970, the United States Capitol building in 1971, and the Pentagon in 1972, as he noted in his 2001 book, Fugitive Days.
Clearly Johnson is comfortable discussing educational issues with Ayers, so either he knew he was a terrorist and was cool with it or he did not know Ayers' past as a leader of the Weather Underground militant group, a domestic terrorist organization.
Johnson is not allowed to communicate with Substance News and the same goes for any staff at the Chicago Teachers Union, so we can not get his side of the story.
Our question to him is:
Brandon Johnson How and Why did you sit with a domestic terrorist to talk about Chicago Public Schools while you were a paid staffer and public school teacher?
The Weather Underground was a far-left militant organization first active in 1969, founded on the Ann Arbor campus of the University of Michigan. Originally known as the Weathermen, the group was organized as a faction of Students for a Democratic Society (SDS) national leadership.Officially known as the Weather Underground Organization (WUO) beginning in 1970, the group's express political goal was to create a revolutionary party to overthrow the United States government, which WUO believed to be imperialist.
The FBI described the WUO as a domestic terrorist group with revolutionary positions characterized by Black Power and opposition to the Vietnam War. The WUO took part in domestic attacks such as the jailbreak of Timothy Leary in 1970. The "Days of Rage" was the WUO's first riot in October 1969 in Chicago, timed to coincide with the trial of the Chicago Seven. In 1970, the group issued a "Declaration of a State of War" against the United States government under the name "Weather Underground Organization".
In the 1970s, the WUO conducted a bombing campaign targeting government buildings and several banks. Some attacks were preceded by evacuation warnings, along with threats identifying the particular matter that the attack was intended to protest. Three members of the group were killed in an accidental Greenwich Village townhouse explosion, but none were killed in any of the bombings. The WUO communiqué issued in connection with the bombing of the United States Capitol on March 1, 1971, indicated that it was "in protest of the U.S. invasion of Laos". The WUO asserted that its May 19, 1972 bombing of the Pentagon was "in retaliation for the U.S. bombing raid in Hanoi". The WUO announced that its January 29, 1975 bombing of the United States Department of State building was "in response to the escalation in Vietnam".
The WUO began to disintegrate after the United States reached a peace accord in Vietnam in 1973, and it was defunct by 1977. Some members of the WUO joined the May 19th Communist Organization and continued their activities until that group disbanded in 1985.
originally posted March 19, 2023
http://www.substancenews.net/articles.php?page=8026
—-----
Educational Justice with Bill Ayers, Mark Warren and Brandon Johnson
by Midwest Socialist
October 26, 2018
Activist and education scholar, Bill Ayers, talks with Mark Warren and Brandon Johnson about the book "Lift Us Up, Don't Push Us Out!", a collection of stories of the Educational Justice Movement. This is a fight by parents, young people, community organizers, and educators against systemic racism in schools across the country. Find the book at www.LiftUsUpMovement.org
Recorded at 57th Street Books, Chicago, on Sept 25, 2018 https://youtu.be/6fwZ68nX8uk
___
0:00 – About the book and author, Mark Warren.
1:05 – Chicago Teachers Union (CTU) and Social Justice Unionism.
3:11 – Mark Warren on his own history as an organizer and how he came to this book.
12:36 – Brandon Johnson on his background as a teacher and organizer.
13:35 – There are two different school systems in Chicago, wealthy schools and the rest.
15:30 – Public accommodation by the state needed to exist for his family to survive.
17:30 – Critique of "big government" as an existential issue for black people.
18:40 – Unions are necessary for our neighborhoods.
20:54 – Johnson on why he became a teacher, collective voices as a set up to inquiry.
Schools are set up for black students to answer questions, but not to ask questions.
23:00 – Johnson: story about buying a house, and needing government programs. What is the future for the less fortunate, if we don't demand more of our schools, as well as more from the unions and people who work there.
24:20 – Bill Ayers on Arne Duncan's book, Education as a product vs a right
27:40 – Johnson: Remembering Rahm's first year, and the CTU creating coalitions in the communities.
30:40 – Johnson on how the CTU was moved by the other organizations with whom it teamed up.
31:35 – Johnson – Dividing the labor movement by race.
33:20 – Ayers explaining the breadth of the WVa teachers strike, and the strength of the coalition.
35:09 Audience Question: How can we move conservatives to the left?
35:36 – Warren responds: how class transcends race.
37:11 – Warren on Poverty, pain, and police stations in schools.
38:18 – Warren on on the ridiculousness of narrow, small-bore "solutions", and never getting to the real issue, which is poverty.
38:45 – Ayers: Both Liberals and Conservatives have been undermining education for years.
39:50 – Ayers: Our job is to talk to strangers. We are in the majority, and we need to reach across to those who disagree with us.
41:00 – Johnson: Range of ideas in a union as big as CTU. All members are organizers within the union.
41:40 – Johnson tells story of different views members had of the Laquan McDonald case, but that doesn't change the real meaning of the case. Different views can become challenged.
44:00 There needs to be more black teachers, but that doesn't mean they all relate every black student.
44:52 – Challenging the thinking of others is the best thing we can do now.
45:43 – Audience Question: Does your personal philosophy conflict with your job as a teacher?
46:30 – Johnson – Black students who do well and attend selective schools can leave a shaming effect on their peers who do less well.
49:10 – Johnson: his students challenged him to do more than teaching, so he became an organizer, so he can push harder on the structures of power.
50:00 Ayers: balancing the job with the times that you are your own.
51:12 – Warren shares an essay from the book, a student's perspective.
55:08 – keeping your sight trained on your goals. CTU vision: "The Schools that All Children Deserve"
57:45 – Johnson: Working with allies with diverse views, and adding breadth to the movement. His believe in Open Bargaining.
1:00:00 – Johnson – We accuse the state of a crime, and then ask the state to prosecute the crime.
1:50:00 – Audience Question: Considering gender in this discussion, and asking about creating a community where families feel connected to each other. Sustainable Community Schools.
1:02:00 – Warren on some practical reality of organizing. It's more than mobilizing but also relationships. It's not easy, and needs to be valued more.
1:04:28 – Ayers on the leadership of the CTU and the higher level vision and the ground level organizing going on.
1:05:38 – Johnson: Organizing is hard, but sometimes you land a punch. Elected school board.
Filed under: Video, Anti-Racism, Education, Labor, Neoliberalism, 57th Street Books, Bill Ayers, Brandon Johnson, CDSA, Chicago Democratic Socialists, Chicago Teachers Union, CTU, Democratic Socialism, DSA, Educational Justice, Lift Us Up Don't Push Us Out, Mark Warren, Seminary Co-Op, Social Justice Union
More in Video
87% of Chicagoans Want to #DefundCPD
Sources for Report
Bill Ayers
https://en.m.wikipedia.org/wiki/Bill_Ayers
Weather Underground
https://en.m.wikipedia.org/wiki/Weather_Underground
Educational Justice with Bill Ayers, Mark Warren and Brandon Johnson
by Midwest Socialist October 26, 2018
https://midwestsocialist.com/2018/10/26/educational-justice-with-bill-ayers-mark-warren-and-brandon-johnson/
Educational Justice with Bill Ayers, Mark Warren and Brandon Johnson 309 views 4y ago by Midwest Socialist