BJ Lost His own Wards - Understanding what happened in the Chicago mayoral race
Emi Yamamoto - March 13, 2023
I am a Japanese citizen and can not vote. But I can read and listen.
Reading about the Chicago elections, I see that Brandon Johnson can not win the votes where he lives and where he was elected to help people.
Chicago should not be so stupid to vote for someone who wants to raise my taxes and loves looters.
He always talks about de-funding the police, which makes me scared of violence against Asians when there are fewer police protecting my community.
For me, it is very bizarre that a man can not fix his area and now says he will fix the city.
To me, he is fake.
-------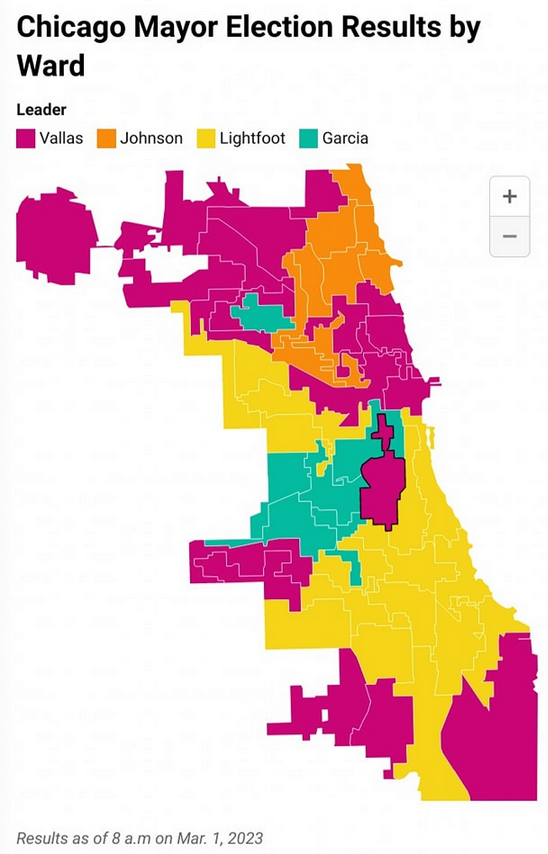 Understanding what happened in the Chicago mayoral race
by William A. Galston Thursday, March 2, 2023
In Tuesday's Chicago mayoral primary, the incumbent, Lori Lightfoot received only 17% of the vote, failed to finish in the top two, and is ineligible to participate in the April runoff that will choose Chicago's next mayor. Why did this happen, and what does it mean for the future of Chicago politics and, for that matter Democratic Party politics?
In much of today's politics, large organizations are less important than they once were, and candidates for office are individual entrepreneurs who must piece together their own majorities. Chicago is different. Although the fabled Daley "machine" has disappeared, enduring organizations still dominate many of the city's 50 wards, and large unions can still determine the outcome of city-wide contests.
Two unions stand above the rest in the Windy City — the police and the teachers. Lightfoot managed to lose the confidence of both, creating a huge opportunity for her competitors. Paul Vallas, who finished first with 34% of the vote, was backed by the police, while Brandon Johnson, who came in second with 20%, got the endorsement of the teachers.
The election also had an ideological dimension. Because Chicago has only one major political party, fights that in many places would be waged between the parties take place among Democrats. Johnson ran as an unabashed progressive, Vallas as a law-and-order moderate. Lightfoot, who was expected to govern as a progressive, managed to antagonize many of her potential allies, and the center ground she was left to defend wasn't large enough, or as enthusiastic as she needed. She won 16 of the 50 wards, almost all with below average turnout. She finished first in only one of the 10 wards with the highest turnout, compared to first place finishes in 6 wards for Vallas and 3 for Johnson. The 2020 redistricting, which featured a struggle between Black and Latino leaders, resulted in 16 wards with Black pluralities or majorities, 14 Latino-dominated wards, 19 white wards, and — for the first time, one Asian ward, which gave 58% of its vote to Vallas, the only white mayoral candidate running this year.
Lightfoot, who is Black, carried most of the Black wards on Chicago's south side, but with unimpressive margins. Johnson, the other leading Black candidate, did best in the Northeast portion of the city, which blends multiple ethnic groups — Jews, Pakistanis, and East Asians, among others — with white progressives. (He also did well in Hyde Park, where the University of Chicago is located.) Vallas racked up huge wins in Northwest portion of the city, home to large populations of Poles, Ukrainians, and other working- and middle-class whites.
Despite being the only Latino candidate, Jesus "Chuy" Garcia finished a disappointing fourth with less than 14% of the vote. He carried only 6 wards, all led by Latino aldermen and women. In all but one of these wards, Vallas finished second, ahead of all the Black candidates, and Lightfoot's support was mired in single digits.
This brings us to the April runoff, when Chicago voters will choose between a moderate Democrat and a progressive. Johnson and his allies have already made it clear that they will try to exploit this ideological divide by depicting Vallas as a closet Republican who is too conservative to lead a Democratic city.
Results of similar contests in other big cities don't paint a consistent picture. In Los Angeles, a progressive Black woman, Karen Bass, defeated a moderate white candidate, real estate developer Rick Caruso, the former head of the city's Board of Police Commissioners. In New York City, by contrast, Eric Adams, a Black moderate who served as a police officer for more than two decades, defeated several more progressive candidates. It's hard to know which of these two models Chicago more closely resembles. Here are some leading indicators:
Public safety in Chicago was a huge issue in the first round of the election and is likely to remain so in the runoff. Over time, Johnson has wavered on this issue. Less than a month after George Floyd's murder,he sponsored a non-binding resolution calling on Cook County (in which Chicago is located) to "redirect funds from policing and incarceration to public services not administered by law enforcement." Later, he denied supporting efforts to "defund the police." It is unclear whether his new stance will be enough to persuade communities battered by violent crime, many of them Black and Latino, to support him.
Nor is it clear how the political tensions between Blacks and Latinos that surface during the redistricting controversy will affect the election. If Johnson's poor showing in the Latino districts Garcia carried reflects lingering bad feelings between the groups, Latinos could tilt to Vallas or stay home on election day, which would probably doom Johnson's candidacy. But if the Latino progressives who represent the core of Garcia's following join forces with the progressive Black candidate, the contest could be competitive, even though Vallas begins with a 14-point edge over Johnson.
Nor, finally, is it clear whether Johnson can mobilize the downscale Black vote that failed to turn out in sufficient numbers for Lightfoot. It is possible that the adverse trends of recent years — crime, inflation, and the pandemic — have led this portion of the electorate to doubt that politics is the most effective way of improving their circumstances.
One thing is clear: Democrats' prospects in 2024 will be shaped by the salience of the crime issue, turnout among Black voters, and the shifting preferences of Latinos, who are becoming an important swing group. The outcome of the April runoff in Chicago will shed some early light on these trends, and Democrats should be paying attention.
https://www.brookings.edu/blog/fixgov/2023/03/02/understanding-what-happened-in-the-chicago-mayoral-race/
-------
Chicago 2023 mayoral election: Former schools chief, teachers union organizer headed to runoff
By Becky Vevea and Mauricio Peña
Updated Feb 28, 2023, 10:20pm CDT
Former Chicago Public Schools CEO Paul Vallas and Chicago Teachers Union organizer Brandon Johnson are headed to a runoff election on April 4 to become Chicago's next mayor.
Chicago's next mayor will either be former Chicago Public Schools CEO Paul Vallas or Chicago Teachers Union organizer Brandon Johnson. In a stunning upset, the two defeated incumbent Lori Lightfoot and are headed for a runoff on April 4 because neither secured more than 50% of the vote. Lightfoot called both Vallas and Johnson to congratulate them, she said in a concession speech just before 9 p.m. "I will be rooting and praying for our next mayor to deliver for the people of the city for years to come," said Lightfoot.
Vallas led the field of nine candidates with 34% of the vote, according to unofficial preliminary results posted by the Chicago Board of Elections Tuesday night. Johnson secured the second spot with just over 20% of the vote while Lightfoot trailed at 17% as results rolled in.
Shortly before 9 p.m., Vallas gave an impassioned speech in which he congratulated Lightfoot and thanked his supporters, saying it was because of them that he secured a spot in the April run off. "I want to thank the voters of Chicago for making this campaign about the issues and nothing but the issues," Vallas said.
In a speech at 9:30 p.m., Johnson said people didn't know who he was a few months ago. "If you didn't know, now you know," he said, before thanking his wife and the "workers of this city."
Lightfoot made history in 2019 when she became the first Black woman and first openly gay person to be elected Chicago mayor. "Four years ago, I looked into the camera and spoke directly to young people of color who looked like me and to every kid who felt like I did when I grew up," Lightfoot said. "I'm going to do that again tonight. I told you back then that anything is possible with hard work. And I want you to know that no matter what happens along the way you should always believe that because it's true." With 98% of precincts reporting as of 10 p.m., U.S. Rep. Jesus "Chuy" García had just under 14% of the vote, businessman Willie Wilson had received 9%, and the remaining candidates each had less than 3% of the vote, according to unofficial results.
Though crime and safety eclipsed education as a top priority for voters this cycle, the candidates' ties to education run deep. The winner of this election will also be the last Chicago mayor to have control of the city's public schools — as the shift to an elected school board begins with 10 of 21 members elected in 2024. As an organizer for the Chicago Teachers Union, Johnson advocated for an elected school board. In 2018, he was elected to the Cook County Board of Commissioners. Johnson taught at Jenner Academy and Westinghouse College Prep before moving into a union organizing role. His education platform promises more staff and free transit for students. Vallas led Chicago Public Schools from 1995 until 2001 as the district's first CEO under mayoral control. He later managed the public schools in Philadelphia, post-Katrina New Orleans, and Bridgeport, Connecticut, experience he touted Tuesday night. "I've had success because I've always had the good sense to listen to the community, to empower the community and draw my leadership from the community," Vallas said.
During his speech, Vallas also said schools needed to be part of addressing public safety, noting his platform promises to open school buildings on nights and weekends.
His complicated legacy has served as fodder for opponents who argue Vallas would be a "disaster" as mayor. But supporters have said Vallas' reputation as a reformer is what Chicago needs. His education plan promises to expand school choice and open school buildings on nights and weekends. In his speech, Johnson thanked his supporters and his wife, saying he "was so freakin' proud." Surrounded by supporters including Ald. Pat Dowell and Ald. Matt Martin, Johnson also thanked his union backers in the Chicago Teachers Union, SEIU, and United Working Families. "We get to turn the page of the politics of old," Johnson said.
He said people deserved fully resourced public schools. "Every single child in the city gets to have their needs met," Johnson said.
During his speech, Johnson attacked Vallas' education record, saying "he has literally failed everywhere he has gone."
The unofficial early results include more than 240,000 ballots cast during early voting and those returned by mail as of Monday night. When the polls closed, 507,852 total ballots had been cast, which is roughly 32% of all registered voters, according to Max Bever, spokesperson for the city's Board of Elections.
Earlier Tuesday, election officials said more than 100,000 mail-in ballots had yet to arrive at the Chicago Board of Elections to be counted. Bever said election officials have until March 14 to "collect and count all stragglers." Early and mail-in voting rates surpassed previous years, while overall turnout lagged on election day. In recent weeks, polls had indicated a four-way toss-up between Lightfoot, García, Johnson, and Vallas. Other candidates include State Rep. Kam Buckner, activist Ja'Mal Green, Ald. Sophia King, Ald. Roderick Sawyer, and Wilson.
In a concession speech shortly after 8 p.m. Tuesday night, Buckner said the city couldn't keep doing the same thing and expect different results. "We need to invest in students and not undermine our neighborhood schools," Buckner said.
Buckner was the first candidate to release an education platform, which called for funding schools based on need not enrollment. As a state legislator, Buckner co-sponsored the bill creating an elected school board. He is also a graduate of Morgan Park High School on the far South Side.
Lightfoot did not make education a central part of her 2019 campaign, but much of her time in office has been characterized by conflict with the Chicago Teachers Union and pandemic school closures that have impacted learning and student mental health. Tuesday night, she said she was proud of her administration's work making "record investments in our public schools, adding school social workers, nurses, and special education case managers" and their efforts to "connect youth to mental health services, housing, education, job training, and legal services."
Though he appeared to finish fourth on Tuesday, García famously took former Mayor Rahm Emanuel into a runoff in 2015, with the backing of the Chicago Teachers Union. But this time around, he relied on other unions for support as the teachers union backed Johnson's bid for mayor. In announcing his late entry to the race last November, Garcia, a Democrat who represents Illinois' 4th congressional district, said it was time for the city to "double down" on education. "Your ZIP code, race, and socioeconomic status should not determine your future," he said.
Green called for universal preschool for 3-year-olds as part of his sweeping $5 billion public safety plan on the campaign trail. His plan also called for creating 10,000 apprenticeships for Chicagoans ages 13 to 25. "I'm a father who loves Chicago and I want a better future for my kids and yours," Green said earlier this year.
King, who represents the 4th Ward which spans the South Side, serves as the vice chair of the Committee on Education and Child Development. She recently tried to push Chicago Public Schools officials to appear quarterly before aldermen or risk losing city money that supports school construction projects, but the measure failed. King helped found Ariel Community Academy, a public school created in 1996 under then-Mayor Richard M. Daley in partnership with Ariel Investments. Sawyer, who has served as an alderman on the South Side for over a decade, sponsored a proposal in 2020 to remove Chicago police from public schools, but it was thwarted by one of Lightfoot's allies and did not pass. His father became mayor in 1987 after the death of the city's first Black mayor, Harold Washington. Sawyer served on the local school council at McDade Classical School, a public selective enrollment school.
Wilson, a high-profile businessman, has focused on rebuilding from the pandemic through "educational grants, trade and business recovery." He promised to bolster vocational programs in high schools — a move already being undertaken by the district.
https://chicago.chalkbeat.org/2023/2/28/23619348/chicago-mayoral-election-results-2023-lightfoot-vallas-garcia-johnson-early-voting
--------
How did all 50 wards vote in the 2023 Chicago Mayoral Election? This map breaks it down.
By Francie Swidler and NBC 5 Staff
Published March 1, 2023
Updated on March 1, 2023 at 10:08 am Editor's Note: Live results for the 2023 Chicago Municipal Election are still rolling in, and votes are continuing to be counted. We're updating our live results page here. A map of current mayoral election results for all 50 wards is below.
https://www.nbcchicago.com/news/elections/results-page/
As the Chicago Board of Elections continues to count votes for the 2023 Chicago Municipal Election, the race for Chicago's mayor is far from final after The Associated Press on Tuesday projected a runoff between former Chicago Public Schools CEO Paul Vallas and Cook County Commissioner Brandon Johnson, with 99% of precincts reporting.
According to the latest results, Vallas is leading the crowded field of nine comfortably, with 34% of the vote. Johnson remains in second, with 20% of the vote, followed by incumbent Mayor Lori Lightfoot -- who conceded on Tuesday -- with 17%.
In fourth-place is Rep. Jesús "Chuy" García with 14% of the vote. In fifth place, with 10% of the vote, is Willie Wilson.
With a projected third-place finish, Lightfoot, the city's first Back, openly gay female mayor, is expected to become the first elected mayor to lose a reelection bid since Jane Byrne in 1983, despite winning the vote in more than a dozen wards.
According to the CBOE, Vallas won 20 wards, Lightfoot won 16 wards, Johnson won nine and García won five. Although Lightfoot won more individual wards than Johnson, Johnson won more votes citywide.
As of 6 a.m. Wednesday, here's a breakdown from the CBOE of which Chicago mayoral candidate each of the 50 wards voted for in the 2023 Chicago Municipal Election.
Ward 1: Johnson, 38.74%
Ward 2: Vallas, 61.96%
Ward 3: Lightfoot, 25.75%
Ward 4: Lightfoot, 28.12%
Ward 5: Lightfoot, 31.43%
Ward 6: Lightfoot, 37.66%
Ward 7: Lightfoot, 39.25%
Ward 8: Lightfoot, 41.64%
Ward 9: Lightfoot, 39.97%
Ward 10: Vallas, 36.14%
Ward 11: Vallas: 58.20%
Ward 12: García, 45.29%
Ward 13: Vallas, 55.45%
Ward 14: Garcia, 55.10%
Ward 15: Garcia, 33.47%
Ward 16: Lightfoot, 38.39%
Ward 17: Lightfoot, 40.27%
Ward 18: Lightfoot, 30.64%
Ward 19: Vallas, 61.81%
Ward 20: Lightfoot, 29.83%
Ward 21: Lightfoot, 40.32%
Ward 22: Garcia, 57.91%
Ward 23: Vallas, 47.21%
Ward 24: Lightfoot, 36.35%
Ward 25: Garcia, 40.40%
Ward 26: Johnson, 33.93%
Ward 27: Vallas, 25.81%
Ward 28: Lightfoot, 36.57%
Ward 29: Lightfoot, 33.08%
Ward 30: Vallas, 34.24%
Ward 31: Vallas, 28.33%
Ward 32: Vallas, 48.02%
Ward 33: Johnson, 35.49%
Ward 34: Vallas, 47.26%
Ward 35: Johnson, 42.84%
Ward 36: Vallas, 31.70%
Ward 37: Lightfoot, 42.13%
Ward 38: Vallas, 58.57%
Ward 39: Vallas, 49.98%
Ward 40: Johnson, 32.08%
Ward 41: Vallas, 72.28%
Ward 42: Vallas, 63.14%
Ward 43: Vallas, 57.17%
Ward 44: Vallas, 41.93%
Ward 45: Vallas, 53.77%
Ward 46: Johnson, 32.77%
Ward 47: Johnson, 37.08%
Ward 48: Johnson, 33.09%
Ward 49: Johnson, 39.01%
Ward 50: Vallas, 50.36%
Vallas and Johnson have secured places in April's Chicago mayoral runoff, the Associated Press projects.
With 99% of precincts reporting as of 5 a.m. Wednesday, Vallas led with 34% of the vote, holding a comfortable lead over his closest challengers.
Johnson, who had the support of the Chicago Teachers Union and other key labor groups, is currently running in second with 20% of the vote, pulling past Lightfoot, who will become the first elected mayor to lose a reelection bid since Jane Byrne in 1983.
"Obviously, we didn't win the election today, but I stand here with my head held high and a heart full of gratitude," Lightfoot said in a concession speech Tuesday. "There's more work to do, and I just want to say, thank you all deeply, deeply from the bottom of my heart, thank you."
Rep. Jesús "Chuy" García is currently in fourth place with 14% of the vote, with Willie Wilson in fifth place at 10%.
The runoff between Vallas and Johnson is scheduled to take place on April 4.
Vallas, who finished ninth in the 2019 mayoral race with just 30,236 votes, found himself thrust into the frontrunner spot in this election with his focus on issues of public safety, with sharply-critical attacks of Lightfoot's performance as mayor.
While many polls predicted Vallas in the lead throughout the race, the second place position appeared to be up for grabs, with several projecting a three-way-tie between Johnson, Lightfoot, and García.
What Happens Next?
Chicago's runoff election, for both the mayoral and aldermanic races, is scheduled for April 4. And according to the Chicago Board of Elections, the city had already made preparations for that outcome.
"At this point, all things are prepared for a city wide runoff on April 4," CBOE spokesman Max Bever said during an update Tuesday. "I think that that's what is top of mind for me right now."
Additionally, the city still has nearly 100,000 outstanding mail-in ballots. And though the CBOE doesn't expect to receive ballots returns from all registered vote-by-mail voters, it does expect thousands to arrive "in the coming days."
As long as ballots are postmarked by Feb. 28, and as long as they are received by the CBOE by March 14, the CBOE says. However, the CBOE has until March 21 to certify the results.
"We are going to try to get that proclamation done on the 15th or the 16th," Bever said Tuesday, "so that we can declare those races done, and we can get those ballots printed...and out, and available, for the April 4th runoff."
https://www.nbcchicago.com/chicago-mayoral-election-2023/how-chicago-voted-map-chicago-mayoral-election-results/3084109/