$1.5 Million in One Week: Brandon Johnson Gets 390,000 teachers union money before Feb 2023 HoD Meeting
John Kugler - February 11, 2023
Tracking how much the Chicago Teachers Unions is giving to Brandon Johnson and spending on politics in one day, on Feb 7, 2023 the morning before the House of Delegates and without delegate approval leadership gave Brandon Johnson 2900,000 dollars and 100,000 from the IFT.
SEIU 73 also gave Brandon 100,000 for a one day total of a half a millions dollars.
All that was before the CTU leadership transferred 400k in dues money to CTU Political action committees on Thursday Feb 9, 2023.
The rough total of union funds being put into political spending for Brando Johnson in Chicago is up to 1.5 million in one week, if we add the $460,000 donations to Brandon Johnson from SEIU Healthcare IL IN on Feb 10, 2023.
The total for one week of spending on politics was 1.5 million dollars of union money. Yes one point five million dollars in one week.
All that hard earned workers' money given away to political operations how ironic.
Low wage workers paying for white collar work.
True exploitation and capitalism.
Looks like the CORE leadership has abandoned small donors and organizing to win elections.
Maybe that is how they win elections in South Bend.
---
$275,000 Stacy Davis Gates Authorization Transfer
https://www.elections.il.gov/campaigndisclosure/CDPDFViewer.aspx?FiledDocID=Cjsh9P73a0uOmiLSEdctWA%3d%3d&DocType=PDYoQBkZYxA%3d
---
$140,000 Maria Moreno Maria Moreno Authorization Transfer
https://www.elections.il.gov/campaigndisclosure/CDPDFViewer.aspx?FiledDocID=Cjsh9P73a0tjxthid%2fCbTg%3d%3d&DocType=PDYoQBkZYxA%3d
---
REPORT OF CAMPAIGN CONTRIBUTIONS OF $1000 OR MORE
SCHEDULE A-1 IDENTIFICATION NO. 34198
Friends of Brandon Johnson
2/8/2023 11:21:20 AM
Chicago Teachers Union - PAC
Receipt Type: Transfer In
1901 West Carroll
3rd Floor
Chicago, IL 60612
2/7/2023 $290,000.00
---
Friends of Lakeshia
Receipt Type: Transfer In
1501 N Clybourn Ave, Unit D
Chicago, IL 60610
2/7/2023 $2,500.00
---
Illinois Federation of Teachers COPE
Receipt Type: Transfer In
500 Oakmont Lane
Westmont,, IL 60599
2/8/2023 $100,000.00
---
SEIU Local 73B-PAC
Receipt Type: Transfer In
300 S. Ashland
Suite 400
Chicago, IL 60606
2/7/2023 $100,000.00
---
https://www.elections.il.gov/campaigndisclosure/CDPDFViewer.aspx?FiledDocID=Cjsh9P73a0t8aZuSjO5tfQ%3d%3d&DocType=PDYoQBkZYxA%3d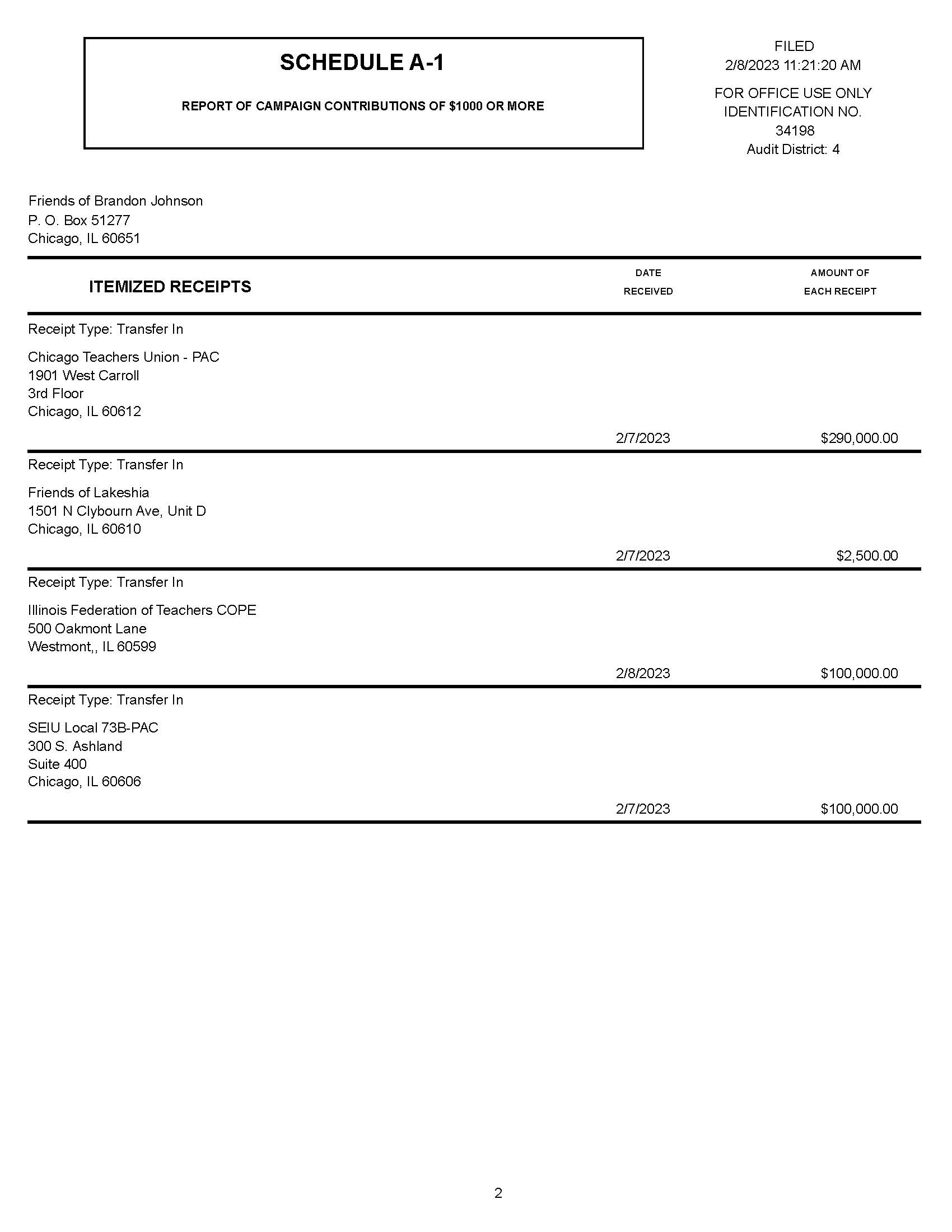 FILED 2/8/2023 11:21:20 AM
Friends of Brandon Johnson
https://www.elections.il.gov/campaigndisclosure/CDPDFViewer.aspx?FiledDocID=Cjsh9P73a0t8aZuSjO5tfQ%3d%3d&DocType=PDYoQBkZYxA%3d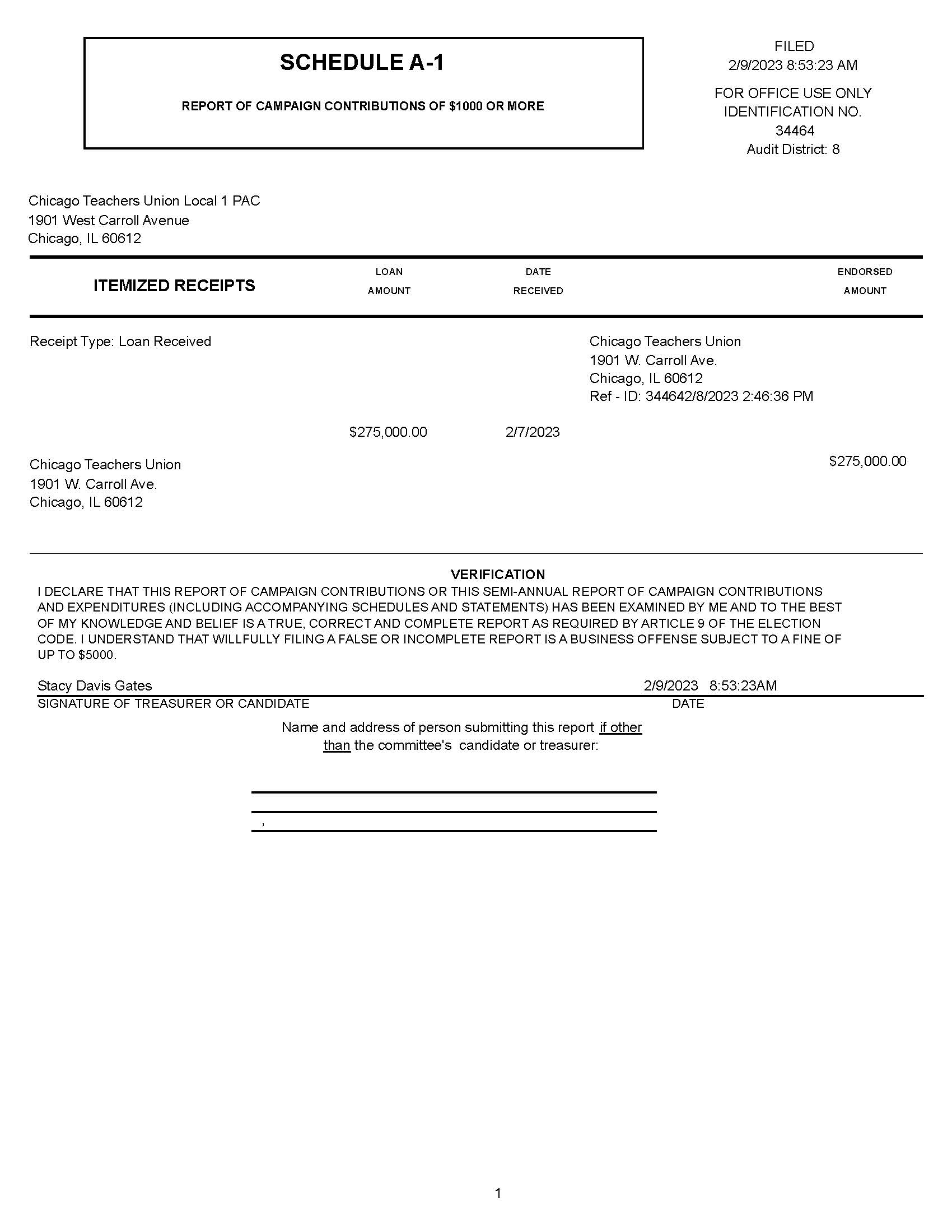 $275,000 CTU Political loan Feb 9, 2023 verified by Stacy Davis Gates
https://www.elections.il.gov/campaigndisclosure/CDPDFViewer.aspx?FiledDocID=Cjsh9P73a0uOmiLSEdctWA%3d%3d&DocType=PDYoQBkZYxA%3d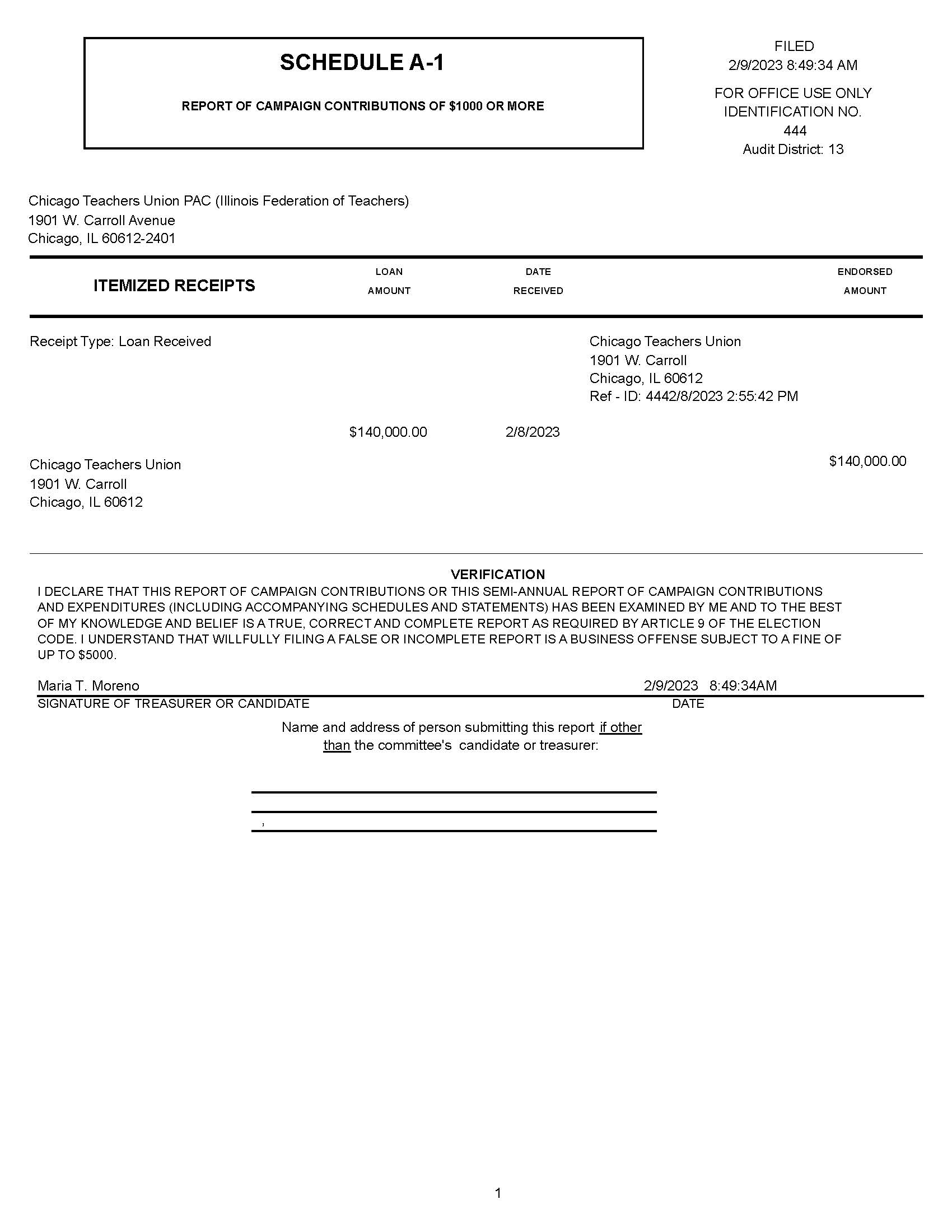 $140,000 CTU Political loan Feb 9, 2023 verified by Maria Moreno
https://www.elections.il.gov/campaigndisclosure/CDPDFViewer.aspx?FiledDocID=Cjsh9P73a0tjxthid%2fCbTg%3d%3d&DocType=PDYoQBkZYxA%3d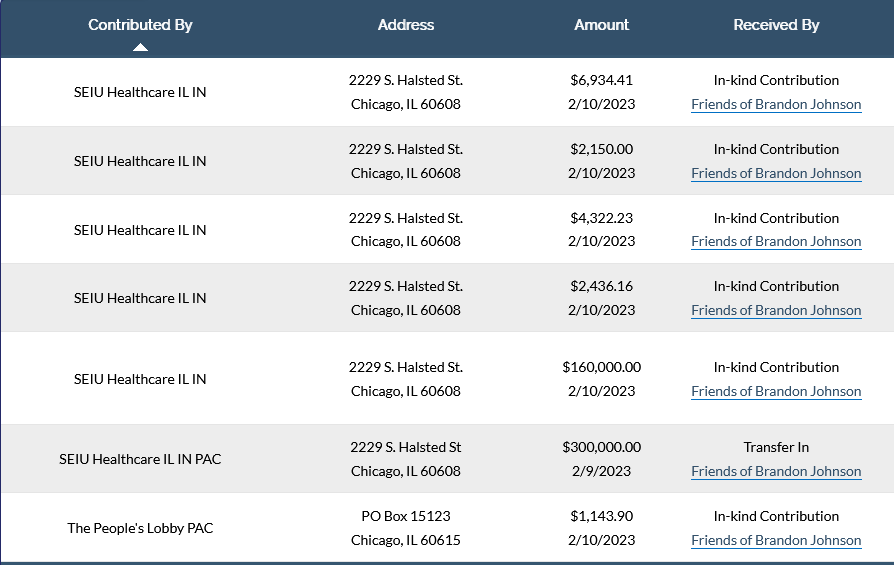 Friends of Brandon Johnson
A-1 ($1000+ Year Round)
1/1/2023 to 3/31/2023

https://www.elections.il.gov/campaigndisclosure/A1List.aspx?FiledDocID=ucAiT4e3JkfErZQj5zIEsQ%3d%3d&ContributionType=wOGh3QTPfKqV2YWjeRmjTeStk426RfVK&Archived=Gl5sibpnFrQ%3d