Pedophile Cover-Up continues ... Illinois Attorney General Again Orders CPS to Hand Over Eric Skalinder Documents
John Kugler - January 05, 2023
In the continued fight to uncover how Eric Skalinder groomed and had inappropriate contact with Kelly High School students, all while owning and operating a BDSM Sexshop in the basement of his home at 3459 N Kildare Ave., the Illinois Attorney General has issued yet another 7-day demand for text messages he sent to his students after hours.
We have been trying to get access to public documents related to the case since April 27, 2022.
Kwame Raoul's Office has refused to enforce Illinois FOIA laws. It has allowed the Chicago Public Schools to obstruct the rights of news agencies to get public information about a known pedophile who had his teaching license revoked for his activities working at Kelly High School for 12 years.
We received a letter dated January 4, 2023, ordering CPS to hand over documents in seven days.
We will see what happens.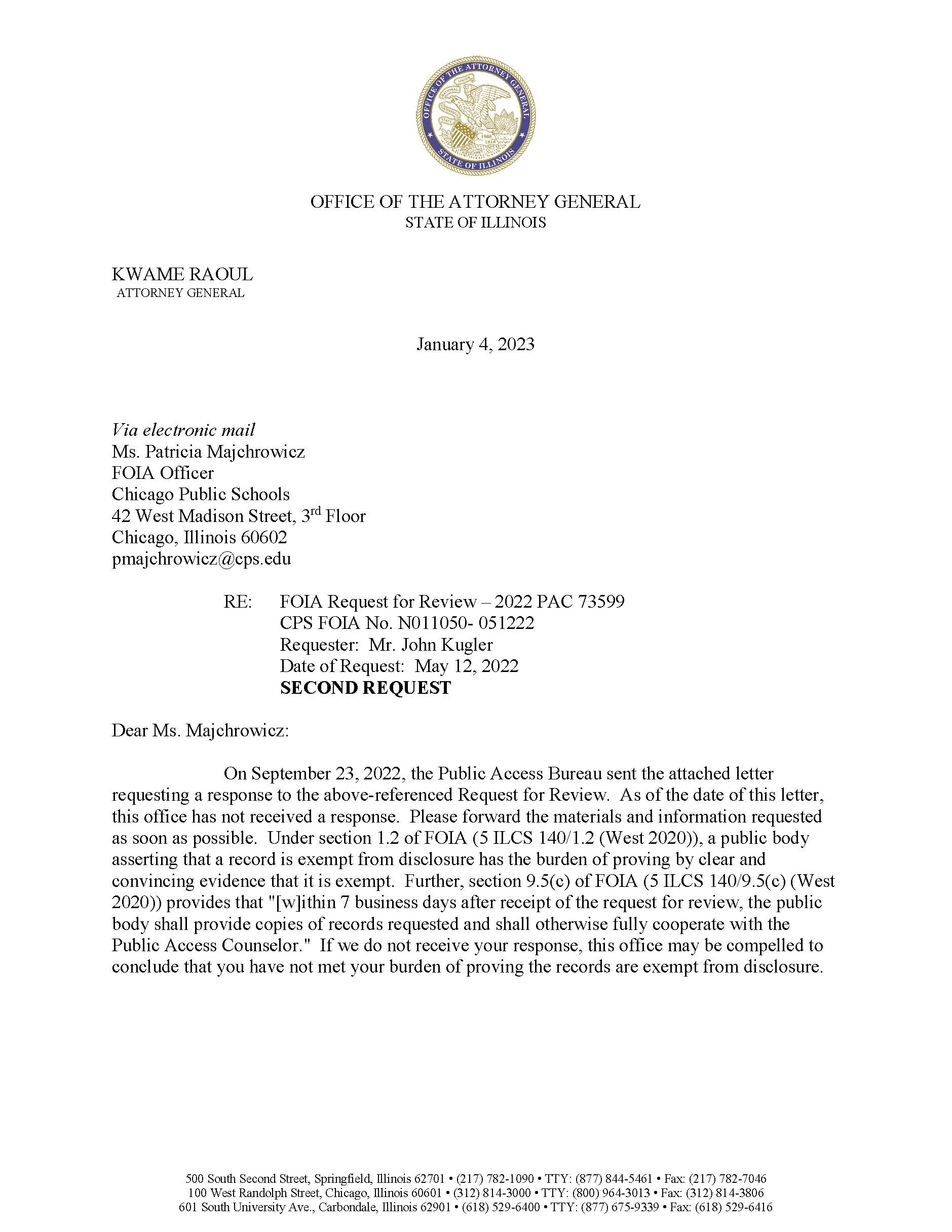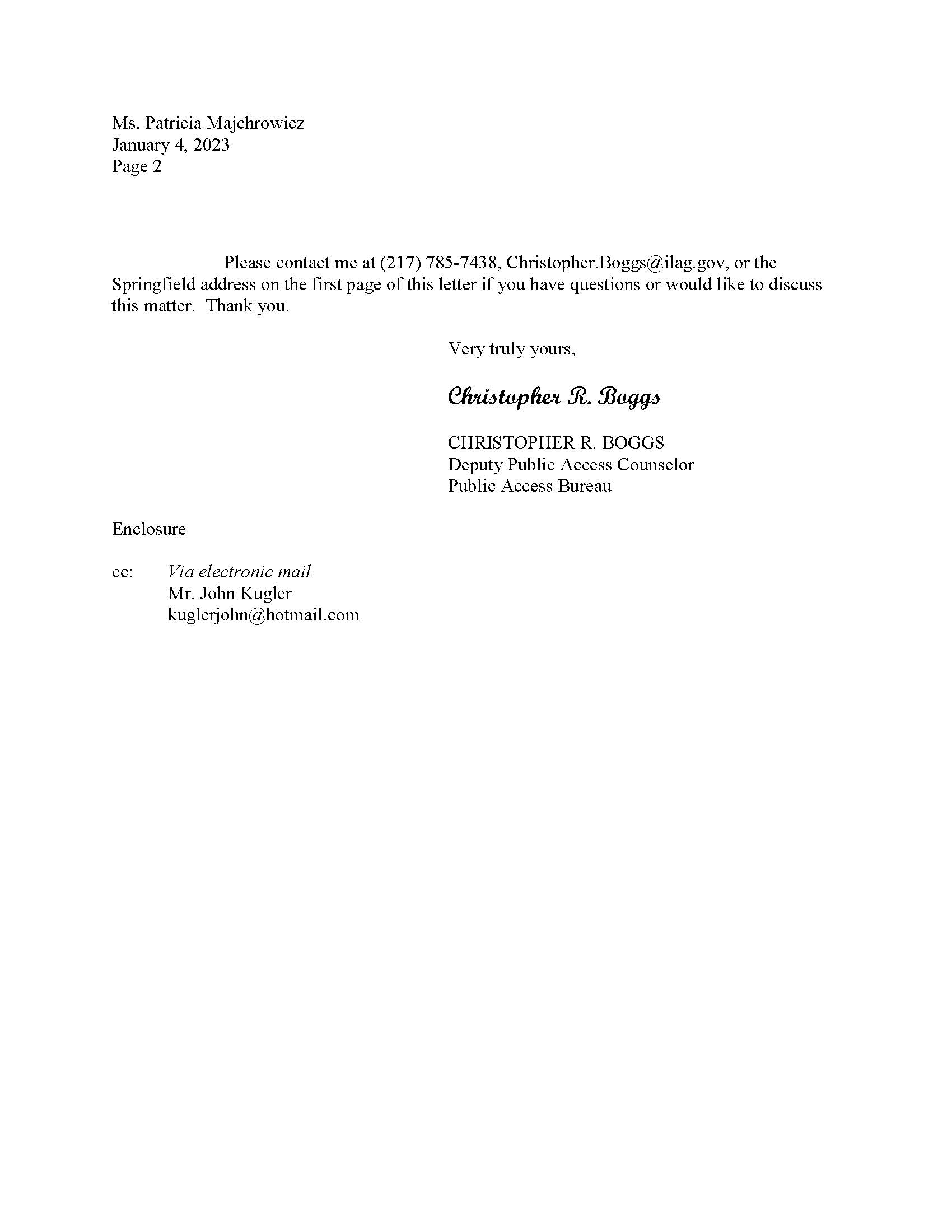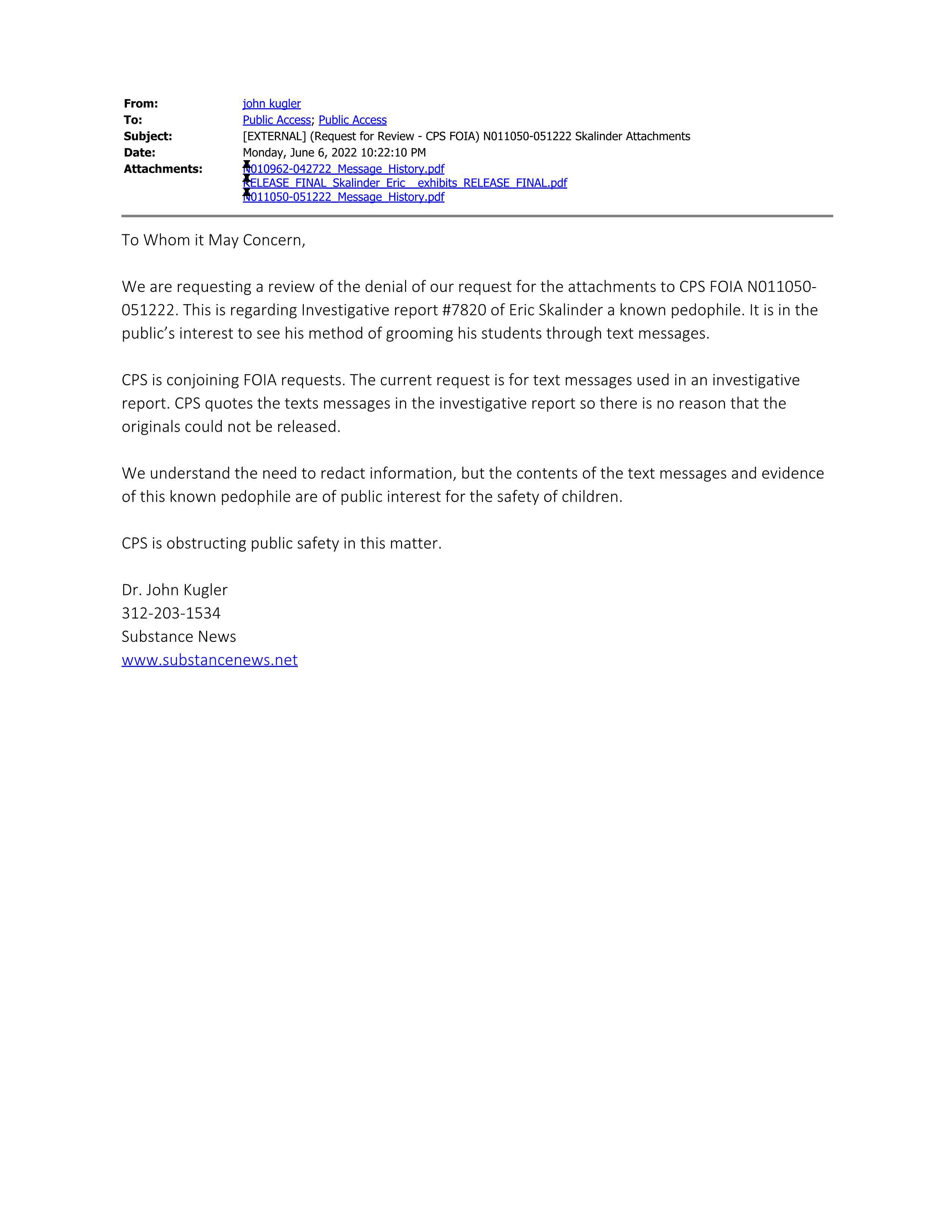 [ Investigative Report ] Chicago Teachers Union Paid and Allowed a Sexual Predator to Work with Female Teachers
http://www.substancenews.net/articles.php?page=7783
FOIA Demand for Documents - Chicago Public Schools covering up pedophile text messages sent by Eric Skalinder to his students
http://www.substancenews.net/articles.php?page=7904
[ CTU Pedophile Cover-Up ] "ln fact I think that's really sexy."
http://www.substancenews.net/articles.php?page=7786
35 years later nothing has changed .. Moffat and now Skalinder ... Sexual Predators in Chicago Schools http://www.substancenews.net/articles.php?page=7940
73599 Initial Docs (Request for Review - CPS FOIA) N011050- 051222 Skalinder Attachment
https://www.scribd.com/document/596380732/73599-Initial-Docs-Request-for-Review-CPS-FOIA-N011050-051222-Skalinder-Attachment
Demand for Documents Pedophile Skalinder Text Messasge FOIA RFR FI 73599 3g Und Burd Rep Req CPS Kugler (September 23, 2022)
https://www.scribd.com/document/596380155/Demand-for-Documents-Pedophile-Skalinder-Text-Messasge-FOIA-RFR-FI-73599-3g-Und-Burd-Rep-Req-CPS-Kugler-September-23-2022
Demand for Documents Pedophile Eric Skalinder Text Messasges FOIA (Jan 4 2022) RFR FI 73599 second FI 010423[142551]
https://www.scribd.com/document/618156256/Demand-for-Documents-Pedophile-Eric-Skalinder-Text-Messasges-FOIA-Jan-4-2022-RFR-FI-73599-second-FI-010423-142551