A Slap in the Face - Black Community residents are tired of being disrespected and ignored Migrants put into closed Black school
Martin G Johnson, Live Uncut Unedited - January 05, 2023
Black Community residents are tired of being disrespected and ignored - 64th University Press Conference about migrants having a shelter in the closed Woodlawn Elementary School city spent at least $1.5 million dollars in renovations without prior community input (full transcript)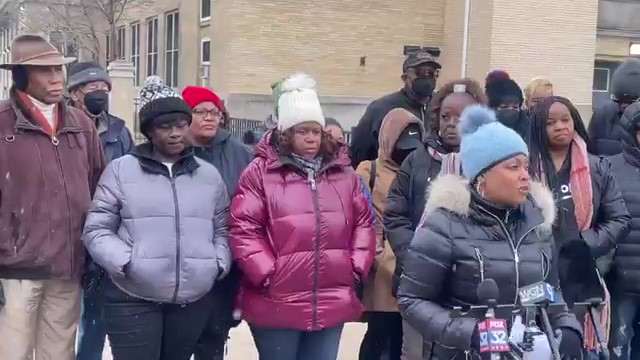 Black Community residents are tired of being disrespected and ignored - 64th University Press Conference about migrants having a shelter in the closed Woodlawn Elementary School city spent at least $1.5 million dollars in renovations without prior community input (screenshot from live feed video by Martin G Johnson Jan 5 2023 10:30 am
Original Live Post)
https://fb.watch/hSQ3A1qrTD/
Video report can be seen here
Residents are not against the migrants they are against making decisions that don't take into account community voice and community need.
A slap in the face to the community not to include them in the decisions and giving them a seat at the table.
"There is no evidence of any good faith negotiations from any of the municipality elements."
"The community is struggling to have resources now around after school programming around adequate employment opportunities, and many other resources around educational opportunities for the families. The approach, the approach that was taken was unfair."
Reporting by Martin G Johnson
Live Uncut Unedited
Jan 5 2023 10:30 am
Community Residents upset that resources are being used for migrants rather than their own children. They are also upset that there were no meetings to discuss these plans or resource allocations with the community prior to any decisions or money being spent. This was an African American school that was closed pushing out the families for the area that is struggling with crime and opioid addiction.
Jennifer Maddox Prayer. And I'd like to bring pastor Morris up to the podium so he can start us off with a prayer that we brought together.
Pastor Morris Thank you for this time that the students have gathered here to be a voice for the voiceless. For those of God who raise their voices in the conservative justice and things that are good for you, thank you for this young lady who has decided to speak out as well. We ask that you would be with us today. And we bless you for what is going to happen in Jesus name. Amen.
Jennifer Maddox Thank you. Thank you, Pastor Morris. Also, I wanted to say my name is Jennifer Maddox. Spelled je n N I F E R Matt, I spelled ma D D ox, I am a resident. And I'm also a community leader that operates a not for profit here in the community. I'd like to acknowledge the residents, the community stakeholders that are here today that are standing with me, standing beside me standing for a purpose and a cost. That's why we're out here today. And I would like to thank them for coming out in this cold weather. And we appreciate and this shows the support and the diligence of the community when it comes to issues that impact us. I also would like to say the issue at hand today is the housing of the immigrants here at the Wodsworth. Campus, and also how the community did not have a voice what was not included in the decision making around the repurposing that's take place that's taking place here at the Wadsworth Campus. The money that was used and spent here for this watch we're building should have been agreed upon by the community members so that they wouldn't be able to have a discussion and a seat at the table to show how to support the community better. The community feels disrespected. They feel as though they were not included. And they need answers today. The current crime issues in the community even though we know commit, crime takes place across the city. But the community also struggles with their share of crime around gun violence, carjackings, and many other issues and elements that take place and play our community. The community is struggling to have resources now around after school programming around adequate employment opportunities, and many other resources around educational opportunities for the families. The approach, the approach that was taken was unfair. As the community feels as though it was a slap in the face, not to include them in the decisions and giving them a seat at the table. Woodlawn is not struggling for an identity? We have as you can see, community stakeholders that are here and residents that are here, standing behind beside me to speak for themselves and for the voiceless. We are a community that is diverse, upcoming, and we are a community that have different organizations and things in place that gives us the qualities to be a thriving community. My desire is that we re establish a connection with city hall and City Hall works with the community gives us a seat at the table and gives us an opportunity to be real stakeholders that are making decisions together. Remember, remember we are not anti immigrant, we are pro Woodlawn.
Jennifer Maddox At this time, I do have some stakeholders and residents behind me that would love to speak upon their feelings and their concerns about the repurposing of the Watts were building
Susana Erica Good morning. My name is Eric. Eric. Good morning. My name is Susana Erica, and I am here because I have a child. Can you spell that please? Yes. Sister, s i s t r. Erica e r i see a. I'm here because I am a child of woodline. I was born and raised in Woodlawn. And I'm speaking on behalf of the people that are here and the ones that's not here, the ones that said work and couldn't make it here. We are very disappointed. That's right and this decision that Mayor Lightfoot has made to place these migrants in our community without our permission, Shang lair, Mayor Lightfoot would never pull this type of thing in anyone's neighborhood. She would not drop off a busload of Haitians in Little Village, she would not drop off a busload of black people in Chinatown. She would not drop off a busload of black people up north. Never so it's time for Mayor Lightfoot to understand we will no longer be disrespected by you, ma'am. Please withdraw your decision to put the migrants in our community. There's plenty of room in Little Village for their people. Please speak to little village and take them over there. We were not hating on anyone. But we are loving on what line? That's right. as well. We already are struggling with the issue of fat now in our communities. We don't need anything else to add to the struggles that we already have. It there is a lack of resources in our community. We don't need anyone else to come in and suck those up. That's right. We're tired, Miss Lightfoot. We're tired and we will not be voting for you.
Prince Gilbert Hi, I'm carless Prince Gilbert. I am a business owner of two businesses and a resident to followup with CARLASPR i en ce Gilbert gi LP RT Darshan have no doubt. I'm a business owner, and I am a resident. And my biggest concern is there were no plans. I own a real estate company. So I understand the importance of shelter and housing. But there are no plans for this shelter or housing for the people who are going to be placed here. What's the timeframe? What's the security? What are the activities we've all just done in a pandemic? We know how hard it was to just be secluded to one space. This is not a prison. I understand there's a curfew but during the day, what are they going to do? They can walk through our neighborhoods? They have never been here in Woodlawn. What is the plan to integrate them to the community? This was just put on us. We were not communicated. We don't know what the plan is. And actually from the last meeting, it looked like there was no plane and that's not right. And I'm right here because I am concerned. I live here and we need to know what the plan is. Thank you.
CeCe Blakely Hello, my name is CeCe Blakely, and the long term Woodlawn resident. My family came here in 97. What you see around you is that the new Woodlawn charter school from the university, the school here, the elected athletic playground, and behind us is ample evidence of the less than faithful negotiations between the Woodlawn Community, the city, the university and the Chicago Public Schools. Everything you see here is a unilateral change in what was agreed to with The community, the Woodlawn school, the last week of school was going to be repurposed. There was never a plan to build a new school, but to use the existing school, there was supposed to be an athletic field, there's been years there still athletic field there. I'm sorry. There is no evidence of any good faith negotiations from any of the municipality elements. So based on that, we are strongly asking for some sort of forbearance in going forward with this plan. It's not that we don't want to assist the immigrants. I have immigrants in my family. I understand what the issues are. But you cannot unilaterally put down a large a very moderate immigrant group in the community without making some sort of comprehensive plan to care for them and deal with the thesis any immigrant in a new country would need. And that's all we're asking. Lately, Ulysses blakney, Ul YSSESBL, a KELEY.
Jean Clark Thank you. Morning. My name is Jean Clark. I grew up. I grew up with graduate schools, and I know the people who live there struggling right now to make affordable mixed income community. While I love to help him and Chris and everybody else, I'd like to help my own first. Think, can you spell your name? Jane, Jackie? E. My last name is Clark, Cl, AR K. Thank you.
Jennifer Maddox So as you can see, we are here today, because we are standing as a community, we're standing and we are showing that we care and love about our community. That's right. We know that there is a public safety issue that is going to be you know, something that we need to address. Because we know that we are utilizing the community is best way since we can and we want to make sure that the people in our community and the in the migrants when they come are safe in there that there is a plan in place. So we are asking for answers. We're asking for the mayor to come here and speak with the residents so that they can share their concerns and talk to her about how we can all have a seat at the table and make the decisions that are best and beneficial for the community. Thank you.
CeCe Blakely Jennifer, have you been in touch with the mayor's office in the past several days?
Jennifer Maddox No, I have not. Because the aldermen for your ward, Alderman Jeanette Taylor. No, I have not. Any other questions?
Unknown Speaker I do if there was a plan, I know you've all mentioned that there needs to be a plan to sort of have a better idea of what may happen if there was a clear plan of what they're intending to do and how long they plan to stay here. The answer would be different, or would it be something that still residents would need to discuss
Jennifer Maddox about something that we all need to agree upon? You know, so that we know that the safety precautions are in place. So that everyone the migrants and the residents feel safe, and understand how the usage of the building is going to take place.
Unknown Speaker I can fix things that you waste.
Jennifer Maddox That yes, and the campus the campus as well.
Unknown Speaker Any specific background checks?
Jennifer Maddox Yes, definitely background checks. We spoke about that background checks and who are conducting them. And you know, we want to know, you know, the information behind those background checks what the safety plan is, we were told that there will be unarmed security in the building and a special attention from the police department. That clearly isn't enough considering the lack of resources that the police department already has, you know, so we know we need more than just a special attention for our community for the camp.
Susana Erica We have a homeless population in Chicago that's been present for years. I've suggested that this particular school be used to house the homeless population that's been in shape cargo living under by dots on Roosevelt Road on the side of the expressway tent cities everywhere. But guess what? Mayor Lightfoot decided not to only sneak us and Snake us, but she decided to take this building and use it for people that's coming across the border illegally. So we really have a problem with that. We have a homeless homeless community here that needs attention. Let's take care of them before we take care of anyone else.
Jennifer Maddox Any other questions? What is your understanding of the timeline? Don't have one we don't have a timeline there is no timeline you don't know. Temporary
CeCe Blakely on January 6,
Jennifer Maddox so yes, that was the official state he asked for our exit strategy at the community meeting and there was not one or two correct so again, I wanted you guys to hear from the community so that they're able to voice their concerns about the situation that's at hand right thank you
Unknown Speaker all right. Okay. Live as a people so this deal this is the building right here that is going to bring the migrants in right here as you know who was here before a couple of months ago it is a sci fi so yeah there you go your faces so oh yes you are okay yes yes yes yes yes
Unknown Speaker that's beautiful yeah crazy get off let me just say some real quick you know, I was born but like I didn't belong hospital Yeah, I lived here for like 20 Some years straight
Unknown Speaker up. I went to school my church, we want to thank all the stakeholders that showed up today those ones couldn't be here but I'm sure you shared a video and we appreciate your live on cut and edit. To see what I was seeing. You know what I know I'm out here.
Transcribed by https://otter.ai
Original Live Post https://fb.watch/hSQ3A1qrTD/