Willie, I'm hit! I can't feel my legs ... Seventh Defendant Sentenced in Murder of U.S. Border Patrol Agent Brian Terry
John Kugler - September 22, 2022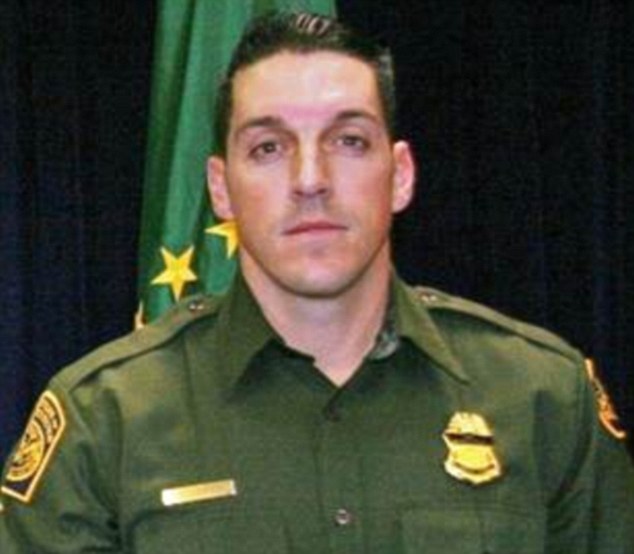 Border Patrol Agent Brian A. Terry
United States Department of Homeland Security - Customs and Border Protection - United States Border Patrol, U.S. Government

End of Watch Wednesday, December 15, 2010
"Willie, I'm hit! I can't feel my legs" ... Seventh Defendant Sentenced in Murder of 🙏 U.S. Border Patrol Agent Brian Terry ... the gun at the scene was traced to the 'Fast and Furious' operation where the ATF "purposely allowed licensed firearms dealers to sell weapons to illegal straw buyers, hoping to track the guns to Mexican drug cartel leaders and arrest them"
The Justice Department has publicly acknowledged a role in the case, and President Obama has said neither he nor Attorney General Eric Holder knew anything about it until the story broke after the murder of Brian Terry in a Sonora, Ariz., gun battle in December 2010. President Obama had ordered the Justice Department inspector general to investigate.
https://oig.justice.gov/reports/2012/s1209.pdf
As a result of a dispute over the release of Justice Department documents related to the scandal, on June 28, 2012, in a vote largely along party lines in a Republican-controlled House, Attorney General Eric Holder became the first sitting member of the Cabinet of the United States to be held in contempt of Congress.
At Holder's request, President Barack Obama had invoked executive privilege for the first time in his presidency in order to withhold documents that "were not generated in the course of the conduct of Fast and Furious." In 2016, a federal court ruled that the records in question were not covered by privilege; a House lawsuit to try to recover the records was settled and the matter dropped in April 2019, after control of the House had shifted to Democrats.
https://www.politico.com/story/2019/05/09/fast-and-furious-documents-holder-1313120
Wednesday, September 21, 2022
FOR IMMEDIATE RELEASE
Department of Justice
U.S. Attorney's Office
Southern District of California
TUCSON, Arizona – Jesus Rosario Favela-Astorga was sentenced in federal court today to 50 years in prison for the murder of United States Border Patrol Agent Brian Terry on December 14, 2010. Favela-Astorga pleaded guilty to Agent Terry's murder in April 2022. He is the seventh and final defendant to be convicted and sentenced in this case.
"Today is for Brian Terry, and his loved ones and colleagues who waited eleven years to see justice come to all who were involved in his tragic murder," said U.S. Attorney Randy S. Grossman of the Southern District of California. "We hope it fulfills the promise to everyone who protects us. We'll relentlessly pursue justice against those who do them harm for as long as it takes." Grossman thanked the prosecution team, the FBI and the U.S. Border Patrol for their relentless quest for justice in this matter.
Favela-Astorga admitted as part of his guilty plea, and evidence presented at two trials in this case in 2015 and 2019 established, that he was one of several armed bandits who had traveled from Mexico to the U.S. to hunt for marijuana smugglers to rob. At the time, Agent Terry and other members of the Border Patrol Tactical Unit (BORTAC) were on extended deployment in the desert to apprehend such robbery crews.
On December 14, near midnight, Agent Terry's team attempted to arrest Favela-Astorga's crew in a rural area north of Nogales, Arizona. A member of the robbery crew fired at the agents, hitting Agent Terry in the back and severing his spinal cord and aorta. According to evidence presented at the prior trials, Agent Terry called to a fellow agent, "Willie, I'm hit! I can't feel my legs." BORTAC agents, still under fire, tried to save Agent Terry but were unsuccessful.
Evidence from the trials established the five bandits at the scene were armed with four AK-47-style assault rifles and an AR-15 assault rifle and had food to last for days.
Favela-Astorga and others fled back to Mexico, leaving behind Manuel Osorio-Arellanes who had been shot in the stomach by agents. Manuel Osorio-Arellanes was convicted and sentenced in 2014 to 30 years in prison after cooperating in identifying other members of the robbery crew who were fugitives.
Mexican authorities arrested Favela-Astorga in October 2017 based on a provisional arrest warrant issued at the request of the United States. He was extradited to the United States in January 2020.
The other members of the robbery crew at the scene were Heraclio Osorio-Arellanes, Ivan Soto-Barraza, and Jesus Lionel Sanchez-Meza. All three were arrested in Mexico years after the shooting. Soto-Barraza and Sanchez-Meza were extradited to the United States in 2014, convicted at trial in December 2015, and sentenced to life in prison. Heraclio Osorio-Arellanes was extradited to the United States in 2018, convicted at trial in February 2019, and sentenced to life in prison.
In addition, Rosario Rafael Burboa-Alvarez pleaded guilty to murder and, while not at the firefight, admitted he recruited the crew members in Mexico. Burboa-Alvarez was sentenced to 324 months in prison. Border Patrol agents also had arrested Rito Osorio-Arellanes on immigration charges two days before the shootout, unaware he was part of the robbery crew. Osorio later pleaded guilty to conspiracy to interfere with commerce by robbery and was sentenced to 96 months in prison.
Agent Terry's murder was principally investigated by the Federal Bureau of Investigation and the U.S. Border Patrol. The U.S. Marshals Service, the Mexican Navy (SEMAR), Mexico's Office of the Attorney General (PGR), and the Department of Justice, Office of International Affairs, helped with Favela-Astorga's apprehension and extradition.
"For over the last decade, the FBI and our partners have worked to bring justice to all involved in the killing of agent Brian Terry. We will not and did not waver in our commitment to ensure that those who commit acts of violence against law enforcement officials will be held accountable and punished to the fullest extent of the law," said Chris Ormerod, Acting Special Agent in Charge of the FBI Phoenix Field Office. "We hope today's final sentence will help bring a degree of comfort to Agent Terry's family in knowing that all the individuals responsible for his murder have been brought to justice."
"Today's sentencing brings justice to the last of U.S. Border Patrol Agent Brian A. Terry's murderers," said Tucson Sector Chief Patrol Agent John Modlin.
"I thank the many law enforcement professionals who have worked on this case for over a decade and, in particular, acknowledge the dedication and efforts of FBI Special Agent Michelle Terwilliger who has led the investigation since the night of the shooting," said Grossman.
The case was prosecuted by the U.S. Attorney's Office for the Southern District of California after the U.S. Attorney's Office for the District of Arizona was recused.
SUMMARY OF CHARGES Case No. 11-cr-0150-TUC-DCB-BGM
Jesus Rosario Favela-Astorga Age: 41 El Fuerte, Sinaloa, Mexico
Murder, Second Degree, in violation of 18 U.S.C. §§ 1111, 1114
Maximum Penalty: Life in prison
INVESTIGATING AGENCIES
Federal Bureau of Investigation
United States Border Patrol
Topic(s):
Violent Crime
Component(s):
USAO - California, Southern
Press Release Number:
CAS22-0921-Favela
--------------------------
sources for report
Seventh Defendant Sentenced in Murder of U.S. Border Patrol Agent Brian Terry - Wednesday, September 21, 2022
https://www.justice.gov/usao-sdca/pr/seventh-defendant-sentenced-murder-us-border-patrol-agent-brian-terry
Border Patrol Agent Brian A. Terry
https://www.odmp.org/officer/20596-border-patrol-agent-brian-a-terry
How Mexican killers got US guns from 'Fast and Furious' operation
July 26, 2011 https://www.csmonitor.com/USA/2011/0726/How-Mexican-killers-got-US-guns-from-Fast-and-Furious-operation
Subpoena fight over operation Fast and Furious documents finally settled The House and Justice Department have reached a settlement on a case that led the House to hold former Attorney General Eric Holder in contempt. By JOSH GERSTEIN 05/09/2019 12:10 AM EDT https://www.politico.com/story/2019/05/09/fast-and-furious-documents-holder-1313120
A Review of ATF's Operation Fast and Furious and Related Matters Office of the Inspector General Oversight and Review Division September 2012 Re-issued November 2012
https://oig.justice.gov/reports/2012/s1209.pdf
ATF "Gunwalking" scandal timeline
NOVEMBER 22, 2011 / 9:31 AM / CBS NEWS
https://www.cbsnews.com/pictures/atf-gunwalking-scandal-timeline/
Mexican man admits murder of U.S. Border Patrol agent whose death exposed government's botched 'Fast and Furious' gun-smuggling operation PUBLISHED: 08:49 EDT, 31 October 2012 | UPDATED: 10:07 EDT, 31 October 2012
https://www.dailymail.co.uk/news/article-2225715/Manuel-Osorio-Arellanes-admits-murder-U-S-Border-Patrol-agent-Brian-Terry.html
Gunman in 'Fast and Furious' border killing sentenced to life in prison Published January 8, 2020 3:11pm EST
https://www.foxnews.com/us/brian-terrys-killer-life-sentence