18-year-old made a fake terrorist threat while working at Lollapalooza to go home early charged with a Class 1 Felony (720 ILCS 5.0/29D-25)
John Kugler - August 03, 2022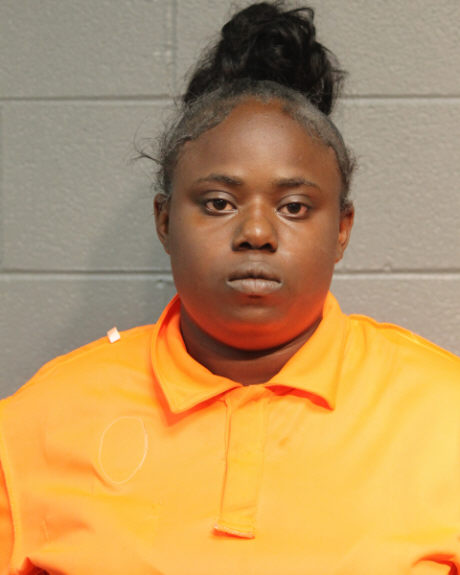 Mug Shot Chicago Police Department July 29, 2022
http://publicsearch1.chicagopolice.org/Mugshots/Index/738431Janya Williams 18-year-old security guard made a fake terrorist threat while working at Lollapalooza to go home early ... she is now charged with making a false terrorism threat a Class 1 felony (720 ILCS 5.0/29D-25)
in a second charge in as many days related to terrorism it now seems more certain that Chicago area Law Enforcement Agencies (LEO) and federal authorities are starting to coordinate charging criminals with terrorism related charges on the state and federal level in the ongoing crime wave in Chicago and across the nation.
... maybe the feds are going use her to try and figure out who is organizing these kids to do criminal activity in the city since the social unrest in 2020 ... they can go through all of her phone, email and social media accounts now ... plus offer her time served in exchange for names and organizations that showed these kids how to become criminals and destroy property and hurt others in the last few years ... that other 18 year old get popped by the feds in Posen the other day for carjacking ....
... it would not be the first time the feds took down a criminal gang or conspiracy to commit crime in Chicago ....
Fed Charges for Carjacking with fully automatic pistol at Suburban Chicago Gas Station after citizen detains criminal (18 U.S.C. § 2119 1110. Carjacking Statue)
https://www.facebook.com/103814734677010/posts/608155464242932
Janya Williams 18-year-old security guard made a fake terrorist threat while working at Lollapalooza to go home early ... she is now charged with making a false terrorism threat a Class 1 felony (720 ILCS 5.0/29D-25)
Aug 3, 2022 / 06:28 PM CDT
Updated 9:48 PM
Janya Williams, 18, is facing the charge of calling in a fake terrorism threat, which is a felony, after being taken into custody Friday afternoon in the 700 block of South Columbus Drive.
Shortly before 3 p.m. Friday when Janya B. Williams sent a message via her TextNow number to a witness' cellphone which read:
"Mass shooting at 4pm location Lollapalooza. We have150 targets," according to prosecutors during Williams' bond hearing Sunday.
Detectives believe Williams made the threat herself under a fake profile named "Ben Scott." In it, the post read "Massive shooting at Lollapalooza Grant Park 6:00 p.m.," according to the court document.
According to a court document, Williams was accused of sending her Andy Frain Services supervisor, which was the company providing security, a screenshot of a Facebook threat.
The witness immediately told her supervisors, setting off a chain of alerts to Chicago police and FBI Joint Counterterrorism Task Force.
When the witness, who was a staffer supervising a security team, went back to her post about 4:15 p.m., Williams told the witness her sister told her she saw a post about a mass shooting threat on Facebook, prosecutors said.
After the witness told Williams to send a screen shot of the Facebook threat, Williams allegedly created a bogus Facebook page under the name "Ben Scott," wrote a post that said, "Massive shooting at Lollapalooza Grant Park 6 p.m.," and snapped a screen shot of it, sending it to the witness' cell, prosecutors said.
That was when the witness sent that screen shot to her supervisor, but investigators soon learned the Apple iCloud account and IP address of the TextNow number, both of which belonged to Williams, prosecutors said.
When Williams was found and brought to the police command center for questioning, she told police she sent the message and created the fake post "because she wanted to leave work early," prosecutors said.
Williams, of the city's Lawndale neighborhood, was charged with making a false terrorism threat, which is a felony and on Sunday, Cook County Judge Mary Marubio ordered her held in lieu of $50,000 bail. Williams, who remained in custody as of Wednesday afternoon, is due back in court on Monday.
JANYA B WILLIAMS AGE 18
CB # 30164578
ARRESTED - Friday, July 29, 2022 7:00 PM
Charges 720 ILCS 5.0/29D-25 TERRORISM/ FALSE THREAT
ARREST LOCATION
700 S COLUMBUS DR
ARRESTING AGENCY
CHICAGO POLICE DEPARTMENT
RELEASED (AGENCY DETENTION FACILITY)
Sunday, July 31, 2022 4:27 AM
http://publicsearch1.chicagopolice.org/Arrests/Details/18111703
Williams had a pending case in a retail theft at the time of her arrest.
JANYA B WILLIAMS AGE 18
ARRESTED - Monday, July 18, 2022 2:51 PM
CB #30161615
Charges 720 ILCS 5.0/16-25-A-1 RETAIL THEFT/DISP MERCH/