Sexual Predator Ghislaine Maxwell has been put on suicide watch
John Kugler - June 25, 2022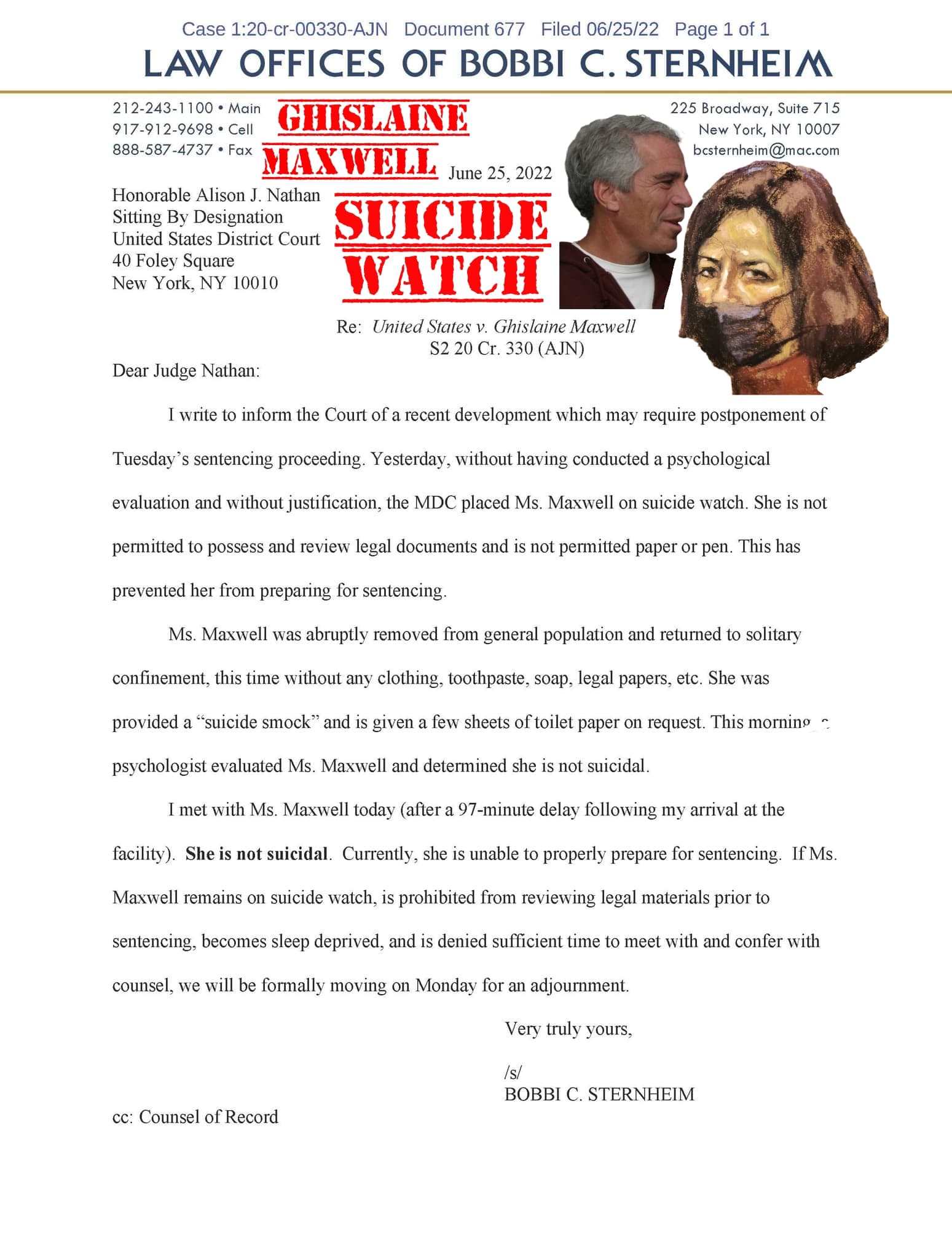 Sexual Predator Ghislaine Maxwell has been put on suicide watch at a Brooklyn jail, and may seek to delay her Tuesday sentencing for aiding Jeffrey Epstein's sexual abuse of underage girls, her lawyer said on Saturday night
June 25, 2022
In a letter to the judge overseeing Maxwell's case, Maxwell's lawyer, Bobbi Sternheim, said her client is "unable to properly prepare, for sentencing," after officials at the Metropolitan Detention Center on Friday declared the suicide watch and abruptly moved Maxwell to solitary confinement.
Epstein, 66, killed himself in August 2019 in a Manhattan jail cell, where the financier was awaiting trial for sex trafficking.
Maxwell was convicted on Dec. 29 on five criminal counts, including sex trafficking, for recruiting and grooming four girls for Epstein to abuse between 1994 and 2004.
Re: United States v. Ghislaine Maxwell
S2 20 Cr. 330 (AJN)
June 25, 2022
I write to inform the Court of a recent development which may require postponement of Tuesday's sentencing proceeding. Yesterday, without having conducted a psychological evaluation and without justification, the MDC placed Ms. Maxwell on suicide watch. She is not permitted to possess and review legal documents and is not permitted paper or pen. This has prevented her from preparing for sentencing.
Ms. Maxwell was abruptly removed from general population and returned to solitary confinement, this time without any clothing, toothpaste, soap, legal papers, etc. She was provided a "suicide smock" and is given a few sheets of toilet paper on request. This morning, a psychologist evaluated Ms. Maxwell and determined she is not suicidal.
I met with Ms. Maxwell today (after a 97-minute delay following my arrival at the facility). She is not suicidal. Currently, she is unable to properly prepare for sentencing. If Ms. Maxwell remains on suicide watch, is prohibited from reviewing legal materials prior to sentencing, becomes sleep deprived, and is denied sufficient time to meet with and confer with counsel, we will be formally moving on Monday for an adjournment.
Very truly yours,
/s/BOBBI C. STERNHEIM
cc: Counsel of Record
https://www.courtlistener.com/docket/17318376/677/united-states-v-maxwell
https://storage.courtlistener.com/recap/gov.uscourts.nysd.539612/gov.uscourts.nysd.539612.677.0.pdf