S&P 500 Falls Into Bear Market
Dow Jones Industrial Average - June 14, 2022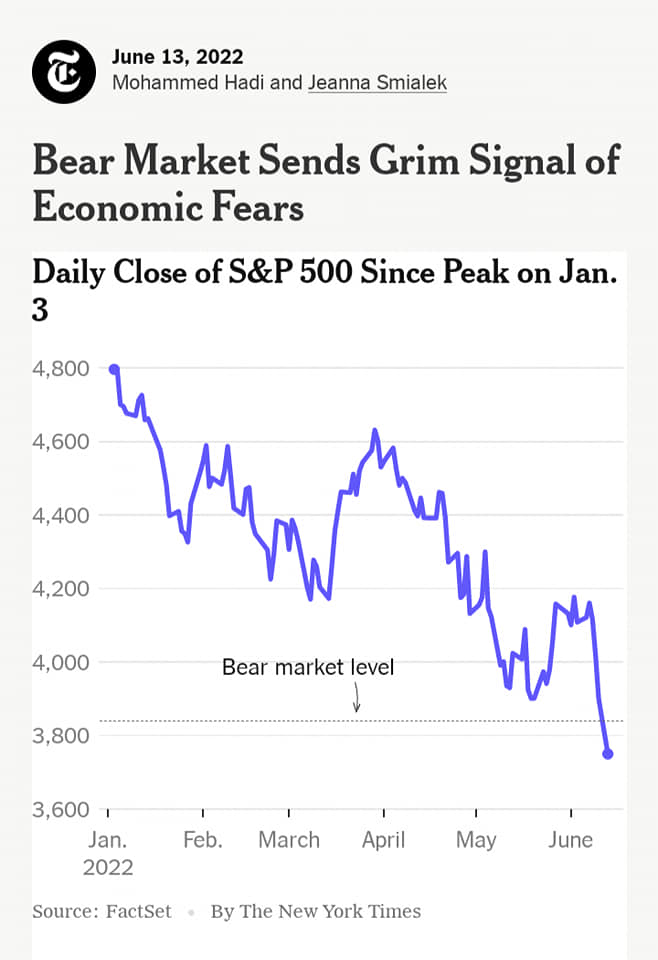 S&P 500 Falls Into Bear Market
June 13, 2022
Updated 10:56 p.m. ET
Stocks dropped around the world, investors dumped government bonds, and cryptocurrencies crashed as the U.S. stock market fell more than 20 percent from its January high.
Three weeks ago, Wall Street narrowly escaped a bear market, with stocks rebounding at the last minute from a brutal drop that had brought the S&P 500 down 20 percent from a record high in January. The next few weeks offered a glimmer of hope that the worst of the losses might be over.
That glimmer is now gone.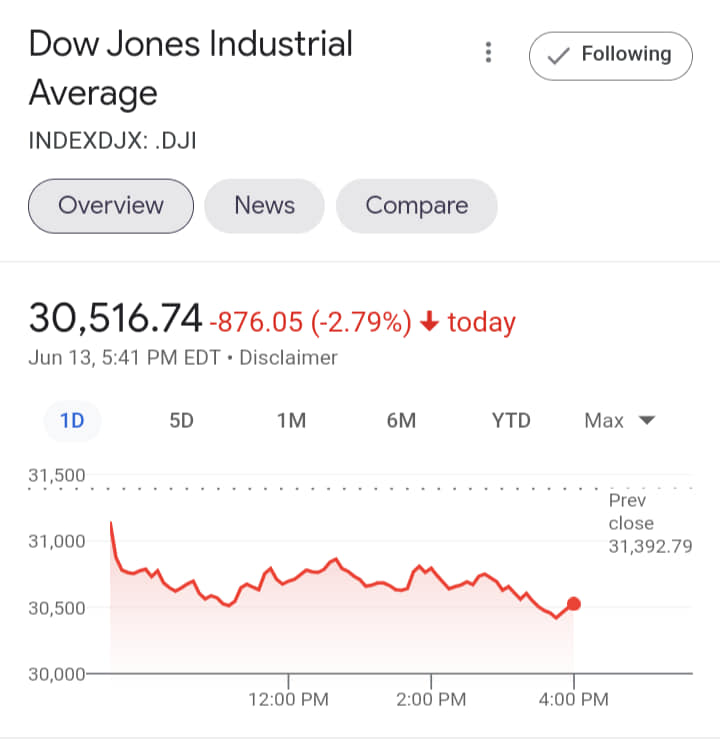 On Monday, the S&P fell 3.9 percent, closing the day nearly 22 percent below its Jan. 3 peak and firmly in a bear market — a rare and grim marker of investors' growing concerns for the economy.
A crucial report on Friday showed inflation in the United States was accelerating and creeping into every corner of the economy. Earlier last week, the World Bank issued a dire warning that global growth may be choked, especially as the war in Ukraine drags on.
Together, the data undercut optimism that the Federal Reserve, as it raises interest rates, would be able to keep price gains under control without damaging the American economy and sending ripples throughout the globe.
Monday's trading ended with reports that the Fed is likely to discuss making its biggest interest-rate increase since 1994 when policymakers meet this week.
"The Fed needs to hike policy rates more aggressively if it has any hope of bringing inflation down," said Seema Shah, chief global strategist at Principal Global Investors. "If it's going to have to tighten even more, then the chance of a recession is higher."
Large stock declines like this one — just the seventh bear market in the last 50 years — usually accompany a tectonic shift in the outlook for the economy and batter people's retirement accounts. While one does not cause the other, recessions have historically followed bear markets. The last time stocks fell this much was at the start of the coronavirus pandemic, and before that it was during the 2007-8 global financial crisis, which toppled some of the world's largest banks.
The bear market in 2020, however, lasted only a relatively short six months. Stock analysts worry this decline will drag on longer.
Concerns about the U.S. economy weighed on stock markets in Australia, Japan and China, which all opened lower. In Australia, the key stock index fell 5 percent on Tuesday morning, plunging to its lowest levels in two years. Japan's Nikkei stock index was down 1.6 percent, and China's Shanghai Composite Index dropped about 1 percent in early trading.
https://www.nytimes.com/.../13/business/stocks-bear-market
S&P 500
3,749.63
-3.88
Dow
30,516.74
-2.79
Nasdaq
10,809.23
-4.68
Dow Jones Industrial Average https://g.co/kgs/FRiypo