MFT 59 - Minneapolis Federation of Teachers fails to release election results as per rules and elections
John Kugler - May 19, 2022
In a constested Union election where the leadership was accused of being racist by the Minneapolis NAACP and using the union for political interests rather than what is good for teachers and staff.
After leaving messages by phone, email and twitter we are still waiting for the results.
Friday, May 13 - Election closes
Wednesday, May 18 - Results announced and certified
https://www.mft59.org/elections
There was a Twitter post yesterday calling for solidarity.
MFT 59 @MFT59
Tomorrow's Thursday so we'll see you at school tomorrow wearing BLUE! We wear blue on Thursdays in support of our fellow educators and for MFT solidarity!
9:00 PM · May 18, 2022·Twitter Web App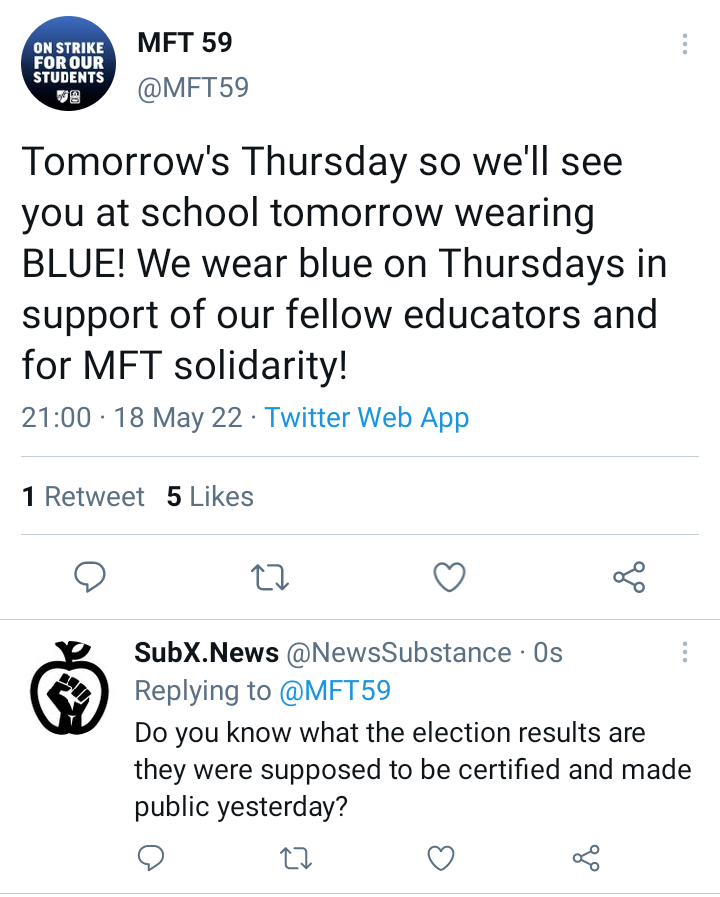 -----------------------------------------
Minneapolis NAACP, Black Teachers Call Out Racism Behind Recent Teacher Strike
Alexis Mann, who is running against current union boss Greta Callahan to lead MFT, accused Callahan of using the strike as a campaign tactic—not a tool to provide better pay or working conditions for union members.
https://www.edpost.com/stories/minneapolis-naacp-black-teachers-call-out-racism-behind-recent-teacher-strike