Four years of Senn struggle reported in Substance
George N. Schmidt - June, 2008
More than a dozen news reports, analyses, and dozens of photographs documenting the intense struggles of the teachers, students, parents, and community members to keep Chicago's Senn High School as a general high school are available on the various Substance Web sites that Substance hopes to consolidate and update during the coming months.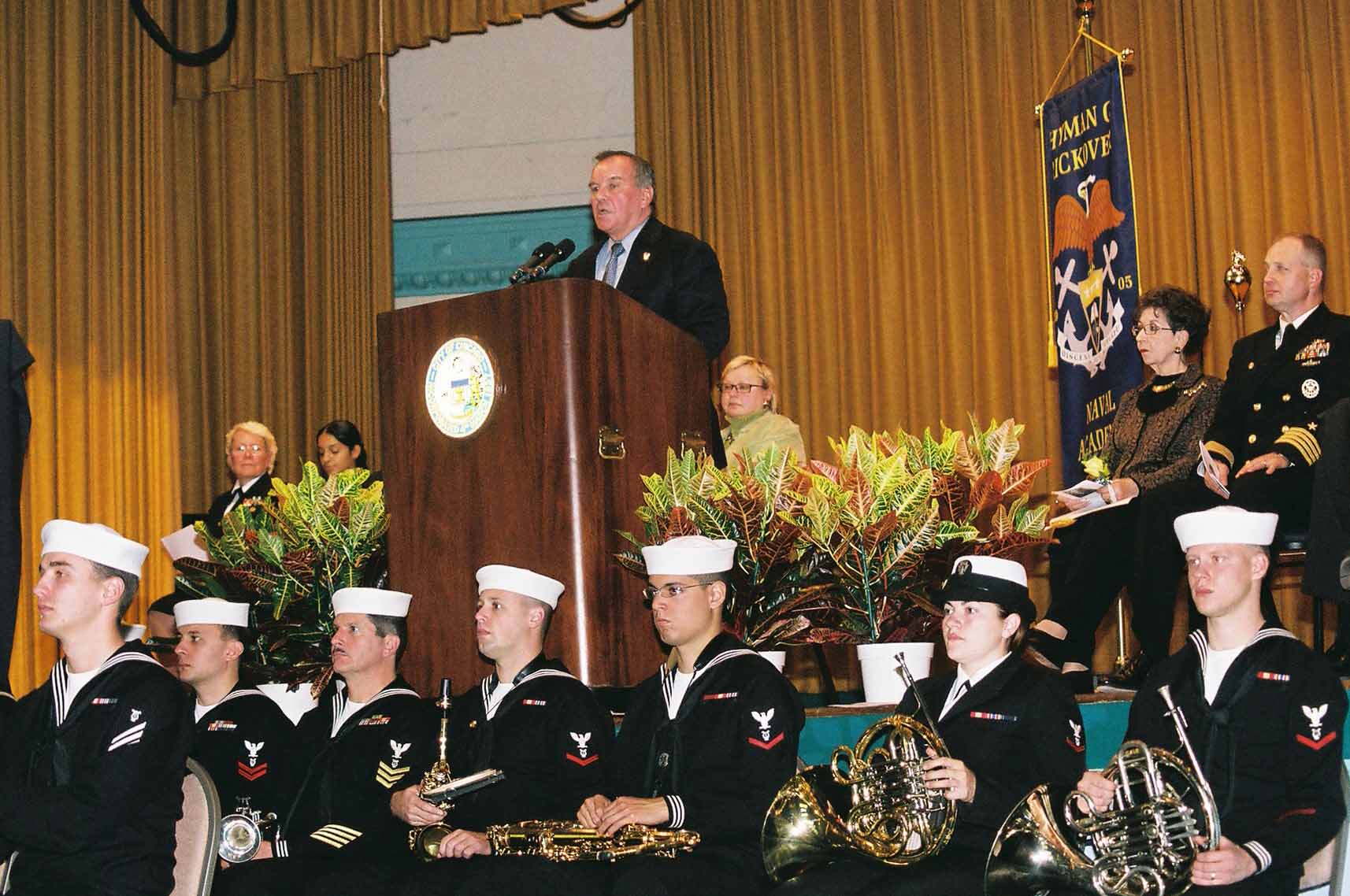 Above: On November 5, 2005, behind three layers of security (military; Chicago police; Chicago Public Schools) Chicago Mayor Richard M. Daley (above at podium) dedicated the "Hyman Rickover Naval Academy" inside Chicago's Senn High School. The event featured music by the Navy Band from Great Lakes Naval Training Center, north of Chicago, and thanks from the widow of Admiral Rickover (seated beneath the Rickover banner second from right on the stage above). Below Daley's elbow (above on stage, third from right) is Chicago Alderman Mary Ann Smith, who has been trying to eliminate the general high school program at Senn High School — with Daley's support — since 2004. Substance photo by George N. Schmidt.
The first major report on the Senn struggle appears in the December 2004 Substance (available at the "old" Substance site at www.substance news.com). The lead to that story (headlined "Senn High School 'Naval Academy' approved" read:
"Despite the largest student walkout in Chicago since the Vietnam War and the clear opposition form every major group in the Senn High School community — students, teachers, parents and community residents — to the proposal by the administration of the Chicago Public Schools to locate a "Naval Academy" inside the already overcrowded north side school, the Chicago Board of Education vote, without discussion, to approve the expanded military plan at its December 15, 2004 meeting."
Substance's exclusive coverage of the Senn struggles continued, month after month, over the next four years. In September 2008, Senn will celebrate its fourth year of struggle against the militarization of the school and the concurrent attempt by Chicago politicians to destroy Senn as a general high school and, most recently, to convert it into four "small schools".
In the months and years following the initial vote of the Chicago Board of Education to place the military school inside Senn, coverage continued. In the December 2005, Substance reported the massive paranoia at the dedication of the Rickover Naval Academy (which took place on November 7, 2005), Substance's stories demonstrate that organized teachers and a dedicated community can come together to thwart the worst plans to undermine democratic public schools in Chicago, even if some setbacks are inevitable. Now that the "new" Substance Website (www.substance news.net) is being completed in the coming months, Substance will continue to maintain the old Web sites (at www.substance news.com) so that our growing number of readers can see that organized resistance to militarism and oppression is possible, even in Chicago. 