Did Prescott's Erin Roche lie about the reasons for cutting special education?... Top CPS special ed official disputes Principal's claim
Jim Vail and George Schmidt - July 02, 2009
The Chicago Board of Education confirmed that they did not order the principal of Prescott Elementary School to cut its Special Education program.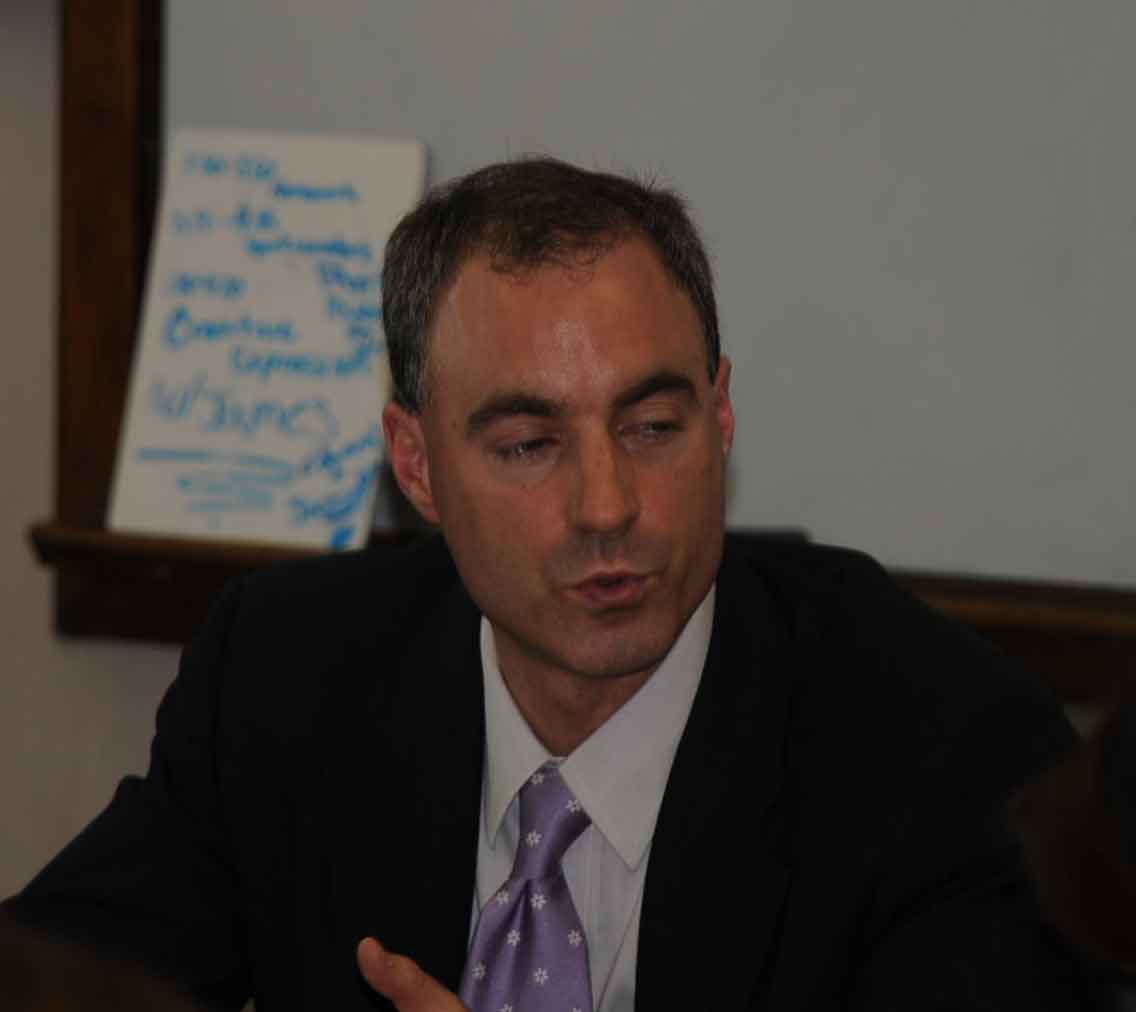 Prescott Principal Erin Roche at the May meeting of the Prescott Local School Council. At the May LSC meeting teachers and parents were told they would not be allowed to make public comments. The regular meeting scheduled for June 9 was cancelled. No meeting has been scheduled for July as of July 1. Roche had earlier told people at Prescott that his elimination of special education teachers, services and equipment had been mandated by CPS officials. Substance photo by George N. Schmidt.Ms. Deborah Duskey, "Chief Officer" of the Office of Specialized Services, told Substance at the Board's June 24, 2009, meeting that no such order was given to Prescott Principal Erin Roche. Roche informed the parents, teachers and students that it was the Board's decision to eliminate two special education programs (along with their teachers). Roche also had a special lift for disabled wheel chair-bound students, parents and teachers dismantled and removed from the school.
Duskey also said Roche's claim that the Board ordered his school to remove the wheel chair lift for handicapped children is not true.
Substance contacted Prescott school during the last week of June after asking about the special education situation, but Roche refused to return the phone call to comment on this latest development.
The Prescott teachers, parents and students protested outside the last scheduled Local School Council meeting on June 9 against the new principal. The majority of teachers, many parents, and other staff charge that Roche has gone to war against the faculty by either firing or suspending without pay veteran teachers. One of the pretexts he gave for removing some teachers was that special education programs were being moved because CPS officials told him to do so, according to teachers at the school and one parent.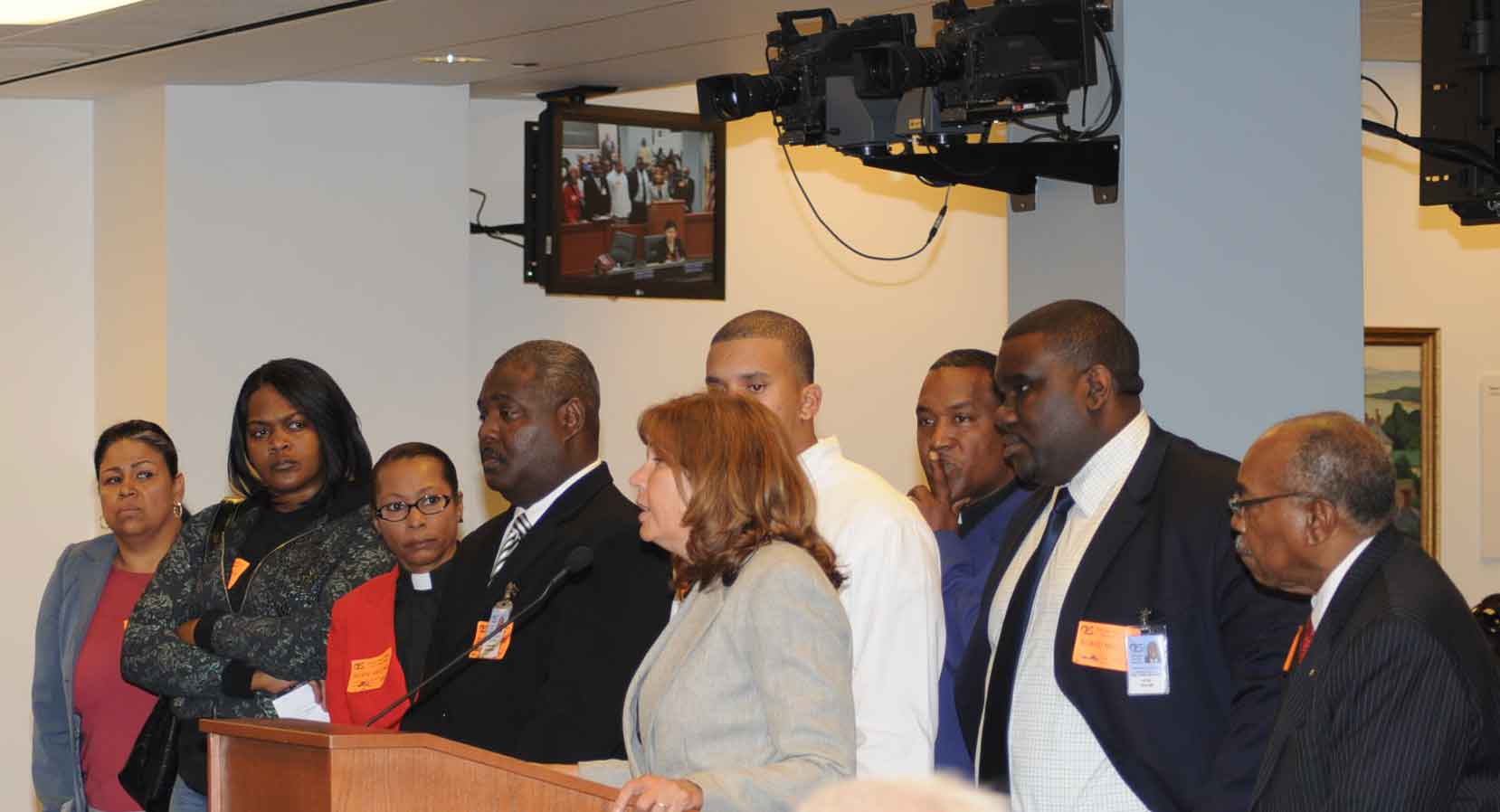 Deborah Duskey (center above, with parents and teachers from Montefiore school discussing special education at the April Board meeting) told Substance that the Office of Specialized Services did not tell Erin Roche, principal of Prescott Elementary School, to close two special education programs and tear out a chair lift at the main stairwell at the school. The lift was to enable children, parents, and teachers confined to wheelchairs to enter the century-old building more easily and helped bring Prescott's building into conformity with the Individuals with Disabilities Education Act (IDEA). Substance photo by George N. Schmidt.Since becoming principal last summer, Roche has focused on a strict testing environment at the expense of enrichment programs and he has sabotaged the school's special education and bi-lingual programs, according to teachers and parents. Roche claims that the mission of the school is to provide what he calls an "elite" education to the school's students. But many critics, including the majority of teachers, have charged that the notion of creating an "elite" school means driving out of the school children with disabilities and families who cannot afford the million dollar townhouses that have been built near the school during the real estate bubble developments of the past six years.
The principal of Prescott is not alone among newer Chicago principals in trying to drive out the majority of teachers and students who will not yield higher scores on the all-important standardized tests. Several other principals have become well known for their abuse of teachers and parents during the last six months, thanks in part to a new generation of teacher activists in Chicago, and the cooperation between those activists and angry parents.
Prescott, Fields and Gunsaulus elementary school teachers met with Board of Education Chief Executive Officer Ron Huberman's assistant in mid-June to complain about their principals' attacks on the teachers.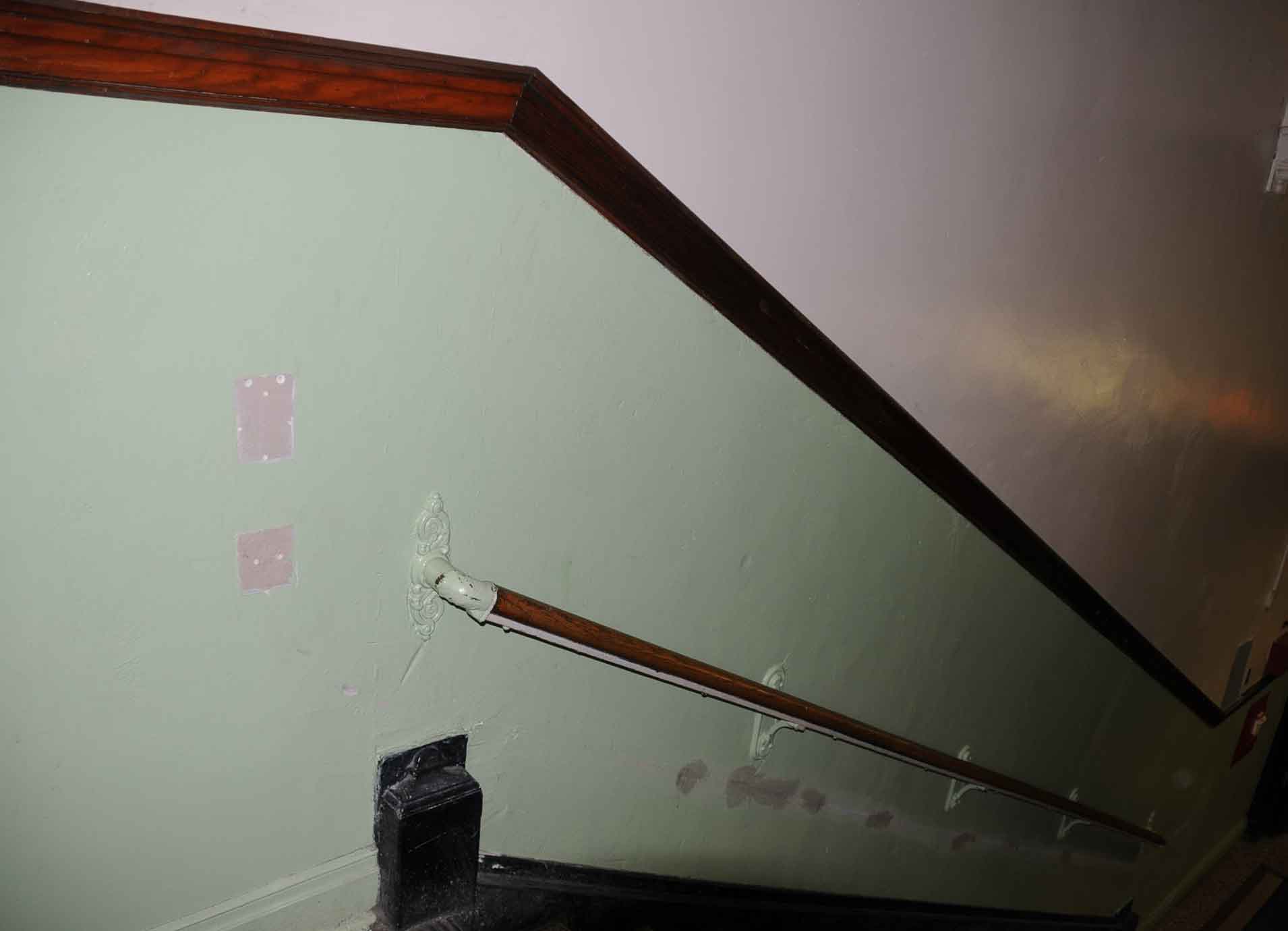 The scars in the wall below the railing at the main entrance of Prescott Elementary School had not yet been painted over in early May when this photograph was taken of the spot where Prescott's wheel chair lift had been. The lift was removed on the orders of Prescott principal Erin Roche. As a result, the school may now be inaccessible to parents, children, and school workers who are wheelchair bound because of disabilities. Officials at the Chicago Board of Education's Office of Specialized Services, which is in charge of overseeing services and access for people with disabilities for Chicago's public schools and charter schools, told Substance they had never known of a school that eliminated an accessibility device before the elimination was done at Prescott during the 2008-2009 school year. Generally, CPS has been spending millions of dollars to make its buildings — both regular public schools and the growing number of charter schools — more accessible to the disabled, not less so. Substance photo by George N. Schmidt. The Huberman assistant promised to respond to the teachers' concerns within two weeks. Teachers and parents at the schools have told Substance that no response has as of yet been forthcoming.
As of July 1, Prescott had not announced when the next meeting of the school's local school council would take place.
The June 9 LSC meeting was cancelled by Principal Erin Roche when more than 50 pickets showed up from all over Chicago to support the school's teachers and other staff and to question Roche about his treatment of the staff and students. 
Final edited version of this article posted at www.substancenews.net July 3, 2009, 1:00 p.m. CDT. If you choose to reproduce this article in whole or in part, or any of the graphical material included with it, please give full credit to SubstanceNews as follows: Copyright © 2009 Substance, Inc., www.substancenews.net. Please provide Substance with a copy of any reproductions of this material and we will let you know our terms. We are asking all of our readers to either subscribe to the print edition of Substance (a bargain at $16 per year) or make a donation. Both options are available on the right side of our Home Page. For further information, feel free to call us at our office at 773-725-7502.