[ Chicago Teachers Union ] Report of the Meeting of the House of Delegates February 2, 2022
George Milkowski @ secondcityteachers.blogspot.com - February 04, 2022
I. Officers Reports
A. Recording Secretary - Christel Williams-Hayes – Christel's report was very brief. She announced that the CTU will be hosting a meeting for PSRPs in the next week or so although the date is still being worked out.
B. Financial report – Kathy Catalano – Kathy reminded the Delegates that about 53% of all our dues are "pass throughs" to our affiliates and that are normal expenses are about $1.3 million every month. Our current deficit is $3,515,718 but that figure is $588,326 less than expected in our projected budget for this time of the fiscal year.
Kathy also said the deadline to apply for the $480 interest free lockout loans from the AFT is this week Friday, February 4, 2022. Applications can be accessed at ctulocal1.org/Loan
C. Charter Division – Chris Baehrend – Chris reported that all 13 charter school systems have active safety agreements although some are approaching their expiration dates.
D. Financial Secretary – Maria Moreno - Union membership is at 28,223, up 357 over last month and retiree membership is up 33 to 1,610.
Maria announced there are some vacancies in Citywide positions and there will be a Zoom meeting on February 22 for members in the various Citywide groups to nominate members to fill those positions.
The CTU election for officers and delegates to the AFT/IFT conventions will be May 20. There will no longer be any paper sample ballots. There will be on-line samples instead. Petition circulation for the Union election begins February 18 and ends March 25.
E. Vice President – Stacy Davis Gates – Stacy spoke about the Black Lives Matters At School that is a national organization. The CTU will be hosting some forums on that theme this month. February 17 will address Rank and File Black Educator Led Campaigns for Safety and Equality across the nation. On February 24 there will be a forum on Black educators leading unions across the U.S. in the time of COVID and Critical Race Theory and February 25 will have one titled "Jamming for P.E.A.C.E.". See the CTU website for more details.
Stacy reminded us that Karen Lewis died a year ago and there will be an in-person, live streamed memorial for her on February 7 from 5:00-6:00 p.m.. Contact the CTU if you would like to attend in person or on-line
If you are interested in some newly designed BLM t-shirts, go to Merchandise@ctulocal1.org.
Lastly, Stacy stressed the importance of solidarity. Today at Burnham School a pipe burst and there was water flooding the basement. Water and the heat were shut off and the District told the students to stay home but said the faculty and staff had to stay; if they left they would lose a PB or sick day. The Union quickly jumped in and the CPS agreed to close the school for all with no loss of days.
II. President's Report – Jesse Sharkey – Jesse has spoken with CPS chief Martinez about the four lost days of pay due to the lockout. He said Martinez seems somewhat open to a resolution in our favor, perhaps through flex time. They will continue to negotiate on this topic.
Jesse also addressed the concern of Delegates about those CTU members who went to "work" during the four days and got paid already. He said the Union is still working on it. The CTU doesn't want to throw people out of the Union as might happen if they scabbed during a strike. Some of those who went in during the lockout have been supportive of the CTU in other actions over the last three years so acting against them now doesn't seem right. The Union is still discussing what can be done and will let the Delegates know once the Union's plans are made final.
Jesse wanted to keep us informed about a lawsuit filed in Sangamon County challenging the right of school boards to impose mask mandates. The judge was not wearing a mask and he chided lawyers in the courtroom who were masked. The IFT and CTU are opposed to ending the mask mandates and will keep us abreast of this as it develops.
For the next few meetings the House of Delegates will continue to meet remotely and there are pluses and minuses for doing so. Jesse said attendance is higher via Zoom but some delegates are put off as it seems to be harder "to get in line" to speak on a topic or issue that comes up.
Jesse concluded his remarks by announcing that he decided to not run for re-election.
He said he never intended to stay in office until he retires and plans to go back into the schools to teach. His mother died in October 2020 and the job of CTU president is a very demanding and trying one. One of his goals was to nurture and develop leadership talent and he feels that he has done that starting at the school delegate level and on up. He wanted to be part of the group that changed the narrative on what the Union can and should do.
Note: this was a total shock to me. I never envisioned it. I've gotten to know Jesse a bit personally and although I sometimes didn't agree with some of his ideas and plans, I believe he has the best interests of the membership, the students and the City at heart. Karen Lewis, Jesse, and the rest of the CTU leadership have made a huge impact not only here in Chicago but across the nation. I think his decision will be a loss for the CTU, but as he said, new leadership will be capable of moving us forward further.
III. Items for Action
A. We voted to approve the procedures for the upcoming Union elections. A motion was made by Mary Esposito to allow electronic voting for Union members not able to vote in person because they are out due to COVID. This was ruled out of order because Jesse said it would violate U.S. law on union elections.
Esposito challenged the ruling and I voted to support Esposito, but the challenge failed 88-12%. Afterwards, Robert Bloch, CTU attorney, said U.S. laws requires secret ballots in elections and secrecy cannot be guaranteed if it is done electronically.
A motion to close debate on the election procedures passed 95-5% (again, I was in the minority) and the measure to approve the election procedures, which I supported, passed 94-6%
B. The House voted to approve a "Resolution in Support of a Manufacturing Renaissance Bill HR 5124". This is a federal proposal that would increase funding for career, technical, vocational, and practical education introduced by my congresswoman, Jan Schakowsky.
IV. Committee/Department Reports
A. Organizing – Linda Perales – Linda stressed the importance and effectiveness of school safety committees when they are active and take action. The CTU has held one training session for safety committee members and another one is scheduled for February 9. Also, the CTU is helping to organize a statewide meeting on excessive testing in schools on February 22. Lastly, the Union is sponsoring a Town Hall aimed specifically at new teachers with five years or less of experience on March 3, 2022.
B. Grievance Committee – Adriana Cervantes – The CPS is starting its teacher R.E.A.C.H. evaluations and observations are beginning. The CTU has a handbook that faculty and staff should make sure that all observations and time limits are followed by CPS administrators.
The CTU has filed a grievance over the CPS's failure to supply daily reports on COVID cases in the schools as required in our MOU.
Georgia Waller is the CTU Substitute Committee Liaison. Jesse said that this committee has been a long time coming and the need for subs has gone from bad to horrendous. Two substitutes, Doris Zughoul and Dana Smith, were cited by the CTU as "Substitutes of the Month" and will receive certificates and some Union swag in recognition of the work they have done. Any school can send nominations of outstanding subs to the CTU.
C. Political/Legislative Committee – Kurt Hilgendorf – Kurt spoke about HB 2778 which Gov. Pritzker vetoed with an amendment. The bill would not have members lose sick days if they were out due to COVID problems for themselves or their families and would be retroactive to the start of the school year last September. The bill, as amended, would have this only apply to those who receive a vaccine. I asked if the vaccine requirement would be waived for those with valid vaccine exemptions and was told that that consideration is in the legislation.
Kurt also said that 2022 is an election year and the CTU is looking for volunteers to help those politicians get elected who have helped us out in the past. Go to: ctulocal1.org/vote if you would like to help.
V. New Business/Questions and Answers
Jim Mcintosh, Roosevelt High, thinks it would be a good idea of all CTU officers would sub one day a month in a school of their choosing. Jesse said that this might be a problem as it may violate the duties of officers as specified in the CTU constitution.
Brian Grauer thinks members who got paid for the four lockout days should not be allowed to serve on school safety committees. Jesse said that the Union is still working on how to properly deal with these individuals
Frank MacDonald, Washington High, still is pushing for a CTU strike fund to help the membership get through strikes. Jesse said that most strike funds are set up by internationals, not locals, and that most wouldn't kick in until the 8th day of a strike. He also said that amount of money that would be available, even if we were to build it up over the course of a few years, would be miniscule considering the size of the membership. Jesse suggested that the CTU might consider setting up a Hardship Fund instead that would be available to members via an application process instead, which could include paying an emergency rent, mortgage or medical bill.
A motion to extend debate failed 65-35% and the meeting adjourned at 7:11 p.m.
Posted by Jim Vail Jvail900 at 9:31 PM https://secondcityteachers.blogspot.com/2022/02/feb-hod.html?fbclid=IwAR3SRnzTu1CEkZKv1tRyZEm4BVhVoGb7R8WKYZgHWV1XrO1QrkA0mebYnpU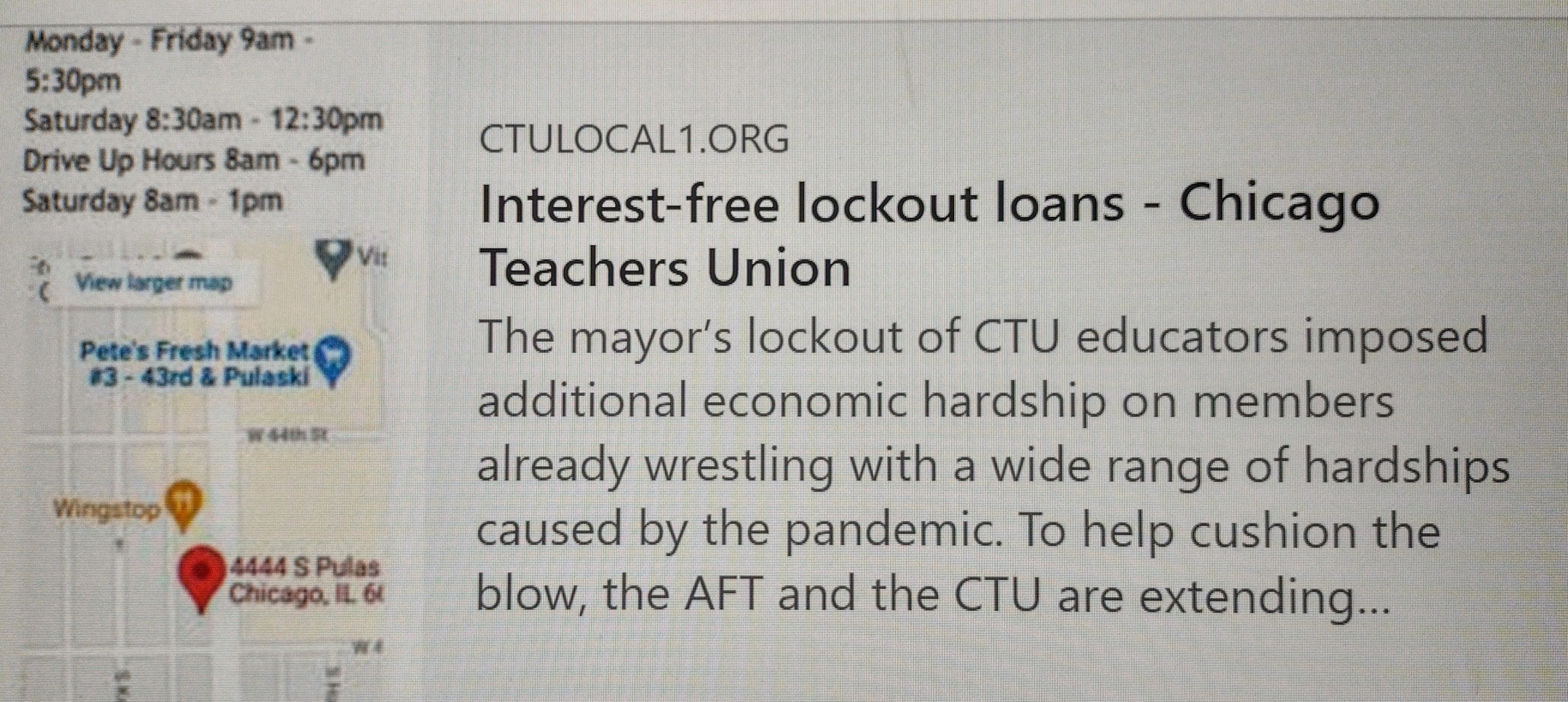 Interest-free lockout loans
By CTU Communications | January 14, 2022 | News

The mayor's lockout of CTU educators imposed additional economic hardship on members already wrestling with a wide range of hardships caused by the pandemic. To help cushion the blow, the AFT and the CTU are extending interest-free loans to any members who lost pay as a result of being locked out.

Who qualifies for the loan?
Must be an active member of Chicago Teachers Union (CTU).
CTU active member must complete and submit Form A, attesting that they honored the job action.
Applicant must be a member of the United Credit Union (UCU).
An initial deposit of $25 is required to open an account and can be a part of the loan disbursement.
Must have lost pay due to being locked out by Chicago Public Schools on January 5, 6, 7, and 10, 2022.
When do I apply? How much is the loan, and how do I repay it?
United Credit Union will accept applications beginning Tuesday, January 18, 2022, and ending on Friday, February 4, 2022. The loan amount is $480. The loan has a 0% interest rate. The member will repay through payroll deduction starting Friday, February 11, 2022.

https://www.ctulocal1.org/posts/interest-free-lockout-loans/?fbclid=IwAR0QEbeYnd17deqFspKl3Cpmo4n_5fFACoqemVz5iOqzZLkv5jrlGtqF1jA