Chicago Teachers Union President continues support for corporate agenda at 'Advance Illinois' breakfast for Arne Duncan
George N. Schmidt - June 20, 2009
While nearly 100 people — most of them Chicago teachers and dues paying members of the 33,000-member Chicago Teachers Union — demonstrated against the continued privatization and other attacks on Chicago's public schools on the sidewalk outside, the CTU President, Marilyn Stewart, ate breakfast inside, smiled when she received a shout out from U.S. Secretary of Education Arne Duncan, tried to avoid being photographed by Substance, and ignored her own members or her role in providing critical support in the fact that the former 'Chief Executive Officer' is now U.S. Secretary of Education.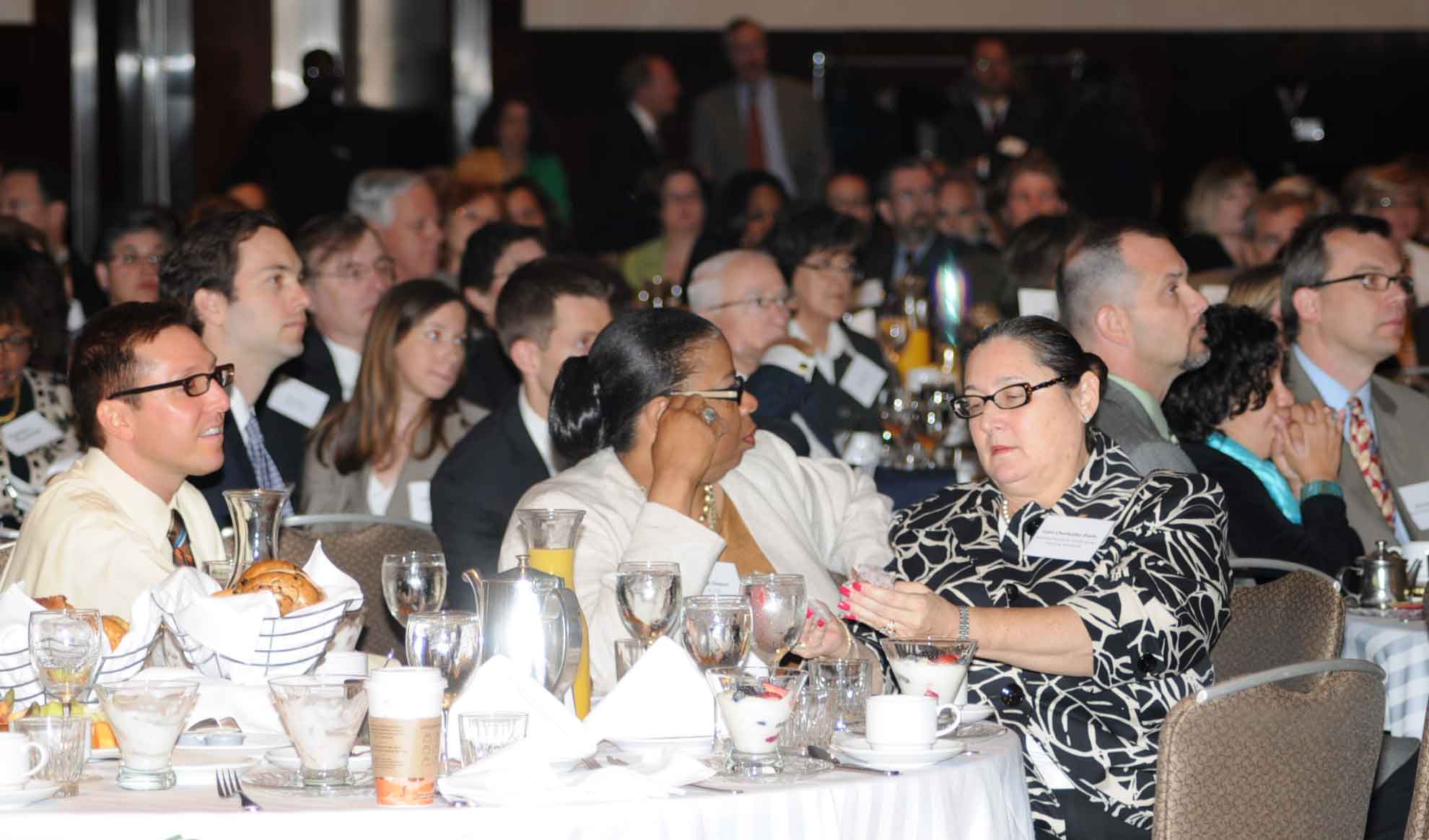 June 19, 2009. Chicago Teachers Union President Marilyn Stewart turns away from the Substance cameras as she sits awaiting another opportunity to cheer during the speech by U.S. Secretary of Education Arne Duncan to the "Advance Illinois" breakfast at the Hyatt Regency Hotel on June 19, 2009. Flanking Stewart (above) are Marc Wigler (with glasses) and Lynn Cherkasky-Davis (handling food), both of whom work at the CTU Quest Center. The three union officials cheered Arne Duncan's remarks, which included attacks on unionized teachers, especially in California, and remarkably dishonest appreciations of Chicago's charter schools (especially North Lawndale College Prep Charter High School). Substance photo by George N. Schmidt.Seated two tables away from Bill Daley, brother of Mayor Richard M. Daley, Arne Duncan, and other corporate and governmental leaders of the group called "Advance Illinois," Stewart applauded with the rest of the audience as the corporate leaders of Chicago and their education reform colleagues promoted the agenda of an organization called "Advance Illinois" and, nationally, the agenda of Arne Duncan and the U.S. Department of Education.
Protests provide views of rank-and-file teachers
While Stewart and her colleagues from the Chicago Teachers Union's staff were eating breakfast and cheering Arne Duncan, dozens of Stewart's members were picketing and protesting against Duncan's corporate "school reform" and union-busting policies on the sidewalk outside the fancy hotel where Stewart was cheering Duncan.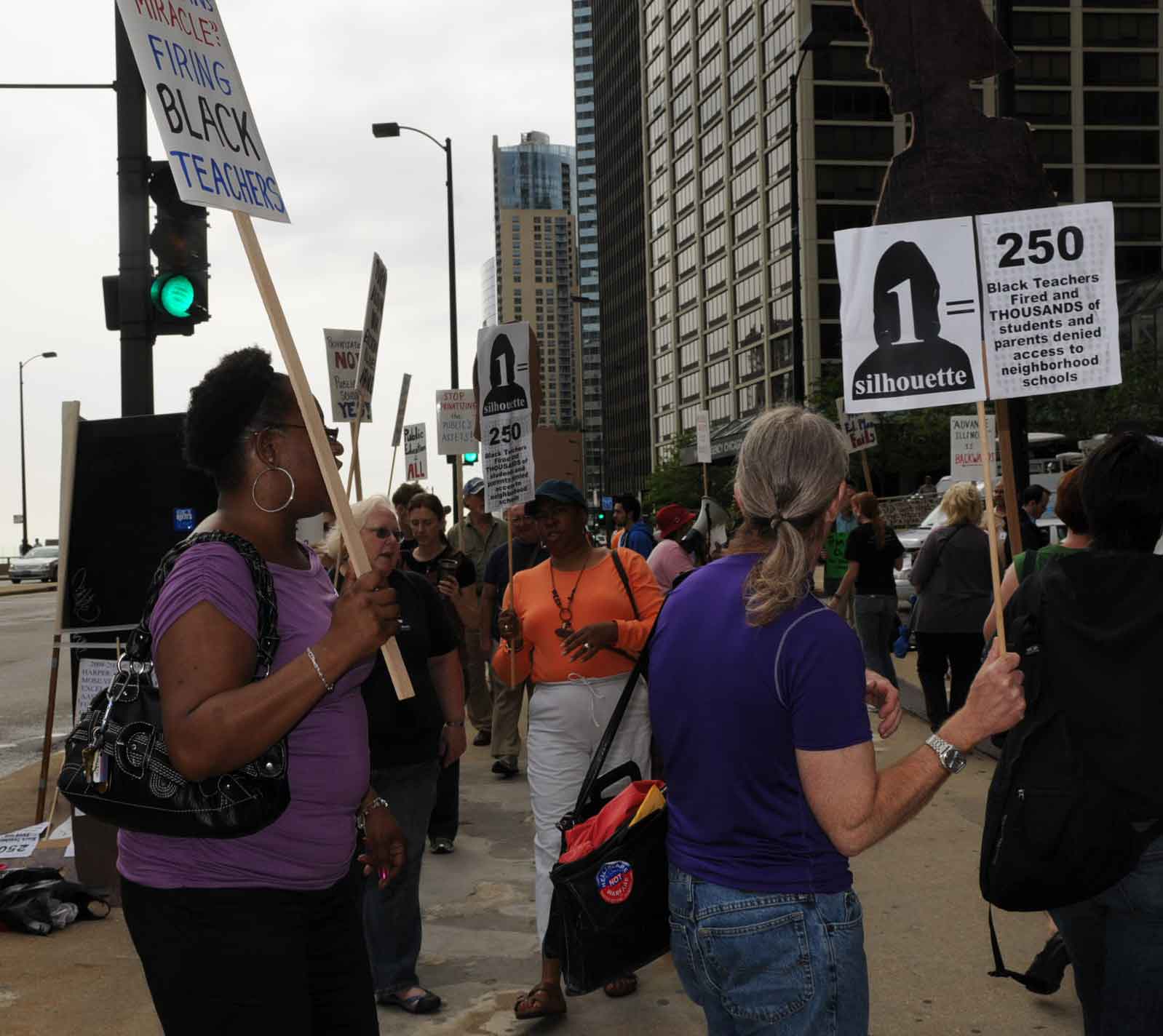 One of the revelations by CORE recently was that under Arne Duncan, the Chicago Board of Education has purged more than 2,000 African American teachers. Most of those took place, according to a recent complaint filed with the federal Equal Employment Opportunity Commission (EEOC) because Arne Duncan, as Chief Executive Officer of Chicago's public schools (from July 2001 through January 2009) pursued a policy of closing schools for so-called "academic failure" based solely on low scores on standardized tests. Duncan's policies than favored a group called the Academy for Urban School Leadership (AUSL), Chicago's favored "turnaround" contractor, which replaced the teachers fired from the failing schools with younger white teachers who had supposedly been trained in the latest successful methods of educating urban children who live in extreme poverty and under the burden of complete racial segregation in Chicago. Substance photo by George N. Schmidt.Organized by CORE (the Caucus Of Rank-and-file Educators) and GEM (the Grassroots Education Movement), the protest against Arne Duncan and the policies endorsed by Advance Illinois drew nearly 100 people, most of them Chicago teachers and retired teachers, while corporate and governmental leaders were listening to Duncan one story below their feet.