🙏 AFL-CIO Chief Richard Trumka dead at 72
Substance News - August 05, 2021
Trumka was elected president of the AFL-CIO after the retirement of John Sweeney in 2009 and president of the Trade Union Advisory Committee to the OECD in May 2010.
Here is a post we did 10 years ago on Trumka' speech to the AFT
ALF_ CIO declares labor's 'independence'... Obama and reactionary Democrats can no longer count on knee-jerk support from 'Big Labor'
John Kugler - May 08, 2011
http://www.substancenews.net/articles.php?page=2247&section=Article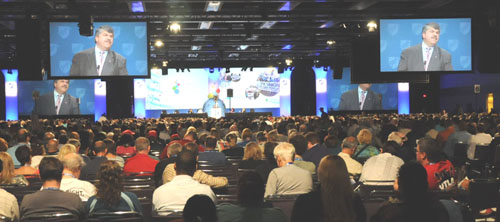 AFL-CIO President Richard Trumka addressed the American Federation of Teachers convention on July 11, 2011, Substance photo by George N. Schmidt.
---------------------
here is his AFL-CIO history from wikipedia
In March 2013, Trumka confirmed that organized labor would make an effort to work more closely with groups trying to aid immigrant workers, as the national debate on minimum wage and fair employment in the restaurant industry heated up.
On August 15, 2017, a few days after the Unite the Right rally and then-President Trump's broadly criticized statements, Trumka quit the president's "manufacturing council" and published a statement, which included the following: "We cannot sit in a council for a President who tolerates bigotry and domestic terrorism. [...] President Trump's remarks today repudiate his forced remarks yesterday about the KKK and neo-Nazis, [...] We must resign on behalf of America's working people, who reject all notions of legitimacy of these bigoted groups."
On February 4, 2018, Trumka was announced to be the first recipient of the World Peace Prize for Labor Leadership because he has dedicated his life to the cause of labor and labor rights, seeking equality, and defending the rights of working men and women.
https://en.wikipedia.org/wiki/Richard_Trumka
----------