THEY CLOSED MY SCHOOL. De La Cruz suffers indignities during final weeks
Kristine Mayle - June 15, 2009
THEY CLOSED MY SCHOOL -- A Substance series Editor's Introduction by George N. Schmidt. Beginning with this series of letters, Substance will present first person narratives from teachers, students and others from the Chicago schools that were closed at the end of the 2008-2009 school year. All we are asking is that people tell their stories in their own names. We will see how much we can follow up with each of these stories as time permits.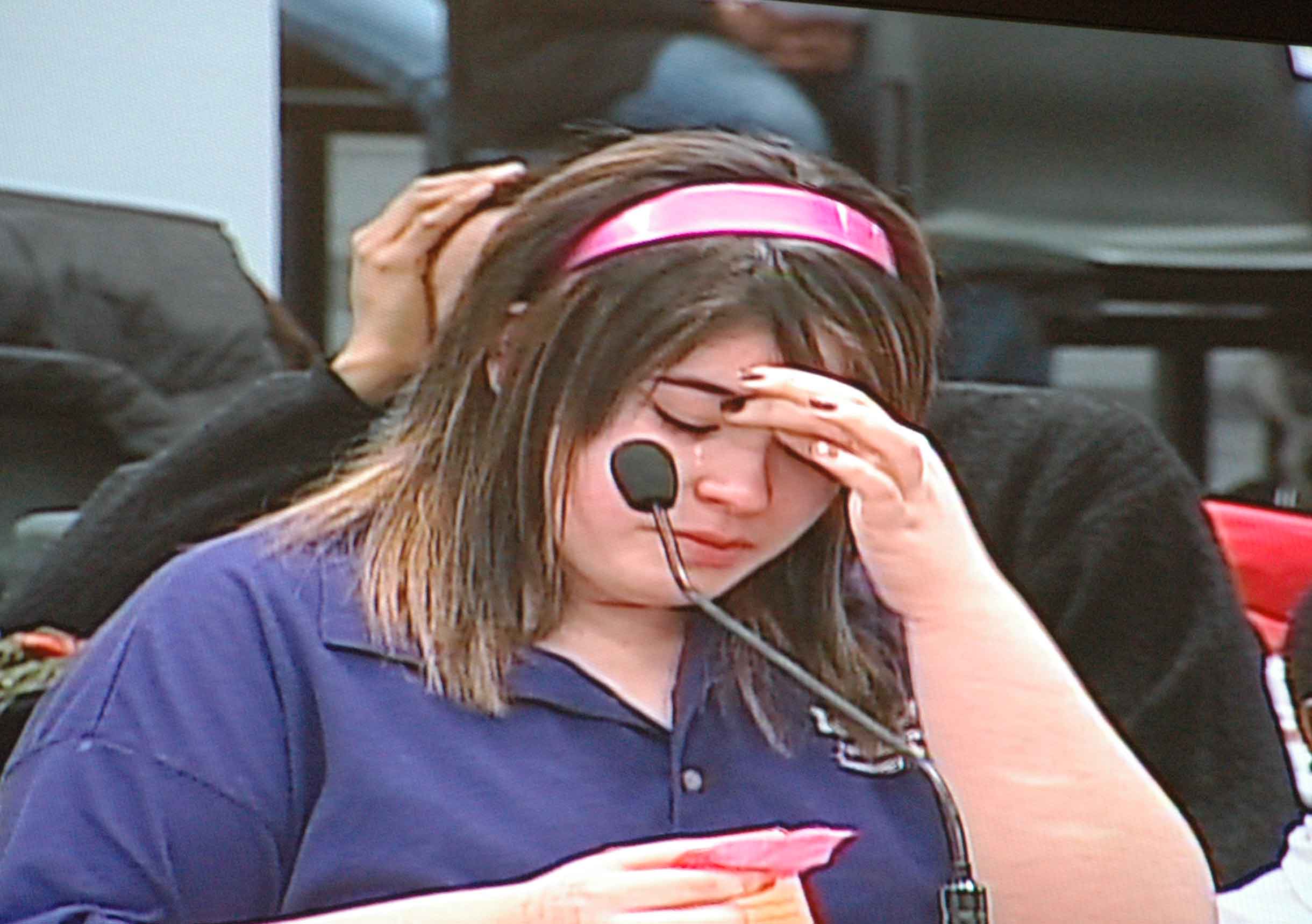 February 14, 2008. Special Education students have been hardest hit by the school closings orchestrated by the Duncan administration and approved by the Chicago Board of Education between 2002 and 2009. Above, De La Cruz special education student Iliana Mojica prepared testimony for the 'Board of Education' talking about how De La Cruz school had been the place where she was finally able to begin to get an education, thanks to the school's small and caring environment. Mojica broke down and was unable to complete the reading of her statement to the 'Board' on the night of February 14, 2008, when the hearing took place. What she did not know was that not one member of the Chicago Board of Education was present that night for the hearing, and that her testimony, as well as more than 80 pages of testimony from students, parents, teachers, and others on behalf of De La Cruz, would not even be read by the seven members of the Chicago Board of Education before they voted, unanimously and without debate, at their February 27, 2008, meeting, to destroy De La Cruz. Substance photo by George N. Schmidt.The 'hearing' on the closing of De La Cruz was held on February 14, 2008, in the chambers of the Chicago Board of Education's headquarters at 125 S. Clark St. Chicago. The transcript of the hearing, which Substance acquired after a request under the Freedom of Information Act, is 85 pages long. Not one person (except for the Board's own officials) spoke in favor of the proposal by then-CEO Arne Duncan to close De La Cruz. At the time the seven Board members voted on Duncan's proposal to close De La Cruz, not one of the Board members had read the transcript or the more than 50 pages of letters and other materials submitted by teachers, parents, students, and administrators against the closing of De La Cruz.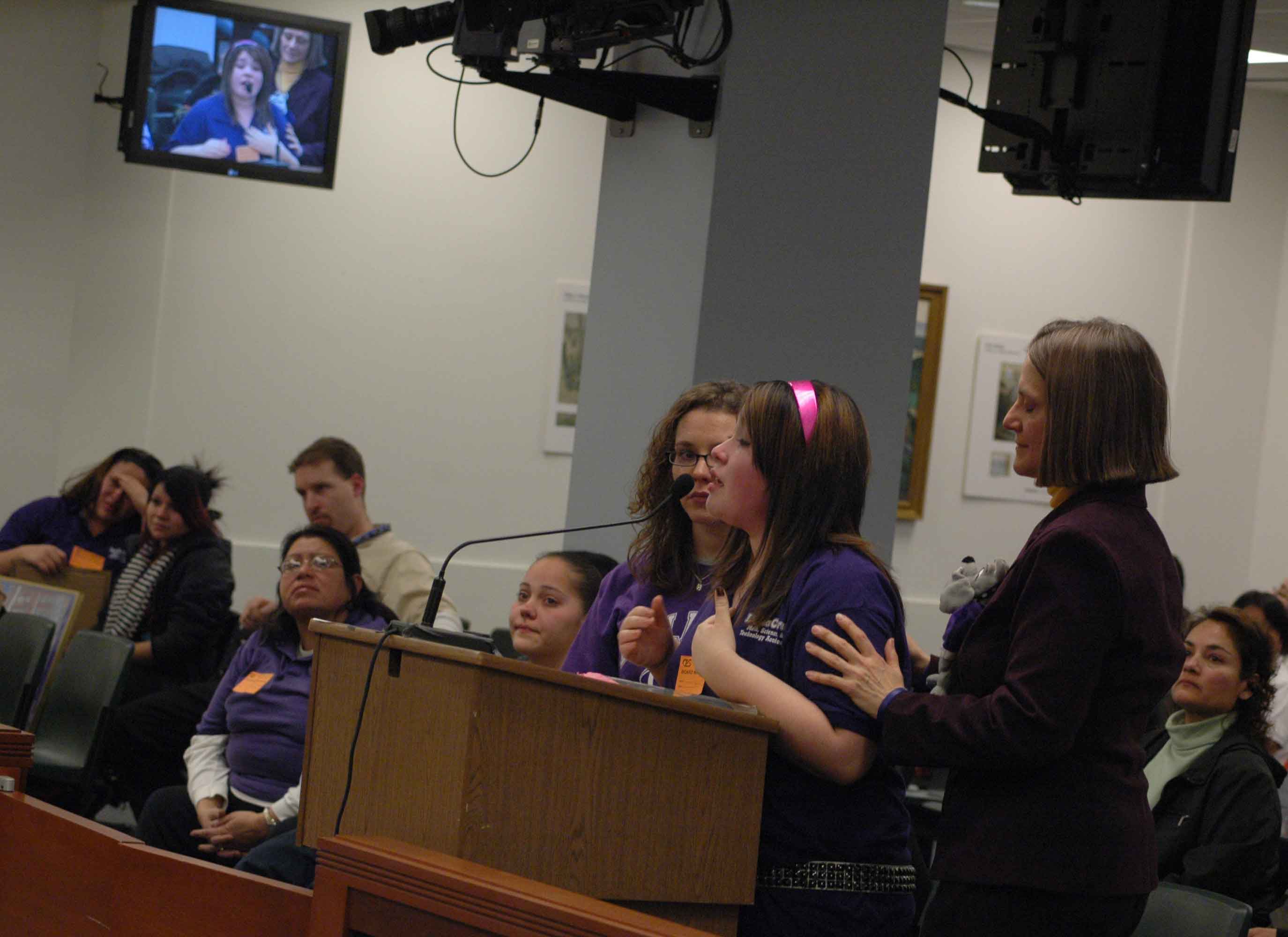 During many of the hearings in 2008 and 2009, students and others who testified became emotional and even began to cry. The strong support networks from the schools on the Arne Duncan 'Hit List' came forward to comfort them during the hearings. Above, teacher Kristine Mayle (left) and principal Katherine Konopasak (right) helped Iliana Mojica complete her testimony to the 'Board' asking that De La Crus not be closed. Mjoica and the other students and parents in the room did not know that none of the members of the Board of Education who would later vote to close her school were listening or in the room. The middle aged men and women siting in the 'Board' seats were basically bureaucrats who were assigned to be there, looking like important people during the dozens of hearings each year. Substance photo by George N. Schmidt.In fact, on February 27, 2008, when the seven members of the Board of Education voted unanimously and without debate to close De La Cruz, not one of them had attended the hearing, read the transcript, or otherwise taken any interest at all in the human aspect of the De La Cruz school. The Board also ignored the fact that the hearing officer hired by and paid for by the Board, Respicio Vazquez, was a partner in the law firm of Franczek Sullivan PC, which at the time and since has been the largest outside law firm to receive Board work as a legal contractor. During 2008, Vazquez's firm received more than a half million dollars in work from the Chicago Board of Education. Yet Vazquez during the hearing identified himself as an 'independent' hearing officer, and the same statement was repeated in Arne Duncan's Board Report which (when voted on by the Board) sealed the fate of De La Cruz.
The Final Days of De La Cruz...A free-for-all of greed
By Kristine Mayle
Below are two more letters from De La Cruz students about the events of today. I will write my own letter tonight too, once I am able to process the madness I saw today.
They let the Area 10 principals into the building to take and claim whatever they could get their hands on... while teachers were trying to close up for the year and with students present!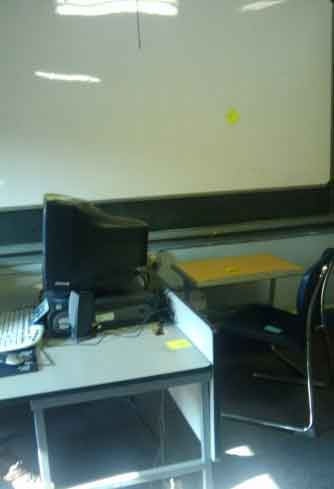 Above: The computer and computer table tagged as mentioned in this story. Substance photo by Kristine Mayle.I even had a principal reach over my head while I was typing to put a sticker on my classroom computer to claim it as her own. WHILE I WAS TYPING.
She didn't say a word, just reached over me. Shocking behavior all around. One student compared it to when her grandma died and all the relatives rushed her house to claim and fight over her property. I do not understand why they couldn't have had this free-for-all next week, when teachers and students were out of the building. Sheesh.
Alejandra Martinez
Dear Editor,
Today, 6-10-09, on our last day of school, instead of enjoying ourselves and saying our last goodbye's to one another, were helping our teachers pack-up supplies so that they can be picked up and taken to other schools. I am an 8th grade graduate at De La Cruz Academy that feels really bed about having her school being closed. We had most of our stuff taken away from us even before school ended.
Today we had to have other people from other schools come into our school and take our stuff. The thing I couldn't stand the most was that they still wanted us to take our own stuff into their cars so that they could be taken away. I've been in De La Cruz for four year's and feel really bad and angry that the board is closing our school. I am really going to miss this school and all its teachers because of all the help and support they have given me. Well, I just hope that the Board decides to change their minds and leave De La Cruz for longer or if possible for ever.
Sincerely, Alejandra Martinez
Anallelit Flores
Dear Editor,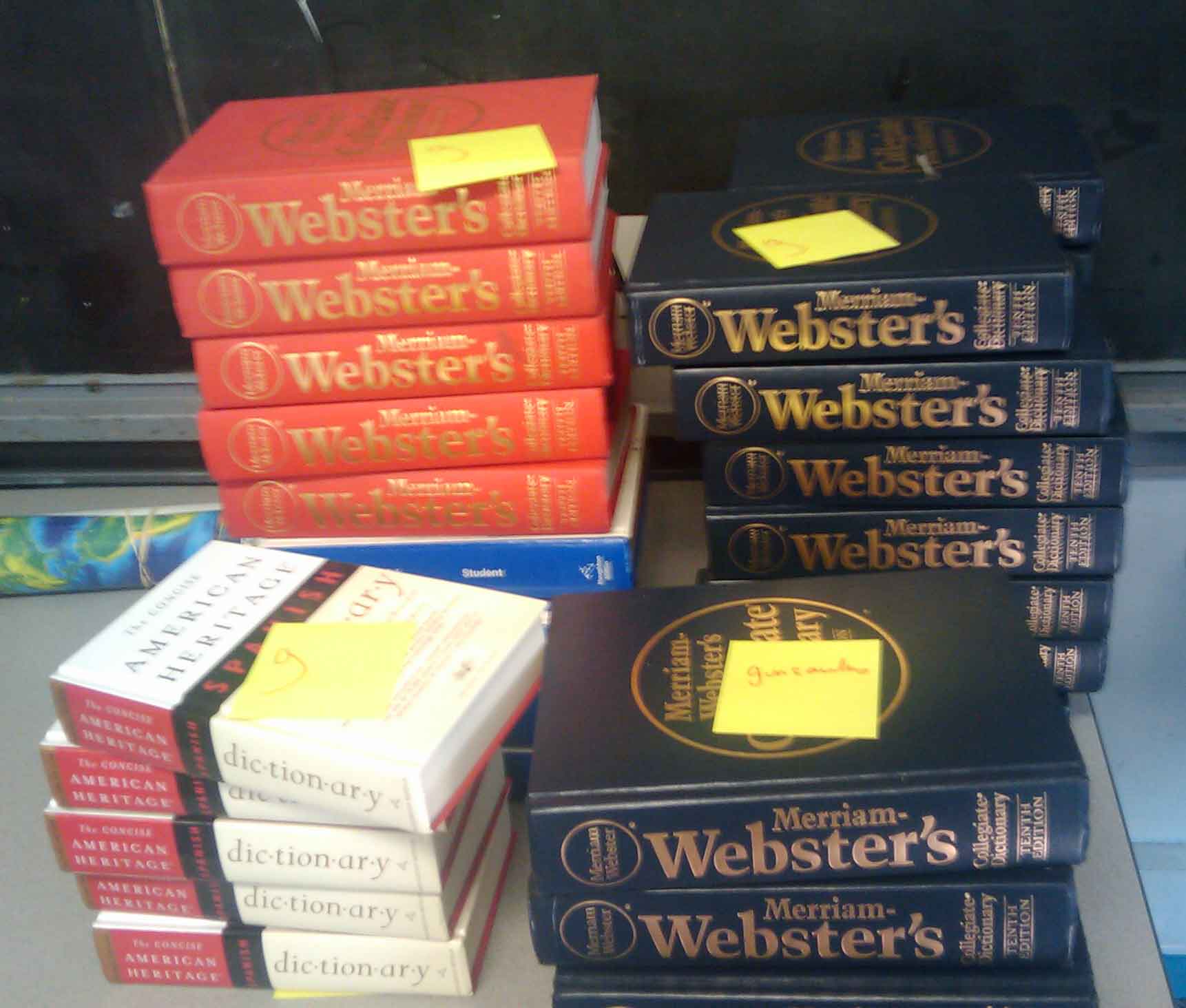 Dictionaries and other books were also 'tagged' with PostIt Notes as the scavenger hunt by principal at Chicago's De La Cruz school went on during the school's final week. Substance photo by Kristine Mayle.I am really disappointed because my school De La Cruz is closing. It is very sad because I have been in De La Cruz for four years. I already graduated on June 8, 2009 and it was the best day of my life. The experiences I had are so many that it is hard for me knowing that they are closing. This year I am so thankful to my principal beause she took us to so many fieldtrips and places I had never been to before. I'm going to miss all my teachers and friends. Now that we are going on to high school, I'm not going to be able to see them any more. My school is closing and it is not fair how other principals from other schools come and take away our supplies, cabinets, books and other things. Now, De La Cruz is going to sit empty with only memories. It's unfortunate that the Board of Education chose to permanently close this wonderful school.
Sincerely,
Anallelit Flores
Monserrat Dura
Dear Editor,
Today is my last day in school with my friends and teachers, and it's very sad beause we are cleaning our rooms and helping around.
People from other schools are coming and taking our things that once was ours and now they are going to different places. This is not fair what they're doing to us.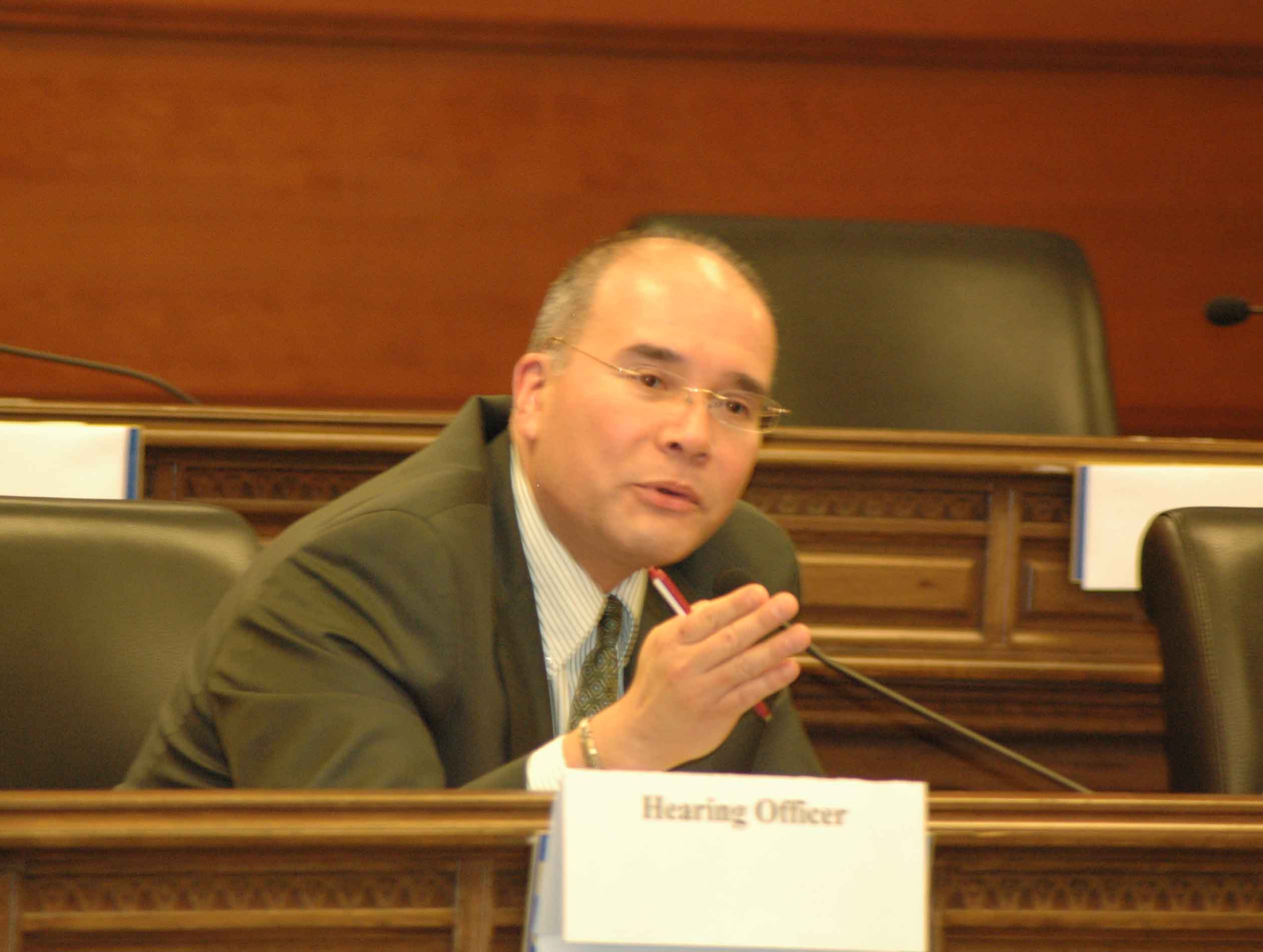 Like most of the hearing officers hired by the Duncan administration to conduct the hearings on school closings between 2002 and 2009, Respicio Vazquez (above) told the hearings that he was an "independent" hearing officer and that his report to the Board would be carefully considering the testimony and exhibits presented to him. At the time of the De La Cruz hearing in February 2008, Vazquez was a partner in the law firm of Franczek Sullivan, PC, which had just negotiated the Chicago Teachers Union contract on behalf of the Chicago Board of Education. One month before the De La Cruz hearing, Vazquez's law firm was paid $200,000 by the Chicago Board of Education for "services to the Board for general litigation, labor negotiations, consultation, and strategy developments" (Board Report 08-0123-AR2, January 23, 2008). At one point during the De La Cruz hearing, Vazquez refused to slow down the pace of testimony so that dozens of Spanish-speaking parents and children could receive adequate translation and threatened to have a teacher who protested is discrimination removed from the chambers by Board security staff. Above, Vazequez is telling Whittier Elementary School teacher Norine Gutekanst, who had taken the floor to object to the discrimination against bilingual families, that he will have security remove her if she continues to 'disrupt' the hearing. Substance photo by George N. Schmidt.I see people crying today because memories came back to them. I have 4 years in De La Cruz and it's sad watching my school getting empty each hour.
De La Cruz is not the only school that is closing forever and I know that many people are really sad about it. I'm here watching all my teachers packing things and they are really angry because people is coming in and taking their things and not even saying excuse me or something!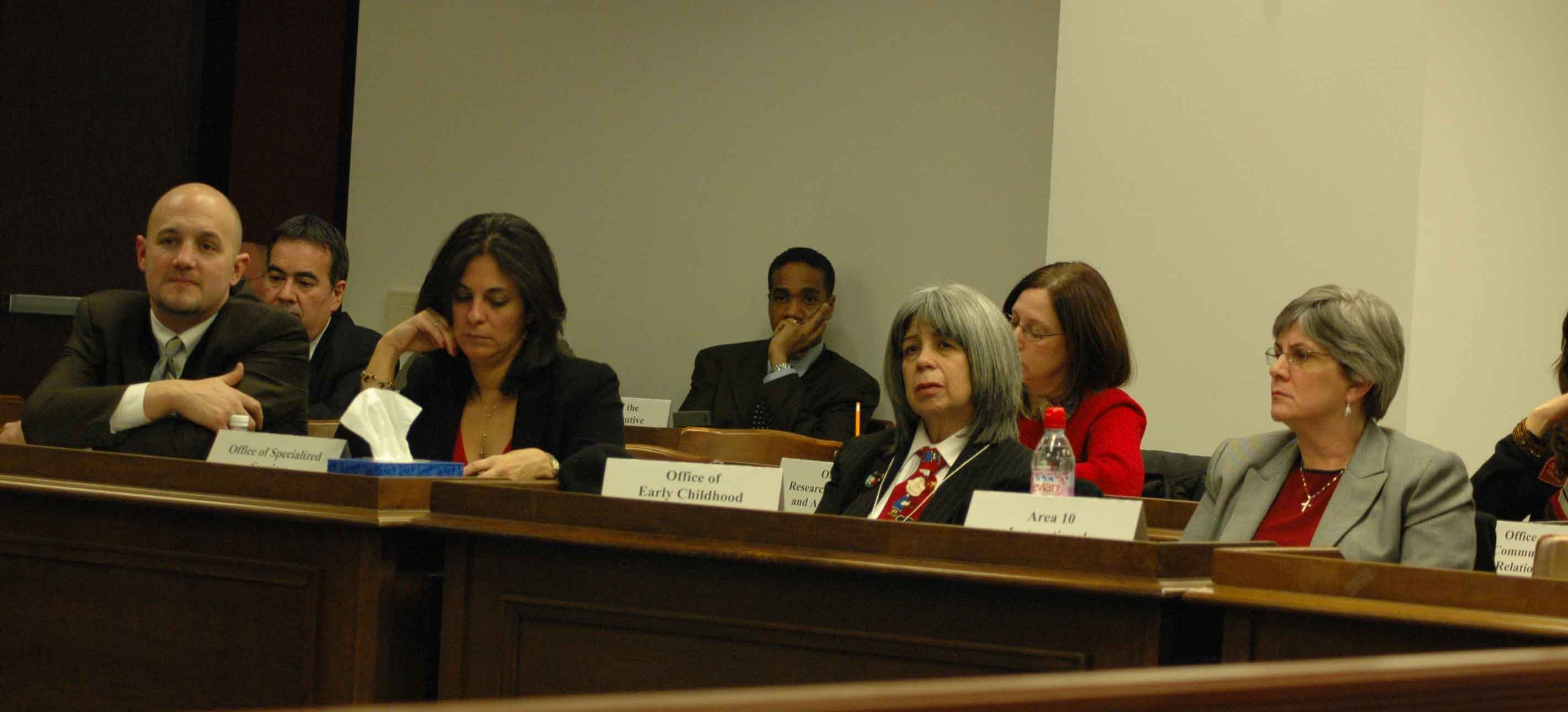 On February 14, 2008, at the time of the hearing on the proposed closing of De La Cruz Elementary School, parents, teachers and students had been led to believe that they would be presenting their testimony to the 'Board' (i.e. the Chicago Board of Education) and to the Chief Executive Officer, Arne Duncan (at the time). Both beliefs were not true. During the 2008 hearings, the Duncan administration provided a cast of characters (above) seated in the Board chambers in seats where the public believed the actual members of the Board of Education were sitting. Each night, the bureaucrats in the 'Board' seats changed, but every night attendance was taken. Some of those in the seats were regulars, like the Board's Demographics chief, James Dispensa (far left above), but most were a rotating cast of mid-level executives dependent on the patronage system at CPS for their continued $90,000 to $140,000 per year jobs. Not one of the people in the photograph above, which was taken during the Da La Cruz hearing, is a member of the Board of Education of the City of Chicago. Substance photograph by George N. Schmidt.Anyways, I had many good memories in here. I am also very thankful with all my teachers and my principal because they helped me a lot this year and all the fun times we had. No school or no one will take them away from us. Well this is only me but I know all my friends have memories and good ones. Thanks for all the good memories De La Cruz! The last generation of De La Cruz, Class of "09"!
Sincerely,
Monserrat Duran