[Developing Story] Crony Caucus Patronage, 'Sexist' Culture Among Chicago Teachers Pension Fund Board Trustees
Substance News - December 01, 2020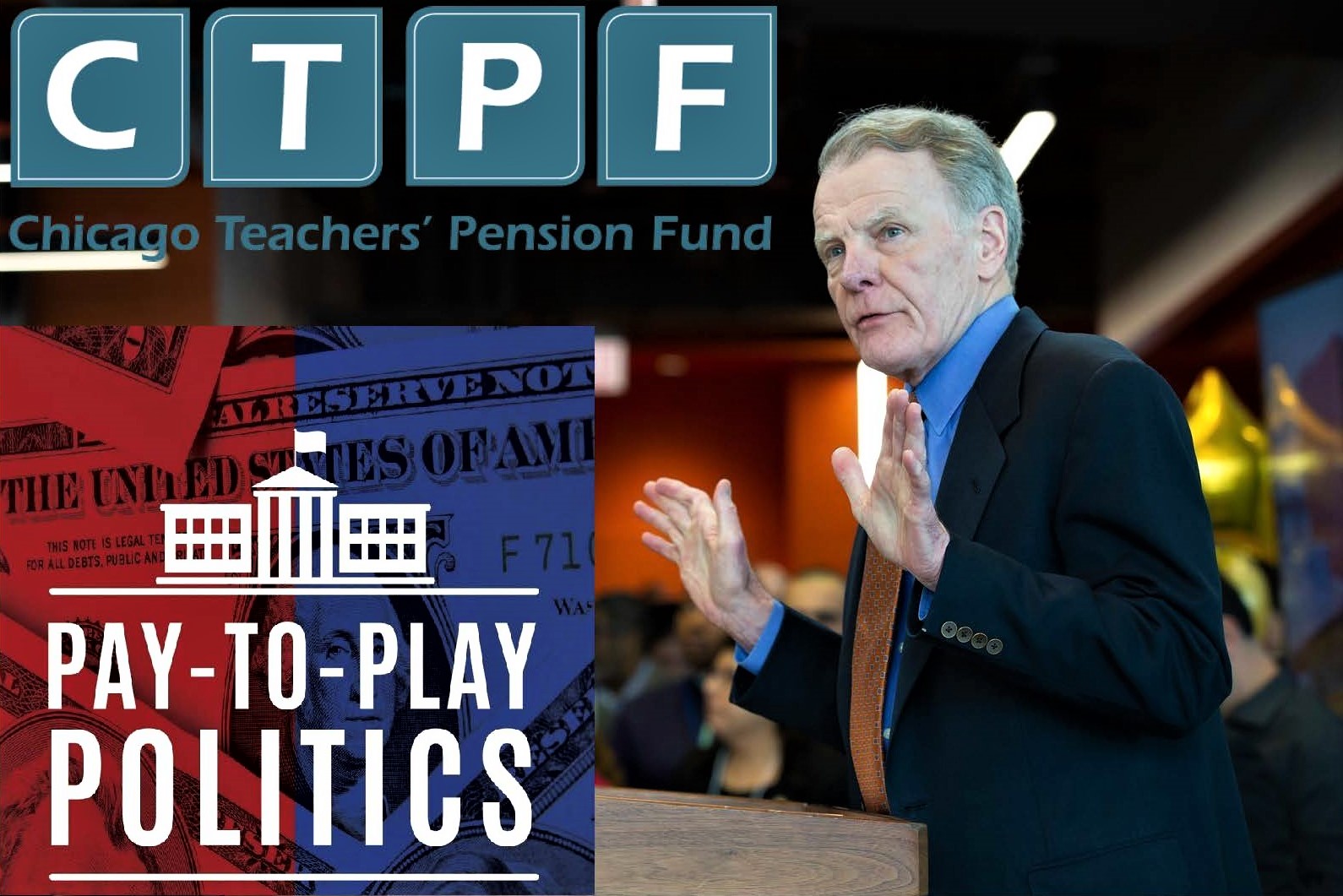 "I am also aware of trustees being approached by members of the Chicago Teachers Union who want us as trustees to hire former Madigan staffers who are now contract lobbyists," Jeffery Blackwell, president of the Chicago Teachers' Pension Fund Board of Trustees said. "Let me be clear. We are not in the business as fiduciaries of hiding Madigan lobbyists at the fund under the guise of a [request for proposal]."
[Substance News has been contacted by multiple sources who have pointed to a faction of the CORE caucus possibly involved in influence peddling and manipulation of elected Pension Trustees connected to Speaker Madigan: TIPS can be sent to subxnews@gmail.com]
Turmoil at Chicago Teachers fund involves top staffers
Lynne Marek November 18, 2020 11:22 AM
https://www.pionline.com/pension-funds/turmoil-chicago-teachers-fund-involves-top-staffers
A 'We Support Chicago Teachers and Staff' sign is displayed in the window of a parked car in Chicago during the teachers' strike in 2019
Bloomberg
A 'We Support Chicago Teachers and Staff' sign displayed in the window of a parked car in Chicago during the teachers' strike in 2019.
Nearly half the leadership staff at Chicago Teachers' Pension Fund alleges discrimination and other ill-treatment by a few of the fund's board trustees, according to a lawyer representing them.
"It's been a racially hostile environment for some time, sort of conjoined with intimidation, bullying and harassment," said Michael Leonard, a Chicago attorney hired by four of the $11 billion pension fund's leadership staff and a former top staffer who recently exited. All requested, through Mr. Leonard, that their names not be used.
As for Mr. Leonard's clients potentially pursuing a lawsuit, "that's under discussion," he said.
Mayor Lori Lightfoot last month told the editorial board of Crain's Chicago Business that conditions at CTPF were "very troubling" and in need of outside investigation.
Tension between staff and trustees could affect the operation of a fund.
"It's impossible to run a pension without real collaboration and cooperation between the staff and the board," says Marc Levine, a former financial executive who previously served as a trustee on the Illinois Teachers' Retirement System and the Illinois State Board of Investment. "If you have infighting, everything becomes dysfunctional, and everything becomes 'gotcha,'" Mr. Levine said.
Problems at the pension fund surfaced in August when the president of the fund's board, Jeffery Blackwell, went public with a host of criticisms directed at the board's trustees. "For the last year and a half I have been witness to some of the most abhorrent, disturbing and despicable actions by former and current trustees on this board," Mr. Blackwell said in a statement at the beginning of the Aug. 20 trustee board meeting, citing "a culture of intimidation, intentional misinformation, discrimination, slander, misogyny, fear-mongering, blatant racism, sexism and retaliatory actions from trustees towards staff and vendors."
The fund's chief legal officer, Daniel Hurtado, declined to comment. "Fund employees have not notified us that they are considering any legal action," fund spokeswoman Michelle Holleman said in an email. The pension fund has 122 employees and covers about 68,000 current and future Chicago teacher beneficiaries, according to Ms. Holleman.
Mr. Blackwell didn't name names in his August statement, but he called on then-executive director Charles Burbridge to compile "grievances, complaints, harassment claims and audio clips of verbal abuse" and consequences previously recommended by outside attorneys for submission to the Illinois Attorney General's Office, City Hall and Equal Employment Opportunity Commission, among other local and federal agencies.
Since then Mr. Burbridge has left his position and Mary Cavallaro, who had been deputy executive director, was appointed as an interim executive director.
In a statement late last month, Ms. Cavallaro said: "We want to assure our members that CTPF business continues uninterrupted. The fund is committed to ensuring financial stability, operational efficiencies, and seamless service to members. CTPF is a diverse organization that takes great pride in providing, protecting, and enhancing the present and future economic wellbeing of our members."
Problematic behavior
Despite the complaints reaching back to at least summer 2019, Mr. Leonard said the fund had taken little action to curb the alleged problematic behavior. "You have an obligation as an employer to investigate and take prompt and effective remedial action," he said. In a letter to Mr. Blackwell and other trustees on Aug. 13, Mr. Leonard's clients urged Mr. Blackwell to take action to address the alleged ill-treatment.
In an email to Mr. Leonard this month, Mr. Hurtado suggested that contrary to Mr. Blackwell's call for a probe, the fund didn't have the authority to pursue one. "I want to advise you that CTPF staff does not believe the organization has the standing or authority to submit staff complaints to other government agencies without the complainants' consent or direction," Mr. Hurtado said in the Nov. 6 email to Mr. Leonard. Mr. Hurtado noted that employees have the option to pursue their own complaint.
Mr. Blackwell said Tuesday in an interview that he's seeking other ways to address the employees' concerns because they feel past legal reviews haven't made a difference. He's considering forming an executive committee but has had difficulty getting it approved by other trustees in the past.
"We need to utilize some other methods of having these complaints investigated," he said.
Some trustees cause friction when they try to micromanage the staff, he said. He expects to stand for re-election to his post as president Nov. 19 at a trustee meeting. That election of the board's officers follows the re-election of one trustee and the election of one new trustee earlier this month.
No jurisdiction
Natalie Kuriata, a spokeswoman for the city of Chicago's Office of Inspector General, said her office doesn't have jurisdiction with respect to CTPF. She referred an inquiry to the Office of the Inspector General for Chicago Public Schools, which didn't immediately respond to a request for comment.
Mr. Leonard said he wasn't aware of any details related to Mr. Blackwell's allegation that members of the Chicago Teachers Union sought to have trustees hire former staffers for Illinois House Speaker Michael Madigan, but he said he's looking into it. The Chicago Teachers Union endorses trustees as part of elections of representatives to the CTPF board trustees.
Attempts were made to reach all of the trustees, except the new member, by email or through LinkedIn. Only Mr. Blackwell responded.
This story was published by Crain's Chicago Business, a sister publication to Pensions & Investments.
------------------------------------
CTU attempted to bully pension fund into hiring Madigan lobbyists
Ben Szalinski OCTOBER 7, 2020
https://www.illinoispolicy.org/ctu-attempted-to-bully-pension-fund-into-hiring-madigan-lobbyists/
Madigan already faced similar scandals alleging he asked powerful corporations to hire people at his recommendation.
An explosive statement from Jeffery Blackwell, president of the Chicago Teachers' Pension Fund Board of Trustees, revealed a culture of harassment and abuse that included demands to hire lobbyists close to House Speaker Michael Madigan.
"I am also aware of trustees being approached by members of the Chicago Teachers Union who want us as trustees to hire former Madigan staffers who are now contract lobbyists," Blackwell said. "Let me be clear. We are not in the business as fiduciaries of hiding Madigan lobbyists at the fund under the guise of a [request for proposal]."
Blackwell did not elaborate further on this point. However, he outlined a serious pattern of abusive and unprofessional behavior by other trustees during a board meeting Aug. 20.
"There is a culture of intimidation, intentional misinformation, discrimination, slander, misogyny, fear-mongering, blatant racism, sexism and retaliatory actions from trustees toward staff and vendors."
Blackwell's statement was another example of Madigan's political cronies being pushed for jobs with entities dependent on the speaker's political favor in Springfield.
Madigan was implicated in a bribery prosecution agreement with Commonwealth Edison that alleges Madigan allies were given $1.3 million in no-work jobs or contracts with the utility. In exchange, ComEd received Madigan's support on legislation worth $150 million.
According to the Chicago Sun-Times, one of Madigan's associates said, "We had to hire these guys because (Madigan) came to us. It's just that simple." He even goes on to say that Madigan named people to become employees at ComEd, but not just for lobbying jobs. The speaker would even give names of those to be hired as meter readers.
Madigan was issued a subpoena asking for all documents and communication regarding ComEd. Subpoenas were also issued searching for records of similar patterns at AT&T, Walgreens and Rush University Medical Center.
The speaker is now under investigation in the Illinois House for behavior unbecoming of a legislator. Lawmakers are exploring Madigan's role in the ComEd case to investigate whether he abused his power as speaker. Madigan is refusing to testify in the investigation but denied wrongdoing and said his job is to help people – including with job recommendations.
The comments from Blackwell about the CTU's push to hire Madigan allies raise more questions about whose interests the speaker represents and how much the public can trust Springfield. Madigan is the fifth key supporter of Gov. J.B. Pritzker's "fair tax" on the Nov. 3 ballot to face federal corruption investigation, prosecution or conviction. Even Pritzker is under federal investigation for a $331,000 property tax dodge on his Gold Coast mansion.
Trusting state lawmakers with greater power to decide who should be taxed at what rates is a tough sell at any time, but the timing seems especially poor when there seem to be more FBI agents than ComEd lobbyists in Springfield.