Huberman No. 2 Hears Out Elementary Horror Tales
Jim Vail - June 14, 2009
Less than a week after a major protest at Prescott Elementary School highlighted problems parents and teachers are having with dictatorial Chicago principals, two top assistants to Chicago Public Schools Chief Executive Officer Ron Huberman met with teachers from three elementary schools in an unprecedented Saturday meeting on June 13, the day after school ended for the 2008-2009 school year, to hear their tales of woe and decide what to do. The meeting was held at the Chicago Academy for Math and Science (TAMS) center at 501 W. 35th St. at 10:00 a.m. All three schools have faced public turmoil because of what teachers and other staff report are the unprofessional and dictatorial actions of their principals. Two of the schools have been reporting their situations widely on the Internet, Gunsaulus more on "District 299.com" (a blog operated by Catalyst magazine) and Prescott largely in comments following reports at substancenews.net.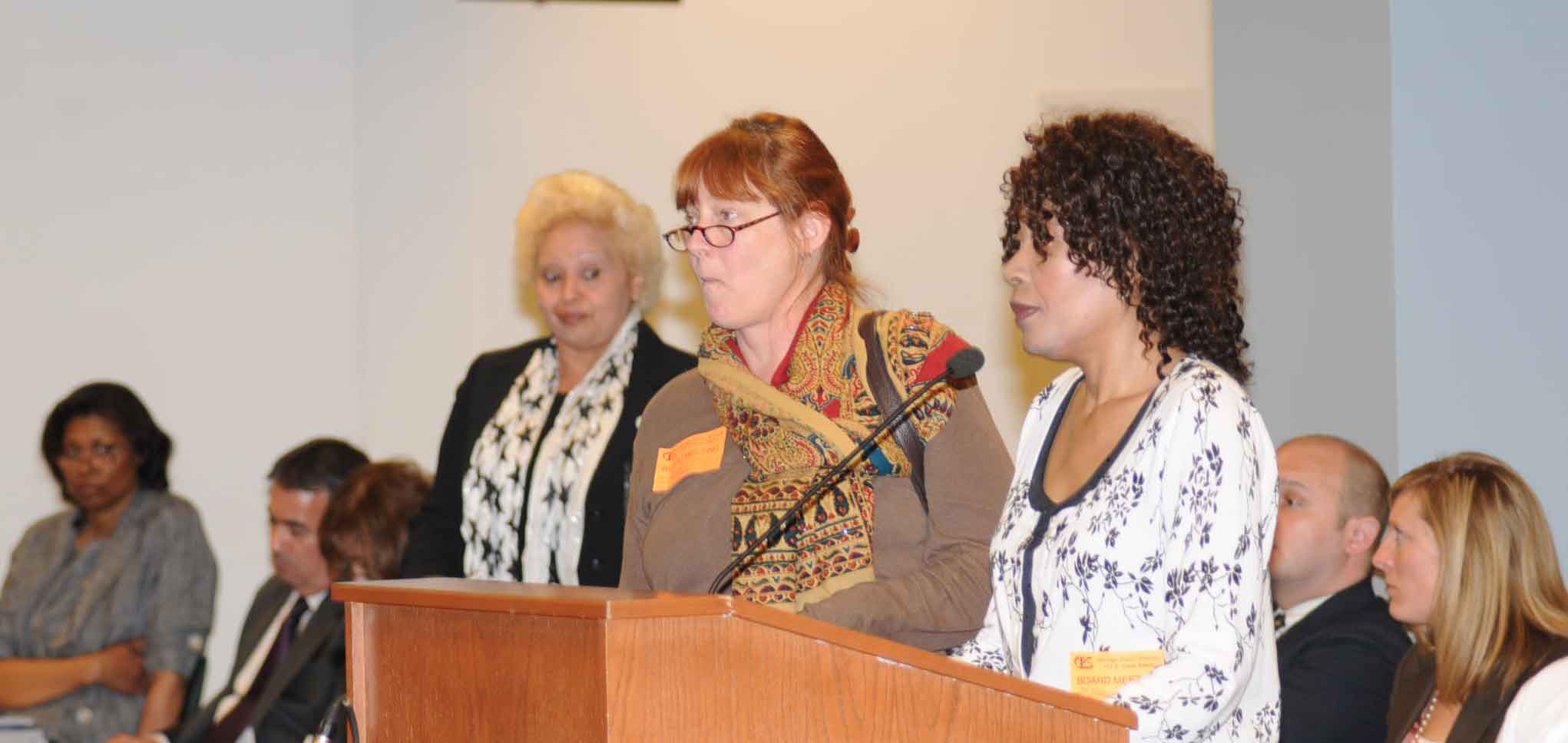 Prescott Elementary School teachers Brenda Chandler (above right) spoke about the problems facing the school at the May 27, 2009, Chicago Board of Education meeting. When she returned to the school on May 28, her principa, Erin Roche, told Chandler and her fellow teacher Suzanne Dunn (above, center) that they were being suspended without pay. Chandler and Dunn are among the teacher at Prescott who have protested against the policies of principal Erin Roche. On June 14, Chandler was one of the Prescott teachers invited to an unprecedented meeting convened by Chicago Schools CEO Ron Huberman where Huberman's top aides listened to problems at three elementary schools -- Prescott, Gunsaulus, and Field. Substance photo by George N. Schmidt.The teachers met with Drew Beres, who came to CPS with Huberman, or Rachel Resnik, who has long served in the system's labor relations office. Also present at the meeting were Chicago Teachers Union President Marilyn Stewart and two of her staff.
Prescott and Field teachers meet with Drew Beres
Prescott Elementary School teachers, who have been involved in a major battle against their principal, joined Fields Elementary in a room with Drew Beres, the special assistant to Huberman, at the Teacher's Math and Science Academy June 13 to demand leadership changes.
Prescott teachers, parents, and students joined fellow Chicago public school students and teachers from around the city to picket in front of their school last Tuesday and demand that their principal be removed. Prescott principal Erin Roche has been accused of dumping the school's special education program, forcing out his veteran teaching staff via suspensions, write-ups and poor ratings and eliminating children's cultural programs such as assemblies, awards and holiday parties.
Eight teachers from Prescott and about eight or nine teachers from Fields and several CTU staff including Marilyn Stewart, Field Reps Gregg Cox and Michael Kane attended the two and a half hour meeting, according to Brenda Chandler, a special education teacher at Prescott Elementary.
"It sounded like (Fields teachers) have our twin evil," said Gretchen Watkins, a first grade teacher at Prescott. "We told them you are messing with people's livlihoods and their mental and physical health."
Gonzalus Elementary School on the southside met separately with Rachel Resnik, also introduced as an assistant to Huberman, Chandler said. Most recently, Resnik has been chief labor relations officer for CPS, but the Huberman administration is changing top personnel and job titles at a rapid rate.
Marilyn Stewart wants more than words
"Marilyn said we don't want this to be just another BMW moment," Watkins said, "which she explained means a bitch, moan and whine session."
Watkins said Huberman's reps told them that they would take documentation and present it to Huberman and they expected to get back to the teachers with a response within "two to three weeks." Note: Huberman did not promise to meet the teachers, according to Brenda Chandler. At previous Chicago Board of Ed meetings, teachers from Gonzalus and Prescott presented compelling testimony why their new principals need to be removed from their schools. However, CPS Board president Michael Scott said his hands are tied because of the contract they have with their Local School Councils.
At Saturday's meeting the situation at Julian High School was brought up, in answer to the Board of Education's claim that the Board has no power to correct mistakes made by local school councils. People noted that on April 3, 2009, Huberman quickly removed the Julian High School principal, ignoring that school's LSC. Two members of the Julian LSC protested the removal at the May 27 Board meeting, but have yet to receive any satisfaction from the Board. "(Beres) said that [the Julian situation] was a matter of violence and protecting the kids," Prescott teacher Gretchen Watkins told Substance.
According to Prescott teachers, Marilyn Stewart had promised a meeting with CPS Chief Education Officer Barbara Eason-Watkins in March. There was no explanation for the delay.
But overall, Watkins said she did not feel good about the meeting. "I left feeling less encouraged than when I arrived," she said. "They said if anything happens, it's a long process. Well, people are losing their jobs now, so this can't wait."
Resnik surprised by Prescott, Field schools at the meeting
Apparently, there was some confusion about who was meeting with whom on June 13.
A parent from Gunsaulus Elementary School who attended the meeting said that when the people from Gunsaulus arrived, CPS Labor Relations Chief Officer Rachel Resnik was surprised to learn that other schools were also there.
The situation at Gunsaulus has been similar in many ways to the situation at Prescott, with the difference that the Gunsaulus situation has resulted in a Chicago record for blog discussion. A month ago, the the moderator of the Catalyst magazine blog, Alexander Russo, announced the the Gunsaulus thread on "District 299.com" had to continue with a new lead after the original discussion surpassed 800 entries.
None of the principals involved was included in the meetings held on June 13.
Requests for comment were sent by e-mail to Monique Bond, CPS Director of Communications, and Rose Maria Genova, CTU publicist. As of the end of the work day on June 15, 2009, neither had responded. Marilyn Stewart and Ron Huberman were not available for comment. 
Story posted and completed June 15, 2009, 5:00 p.m.