Prescott Elementary School Protest Turns Tables on 'Tyrant'... Local School Council again snubs teachers, parents, students
Jim Vail - June 12, 2009
Perhaps the most memorable sight during Tuesday's (June 9, 2009) spirited protest at Chicago's Prescott Elementary School against their tyrannical principal was what almost nobody saw.
Principal Erin Roche — who's face adorned scores of protest signs with a line drawn across it — waited until after most of the protest had ended and then left the building, running to his car parked in the back of the school and fleeing a scene that briefly turned the tables on his power trip that has forced the departure of many long-time teachers and employees.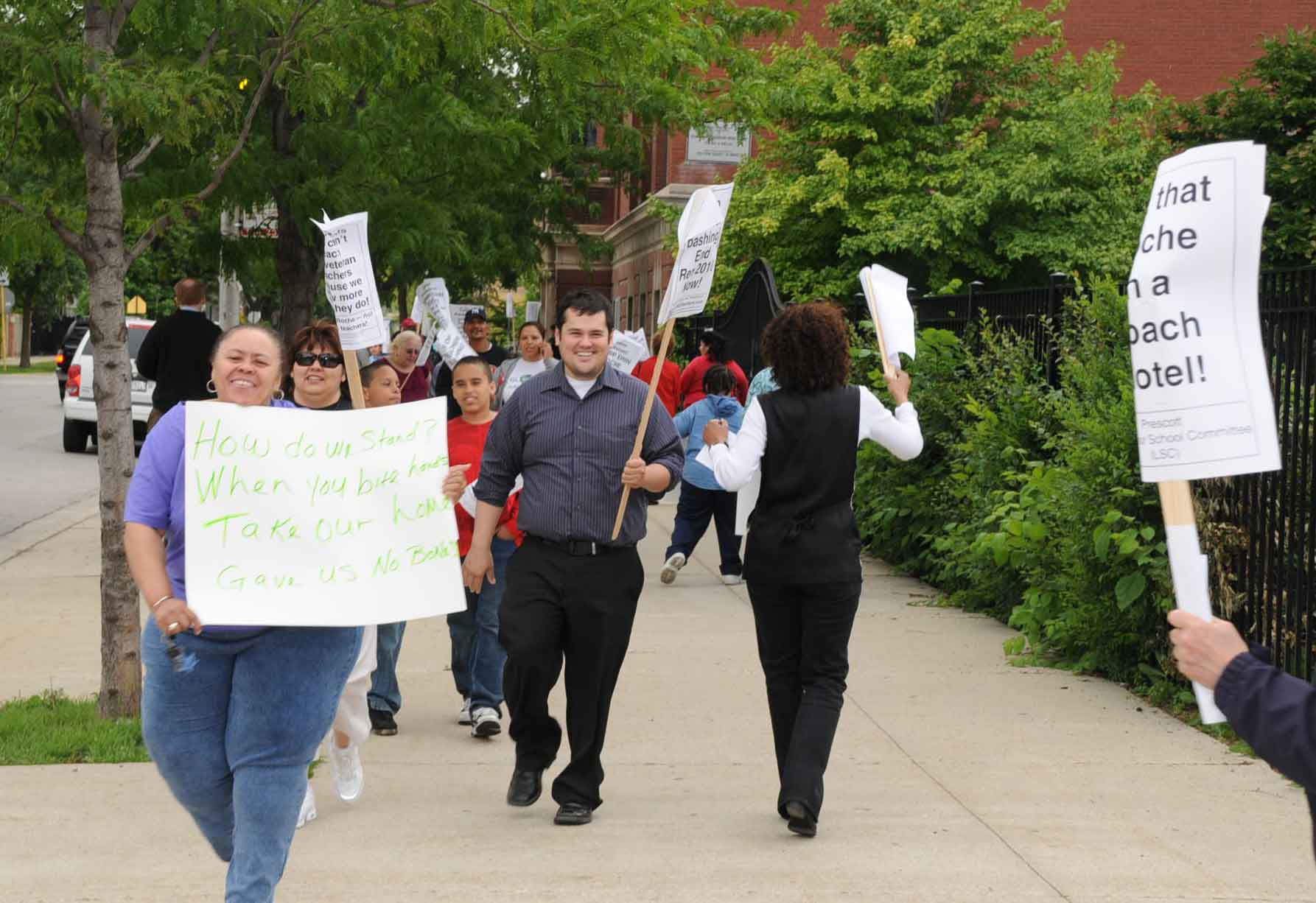 One of the most spirited pickets during the June 9 protest at Prescott Elementary School was parent leader Naomi Counter-Ohiri (left, with sign in green lettering). Chanting "Hey! Hey! Ho! Ho! Principal Roche has got to go, the mother told Substance that Erin Roche eliminated special education programs for younger children, including one of her children who has Down Syndrome. The CPS Office of Specialized Services has told Ms. Counter-Ohiri that her child will be receiving the same services at a school seven miles away. While Roche eliminated special education services for Prescott's traditional students — and moved to fire or drive out the school's special education teachers — he brought in two expensive pre-school programs which were registering wealthy families (tuition: $2,400) while the protest continued. While parents like Ms. Counter-Ohiri were barred from the building, Roche had security guards let in anyone who was white and wealthy to register their children for the expensive program that is replacing the schools highly regarded special education program. Substance caption and photo by George N. Schmidt.But the main story was a public protest and picket line that involved at its height more than 50 parents, teachers, and students against the decimation of the school's veteran staff by a principal who has been at the school less than a year.
Teachers, parents and students were joined by Chicago public school teachers from the Caucus of Rank and File Educators (CORE) and the Coalition of Strong Democratic Union (CSDU) carrying picket signs and chanting "Hey Hey, Ho Ho, Principal Roche has got to go!"
All were carrying signs and picketing the school before the start of the school's Local School Council meeting, which was scheduled to begin at 5:30 p.m.
But apparently to keep one step ahead of his opponents, Roche and someone on the LSC not only cancelled the LSC meeting at the last minute, but he also padlocked the front gate to the parking lot to prevent anyone from parking inside on school property. Those who were parked inside the school parking lot could not leave as well, being virtually held prisoner.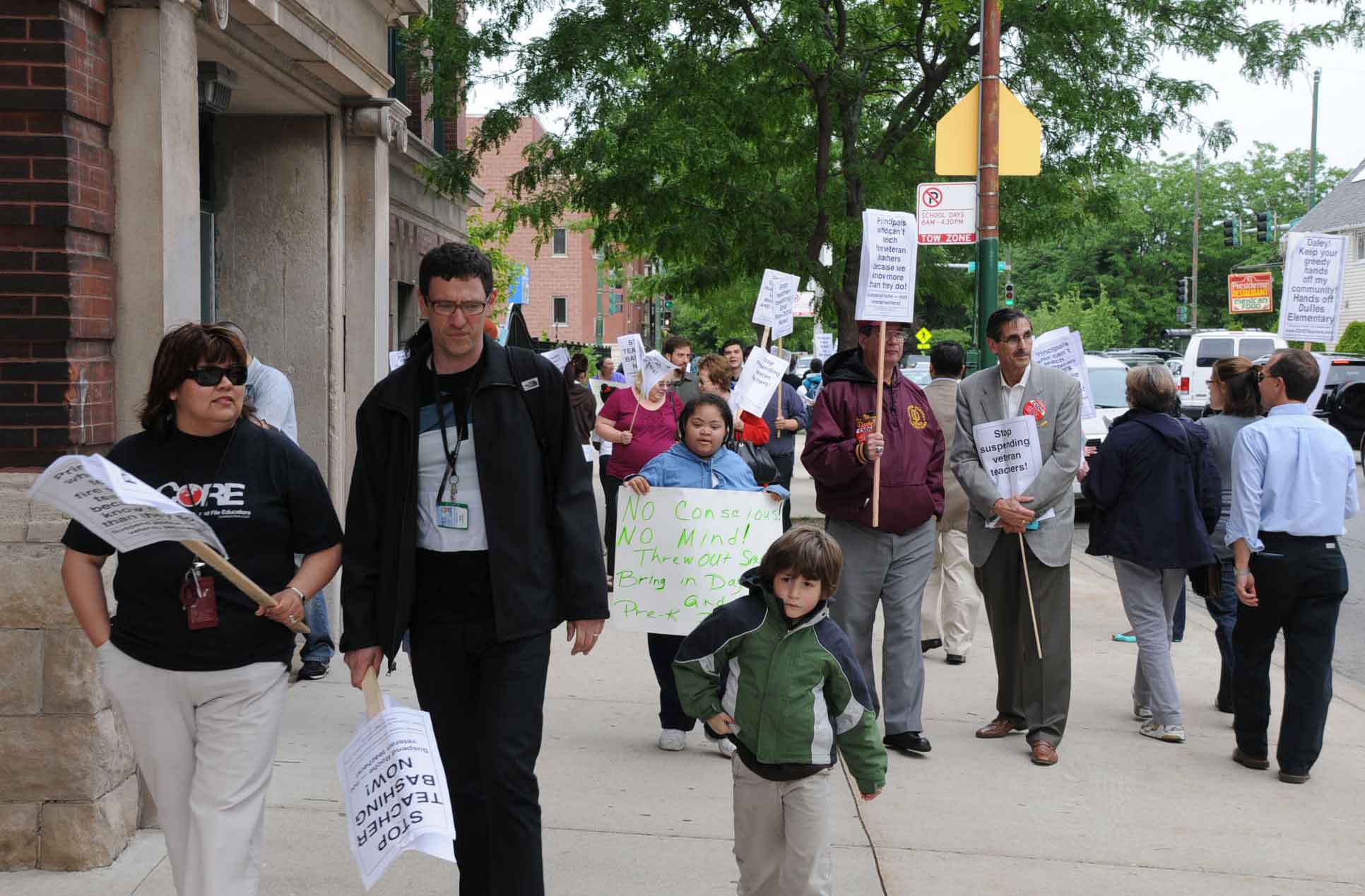 The broad support for the Prescott teachers and parents was shown in many ways. Above, teachers from the South Side (Holmes Elementary School's Lara Krejca, left, wearing her CORE tee shirt) and far North Side (second from left, Jesse Sharkey, from Senn High School, walking alongside his son Caleb) joined their sisters and brothers at Prescott on June 9. Walking behind the Sharkeys is one of the two children of Naomi Counter-Ohiri, who is in the forefront of the previous photo. Substance caption and photo by George N. Schmidt. The May meeting of the Prescott LSC — reported previously at SubstanceNews during May 2009 and extensively in print in both the May and June editions — was highlighted by the refusal of the LSC to allow seven teachers, a parent, and students to speak.
Security blocks dissidents while litany of offense grows
The school parking lot was not the only thing declared "off limits" by Principal Roche.
A security guard at the front door made sure nobody was allowed inside the building not authorized by the Prescott's new general — a general who had declared an all-out war on his troops, purging practically everyone within his ranks.
Those prevented from entering the building included this Substance reporter as well as a couple of other reporters for local news outlets.
The issue has been brewing all school year. According to most of the teachers at the school, Roche has been on a with hunt to drive out tenured teachers and most of the staff he's inherited. Utilizing constant harassment, he forced several employees on sick leave, destroyed a venerable special education program and terrorized those who won't pack their bags immediately. The tactics have been intimidation, suspensions without pay and what many teachers have called harassment.
How vengeful is this principal against those who dare to defy him?
"I will sue you and take all your assets!"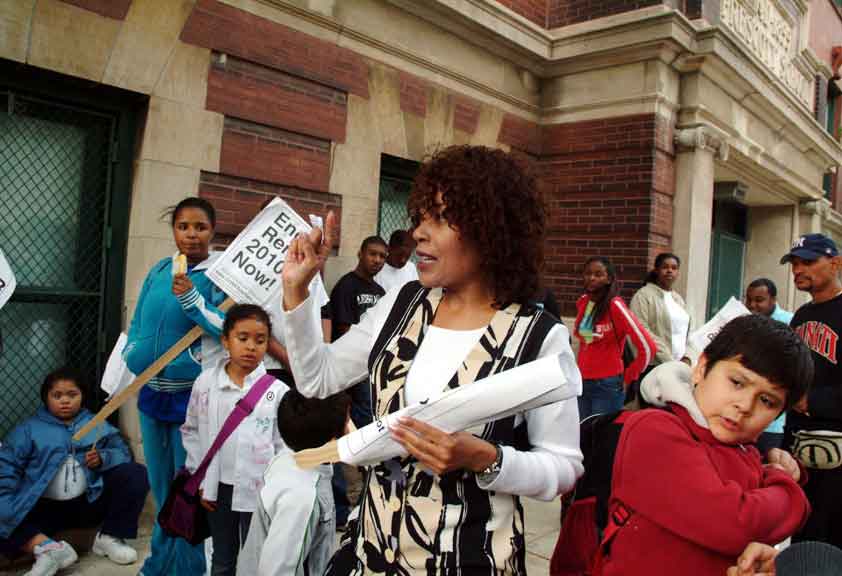 Prescott Special Education teacher Brenda Chandler (above, with hand raised) spoke to the crowd of more than 50 people who picketed Prescott and tried to attend the LSC meeting, which was cancelled. Chandler told the crowd that Roche had threatened to sue her after she spoke to the Chicago Board of Education's May 27 meeting, and he suspended her for two days without pay the day after the Board meeting. Like most of the Prescott teachers being harassed by Principal Roche, Chandler has more teaching experience than Roche and and all the members of his inner circle. Substance photo by Garth Liebhaber.Brenda Chandler, a special education teacher whose program has been eliminated by Roche, helped organize the protest which drew more than 50 people. She also spoke out against his terror tactics at the last Chicago Board of Education meeting, on May 27, 2009.
"The next day he came to my room and told me he is going to sue me and take everything I have — my house, my car, all my assets for what I told the Board," Chandler said. "He says it was untrue and inflammatory. I said he discriminated against the special education kids and adults over 40 years of age and he has two sexual harassment charges against him."
Many Hispanic parents and their children stood in front of the school they have called their home for years united in opposition to the new principal.
"My kids don't want to come to school anymore," said Iris Jaima, a parent with two students at the school. "He looks at you like you're nothing."
Jaime recounted a time when her son's teacher would not let him use the bathroom and he had an accident. So she had to come to the school to change his clothes. She then wanted to talk to (Roche) about this, but he refused to meet with her.
"I'm looking into transferring which is sad because I want my kids to be here," she said. "The other principal at least encouraged them to be in school."
Students walk the picket line after eighth grade 'ruined'
Among the many Prescott students walking the picket line was Freddy Rosado, a 5th grader. "He threw out my little sister (because the special education program was dropped), ruined my big sister's 8th grade graduation (which was held in a bank rather than at the school) and fired the best teachers," Rosado said.
His mother said her son was particularly distressed after Roche eliminated the awards ceremony for good attendance and grades. "He was really upset," Anna Rosado said. "Why should I try, he told me, if they have no more medals to congratulate us."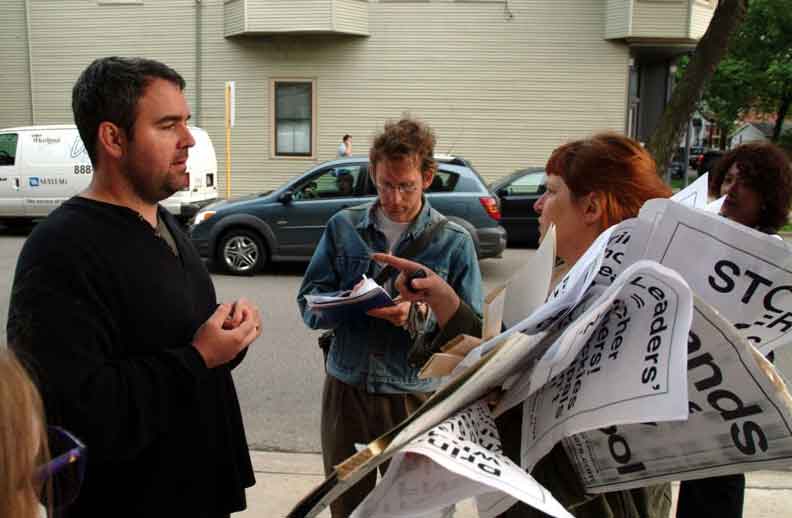 Prescott teacher and Local School Council member Suzanne Dunn (above right, holding signs) tried to talk with fellow LSC member John Farbrother (above left) while Substance reporter Jim Vail took notes. Farbrother repeated the usual narrative given in "New Leaders for New Schools" and other corporate school reform situations Before the arrival of Erin Roche, the school was in terrible shape, and that the teachers really weren't doing their jobs until Roche arrived to shake things up and shape them up. Like many people who repeat the corporate narrative (with local details provided by men like Roche), Farbrother could give no examples of the lazy teachers and desolate school that Roche was in the process of saving. Farbrother told Substance that he didn't agree with the decision to refuse public participation at the LSC's May meeting, and had no comment on the decision to cancel that June 6 meeting at the last minute. Substance photo by Garth Liebhaber. Rosado said she is ready to take her children, who are no longer invited at this magnet cluster school because they don't live in the neighborhood, and enroll them in Ravenswood Elementary (ironically Roche's last school where he was removed) so her children can enjoy the programs such as awards ceremonies, assemblies and fun activities that Roche has eliminated at Prescott.
A Ravenswood teacher who showed up to the protest stood outside her car looking on in what could be described as a melancholy awe of the nightmare she endured for four years at her north side school.
"It was a horror," she said, preferring to remain anonymous. "But the real horror came when his contract wasn't renewed. He'd sit in his office for hours not saying a thing. He's smart and he's dangerous because he's so quiet. He has that respectful voice and calm manner, but everything with him is appearance. He pushed buttons in me that I didn't know I had."
Lone LSC member defends Roche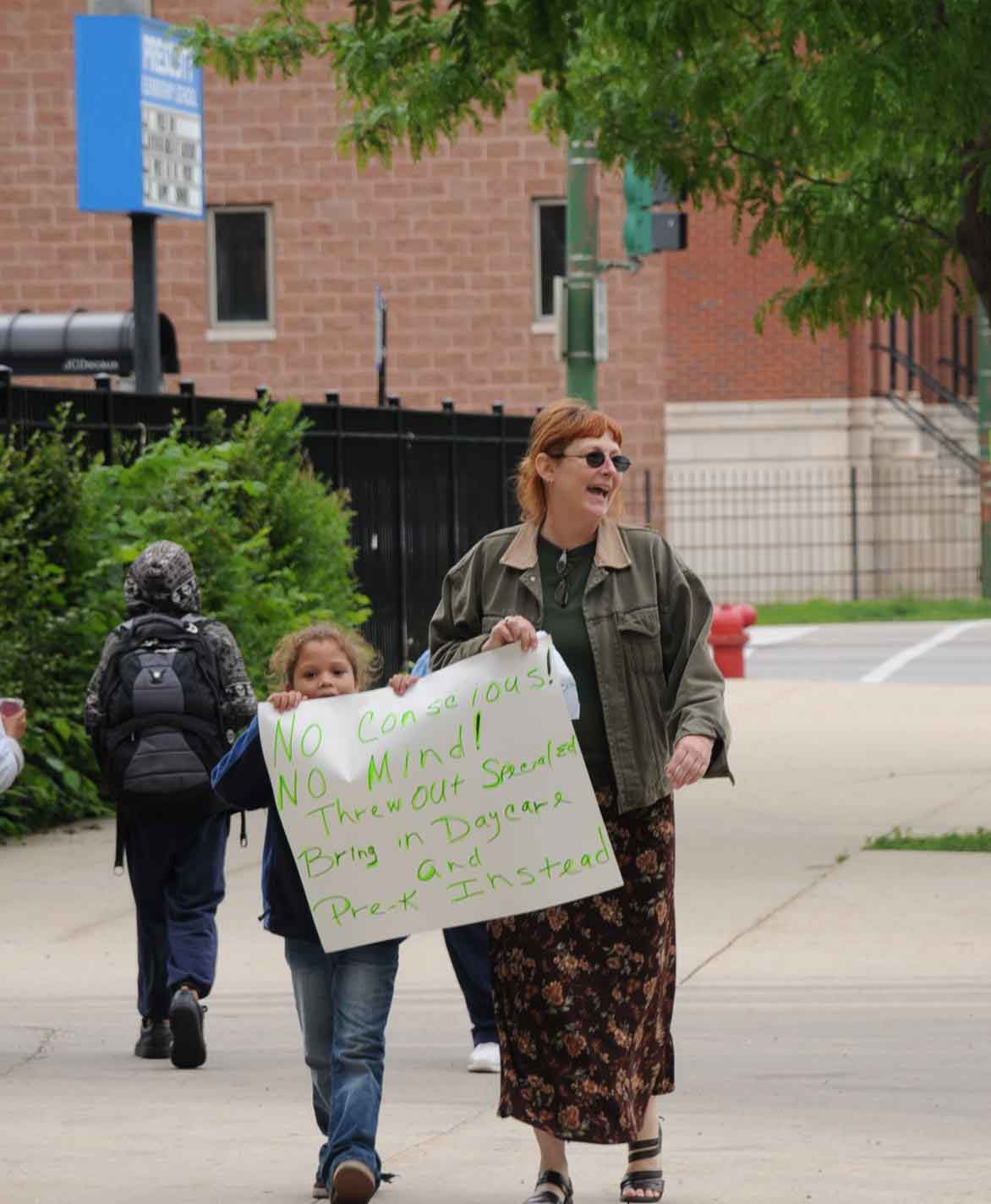 Most of the veteran teachers being harassed and slandered by Erin Roche have been at Prescott for years (in some cases, decades) and have deep roots with the remaining working class families in the community. They also have strong connections with their students. Above, teacher and LSC representative Suzanne Dunn walks with a student and a student-made sign while laughing at a comment from a passing car. A number of observers believe that one of the main reasons Roche and his supporters canceled the LSC meeting (and refused public participation at the May meeting) was to stall Dunn's seating on the LSC. Substance photo by George N. Schmidt. To make the case for "objectivity" by hearing the other side of the story — which so far has refused to speak to Substance — one LSC member and Roche supporter showed up to the protest to give his side of the story.
"The school in my opinion has been failing and the teachers should be held accountable," said John Farbrother, a community member who joined the LSC two years ago. "I expect these kids to be held to a higher standard."
A heated but civil argument then flared up between Farbrother and a few of the Prescott teachers and community members who disputed his viewpoint. "I would have thought that the good fight to voice the outrage expressed today was what should have happened before," Farbrother continued. "CPS standards are abysmally low and it is my understanding that we have not met or exceeded (the testing standards)."
Farbrother said he feels the community at Prescott is divided and that people are not speaking to each other. He agreed that not having public participation at the May LSC meeting to address this last month was "outrageous" and eliminating fun activities such as Halloween parties, awards ceremonies and cultural assemblies — all in the name of staying focused on the "test" — is not right.
Farbrother said he feels the old school before Roche arrived did not serve the children and the community at all because everything closed down at 3 pm.
"If something is wrong here it is the perception that nothing is being done," Farbrother said. Whether Roche thinks his strategy to divide the community should continue in the future is anyone's guess. Roche's method of intimidation and non-stop use of writing up employees for what many believe are petty violations has gone largely unchallenged by the Chicago Teacher's Union.
According to Kathy Jacobs, a veteran 3rd grade teacher Roche is trying to fire for "instructional weaknesses" — even though 80% of her students passed the recent ISAT reading test — CTU President Marilyn Stewart finally emailed her to say that Chicago Chief Instructional Officer Barbara Eason-Watkins has offered to set up a meeting with the Prescott teachers and a few other schools who are engaged in similar disputes once they locate a place to hold the meeting.
One glaring weakness of the CTU has been confronting the power structure when its members are in trouble. A few years ago the union newspaper showed CTU officers ascend in a phalanx of determination to confront a bully principal such as the one at Gillespie and tell him to back off. Since Stewart had Vice President Ted Dallas fired, Stewart has been reluctant to fight on this important front. While Stewart did show up to a recent LSC meeting at Gonzalus Elementary School to speak to the principal about her treatment of the teachers there, Stewart has yet to do anything concrete for the embattled Prescott teachers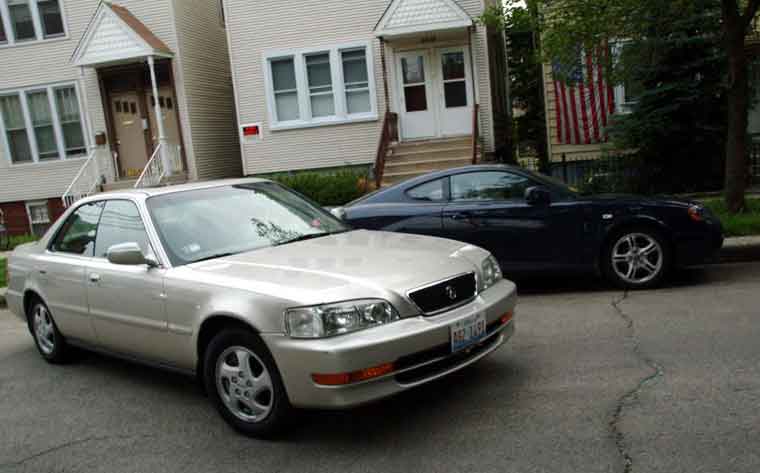 More than an hour after he was supposed to have participated in the June 2009 meeting of the Prescott Local School Council, Principal Erin Roche sprinted out of the building from a side door and rushed to his car (above), which he had parked on the street rather than in the school's parking lot (which he has ordered padlocked). Although the remaining Substance reporters and photographer were unable to get a photograph of the now legendary "Roche Run", it was just possible to get the above photograph of Roche pulling away in his car before he sped down the street. Substance photo by Garth Liebhaber. With everyone still gathered outside the school building after almost two hours of li vely picketing, Chandler thanked everyone for their support of the Prescott community and asked those in attendance to attend one more big protest to make sure that Roche is removed and normalcy can return.
"We will not finish until Mr. Roche is removed from office," Chandler said, to cheers in the audience. 