Prescott protests grow as principal, some LSC members, hide from growing anger at purges of veteran teachers, union busting
George N. Schmidt - June 10, 2009
More than 50 teachers, parents, and children from Chicago's Prescott Elementary School and their supporters from across Chicago picketed the school at 1632 W. Wrightwood in Chicago between 4:00 p.m. and after 6:30 p.m. on June 9, 2009, in protest against the policies of the school's controversial principal, Erin Roche, and his supporters on the school's local school council.
Carrying signs reading "Stop Teacher Bashing Now!" and (left) "Arrogant FNG Principals -- not veteran teachers -- are the real mess with CPS" and other slogans, pickets march outside Chicago's Prescott Elementary School on the afternoon of June 9, 2009. The pickets, who included teachers, parents, and children from Prescott, and dozens from other schools, arrived to attend the scheduled meeting of the Prescott Local School Council. The LSC meeting was cancelled at the last minute by Prescott Principal Erin Roche and one of his supporters on the LSC, without even consulting all of the LSC members. Roche also locked the school's parking lot before the arrival of the protesters, an unprecedented event. He remained in the building with a handful of supporters until sprinting to his car (which he now parks on a side street away from the school) at about 6:30 p.m. No explanation was given for the cancellation of the LSC meeting. Substance photo by George N. Schmidt.Many of the pickets had also planned to attend a scheduled 5:30 p.m. meeting of the LSC, but Roche and other LSC members cancelled the meeting without consulting all of the members of the LSC at the last minute. The cancellation was the first time the Prescott LSC did not meet at its usual scheduled time (the second Tuesday of the month) since a portion of the LSC voted to hire Roche as principal of the small north side school one year ago.
Year of harassment of veteran staff, elimination of programs and people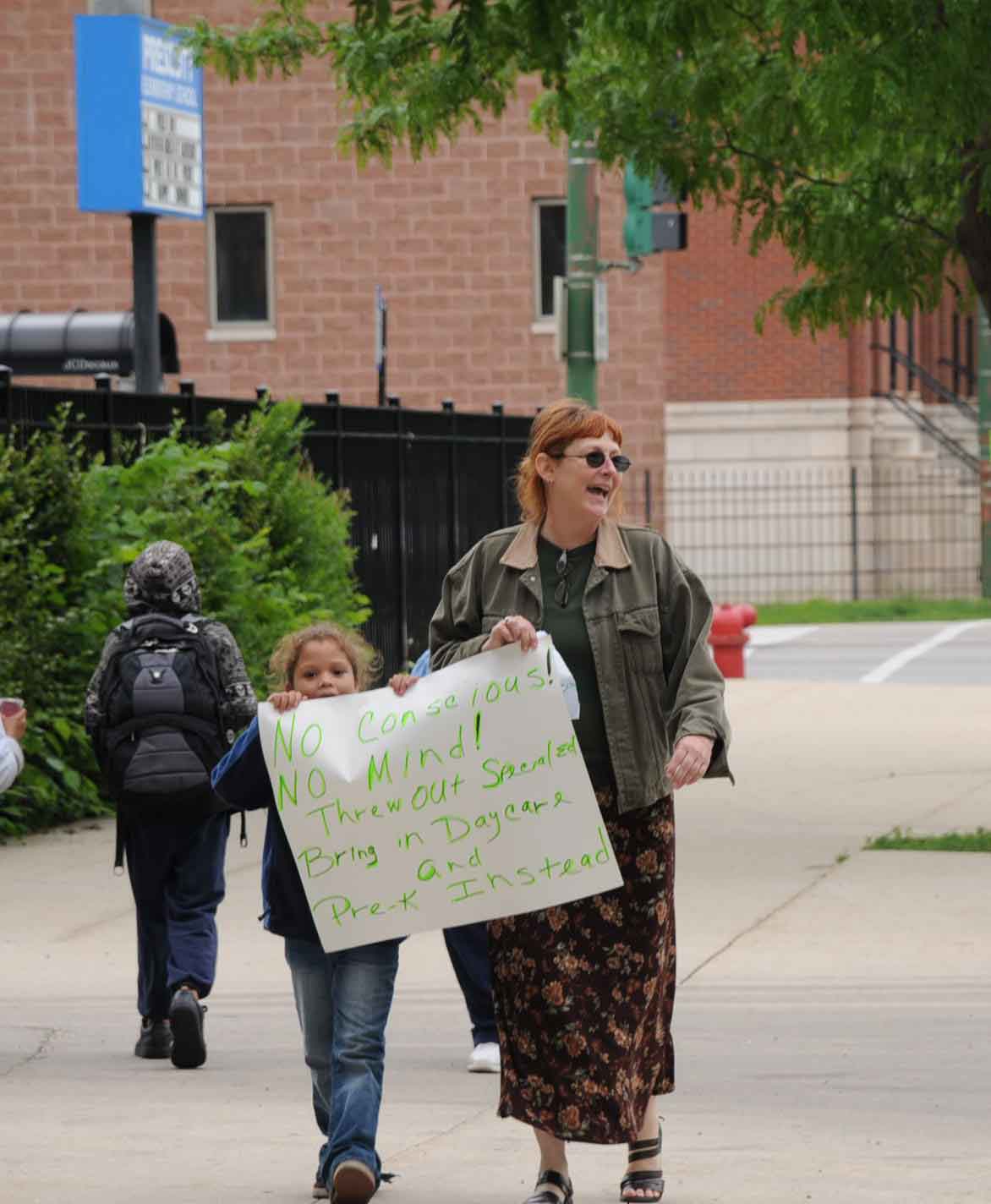 Prescott teacher Suzanne Dunn (above right) marches with a student on June 9, 2009, at Chicago's Prescott Elementary School. Dunn, who was recently elected as a teacher representative on the Prescott Local School Council, also serves as Prescott Chicago Teachers Union delegate. Substance photo by George N. Schmidt.The picket line outside Prescott was the culmination of a school year during which time the principal, who was new to the school, selectively persecuted veteran teachers, eliminated programs, brought in controversial and unproven curricular fads, closed the school library, drove three veteran teachers to take sick leave, and even had a special wheel chair hoist for disabled children removed from the school so that the school would not be able to accommodate children with the most severe disabilities.
Substance reporters have asked CPS officials in the labor relations and special education offices to discuss reports which Substance is confirming. Neither office has returned e-mails and calls for comment.
As veteran staff members began to question Roche's version of what Prescott should be, he retaliated against as many of them as possible, issuing unsatisfactory notices and suspensions without pay at a rate never seen in the city's largest high schools, let alone at one of the city's tiniest elementary schools. Roche also proclaimed that a number of external curricular mandates -- one from the Erickson Institute and another from DePaul University -- were going to drive Prescott into that "elite" status, in essence by teacher proofing the classrooms with the perfect curriculum. When teachers objected (for example, according to Roche the Erickson Institute's program does away with books as part of the "reading" unit for lower grades), Roche hounded them.
Since the beginning of what veteran staff and many parents have called the "purges," Roche has received unquestioning support from CPS officials, although some of his claims (for example, that he was ordered to eliminate special education programs) remain to be verified by central office sources.
Prescott support grows from across Chicago
By 4:30 p.m., one hour before the Local School Council meeting was to begin, Substance reporters counted more than 50 people in the picket lines that stretched down Wrightwood Ave. and along Ashland Ave. adjacent to the school. Teachers, parents, and students from other schools across Chicago joined the event as they said in solidarity with the people of Prescott. Many came from schools that have faced similar problems this school year.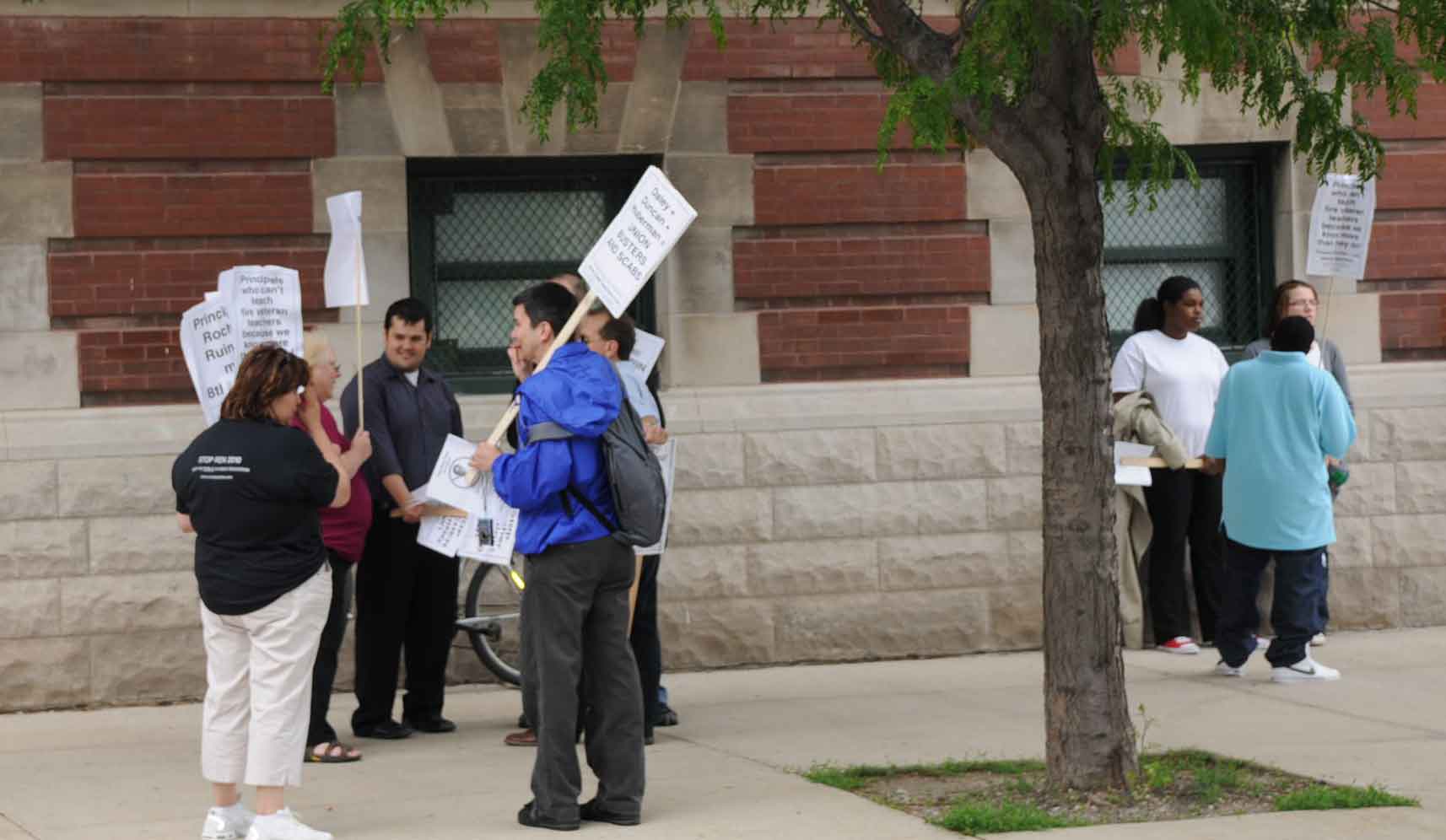 Some of the teachers from CORE who walked the line with their brothers and sisters from Prescott on June 9, 2009. Substance photo by George N. Schmidt.The supporters from outside Prescott were organized by two caucuses within the Chicago Teachers Union, although the union's President (Marilyn Stewart) and her faction did not appear for the event.
The larger group of Prescott supporters were organized by CORE (the Caucus Of Rank and file Educators). CORE, which began one year ago, has expanded protests against school closings and other attacks on public schools and has been growing faster than any previous group within the union. Teachers from CORE came from several high schools (including Chicago Vocational, Gage Park, Hope, Hancock, Julian, Little Village, Robeson, and Senn) and a number of elementary schools (including Holmes and Revenswood). Roche was ousted as principal at Ravenswood a year ago after similar controversies divided the school for a longer period than Prescott has been facing these issue.
A large group of supporters came from the Coalition for a Strong Democratic Union (CSDU), which has announced that it will be slating candidates to replace CTU President Marilyn Stewart in the union election scheduled to take place in May 2010. One of those from CSDU was former CTU Vice President Ted Dallas, who was ousted from the union by Marilyn Stewart's hand-picked executive board last winter following what most union members called a "kangaroo court." Dallas, a 30 year veteran unionist and teacher, has been substitute teaching at Orr High School since Stewart dumped him and has been stripped of his union membership.
Among those supporting the Prescott teachers against the vendetta of Principal Erin Roche were Jack Moran (left, who teaches at Beaubien Elementary School) and former CTU Vice President Ted Dallas (right) who was ousted by CTU President Marilyn Stewart after what most consider a kangaroo court hearing. Moran and Dallas stood in front of Dalla's car, which still sports the license plate "CTU VP" despite Stewart's vendetta against him. Moran is CSDU candidate for vice president of the union in the election to be held in May 2010. Substance photo by George N. Schmidt.Joining Dallas from CSDU were teachers and PSRPs from a number of schools, including Wells High School and Carpenter and Beaubien elementary schools. Three of the five CSDU candidates for union office were at the picket: Vice Presidential candidate Jack Moran (who teaches at Beaubien Elementary), Recording Secretary candidate Lisa Dimberg (who teaches at Carpenter Elementary) and Treasurer candidate Jose 'Jay' Jiminez (who works at Wells High School). CSDU candidate for President, CTU Treasurer Linda Porter, was not able to attend the picket, according to Dallas, because she had previously scheduled a medical appointment. According to Dallas, she sent her support to the Prescott teachers.
Teachers finding their voices
Throughout the 2008-2009 school year, Principal Roche has been pursuing several policies that have struck more and more veteran teachers as oddball and counter-productive. Shortly after his selection, the leaders of the Local School Council joined him in declaring that the goal of Prescott was to become a so-called "elite" elementary school. Supposedly, "elite" was defined as meaning a school with very high standardized test scores where all graduating students got into Walter Payton or Northside College Prep high schools (the city's whitest and wealthiest selective enrollment college prep high schools).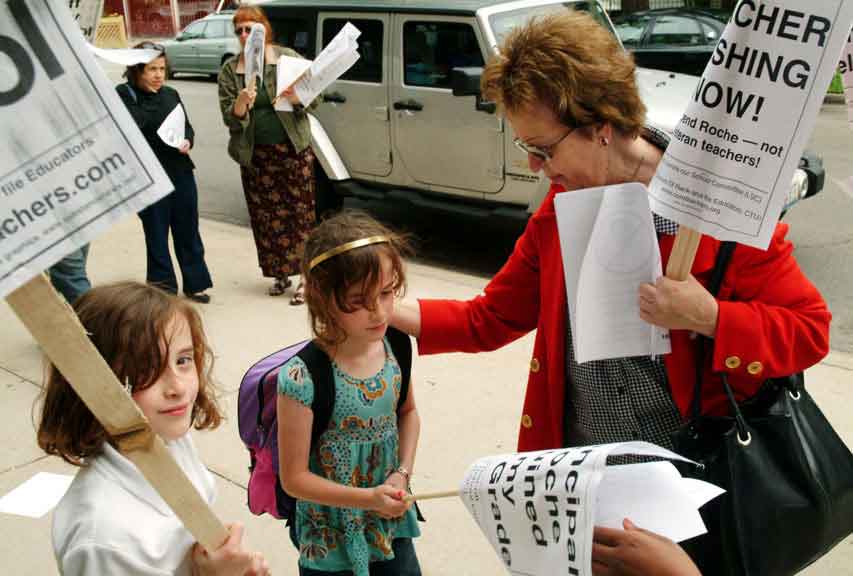 Prescott teacher Kathy Jacobs (above left) explains to students the reason for the picket on June 9, 2009. Jacobs, a Golden Apple teacher and 36-year-veteran, has been declared "unsatisfactory" by principal Erin Roche. Despite Roche's claims that she is not competent, Jacobs's students do well in all areas, including the standardized tests that Roche adores. According to school data, 80 percent of the students in Jacobs's class "exceeded expectations" on the ISAT (the Illinois standardized achievement tests for elementary school children). Teachers reported that the three children who "failed" the ISAT were chastized severely by Roche himself. Usually it is the teachers who break the news to children that they have not done as well as some others on standardized tests, and the reasons for "low" performance can vary from crises at home to special needs. As Erin Roche moves to transform Prescott into what he calls an "elite" school, students who score low on standardized tests are chastized by their principal. Substance photo by Garth Liebhaber.Anything less than perfection was supposedly an example of failure, the result of teachers not having what are called "high expectations" for their students.
The demand for "elite" status based on "high expectations" combined with a purge of teachers who pointed out the flaws or downright silliness in that argument (and the "Northside or Payton" objectives).
A LONGER REPORT ON THE PRESCOTT SCHOOL SITUATION WILL APPEAR LATER TODAY (JUNE 10, 2009). This interim report will be updated until the complete updates from SubstanceNews reporters are available.