Teachers, parents to picket and protest at Chicago's Prescott Elementary School Tuesday, June 9, 4:15 p.m
Jim Vail - June 07, 2009
The Prescott Elementary School teachers and parents will protest Tuesday June 9 at 4:15 p.m. in front of the school (located at 1632 W. Wrightwood on Chicago's north side) against the discriminatory policies of their new and controversial principal Erin Roche. The teachers, parents and students will hold picket signs outside the Chicago elementary school located at 1632 W. Wrightwood before a scheduled Local School Council meeting at 5:30 p.m.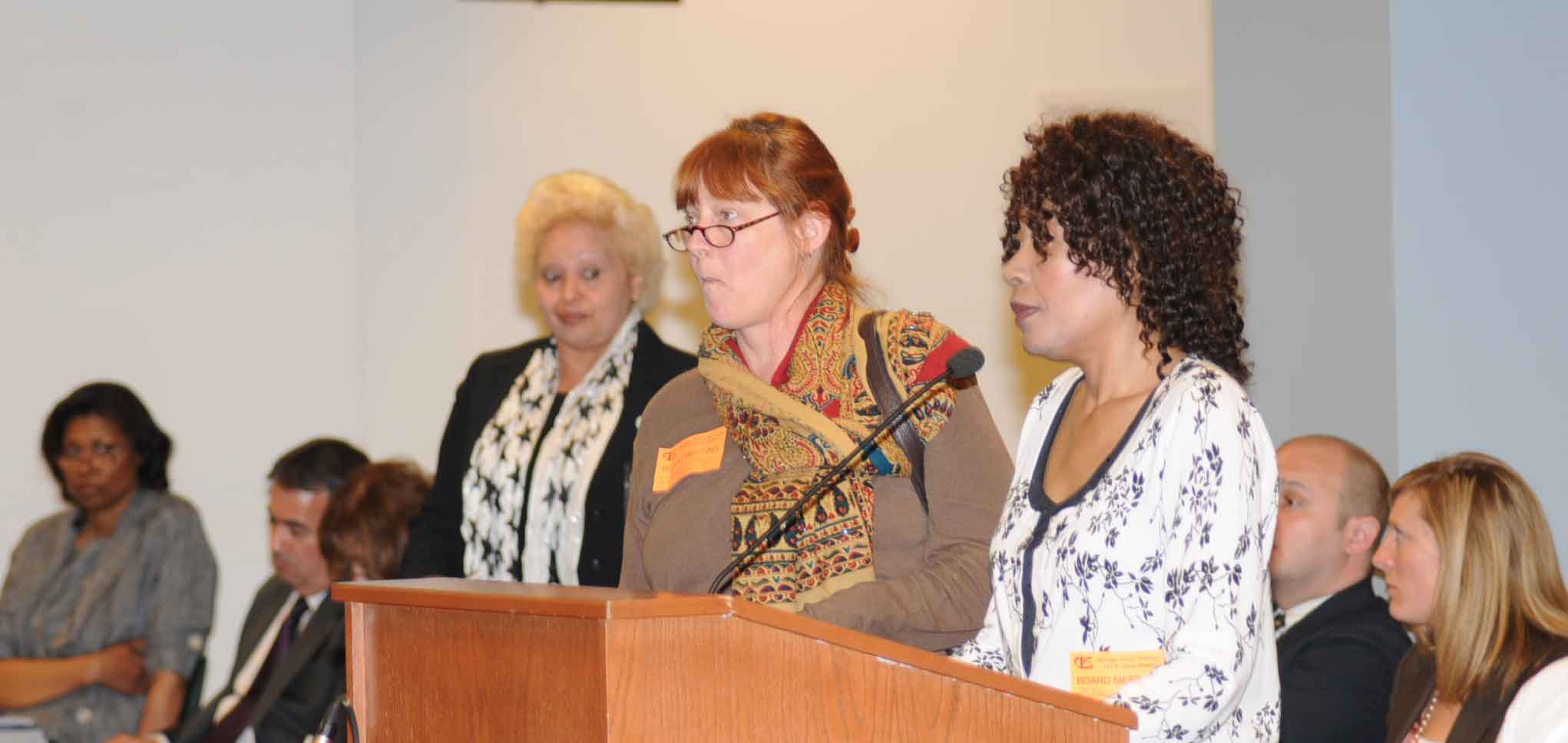 Prescott Elementary School teachers Brenda Chandler (right, at microphone) and Suzanne Dunn (second from right) spoke about the problems at Prescott to the May 27, 2009, meeting of the Chicago Board of Education. Both teachers used personal business time for their morning visit to the Chicago Board of Education, which holds its meetings during the day when schools are in session. When the two teachers returned to school on May 28, they were informed by Prescott Principal Erin Roche that he was suspending them without pay for two days each. Substance photo by George N. Schmidt. The protest is against the policies of the school's new principal, Erin Roche, who was selected by the Local School Council last year and has "turned the school inside out and upside down," according to one teacher familiar with the situation.
The controversial principal started the 2008 – 2009 school year after being ousted at Ravenswood Elementary School for divisive conflicts. At Prescott, he has eliminated the special education programs, fired or put on suspension highly-rated veteran teachers -- and any who speak out against him -- and has resorted to "terrorizing" the staff he inherited, teachers and parents have charged. Three teachers are currently on medical leave due to what teachers call the "psychological terror" he has unleashed, teachers told Substance. He has also suspended PSRPs (teacher assistants and clerks) who have dissatisfied him.
"This man is a maniac, and we aim to let everyone know that no one should have their children in a school under his psychotic leadership," said Brenda Chandler, a veteran special education teacher.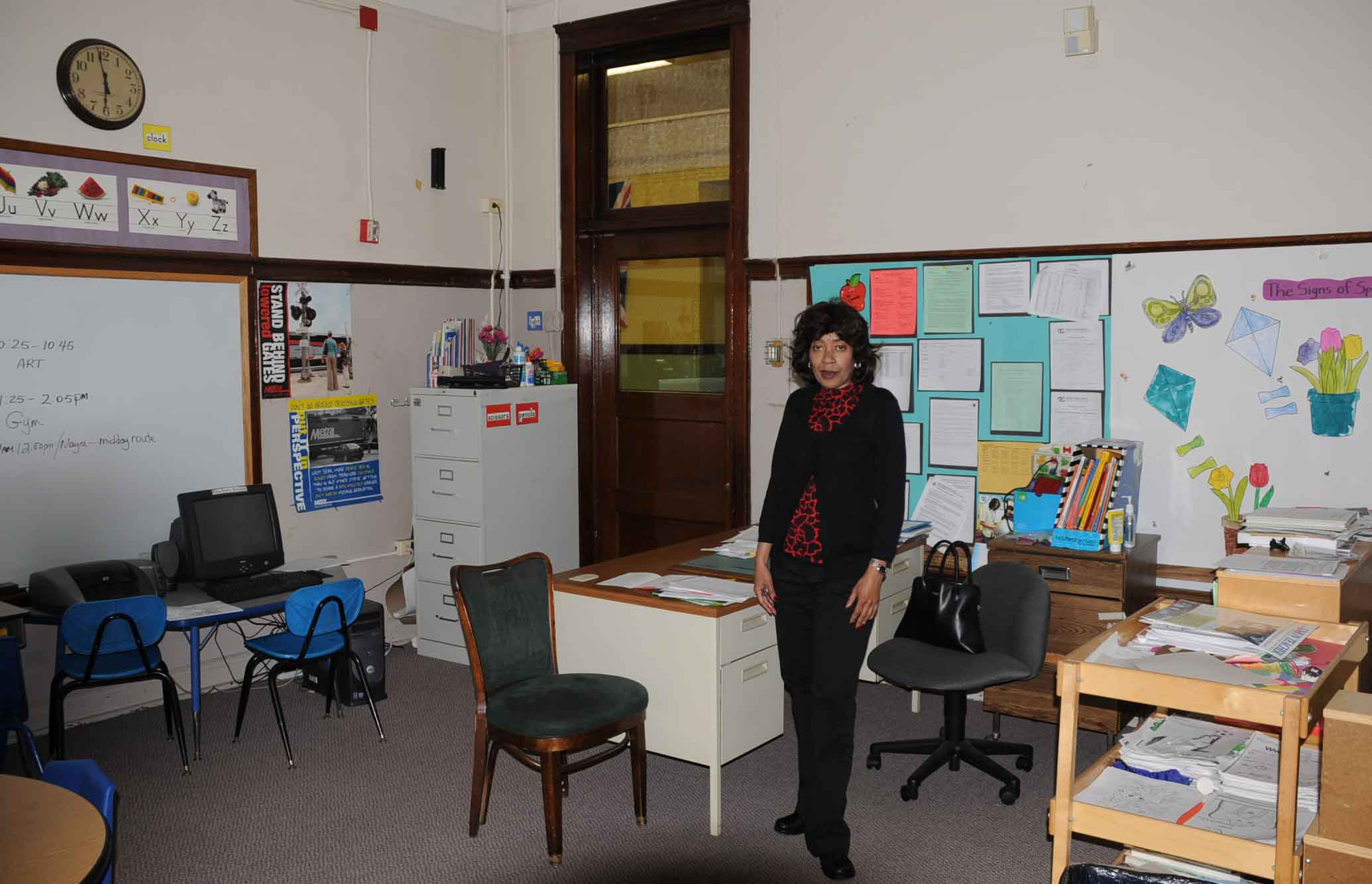 Teacher Brenda Chandler in her classroom at Prescott Elementary School. Like other veteran teachers who have been harassed by the principal, Chandler has been told that her classroom is not appropriate for the students she teaches. Substance photo by George N. Schmidt.Chandler was placed on suspension without pay the day after she testified against her principal at May 27 Chicago Board of Education meeting. At the time of the Board meeting, Chandler was on a personal business day. A second teacher who spoke at the Board meeting, Suzanne Dunn, was also notified she was being suspended the day after she spoke. Dunn is a member of the Local School Council.
Throughout the 2008-2009 school year, Prescott teachers, teacher assistants, clerks and parents have watched in dismay as their new principal introduced a series of unexplained changes to the school that virtually all of the veteran teachers agreed were detrimental. Among other things, Roche is trying to eliminate special education programs and transform the school into a school that promises what he calls and "elite" education. In the process, he has conducted what teachers call a ruthless purge of veterans who question his policies and practices.
One of the most dramatic examples of Roche's discrimination against special education was his removal of a wheel chair hoist apparatus that had run up the main stairwell for years. Teachers found the machinery removed on Roche's orders, part of the elimination of facilities and programs for non "elite" special education children.
Protesting teachers expect to be joined by parents and students.
One of the things disrupted by Roche's management of the school this school year has been eighth grade graduation, which has disappointed dozens of students and their families.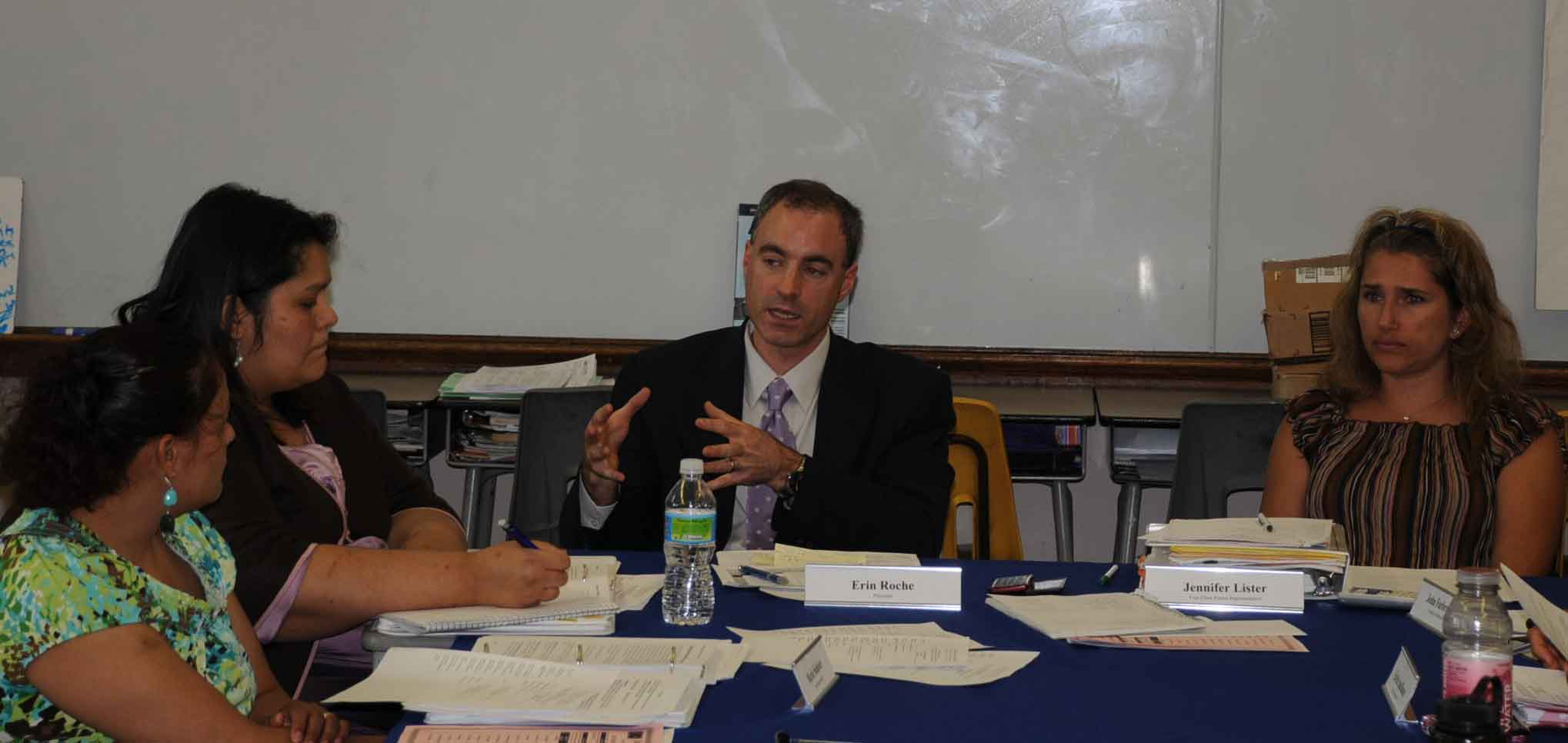 Members of the Prescott Local School Council at the May LSC meeting, which refused to hear complaints from teachers, parents, and students. Gesturing in the center of the above photograph is principal Erin Roche. To Roche's left in the right side of the photograph is LSC member Jennifer Lister, who chaired the meeting and joined Roche in announcing that they had decided not to hear comments from the public. Substance photo by George N. Schmidt.Roche and a handful of members of the Local School Council also joined to refuse to listen to public complaints about the management of the school at the LSC's May meeting. Originally claiming that one previous meeting of the LSC had gone on for hours and hours, the LSC had completed its business in less than two hours, but still refused to recognize the presence of seven teachers, a parent, and two students who wished to address the LSC about the problems caused by the policies of the new principal.
Since the Prescott story was first reported last month (May 2009) in the Substance print edition and here at Substancnews.net, a heated exchange has taken place about the school and the management style of the principal. By early June, more than 150 comments, many of them signed but some from anonymous bloggers, had been submitted at substancenews.net.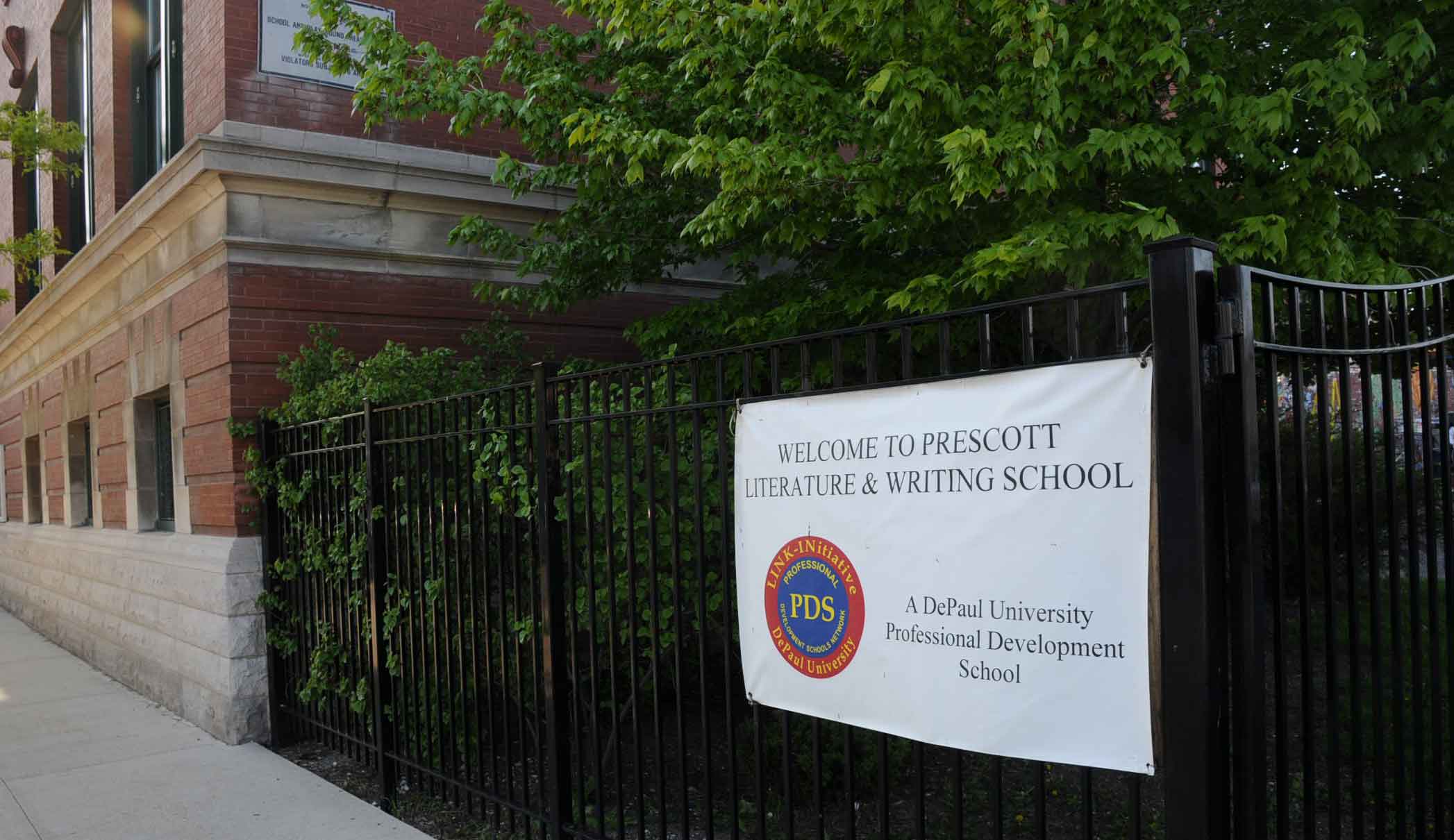 Although Prescott is supposedly a "Literature and Writing School" in alliance with DePaul University, teachers report that books were removed from many classrooms, and reading is being taught without books to certain grades. The school's library has also been shuttered for much of the year. Substance photo by George N. Schmidt.Complaints range from the abuse of veteran teachers to the treatment of the current eighth grade class, which was deprived of a traditional end of the year trip and forced to have their trip to DePaul University, one of two institutions of higher education in partnership with the controversial principal (the other is the Erickson Institute). Teachers have also been critical of the Chicago Teachers Union, which they have told Substance is not doing enough to challenge bullying principals. Chicago Teachers Union field representatives have refused to talk on the record with Substance, with one of them threatening Substance. CTU spokeman Rose Maria Genova has refused to get back to Substance with answer to specific questions about the Prescott situation.
Teachers from other schools are being organized by CORE and other groups to show support for the Prescott teachers at the June 9 protest. Estimates of how many people will participate are not possible at this time.
Demonstration and Protest:
Where: Prescott School, 1632 W. Wrightwood
When: June 9, Tuesday at 4:15 pm.
Contact: Brenda Chandler, tel. 312-968-1819