Re-Opening Schools: Guidance Related to Ventilation and Potable Water Systems
ASHRAE - June 18, 2020
Protecting the health, safety and welfare of the world's students from the spread of SARS-Cov-2 (the virus that causes COVID-19 disease) is essential to protecting the health, safety and welfare of the entire population.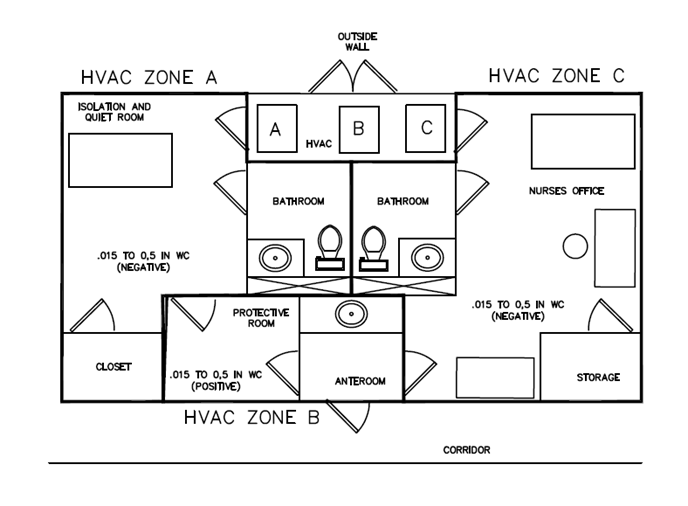 Note: Systems A, B, and C are the Dedicated "Isolation Mode "systems, each system is individually operated and controlled. The Supplementary HVAC systems for "Normal mode" are not shown.
ASHRAE's position is that "Transmission of SARS-CoV-2 through the air is sufficiently likely that airborne exposure to the virus should be controlled. Changes to building operations, including the operation of heating, ventilating, and air-conditioning [HVAC] systems, can reduce airborne exposures."
There is broad variation of complexity, flexibility, and age in HVAC equipment, systems, controls and Building Automation Systems (BAS) in educational facilities.
This guidance has been formulated to help designers retrofit and plan for the improvement of indoor air quality and to slow the transmission of viruses via the HVAC systems. The underlying effort of the designer should be to increase outside air to the spaces and treat return air. The designer should also be concerned with mechanical filtration of the supply air and maintaining indoor comfort as defined by the design temperature and relative humidity.
This guidance should be applied to each unique climate zone, unique school building and HVAC system. All retrofits and modifications must not contradict ASHRAE 62.1 guidelines and must continue to or exceed the standards and codes adopted by local jurisdictions. The designer needs to work closely with the local school system to work in conjunction with new operational protocols and school operations.
The following is meant to provide practical information and checklists to school district and university campus environmental health managers, facility managers, administrators, technicians, and service providers to prepare educational buildings to resume occupancy. This information describes how the HVAC systems should be operating to help minimize the chance of spreading SARS-Cov-2 and how to practically check/verify that operation.
continued @ [LINK]
Learn more about Reopening of Schools and Universities at ashrae.org