Chicago Board of Education tables plan to restructure nearly 100 schools at May 27 meeting
George N. Schmidt - May 28, 2009
The Chicago Board of Education at its May 27, 2009 meeting did not approve the restructuring plan that was on the agenda and and had been promoted in a CPS press release the day before. Instead, the Board took no action on the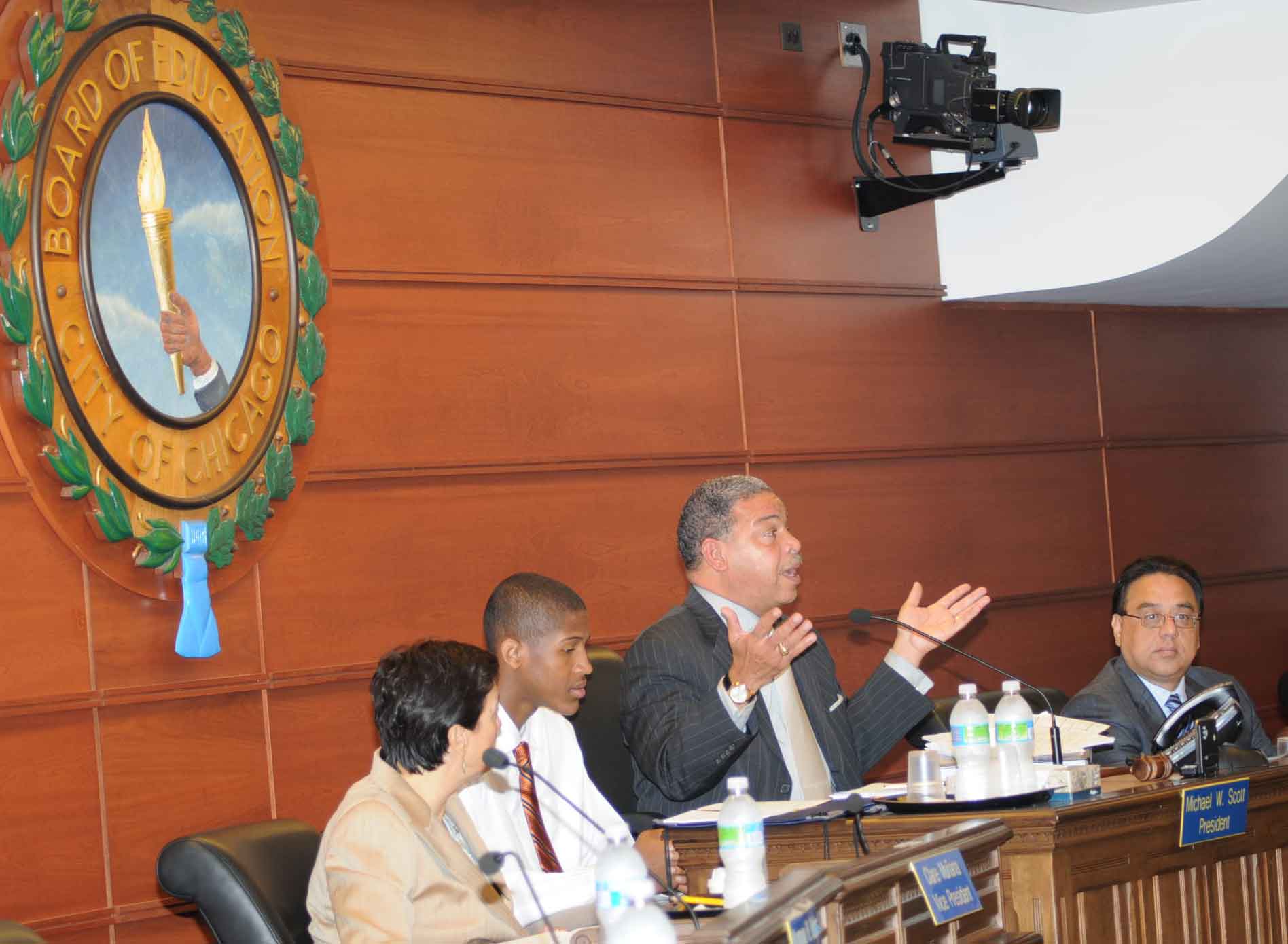 Chicago Board of Education President Michael Scott (above, with hands outstretched) presided over the May 27, 2009 monthly meeting of the board of the third largest school system in the USA in record time. Scott's impatience with public participation was evident throughout the meeting, as he continually reminded people who brought problems to the attention of the Board that there was nothing, according to Scott, that the Board could do in cases where principals were purging schools of veteran teachers, or other issues that have been before the Board for months. Following a truncated "public participation" session (which ended with six people who had signed up unable to speak), the Board went into a quick executive session, then came out earlier than at any time in history to rush through a massive agenda. Substance photo by George N. Schmidt.According to Estela Beltran, Secretary of the Board, the board did not vote to approve Board Report 09-0527-PO1 ("Adopt a School Performance, Remediation and Probation Policy for the 2009-2010 School Year") after it came out from closed session at approximately 2:45 p.m. on May 27.
The Board meetings which take place once a month are in two parts. In the morning, the Board holds what it calls its "good news agenda" and then holds public participation. The official meeting of the Board is not convened until after public participation ends, and no court reporter is present taking notes during public participation. On most meeting days, the Board receives reports from its executives prior to recessing into executive session. After executive session, the Board then resumes its meeting and generally votes on an extensive agenda, often covering more than 100 items (some involving hundreds of millions of dollars) in fifteen minutes or less.
The Board conducted its business earlier than in recent memory and more quickly than ever on May 27. In the past, I've gone back up to the Board chambers around 3:00 on meeting days, some times to wait an hour or longer for the Board members to return from executive session.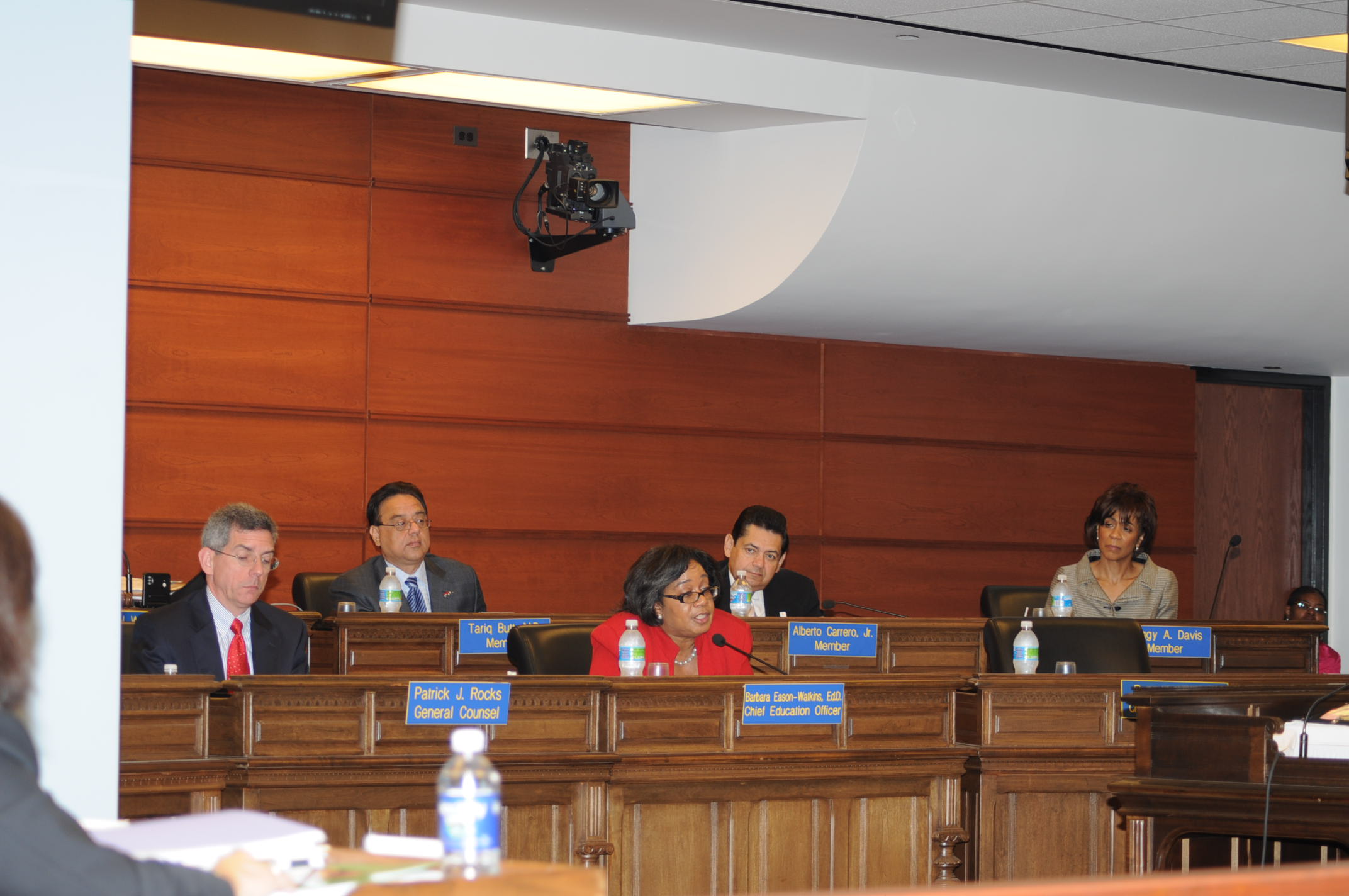 Chicago Public Schools Chief Executive Officer Ron Huberman was missing from the entire public participation portion of the May 27 Board meeting. Huberman, whose seat is to the right of Chief Education Officer Barbara Eason-Watkins (above, in red, speaking) was not present between 10:30 and 1:30 during which time the Board did its public participation. Substance photo by George N. Schmidt.On May 27, I arrived to the "public" meeting of the Board around 3:00 as the Board members were leaving, so I did not see the actual voting. But I asked Ms. Beltran (the Board secretary) whether they had approved the entire agenda as published, and she said "Everything except the policy." The policy in question was Board Report 09-0527-PO1 (the probation, remediation etc. program).
No explanation was given, and I'll call CPS later with questions about this. The fact that Ron Huberman was not present at the public participation portion of the meeting and did not have a presentation on the proposed policy (or anything else) may be of significance here. The Board went immediately into executive session following the end of public participation and emerged from executive session at the earliest time in memory -- approximately 2:45 p.m. In the past, the Board has emerged from executive session as late as 5:00 p.m. and deliberated as late as 7:00 p.m.
The press release quoted above is therefore premature, since the Board decided not to vote on the proposals.
While many other items were not discussed at the May 27 meeting, perhaps the most interesting question arising from the recent press release was the report on the "turnaround" schools. According to the press release:
"Also on Wednesday, Board members will be presented with 10 updated plans from CPS schools that were restructured prior to 2006 but were part of the CPS turnaround process. Huberman noted that in these cases the district is going "over and above" NCLB provisions, as there is no requirement that those plans be revisited. .."
There was no such thing as "turnaround" for CPS schools in 2006, so although schools were restructure prior to 2008, it was unclear what CPS meant in its press release referring to those schools as "part of the turnaround process." Most of the schools that were closed down between 2004 and 2007 were turned over, in whole or in part, to charter operators. Austin High School, which was forced to stop receiving 9th graders in September 2004, now has within its walls a charter school, a performance school, and one other entity.
Calumet High School, which was forced to stop receiving 9th graders in September 2004, now is three "Perspectives" charter schools.
Englewood High School, which was forced to stop receiving 9th graders in 2005, is now home to the Urban Prep charter high school (a charter school) and a public entity called "Team Englewood." Collins High School, which was put into the closing process in 2005, is now home to one charter school (North Lawndale College Prep) and one quasi-public entity (a high school operated by the Academy for Urban School Leadership). Of the high schools that have been shut down, only Orr High School and Harper High School have been formally placed into the CPS "turnaround" process. Both of those schools were reconstituted in June 2008 and have not been in "turnaround" long enough to have sufficient data for any conclusions about "turnaround" to be drawn.
More than a dozen elementary schools have been closed down and reopened with charter operators since 2004. Ralph Bunche elementary school, for example, now host a charter school run by Providence St. Mel's, a Catholic school originally on Chicago's West Side.
The Board gave Sherman elementary school to AUSL in 2006 and Harvard school to the Academy for Urban School Leadership (AUSL) in 2007, and both have been promoted since as "schools of excellence." But the official approvals of the "turnaround" program (as it's now known) did not begin until the Board presentations by Arne Duncan and others in January 2008. Despite what many are now confident will be claims that so-called "turnaround" has been around in Chicago since 2006, CPS didn't even create it until early 2008, just in time to "turn around" Orr and Harper high schools and Copernicus, Fulton, Howe, and Morton elementary schools. Those six schools are just completing their first complete year of "turnaround" and all claims for success in "turnaround" is premature. As educational research shows, reliable data on projects such as these does not become available until three- to five years after the beginning of the project. Because Arne Duncan is now promoting "turnaround" on the national scene, however, there is speculation that the successes of "turnaround" will be proclaimed prematurely, in the hopes that the national media will be as negligent as Chicago's local media in covering "turnaround."
Neither the Sun-Times nor the Tribune had senior staff covering the May 27 Chicago Board of Education meeting.