Strike authorization vote set at September meeting of the CTU House of Delegates
George Milkowski - September 07, 2019
While many topics were addressed at the Sept. 4, Chicago Teachers Union (CTU) House of Delegates meeting, the strike authorization vote was most important. In his report, President Jesse Sharkey stressed the need for a strong yes vote.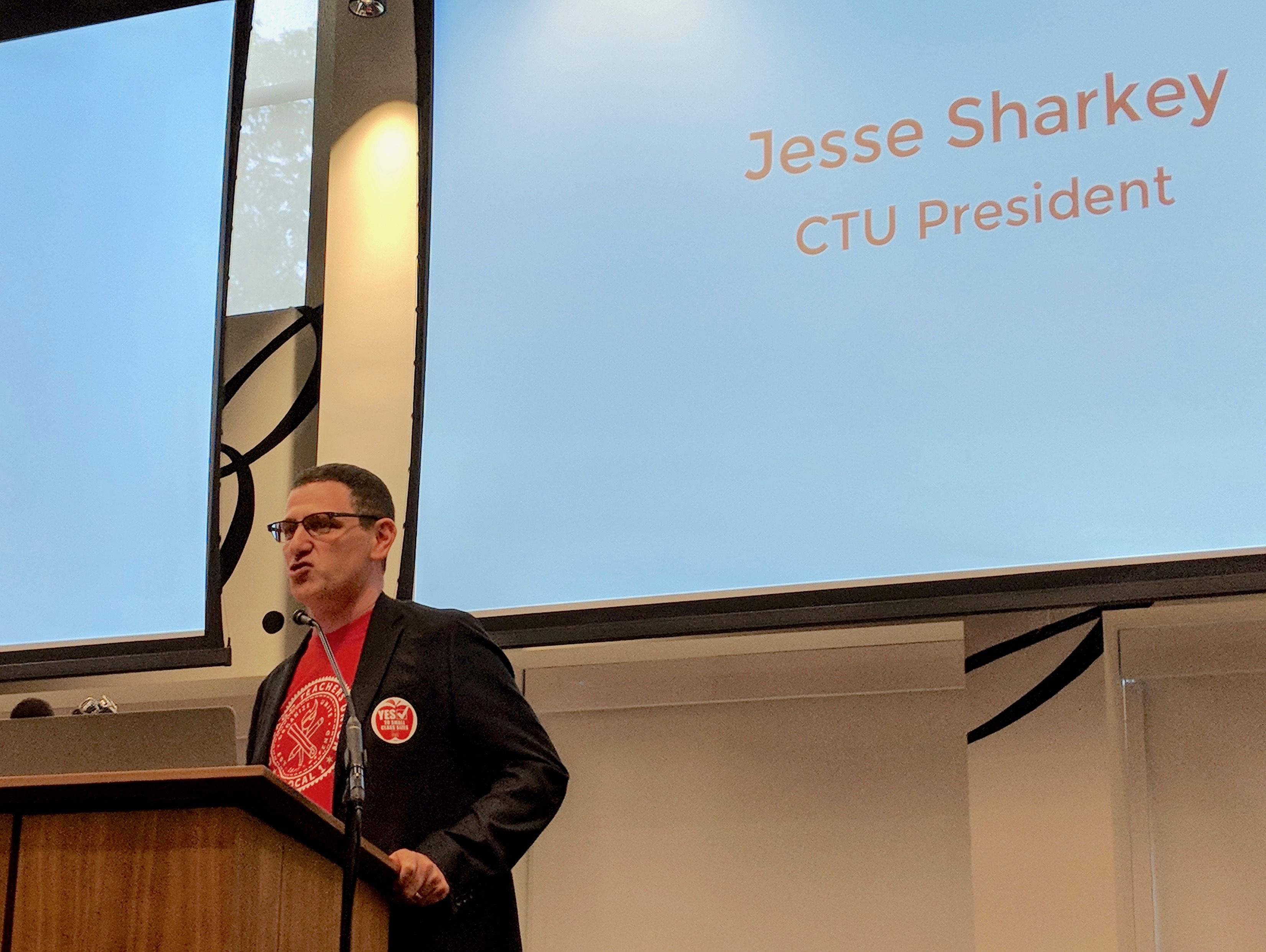 Jesse Sharkey, pictured at the August 20 membership meeting, led the pre-meeting delegate question period. Substance photo by Sharon Schmidt"An overwhelming vote to strike is our best opportunity to get a good contract," Sharkey said, following the formal motion, which passed unanimously, to authorize a 3-day strike vote, Tuesday, Sept. 24 - Thursday, Sept. 26.
The time is right for CTU to demand more than Chicago Public Schools (CPS) is offering in negotiations – CTU has been stressing in messages to members and in media events over the past few weeks.
"2019 is not 2012," Sharkey said at a CTU, August 20 all-member meeting. "We have the best opportunity to win a better contract, a better opportunity than we have had in over a decade."
He said the better opportunity comes as Mayor Lori Lightfoot campaigned on transforming schools, CPS has more money (a billion dollars more), and CTU has strong support from the community – illustrated at the meeting by supportive speeches by parents, SEIU officer and community organizers. Sharkey spoke of the national Red for Ed movement and shared an Ed Week national poll (link here) that showed 80 percent of K-12 parents support teacher strikes if the strikes will help teachers get more for their classrooms. But teachers are more tentative about taking action than parents.
"In a giving profession, workers make do with less and make sacrifices, often the last people to advocate for themselves," Sharkey said. In the Ed Week national poll, only 50 percent of teachers said they'd strike to improve their pay and working conditions. In back-to-school union meetings across Chicago, delegates have to convince members to vote yes to authorize a strike.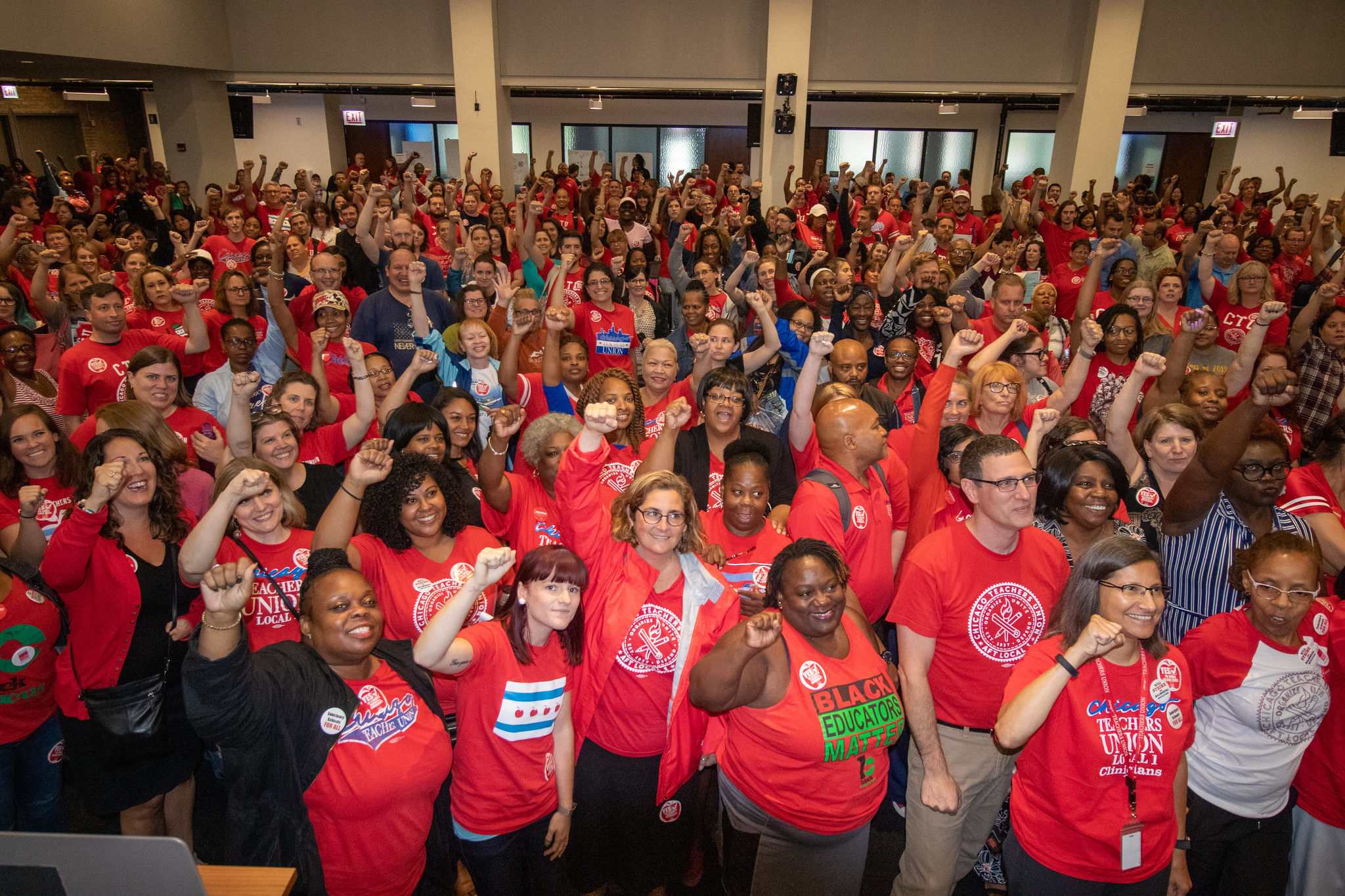 CTU officers, active members and retirees rallied at a high-energy, Aug. 20 CTU meeting. Photo by Howard HeathThe Sept. 4 House of Delegates meeting lacked the energy of the August 20 open CTU meeting, probably because the first days of September are so exhausting for the active members. The report of the meeting follows.
The pre-meeting question and answer period began on time at 4:15 p.m. A delegate from an elementary school stated that their third grade has 36 kids in it. The principal has been helpful but the delegate asked about the union strategy to deal with this problem since we have no contract. President Jesse Sharkey stated that the previous contracts had a provision for a joint CTU/CPS class size committee that earmarked $2 million for class size reduction. He said that is not enough but urged the delegate to make use of it once a contract settlement is attained.
A delegate complained that with the start of the school year and the possibility of a strike that she was overwhelmed. She asked that given the circumstances, that CTU resolutions be eliminated from the agenda until a contract is agreed to. Jesse told her the procedures for tabling such matters and she should do that when the topic comes up in the regular meeting.
A delegate asked about what was going on with SEIU 73, which represents SECAs (Special Education Classroom Assistants), Chicago Park District employees, and others. Is SEIU coordinating contract talks and strike actions with us? Jesse said that SEIU 73 had been cooperative with the CPS in the past but now has new leadership and they will try to work with the CTU.
A delegate asked about the status of our health insurance. Jesse said that if we strike CPS can withdraw our insurance immediately, but that is why we would not strike near the end of a month. CPS makes health insurance payments at the start of a month so the coverage will be there.
A social worker delegate said she was happy that the CPS has hired 420 new social workers, but was concerned as to what schools they are assigned to and what office space is allocated for their use. Jesse referred her to a CTU Executive Board member to get more details and the CTU will bring this up in talks with the Board.
Frank McDonald of Washington High was concerned about the use of the term "vouchers" in a resolution on affordable housing, that it might lead to school vouchers. Jesse assured him that it only referred to Section 8 vouchers issued by the federal government for housing.
A delegate said that her principal insisted that all teachers complete a required on-line course on sexual harassment last week on the day that was supposed to be self-directed. She said that the flood of people doing this slowed down the computers so that she, and others, had to sit and wait for 40 minutes "while the little circle just turned and turned," wasting a chunk of her time. Jesse said CTU will talk with the CPS about rectifying the lost time.
The delegate from Burroughs school said she is happy that the school has finally a full-time social worker, but that social worker is "bombarded" because she is a mentor for three social worker "mentees." The CTU will follow up on that to get some of the "mentees" re-assigned to other mentors.
Another delegate asked if the CPS can be convinced to go on a year-round schedule, giving teachers a few week break between sessions. Jesse said that they tried that a number of years ago but too many schools lacked air-conditioning and it was unhealthy and dangerous on some days. He admitted that more schools have been updated so he will have the CTU re-visit the issue.
The delegate from Smith School got a round of applause when she announced that the principal was forced out. He cheated on attendance records, had no real Local School Council, made deals with a Catholic school to lease Smith land, and there is some question about the school finances.
The delegate from Gregory School said he filed a report on oversized classes last September and didn't hear back from the CTU of any action until March. Jesse said that the CPS sabotaged the Class Size Committee by removing its members so it couldn't operate. As far as not having the CTU respond, he said it is his job to make sure union staff do their jobs and if it happens again the delegate should contact him directly.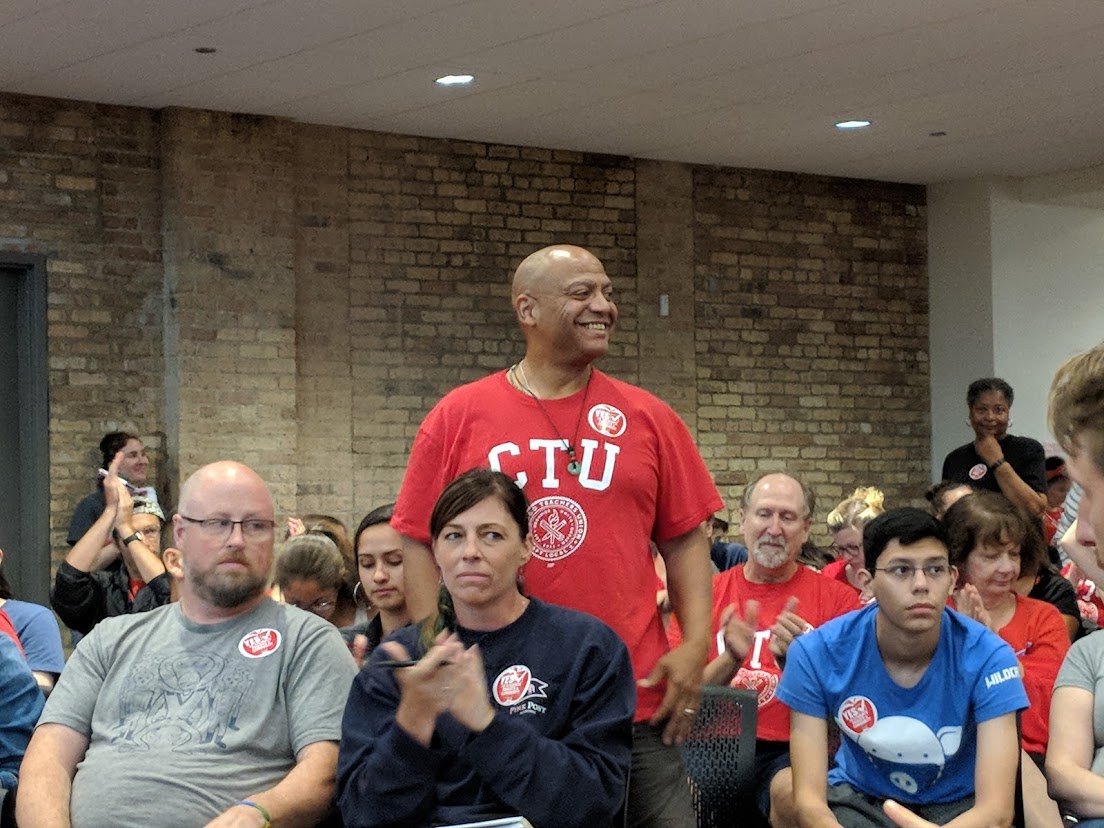 Newly retired CTU Recording Secretary Michael Brunson was one of many retirees cheered for at the Aug, 20 membership meeting. Whlle they may not participate in the upcoming strike authorization vote, retirees' work in the CTU is invaluable.The regular meeting began at 4:46 p.m.. There has been a change in the format of the regular meetings to try to speed them up and make them more productive. Because of the CTU officers election last May, the first order of business was to have the official swearing in of the officers and members of the Executive Board
The officers' reports began with Recording Secretary Christel Williams-Hayes. Christel urged all delegates to have an active Contract Action Team (CAT) and that they conduct a straw poll in their schools to measure the feelings of staff regarding a strike. She then gave the podium to Curtis Bynum of the grievance department.
Curtis said the biggest issue that the grievance department deals with is lost prep periods in elementary schools. He stressed the importance of keeping exact records of time lost. These can and have been successfully grieved.
Another issue is a dress code. He said CPS has no official dress code policy for faculty and staff and that it is the principals who are developing them. He asked that if there are school handbooks that have dress codes in them, then try to get a copy to the CTU, but also bring the issue up with the school PPC (Professional Problems Committee). If there is no PPC, then the delegate should get one going.
Financial Report by Kathy Catalano. Kathy compared the audited versions of our budget for the previous two years with the unaudited budget so far this fiscal year. As of June 30, 2019, we have an extra $427, 238. Our income increased and expenses went down as the Union planned on taking a big hit from the impact of the Janus v. Rauner court case. The hit did not happen so CTU staff that was laid off has been rehired.
Financial Secretary Maria Moreno said that the Janus decision has resulted in only 23 people since June opting out of Union membership, but we have signed up 522 new members since June. Maria also said that negotiations with CPS started in January, but the CPS negotiators have dragged their feet on most issues. She said that the SEIU 73 local voted 97 to a strike if a deal can't be reached. Maria said the Board is trying to split us by offering higher raises while ignoring everything regarding working conditions. A strong "yes" vote on a strike is necessary to get the Board to move in negotiations. She also reminded the delegates that according to Illinois State law, those who do not vote will be counted as a "No' vote.
Maria turned the podium to Sue Sebesta who went over the procedures for the strike vote in the schools that will take place over three days later this month – Tuesday, Sept. 24, through Thursday, Sept. 26. After Sue finished, a formal motion was made to authorize the strike vote and it passed unanimously.
Maria then tried to conduct a "dialogue activity." She said this was based on conversations with delegates to get more direct involvement at House meetings. She wanted everyone to stand up and talk to other delegates while music played. She said this would be a bit similar to playing musical chairs. To say there was resistance to this is a great understatement. Almost the entire House groaned and complained from their chairs. I think this would be fine for second graders but we are way past that. Quickly, the idea was quashed.
Vice-president Stacy Davis-Gates – Stacy spent a minute trying to justify the "dialogue activity," but then moved on to our current negotiations.
Stacy said that things are different this time compared to four years ago. First, the change in state law means the CPS has $1 billion more than before and that some of the intent in the change in funding was to get wrap around services such as nurses, librarians, and social workers in all schools. Second, the CTU negotiating agenda has specific items that would benefit students. Third, we have to be aware that we do not have an easy villain like Rahm to deal with. She concluded by pointing out that Chicago rushed to give $1.3 billion in TIF money to Sterling Bay to develop part of Lincoln Park. She said that Sterling Bay lied about some things to get the ordinance approved before changes in federal law would affect them.
President's Report – Jesse was brief. He said an overwhelming vote to strike is our best opportunity to get a good contract. He stressed that we need a written guarantee in the contract to hire clinicians, nurses, and so on. We cannot rely on verbal promises.
Items for Action – A "CTU Resolution on affordable Housing Standards" was presented. A motion to table this failed. A delegate who spoke in favor of it pointed out that the rising cost of housing in Chicago is driving people and their families out of Chicago, resulting in decreased CPS enrollment and a loss of jobs. She also said that many CPS employees, who are required to live in the City, are having a hard to finding affordable housing. The motion passed with one "no" vote.
Delegates report by Marty Ritter – Marty urged delegates to take flyers with them and distribute them on Friday, September 6, before school to parents who are arriving to drop off their children.
Marty also asked delegates to come to the microphones and speak to the issues that their co-workers find most important. The three items that kept being repeated were elementary preps, class size, and full time clinicians.
Pension Report by Jackie Price Ward – Jackie presented a very simple, but easy to read report to the house. She also said that every school should have a pension representative and that they should be included in all CTU meetings in the schools.
Question and Answer period
The Bateman School delegate said she was glad that so many schools are getting needed repairs but complained that many of the construction bids are not going out until summer so work doesn't often start until the school year has started and can therefore be disruptive. Jesse will bring this issue up with the CPS.
There were a lot of complaints about the ASPEN system that deals with record keeping for grades and attendance. Jesse said that even the CPS has recognized that it is unworkable but they have no back up plan to replace it.
A delegate questioned the residency requirement, but Jesse said it would require the Chicago City Council to change the ordinance.
Frank McDonald of Washington asked why we started off asking for a 5 percent raise. Jesse said that it is part of the bargaining process and even if a salary increase is less than that, if they are able to increase the amount of steps, that would give workers a bigger pay increase.
Lastly, Quentin Washington, a music teacher, asked if enrichment teachers like himself can be required to teach pre-k. Jesse said yes, for small amounts of time. When enrichment teachers do this they are allowing the regular teaches time to have their preps. However, they cannot just be dumped on. Jesse said he should start be going through the school PPC.
The meeting adjourned at 7:05 p.m.
[Sharon Schmidt contributed to this article with reporting on the August 20 meeting.]