Taylor principal's disrespect toward teachers and elected officials results in union meeting forced outside...protest planned for Wednesday's Board of Education meeting
Susan Zupan - June 24, 2019
At the end of the day on June 10, Taylor Elementary School's Chicago Teachers Union (CTU) delegate Gail Molinaro was preparing for a special after-school hours CTU meeting. The notice for the meeting had been posted on the school's swipe machine for over 48 hours from the week prior. The posting included: "In attendance: Sue Garza [referring to Alderwoman Susan Sadlowski Garza] and Sen. Robert Peters."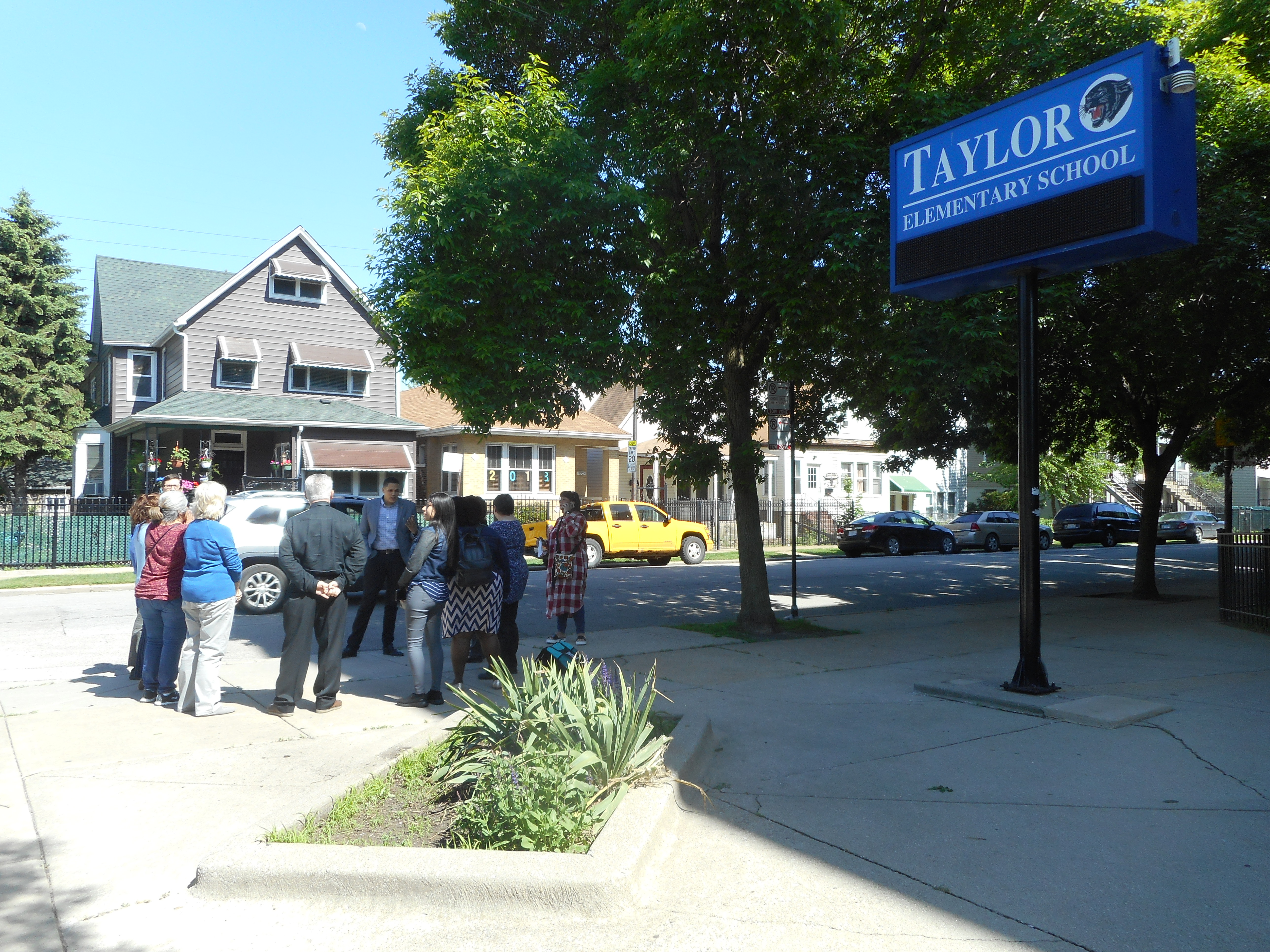 The now-fired Taylor elementary school CTU delegate was told she could not hold a union meeting in the school on June 10. So the meeting that included Illinois State Senator Robert Peters and representatives of 10th Ward Alderwoman Susan Sadlowski Garza's office was held outside. The Taylor principal's disregard and disrespect has been ongoing toward the school community and its CTU members.Douglas Taylor Elementary School, a neighborhood public school, is located at 9912 S. Avenue H. The meeting took place at the corner of 99th Street and Avenue H. However, shortly before the meeting was to begin, Taylor Principal Dawn Hill told Ms. Molinaro that she had not been informed that there would be a union meeting, and therefore the meeting would not be allowed in the school. The principal did not respond to any other words on the matter, including from CTU Field Representative Joseph McDermott via email. One of the bullet points on petitions signed in regard to the school community seeking new leadership due to having No Confidence in Principal Hill lists the need for: "RESPONSIVE, TIMELY and EFFECTIVE COMMUNICATION." Another of the bullet points: "FULL INPUT and COLLABORATION of ALL STAKEHOLDERS."
Word quickly spread throughout the school. The CTU meeting would instead take place at Calumet Park, east of the school. But when Senator Peters arrived and said he did not mind, the location for the meeting simply remained in front of the main school building near the marquee where teachers had congregated to try to problem-solve the situation. There are three items of note in regard to this particular local CTU meeting. First, it followed a recent Local School Council (LSC) meeting in which the LSC passed a vote of No Confidence in Principal Hill (8-1, the 1 against the motion being Principal Hill's own vote). See previous Substance report.
Second, the reason the meeting was especially important was that it was set to be attended by 10th Ward Alderwoman Susan Sadlowski Garza and State Senator Robert Peters. Robert Peters currently holds the Illinois 13th District senate seat previously held by now-Attorney General Kwame Raoul. Notice had been given that they or their representatives would be present. Senator Peters was present. Garza was unable to make it back to the East Side in time for the meeting due to downtown Chicago City Council responsibilities on the same day, so her office sent two representatives, Chief of Staff Maria Fattore Lazzaoni and Nicole Garcia. Garza informed CTU Delegate Molinaro that she had left a message on Principal Hill's answering machine about the meeting the week before, a courtesy heads-up that she or representatives from her office would be in the school for the meeting. Third, the meeting's agenda consisted of informing, discussing and continuing to organize next steps following the LSC's vote of No Confidence.
Attendance approximated most of the teachers in the school, with 10-15 people at any given time, with some needing to leave for their home situations or their physical situations of not being able to stand for such a length of time, outdoor allergies, and others joining as these things go after work hours.
A few words about the recently "non-renewed" (fired by Hill) CTU Delegate Gail Molinaro: She is an outspoken advocate for everyone (parents, teachers, students) but always in this respect focused on the students, and most heart-fully for her diverse learners, students with Individual Education Plans (IEPs). When ISBE Monitor Laura Boedeker (along with CPS Special Education Administrator Sarah Moon-Sarudi and CPS Case Manager Victor Williamson) came out to Taylor School on November 7, 2018, due to the number of complaints registered in regard to special education services or lack thereof, with Principal Hill in attendance, with a bit of dramatic flair Boedeker said particularly to Molinaro, "Paint me a picture!" And so she did, then, so did others, including this reporter, but Molinaro led. She was/is an artist. What Molinaro said to Senator Robert Peters at the outcast CTU meeting on June 10, in reference to that previous meeting with the ISBE monitor was this: "And now look at the picture that has been painted – I've been fired."
Molinaro had been evaluated with many "developing" ratings (something beyond injustice, for anyone who has even just entered her diverse learner classroom and looked around, let alone known her as a teacher) in her Informal REACH evaluation prior in the school year by Principal Dawn Hill. Note: This is the case for more than Ms. Molinaro at Taylor School. But in regard to what is in place in CPS for PATs (probationary assigned teachers), PAT Molinaro was recently told by Principal Hill that she no longer had a job at Taylor School. For Molinaro's Informal Observation by Hill, the principal popped-in unannounced (as required) into Molinaro's classroom, but, and with many days to chose from, the choice was made to conduct this REACH evaluation on the day that Molinaro had returned from a brief leave for attending a close family member's funeral.
When one tries to describe to outsiders what it is about the administrative culture and climate of the school that is so overbearing and horrific on a daily basis, words do not often suffice, but sometimes examples of especially blatant and inhumane disregard for others assists in painting the picture. Thusly, a CTU meeting took place at Taylor School, outside, on the sidewalk,with the outcast attendees – including a state senator and representatives of the alderwoman's office – standing in a circle, for approximately one and a half hours, discussing how Taylor School administration is running or rather "ruining" the school and what might be done about it.
What happened in regard to this meeting represented another most perfect and demonstrative example of how the administration treats so many of the stakeholders of the school community on a daily basis, with exceptional disregard and virtual zero affect. The difference on June 10? The choice of action by Principal Dawn Hill in this situation included gross disrespect in the face of both a state senator and a Chicago alderwoman.
The Taylor School community is planning to attend the Board of Education meeting on June 26, 2019, with at least one bus supplied by Alderwoman Sadlowski Garza's office. [Full Disclosure: This reporter is a teacher at Taylor School who attended the above-reported CTU meeting as well as the preliminary and follow-up meetings with the ISBE monitor. She also spoke at the recent LSC meeting in favor of a vote of No Confidence.]