Members First announces election slate
Jim Vail - February 25, 2019
Members First announced its officer slate to run in the next Chicago Teachers Union election May 17, 2019 - President Therese Boyle (35 yrs CPS, psychologist), Vice President Viktor Ochoa (23 yrs, Schurz counselor), Financial Secretary Debbie Yaker (21 years, special education) and Recording Secretary Sharon Davis (20 years CTU delegate, physical education).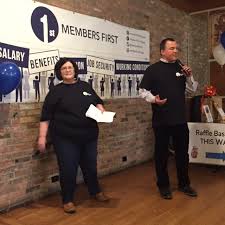 Therese Boyle and Victor Ochoa, president and vice-president candidates for Members FirstThis year's race to be president of the CTU should be interesting. CORE - Coalition of Rank & File Educators, has ruled the roost since 2010 when they upset the ruling party UPC in a runoff.
President Karen Lewis used her popular status to lead the first Chicago Teachers Union strike in 25 years in 2012 and was considered a strong candidate for mayor until she battled serious illness that led to her recent retirement.
CORE is currently led by CTU President Jesse Sharkey, Vice President Stacy Davis Gates, Recording Secretary Michael Brunson and Financial Secretary Maria Moreno. CORE voted to replace Brunson with CTU field rep Christel Williams-Hayes on their slate in the spring election. In the last nine years there has been no real opposition to CORE.
That should be different this time around.
"The reason why I'm running is I believe our union has fallen away from transparency in terms of making decisions," Boyle said in a press conference on the South Side to announce the slate this past week. She said her family's been teaching in CPS since the 1880's.
"They need to include the members' voices more. We need some checks and balances." Boyle said she has degrees in financing and economics and she became concerned about the union finances about one year and a half ago.
"I want to bring back the financial stability of the union," she said. "The more stable we are financially, the more services we can bring out to you in the schools."
She said she is concerned about the next contract and to recover what was lost. The media asked about a strike. Boyle said a strike is "always a last resort."
She said that the union only asking for a five percent raise in the next contract will not make up for all the loses from the previous contracts. Boyle did not tell the media at the press conference how much of a raise the teachers should ask for.
"We're having a hard time attracting and maintaining good teachers here," she said. "So we have to offer a good contract so they'll stay."
Ochoa said the union needs to get back to the basics. He said the COLAs (cost of living) are gone and raises are non existent, less choices for benefits - PPO or HMO, paying more at the pharmacy, and the job is more stressful each year. He said this should be a career, but young people come in and they don't last. "We should make classrooms less stressful and these contracts have not helped," he said.
The CTU endorsed Toni Preckwinkle for mayor. Boyle said whoever is the next mayor they will sit down at the table and negotiate the best contract for the teachers.
Members First started about two years ago as a watchdog group because of concerns with union finances. Deficit budgets necessitated a lot of cuts at the union. Boyle said a lack of transparency around spending, taking loans without asking members and making loans prompted the formation of Members First. In 2015 the CTU had $8.8 million in reserves and when they asked the union where this money went, the CTU responded, "We overspent." "We got more active asking questions and decided to step up even further and run for office," Boyle said at the press conference.
Boyle said she works with a lot of CORE members and they're doing great work. She said she doesn't have concern with the members, but with the way the union leadership is handling the resources. On Friday, May 17, 2019, Union members will elect officers of the Chicago Teachers Union for a three (3)-year term ending on June 30, 2022. All active members may vote for the President, Vice President, Financial Secretary, Recording Secretary, six (6) Trustees, three (3) Area Vice Presidents, 150 AFT/IFT Delegates and 45 AFT/IFT Alternate Delegates. Each member will also vote for the Functional Vice Presidents of her or his own functional group.