While illuminating major problems with CTU practices, Joseph McDermott's officer slating survey responses for CORE show his qualifications
Sharon Schmidt - January 11, 2019
Serious ethical lapses, violations to the constitution and irregular political practices of the Chicago Teachers Union (CTU) leadership are evident in a letter to CORE (Caucus of Rank and File Educators) members and survey responses to the CORE slating committee by CTU field representative Joesph McDermott.
His writing also shows that he is highly qualified – through his experience, character, and vision – to serve as president or vice-president of the CTU. The next election for CTU officers is in May.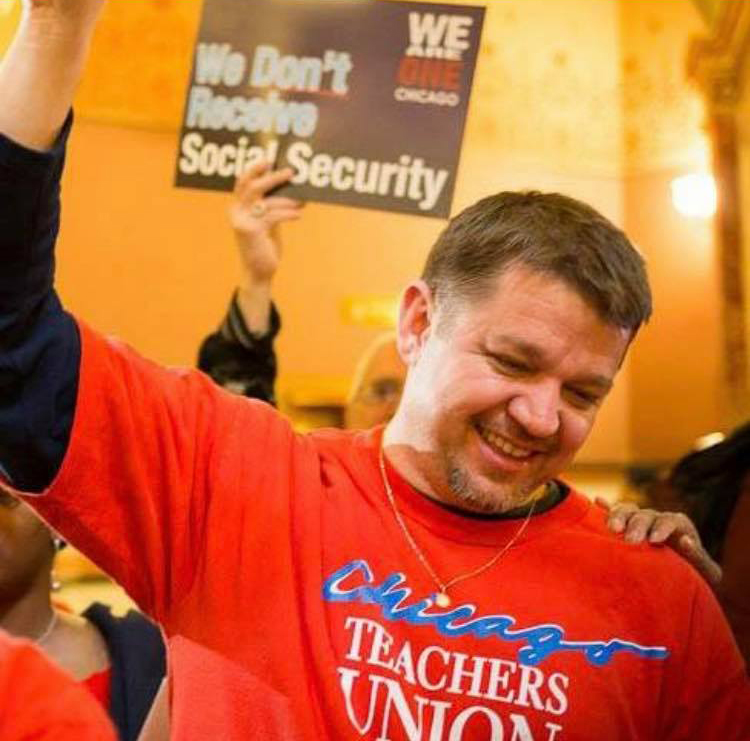 CTU field rep Joey McDermottThe CORE slating committee includes six rank and file CORE members. CORE will vote on its slate in the next two weeks. McDermott sent his letter to the CORE email list serve earlier this month. He sent his survey responses to the slating committee in late December.
The following is his letter and survey responses:
Good morning, Brothers and Sisters:
As most know, I've been nominated for two officer positions as part of the CORE slate. The slating process has it's advantages and disadvantages. One aspect that I don't like is that all CORE members don't get to see all the candidate surveys. I would like to share mine with all to read.
My goal in sharing this is the same as my goal in running for an officer position. I want to change the priorities of our leadership. I'm hesitant to "campaign" for any position. That's why I have not "made calls to align any supporters," as others have done already. My sharing of this survey is primarily intended to promote a perspective on how we can be better as a union. My sharing is based on my unique experience as a CTU member.
I recognize that CORE members have done a great job of pushing our CTU officers to be more transparent, accountable and democratic. It was the efforts of CORE members last summer that forced CTU leadership to be to have an actual election process for the temporary officer vacancies. Without those efforts, we would have had a old school Daley/Burke/Berrios/Preckwinkle style of leadership succession. Unfortunately, the pace of that progress is still frustrating. I don't see a commitment to these values in some of our current officers, which is why our direction needs to change.
I hope that the ideas shared in my survey will push us all to work for the necessary changes in our union's leadership. Regardless of who wins the election, our common goal is to strengthen our union and our unity. We must all remain committed to working together, and we need to stop the working against each other.
I look forward to any feedback you wish to share. I'm not trying to create another legendary CORE thread, so if you prefer - you can send comments directly to me at joeymcd23@yahoo.com.
Name: Joseph "Joey" McDermott Positions Running For: President and Vice-President
1. How have you exemplified/met the expectations of your position as outlined in the CTU Constitution and By-Laws during your last term in office? Were you able to achieve specific goals you had for your role? Please be specific. If you are applying for a different position than the one you have served in, please reply for the position you held.
I'd like to highlight a significant moment as a CTU staff person when I fought to honor the CTU constitution. In November 2014 the CTU President announced at the Friday LEAD that she was making a personal endorsement for a mayoral candidate. This was an unprecedented action taken by a president. The CTU constitution requires endorsements to go through the PAC Committee, the Executive board and then the House of Delegates. The House meeting was scheduled for the next Wednesday (after the LEAD).
The Tuesday prior to the HoD meeting, all CTU staff were directed to solicit petition signatures on behalf of the Chuy Garcia campaign. This was during my paid workday. My paid time constitutes a paid contribution to the Garcia campaign. No candidate can receive any contribution until they've been endorsed via the CTU's constitutional guidelines. The CTU leadership was violating the constitution in order to fulfill its political promises.
I filed a formal complaint. It was not an easy step to take, I was directly challenging an important decision made by the current CTU officers. My action was a stand on behalf of all rank and file members, and not just for myself as a staff person. It did not make me popular with the officers and it made my work life very stressful.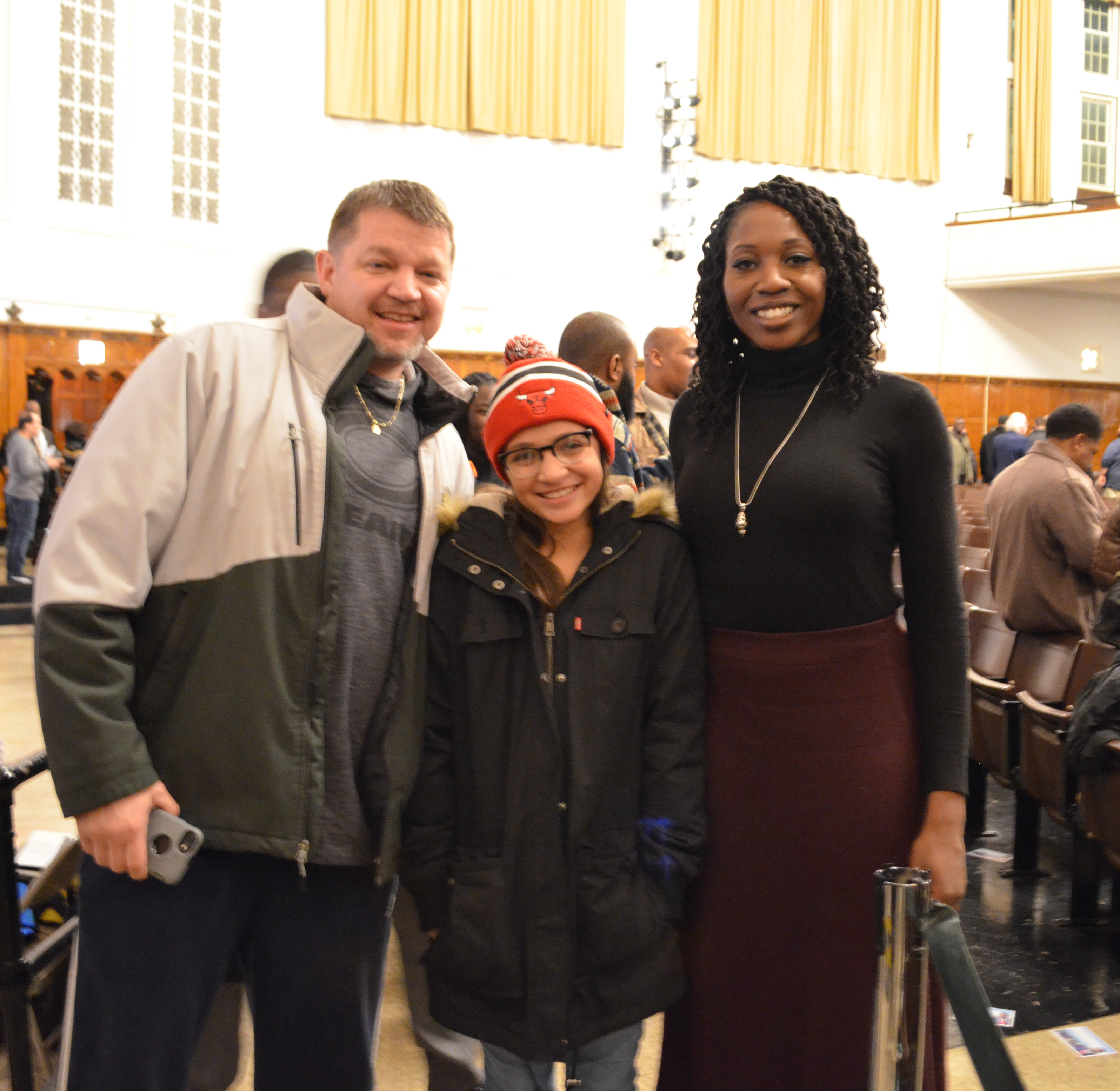 CTU officer candidate for CORE Joey McDermott, his daughter Zora, and Chicago mayoral candidate Amara Enyia at the Ward 36 mayoral forum at Steinmetz High School on Jan. 10, 2019. Substance photo by Sharon Schmidt.Let me be clear, though. Both my parents worked for the Harold Washington campaigns in 1983 and 1987. I walked the precinct door to door. I knew from a young age the names of Rudy Lozano and Chuy Garcia, and Chuy was my guy. I was inspired and excited to see him become our next mayor. My complaint was not due to any negative feelings about Chuy; this was about process. The CTU leadership violated our process.
During the mayoral campaign, I volunteered for Chuy. I organized a meeting between Clem Balonoff and about six volunteers from the Galewood/Austin community. For ten weeks straight, I went out with 2-3 teams of canvassers and worked door-to-door on behalf of Chuy. I demonstrated my dedication to our larger political goals, but at the same time I fought for our democratic and member driven processes to be respected and honored.
2. How will you commit improve your ability to fulfill your position as outlined in the CTU Constitution and By-Laws? For those who are new or are applying for a different position, please describe your plans/intentions for the office you are seeking and how your previous work Please be specific.
One of our failures to honor our constitution involves our PAC spending. We have failed to be transparent and democratic in the way the PAC is used. For example, the rank and file membership had no voice in the spending that took place for the recent Brandon Johnson campaign. The CTU leadership failed to articulate how much money it spent. I've sent at least a dozen emails to CTU leadership in the past year and they refuse to disclose how much was spent on this campaign.
The actual spending practices reveal how CTU leadership egregiously violated multiple ethics and principled standards of conduct. The CTU PAC donated money to two currently elected officials. Neither of the two were running for re-election at the time they received the five figure donations. The CTU gave upwards of $20,000-$30,000 to these two candidates. Neither of them had been endorsed in years. The candidates, within a matter of days, turned around and donated the same amount of money to the Johnson campaign. This is unethical. It's insulting to our members and it's a bad practice.
The CTU leadership also created an Austin "Independent Political Organization" (IPO) a few years prior to the Johnson campaign. I live in the 29th ward and am active in local politics. After the 2015 election, myself and six others met with a representative of the 22nd ward IPO to discuss doing this in the 29th Ward. There was a hunger and a desire by many to see something like this on the west side.
When the CTU created the Austin IPO, there was no outreach to the rank and file members of the 29th Ward to be a part of this organization. If the CTU establishes a true IPO it should be community and member driven. The organization was used as a conduit to donate money to the Johnson campaign. The CTU donated over $20,000 to the Austin IPO and then the IPO turned around and gave the same amount to the Johnson campaign. The organization had no other political or financial activity at any other time in its existence. There was never any agreement by the House of Delegates or the PAC to donate money like this.
This was a blatant abuse of power and a deviation from our principals of transparency and member driven unionism, which also demonstrates a lack of respect for the residents of the Austin community. This tactic would not be done in the 19th Ward, the 4th Ward or the 22nd Ward. The CTU respects the voters in those communities and knows that a fake organization cannot be created with the sole purpose of funneling campaign money to another campaign. The CTU leadership should welcome and encourage all inquiries about PAC spending. All PAC expenditures should be listed on the CTU website on a regular basis.
3. How do you see a union "office" and involvement in the caucus relating to one another? What do you see as the role of the caucus and its principals in the work we do as a union? Please elaborate, giving examples if possible.
In order to be a strong and effective union we must be member driven. Leadership must humble themselves and realize that they work for the members, and not the other way around. I've heard CTU leadership tell members the following:
1. The tail (You) don't wag the dog; I'm the officer, I wag the dog
2. Don't second guess me, I'm the leader
3. You are a novice.
4. Those ("Mount Greenwood") people are always going to be racist, why bother?
5. You are a white male interrupting me, that makes you Brett Kavanaugh
When we are member driven, we are not afraid to put power in the hands of the rank and file. We listen to their voice. We welcome the voice of members. We need all members to feel respected and we need them to feel as if their voices member, even when we disagree.
An example that demonstrates this is when I represented a member that was part of an organization called "Educators for Excellence." It's an organization driven by the billionaire's like the Broad's and Walton's. My member had written many columns in the Sun Times on behalf of this organization. He also had an unfair evaluation rating that didn't follow contractual protocols. He filed and won a ratings grievance.
I asked him to write an article for the CUT and he did. His article was submitted and rejected by leadership – simply because of his affiliation with an organization. The article was entirely positive about union rights and procedural safeguards through grievances. I fought for this member's right to express himself. I went to each officer and made the case. I did this, not because I agreed with everything the member believed. I did it out of respect for member driven unionism and to give all members a voice and sense of ownership in their union.
4. In particular, please reflect on your emphasis/uplifting/fulfilling of these principles during your tenure. We especially want to know how you see your role and commitment on those points that most directly affect our members in their daily work. Please explain how you see yourself, if elected or re-elected, fulfilling each of these fundamental principles.
A strong contract cannot be achieved merely through skillful strategy at the bargaining table. At the same time, a contract is meaningless if we don't enforce it.
Our contract enforcement does not receive the attention and resources that are needed to serve our membership's needs for the year 2018. Our field reps our using technology and practices that are decades old. Our current leadership has little interest in addressing these issues. We have a backlog of arbitrations that leads to a process that can take 2-3 years. This cannot be blamed on the Board's ineffectiveness or dragging their feet.
I have a pending grievance on this backlog and CTU leadership has sat on this grievance for over six months. Our grievance department doesn't have the resources, systems and technology in place to have an efficient and speedy process. That means that we have delayed justice and very frustrated members. It means more bully principal get to make our members lives miserable.
Our grievance department has cut $500,000 in resources during the past year. This happened at the same time that the PAC has $1 million in outstanding debt to CTU operations. The CTU leadership spent political money at the expense of contract enforcement. This loan must be paid back, and we must make the investments necessary to improve our members work conditions.
We also need to bridge the gap between the barraging table and the worksites. Our organizing team needs to be focused on developing PPC's and CAT's at every school. Our CTU leadership should have readily available data on how often each school's PPC meets and what issues are on each month's agendas. The current leadership has failed to track this data and properly support the development of PPC's at each school. The PPC transitions to the CAT's and will allow for a greater strength in the bargaining team. More importantly, the links between worksites and table will create a greater sense of faith and connection to the bargaining process.
I have done this work with success at the Acero bargaining table. My approach has been to empower the rank and file members of the Acero bargaining team. I've focused on creating a space where all members voices are heard and respected. I've supported a team that developed a consensus driven approach that strengthens every member of the team. It also strengthens the bond and connection between bargaining table and worksite. This approach was not always popular with current CTU officers, but the approach was a reason the Acero teachers won a great strike and have a strong member driven leadership team.
The CTU leadership also created a $30 million slush fund called the CTU foundation. I've witnessed all sorts of activities that are not member driven and lack transparency. This foundation deserves an independent elected board of rank and file members. This should be in the bylaws of the foundation. Any spending must be approved by this elected Board. The CTU criticized Rahm for spending TIF money without city council approval, and we do the same thing. We criticize the mayor's unelected appointed school board, and we do the same thing with foundation leadership. We must always practice member driven unionism that guarantees transparency and democracy.
5. What efforts have you made to build leadership and member involvement within the CTU? How have you helped to build the caucus, recruit members and develop a new layer of rank-and-file member leaders within CORE?
I've also worked to fight bully principals through the member driven Community Action Plan process. The CAP is a process that I helped create along with other CTU staff. It's a process that seeks to remediate a principal and improve a school's climate. It requires members to be leaders and take escalating steps that require acts of courage. The process also incorporates escalating tactics that start with ¾ of staff taking a survey, then signing a letter to the principal, then (if necessary) ¾ attend an LSC meeting and/or flier parents and student drop off. The members own this process. I, as the field rep, am the guide on the side – and not the sage on the stage that too often happens with CTU leadership.
I also believe that we've done too much elevating of our CTU officers to deity status. I've heard our president compared to great historical heroes and figures. I don't believe that we need a leader that will be placed on a pedestal or revered as a great historic figure. We are at our strongest as a movement when our leaders are more closely aligned spiritually and emotionally with the rank and file. When we get placed on a pedestal, we stop looking at membership as our peers and view them as subjects to be herded like sheep.
6. In a few sentences, at least, please share anything else that you think we should be aware of about you as we move into the slating process.
I was raised primarily by my mother, who is a huge influence on me professionally and personally. My mother was a nurse at Cook County Hospital. She later worked as a field rep and director of the grievance department for the Illinois Nurses Association. She is my inspiration for my professional and my activist work. She's taught me great sayings, such as: tigers will be tigers; every train has a caboose; and heavy is the head that wears the crown. I learned from her a commitment to social justice and unionism.
My grandmother was also a great influence on me. She taught me my faith and developed my spiritual formation. I learned from her to forgive those that trespass against us, on a daily basis. She taught me to seek to understand, in order to be understood. She taught me to seek to do good and be a power for good. I learned from her to be driven by love, compassion and justice.
My life experiences have played a large role on my thinking and perspective. I experienced the attempts to desegregate the Chicago Public Schools during the late 1970's and early 1980's. I rode a yellow school bus from Logan Square to Old Town in order to attend Newberry School. I participated in after school programs at the Eisenberg Boys Club and the New City YMCA. I learned from these experiences how to adapt to living among different cultures and backgrounds. I experienced the importance of public education and the wrap around services that connect the community to the school.
I taught Social Studies at Crane High School for 12 years. In 2003 Crane had the largest graduating class since the early 1970's. My school was at the crosshairs of Renaissance 2010 and the CHA plan for transformation. Our school served 10,000 CHA households at its height. The demolition of Rockwell Gardens, Henry Horner and ABLA destroyed our school community. Simultaneous to that, Noble Charter Schools opened UIC and Bulls Prep. Then CPS opened the Marines and Phoenix military academies within our boundaries. Crane lost it's 7th/8th grade and Metro programs at the same time. I experienced directly the destruction of a great school community as a result of horrible public policy.
I've worked hard to have a well-balanced life. I regularly work 50-60 hours per week. It's taken a toll on my family and body. I've also worked hard to honor my commitments to be a father and husband. I've coached my children's sports team year-round for the past four years. I've maintained a great friendship and partnership with my wife, even during a separation. I've organized my high school reunion and my block party annually. My friends from childhood, high school and college are still my friends today. I am a loyal friend, an educator, a unionist and a Chicagoan.