Striking charter school teachers in good spirits
Sharon Schmidt - December 05, 2018
In spite of the 26-degree weather, teachers at Clemente Elementary, one of the 15 Acero charter schools in Chicago, were in good spirits on Day Two of their historic strike. The 500 Acero teachers and PSRPs are the first in the nation to strike a charter operator.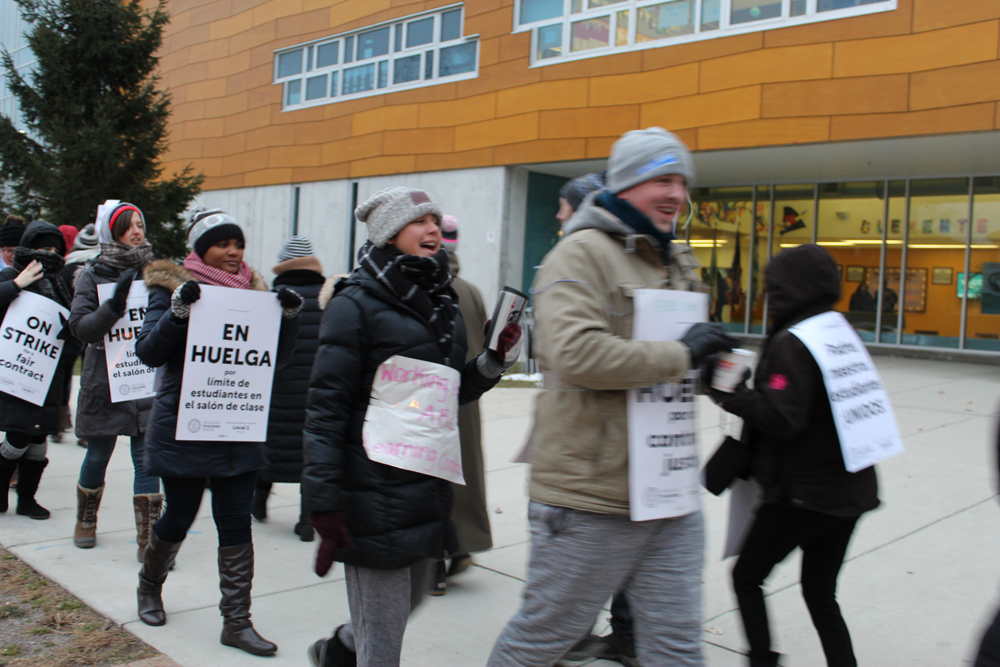 Teachers walk the picket line at Acero Clemente elementary school, 2050 N Natchez Ave., in the Galewood neighborhood of Chicago. Substance photo by Sharon Schmidt"Our contract was up two months ago," teacher Glenna Wilcox said. "It shows that we gave it a fair shot."
Acero teachers work longer hours and receive $13,000 per year less than non-charter Chicago public school teachers, according to the CTU press release about the strike. "Acero management's take of public dollars went up more than $10 million this year—while spending $1 million less on classroom resources."
In addition to fair pay, teachers are striking on issues of class sizs, special education resources, nurses, wrap-around services for students and sanctuary school status for students. Acero teachers informed parents and students about the stalled contract negotiations and looming strike in before and after school picketing for several days prior to the strike.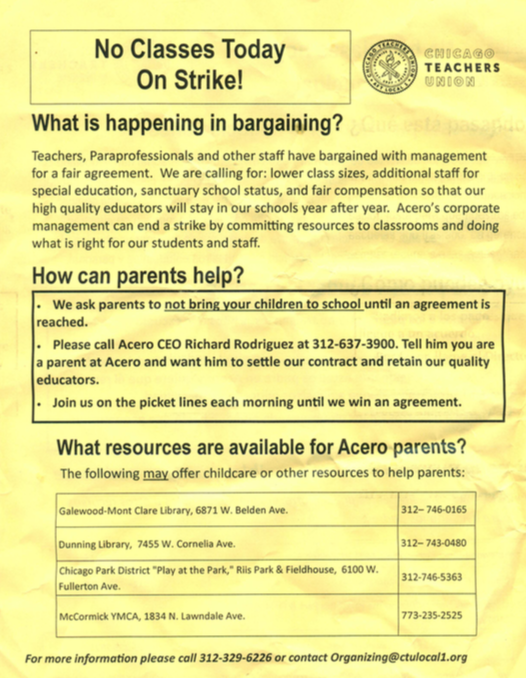 Teachers at Acero Clemente elementary school passed out informational flyers for parents on Dec. 5.On Tuesday, Dec. 4, the first day of the strike, only six of the 500-plus students at Clemente entered the building. No union members scabbed.
Teachers walked the picket line chanting: "Get up, get down, Chicago is a union town," and sang to Twisted Sister: "We're not gonna take it, No, we ain't gonna take it
Oh we're not gonna take it anymore."
Acero management and other charter school executives were flummoxed by the strike, saying that it is completely contrary to the spirit of charter schools, which have been pushed by anti-union forces.
"It really boils down to CTU's desire for a strike," Illinois Network for Charter Schools spokeswoman Melissa Ramirez Cooper told the Sun-Times. "The charter movement was founded on the principle that students need high-quality educational options and opportunities, and for teachers to have more autonomy in the classroom to effectively meet student needs. A strike would do nothing to further such opportunities. The strike only disrupts the lives of students and their families."
Acero was one of the first charter chains in Chicago to unionize under the CHIACTS union that is now represented by the CTU. In January, Chicago Teachers Union members approved changes to the CTU constitution and bylaws to merge with CHIACTS.
"We do hope that the world takes notice," CTU President Jesse Sharkey told the Chicago Tribune. "When there are (protesters wearing) red demanding more resources for schools, better compensation for teachers, educational justice across the red states … and then you see that actually moving to the charter industry in a place like Chicago, the world needs to take notice."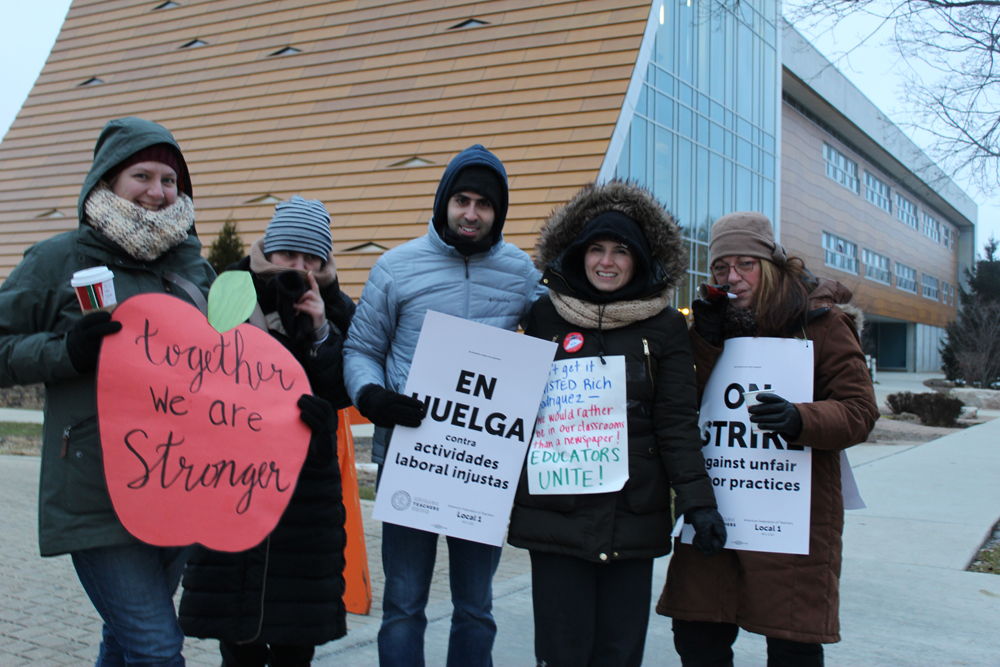 Like many of the Acero teachers, Tabitha Jalbert (left with apple sign) has taught at Acero for less than five years, while Stacy Masciola (with "Educators Unite" saign) said she's taught at two Acero schools for a total of 14 years. Substance photo by Sharon Schmidt.Tabitha Jalbert, a teacher at Acero Clemente, told Substance that she was inspired by her friends who struck last year in the state-wide teachers strike in Oklahoma, where she's from. She was also inspired by an Oklahoma teacher of the year who pushed the "Wear Red for Ed" campaign, she said.
State-wide teachers strikes also happened in 2018 in West Virginia and Arizona. Smaller strikes also happened in Colorado, Kentucky and North Carolina.
Jalbert said her students' parents are in support of the strike. Teachers are also receiving help from their friends and family. Jalbert's mother provided money for the breakfast tacos, she said. The striking teachers also received food and coffee money from the masters of the theology students at Northwestern's Garrett Evangelical Seminary, who support the teachers' righteous cause.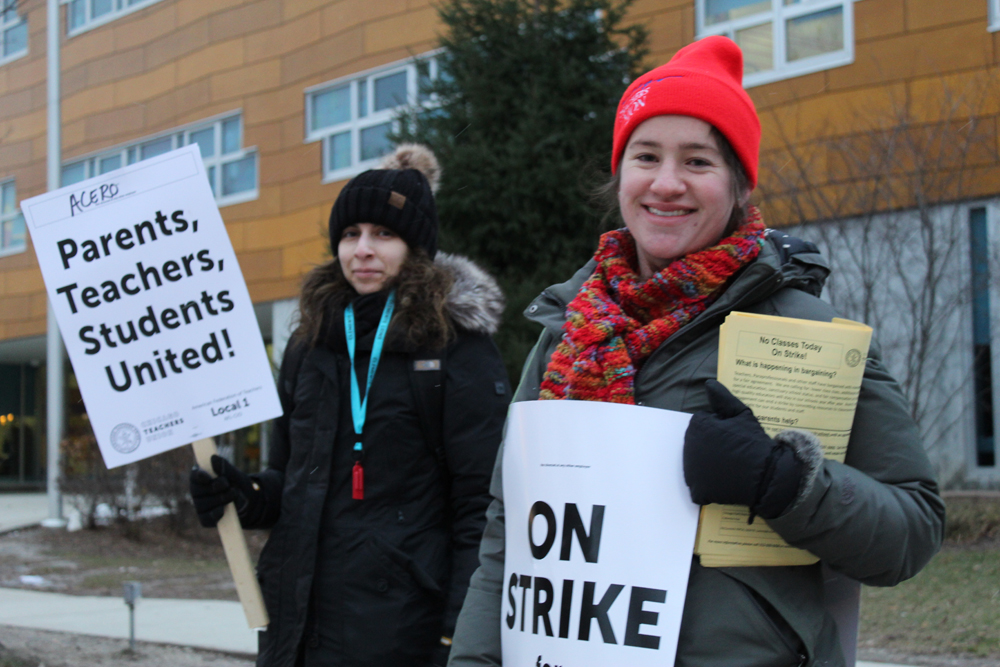 Teachers Caroline Hoff and Dalila Georgiou share informational flyers with parents and community members.