Chicago Tribune obituary: George Schmidt, passionate Chicago Public Schools teacher, dies at 71
Bob Goldsborough - November 01, 2023
[This article was published online at the Chicago Tribune on Oct. 21, 2018, and in print on Monday, Oct. 22, 2018.]
George N. Schmidt was passionate about education and fighting injustice wherever he saw it, and he pursued both in his dual roles as a high school English teacher in the Chicago Public Schools and as the editor-in-chief of Substance, the controversial, teacher-produced monthly investigative newspaper that he co-founded that focused on the school system.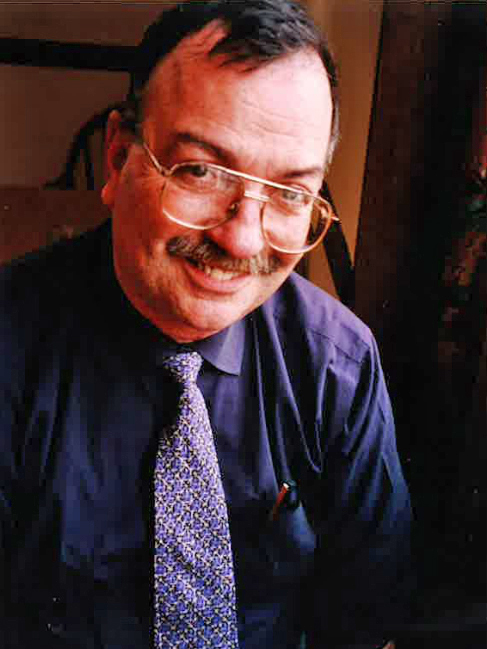 George Schmidt pictured on April 14, 1998. Photo by Sharon Schmidt
Schmidt also was known for his educational innovations — he was an early adopter of Apple Macintosh computers, which he brought into his classrooms — and his commitment to teaching lower-income high school students.
"George was passionate about the things he did believe in," said Chicago Teachers Union recording secretary Michael Brunson, a longtime friend who described Schmidt as a mentor. "George was a fearless individual, and he was not afraid to be the only one in the room speaking his mind. He had this thing where if he thought you were doing anything that was contradictory to the principles that we were supposed to be standing on or what we believed in, he would call you out and he'd say it."
Schmidt, 71, died of complications from lung cancer on Sept. 17 at his home, said his wife of 20 years, Sharon. He had been a longtime resident of the Northwest Side Portage Park neighborhood.
Born in Elizabeth, N.J. to World War II veteran parents, Schmidt grew up in Linden, N.J., where he became an Eagle Scout at age 13. He graduated from St. Benedict's Preparatory School in Newark in 1964 and then spent two years at Saint Vincent College in Latrobe, Pa.
Schmidt moved to Chicago for his final two years of college, and he received a scholarship to study at the University of Chicago. While there, he studied under future U.S. poet laureate Robert Pinsky and joined the activist group Students for a Democratic Society, and he demonstrated against the Democratic National Convention in Chicago in 1968.
After graduating from the U. of C. in 1969 with a bachelor's degree in English and the humanities, Schmidt took education courses at Chicago State University and Northeastern Illinois University and then worked as a substitute teacher in Chicago's pubic schools until 1971. A fierce opponent of the Vietnam War, Schmidt also volunteered to be what he termed a "military counselor" for the Chicago Area Military Project — helping educate active and AWOL soldiers while also producing underground newspapers like Vietnam GI and Camp News.
Substance cofounder Larry MacDonald, a former Marine, said he "really appreciated" Schmidt's antiwar activities.
"He had the right ideas about things, and i found his analysis of the war compelling," MacDonald said. "And to know that he was out there to try to organize soldiers to speak out against the war, if you're outside Fort Riley in Kansas passing out leaflets outside of a gate, that takes some heart."
Schmidt later stopped teaching for a time and drove a taxicab to make ends meet. He also attended the DePaul University College of Law for two years, studying military law.
In 1974, Schmidt returned to teaching in the Chicago Public Schools as a day-to-day substitute teacher at Grant Elementary School and then at Prosser Vocational High School in the Northwest Side Hanson Park neighborhood. In 1975, Schmidt sought to organize substitute teachers.
From 1976 until 1983, Schmidt was a regular presence in numerous Chicago high schools, including Steinmetz, Collins, Tilden, Manley, Marshall, DuSable, Gage Park and Kenwood. Then, in January 1984, Schmidt was assigned a steady position teaching English at Amundsen High School in the North Side Ravenswood neighborhood. While at Amundsen, Schmidt taught every level of English and served as the faculty sponsor for the school newspaper.
Schmidt also built a reputation for his interest in technology, and after Apple rolled out its Macintosh computer in 1984, Schmidt won grants to bring the new computers into his classroom.
Schmidt also was a finalist for the first-ever Golden Apple teaching award in 1986.
After a dispute with Amundsen's principal at the time, Ed Klunk, Schmidt was reassigned to Bowen High School in the South Side South Chicago neighborhood in 1993. While at Bowen, he also served as the school's security coordinator.
Schmidt's work outside the classroom was as important to him as his time in the classroom. He ran for president of the Chicago Teachers Union three times, and he was at the helm of Substance from the time he helped found it in 1975 until his death.
Schmidt started Substance as a newsletter to air substitute teachers' grievances. Among the stories that the publication broke were challenging claims made by "superteacher" and Westside Prep founder Marva Collins of her success in teaching low-income students, and uncovering how Chicago Public Schools administrators worked during vacation periods to pad their incomes.
One of Schmidt's biggest stories was in April 1985, when Substance broke the news that James Moffat, the principal at Kelvyn Park High School on the Northwest Side, a powerful former deputy superintendent, had been molesting students in his office. Moffat was convicted in 1987 of sexually abusing five students in his office and was sentenced to 15 years in prison.
"People need to know the truth to change the horror that is the Chicago Public Schools for (a) large number of children and teachers in the city," Schmidt told the Tribune in 1989.
MacDonald called Schmidt "a fighter for a long time" and "a real intellect."
"There wasn't a subject you couldn't talk to him about, although he'd always want to turn it back to the schools," MacDonald said. "He knew something about everything."
Schmidt's work for Substance created no shortage of enemies, including Chicago Public Schools administrators, union officials and local politicians.
In 1999, Schmidt's work for Substance cost him his teaching job at Bowen. In Substance, Schmidt acquired and published, page for page, end-of-semester CASE exams for junior high school and high school students, as a way to highlight what he felt were problems with the exams, which were a cornerstone in Chicago Public Schools' efforts to reform learning and teaching assessments under new local standards. Schmidt published the U.S. history, algebra, world studies and English exams.
"The exams have neither validity nor reliability," Schmidt told the Tribune in 1999. "This should be publishable, and it should be subject to public debate."
Schmidt's action drew criticism from Mayor Richard M. Daley, schools chief Paul Vallas and school board President Gery Chico, and officials suspended Schmidt with pay and subsequently terminated hm.
After his firing, Schmidt worked for the Chicago Teachers Union as a researcher, director of school safety and consultant and also worked for SEIU Local 73 as the director of research. He continued to edit Substance until his death.
Whitney Young High School English teacher Jay Rehak, who also is the president of the Chicago Teachers' Pension Fund, called Schmidt "the most tenacious journalist I ever met."
"George was skeptical of systems, and he always tried to keep everybody honest. Even though he was very powerful and a strong union advocate, he always held the feet to the fire of anyone in power, even in his own union," Rehak said. "He was such a purist that to be honest with you, nobody could make him 100 percent happy with what they did. His sincerity and his integrity are what I remember about him the most."
Two previous marriages, to Linda Haase and Agatha Vasilescu, ended in divorce. In addition to his wife, Schmidt is survived by three sons, Dan, Sam and Josh; a brother, Thomas; and two sisters, Joan and Terry.
Services were held.
[This article was published online at the Chicago Tribune on Oct. 21, 2018, and in print on Monday, Oct. 22, 2018. See http://www.chicagotribune.com/news/obituaries/ct-met-george-schmidt-obit-20181021-story.html.]