Saying goodbye to George – visitations, funeral, graveside
Sharon Schmidt - November 01, 2023
[This article was first published on Oct. 10, 2018.]
We held two visitations at Mt. Olive Church in Chicago on Sept. 20 and Sept. 22. Many friends came to pay their respects and comfort us. We followed the Saturday visitation with a funeral service.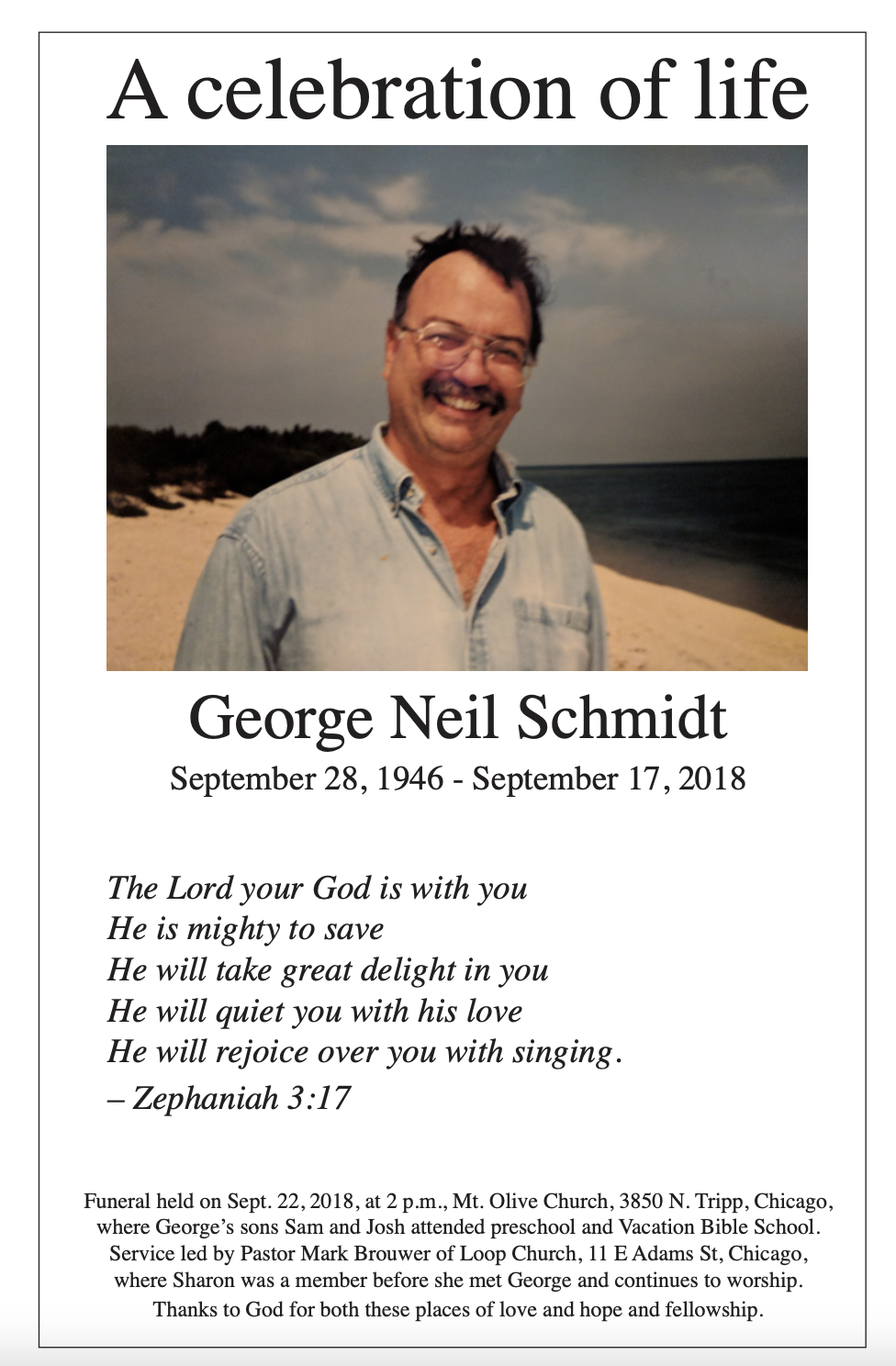 Funeral bulletin cover
We chose to have the events at Mt. Olive Church because it is a beautiful church, close to our home, and it's where George's sons Sam and Josh attended preschool and Vacation Bible School.
The service was led by my pastor Mark Brouwer of Loop Church, Chicago, where I was a member before I met George and where I continue to worship with our sons. My friend and former Loop Church intern Antonia Coleman performed a beautiful solo of "Precious Lord."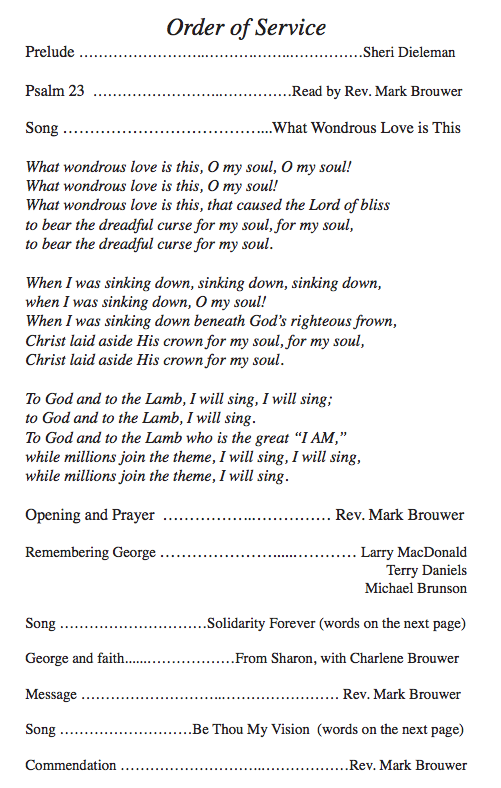 The first page of the Order of ServicePianist Sheri Dieleman played the prelude, postlude and accompanied the congregational singing. We chose "What Wondrous Love is This" because George's youngest sons and I love the words and melody. Joshua learned the song on the clarinet when he was 10 and played it at Loop Church as an offertory hymn. Funny thing, we only sang the first three verses of the hymn at George's memorial service. We did this probably because I wanted to fit the words onto the bulletin, but it cut the final verse, which probably would have been good for us to sing:
And when from death I'm free, I'll sing on, I'll sing on
And when from death I'm free, I'll sing on
And when from death I'm free, I'll sing and joyful be
And through eternity, I'll sing on, I'll sing on
And through eternity, I'll sing on.
Toward the end of the service we sang "Be Thou My Vision" which is also a beautiful hymn and chosen in part because of its Irish origins, as many relatives George's family are Irish.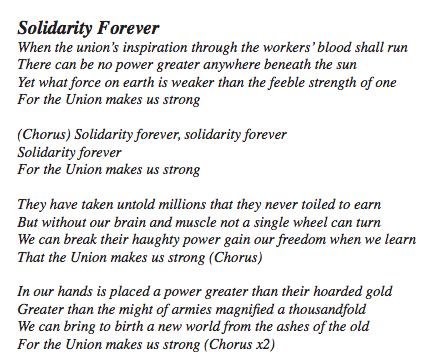 We only sang three verses of "Solidarity Forever" at the service, but there are more. See http://unionsong.com/u025.html for more.
At the service, three friends shared stories about George: Substance co-founder and Sam and Josh's godfather Larry MacDonald, longtime friend and Substance staff member Terry Daniels, and Substance staff member and Chicago Teachers Union Recording Secretary Michael Brunson. Following their memories and eloquent, loving words, the congregation sang "Solidarity Forever," the singing of which had often been promoted by George.
My pastor Mark Brouwer from Loop Church preached about making sense of death through a Christian lens. While George was raised in the church, and wanted his sons to have faith in God, for most of his life he was an atheist. As George's work on behalf of others showed so much love, Pastor Mark read from the epistle 1 John – ..."love is from God and whoever loves has been born of God and knows God." I also spoke about George, mainly to talk about his upbringing and family life.
Our pallbearers were Jay Rehak, George's sons Dan, Sam, and Josh, Sam's friend and Whitney Young baseball team captain Anthony, and my brother Jim Griffin. After the service, George's body was cremated. On Friday, Sept. 28, we buried his remains at Mt. Hope Cemetery in Chicago in a Griffin-family plot, alongside a newspaper publisher relative of mine, Samuel Emory Thomason, whom George admired. The graveside service was attended by some friends and family. It was very sad for us, but helpful to think of George at rest in peace.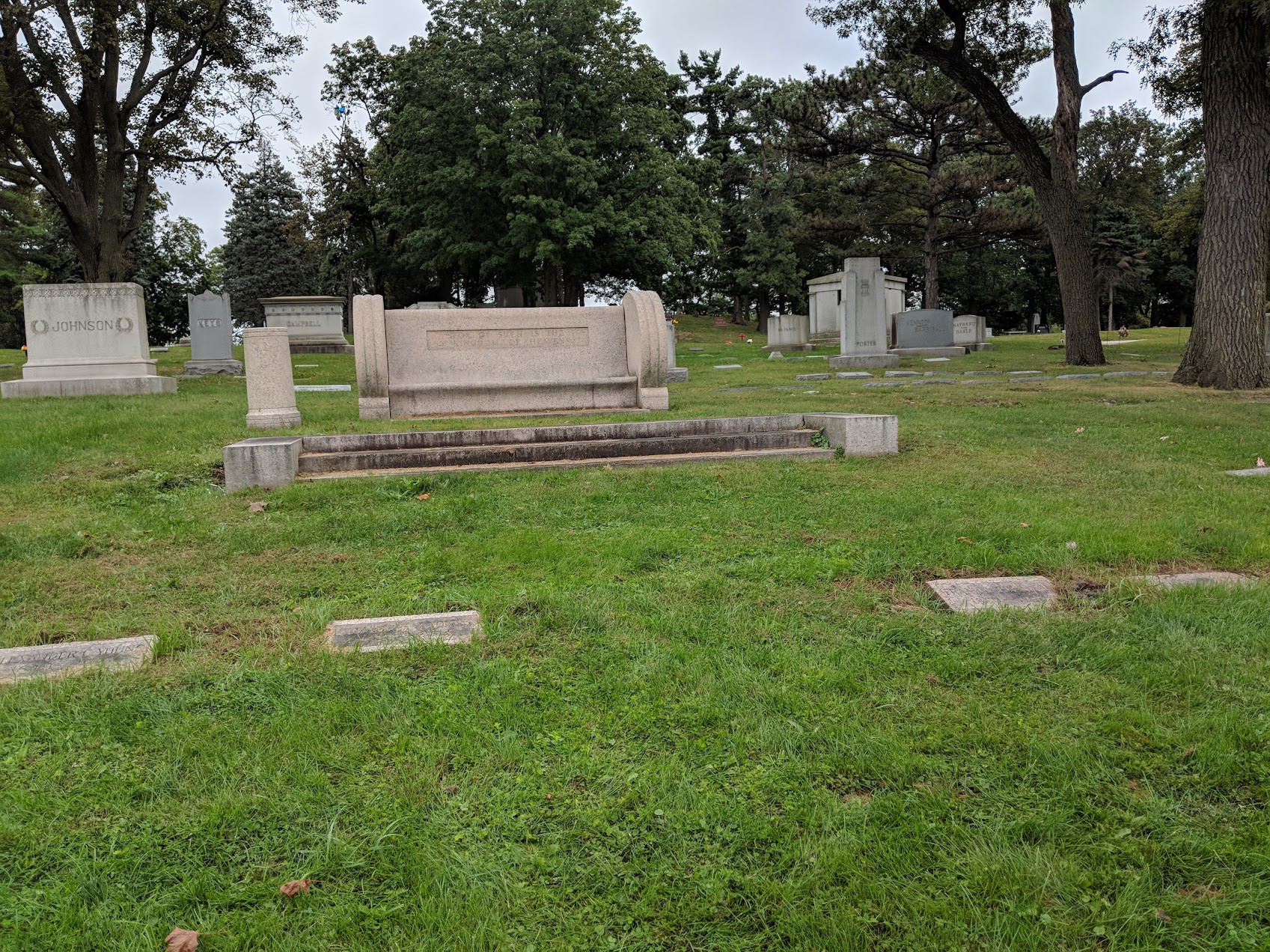 The Mt. Hope Cemetery grave site where George's cremains are buried.