A lifetime of service
Sharon Schmidt - September 18, 2018
Union activist, journalist and retired Chicago public school teacher George N. Schmidt was the editor of Substance, which he helped found in 1975. The paper was in print until 2012, and has been an online news service since then.
George's multifaceted career spanned five decades. He helped many thousands of people with his tireless energy, intense focus, intellectual gifts, desire to serve and unwavering commitment to the the truth.
A University of Chicago alumnus, George was a brilliant English teacher, who worked inside his classroom and within the Chicago Teachers Union – serving in various roles including delegate, mentor, consultant and researcher – for quality education for students and fairness for school workers.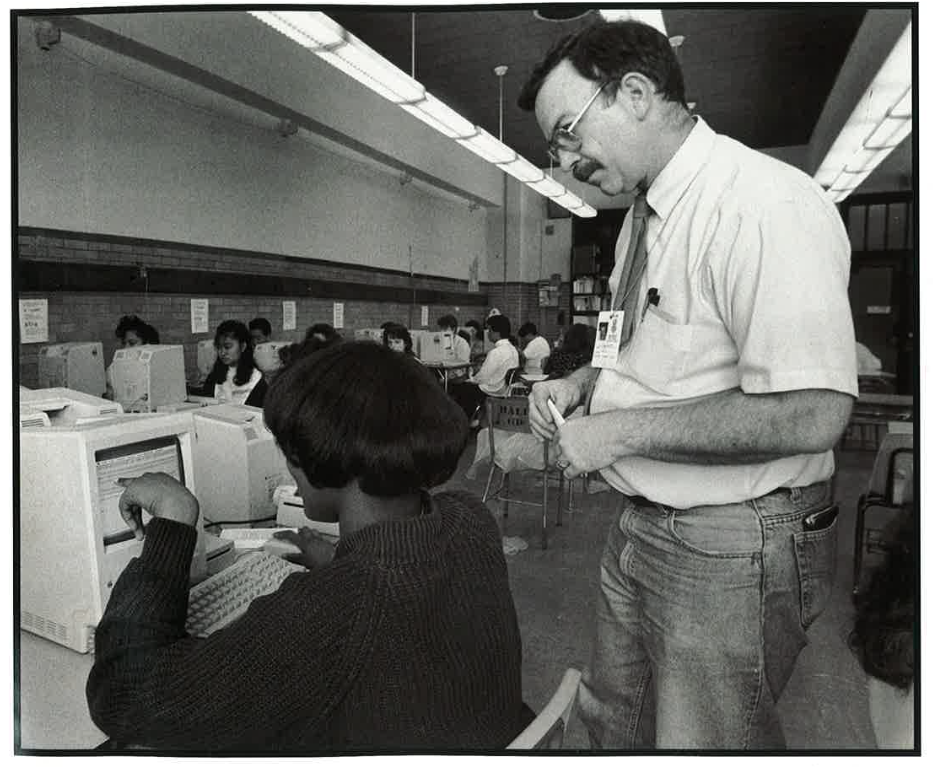 George Schmidt teaches his Amundsen students using Macintosh computers in the late 1980s. The photo and a story about George appeared in the Macintosh Writing Resource Guide, K-12. The 56-page book was published by Apple Computer, Inc. in 1990.While he believed that public schools and unions are essential in improving the lives of working class people, George knew the institutions needed watching. He used print newspapers and an online news service to hold accountable those in power. Much of his ongoing critique of the Chicago Board of Education was against racist policies.
His fight against injustice began in the 1960s when he worked with soldiers in the GI Movement, organizing against the Vietnam War, in part through the production of underground newspapers.
George was a voracious reader, who sought to understand everything in history and politics. He loved poetry and literature, as well as biographies, essays and news writing. As a reader and writer, he relished the truth, which had to include the context of events. George was compelled to tell the full story. He loved his sons and wife passionately, enjoying and encouraging their gifts. George will be dearly missed by them and by so many others whom he helped or inspired over the years.
[Reporter's note: The above piece is part of what I submitted to the Chicago Tribune and Chicago Sun-Times death notices pages. I am working on a more complete life story. I want to publish memories by his friends, as well. Please email your words about George to Georgeschmidtstories@gmail.com. Thank you.]