George Schmidt died peacefully
Sharon Schmidt - September 18, 2018
Substance editor George Schmidt died at home on Sept. 17 after a brief battle with lung cancer, complicated by a series of strokes. He was 71.
A brief sketch of his career, along with visitation and service information, is published in the Chicago Tribune and the Chicago Sun-Times obituary pages. The death notice will run Sept. 18 - 20 in the papers' print pages, as well as online.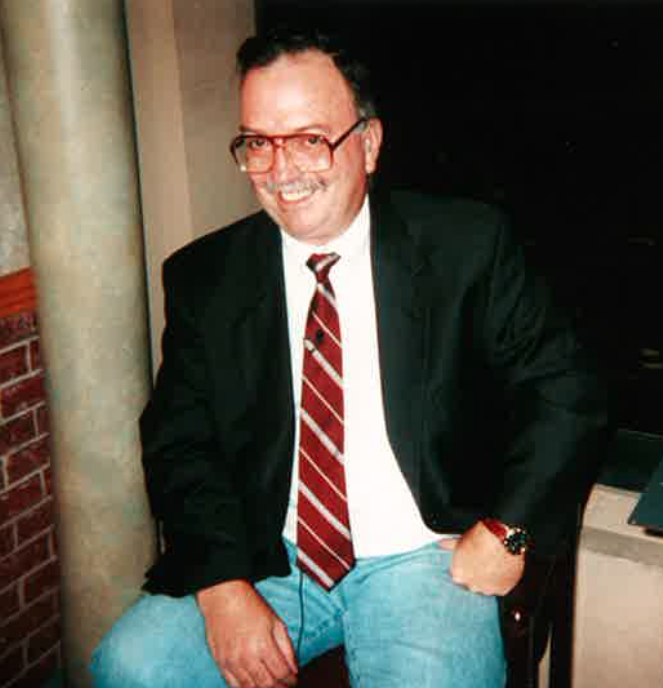 George Schmidt poses before an interview with CNN in 2001. Photo by Sharon Schmidt.In addition to the visitations and funeral service (information listed below), there will be some other events for friends and family members to celebrate George's life, details still being worked out. These include a graveside service at Mt. Hope Cemetery in Chicago and an open house at the Schmidt home for Substance staff members.
Visitation
: Thursday, Sept. 20 from 4 to 9 p.m., or on Saturday, Sept. 22 from 1 to 2 p.m., at Mt. Olive Church, 3850 N. Tripp, Chicago.
Funeral
: Loop Church pastor Mark Brouwer will lead a funeral at 2 p.m.. on Saturday, Sept. 22, in the Mt. Olive Church sanctuary. This will not be a memorial-type service, rather a typical church service.
To memorialize George Schmidt, please write your story
Memories and condolences
Substance urges anyone who wants to share a story or any kind of testimony of George's work to send it to us for publication. We will be publishing these next month, along with a more complete story of George's life. Please send your story to Georgeschmidtstories@gmail.com.
Thank you to the many friends of George and this newspaper who have showered the Schmidt family with love, support and help in this terrible time. His three sons and I are so grateful. 