The Sex Abuse Scandal Exposed by Tribune Reporters Have Caused an Outcry...but much more needs to be done...
Susan Hickey - June 17, 2018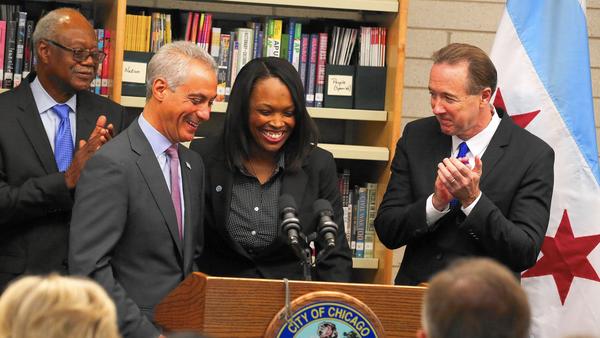 Although the massive Chicago Tribune report on sex abuse in Chicago's schools case renewed light on an almost eternal scandal, the report(s) ignored three major factors that led to the expansion of the problems in the last decade. Cronyism under Rahm Emanuel's appointed CEOs and school board, charter school oversight, and the clout that gave protection to many sexual predators in the schools. Above, a Tribune photograph from less than three years ago, when Rahm Emanuel appointed his chief of staff Forrest Claypool (right) the be the then latest CEO of CPS, following the disgraced (and now jailed) Barbara Byrd Bennett. Claypool became Rahm's third CEO following Jean Claude Brizard imported from Rochester New York, and Bennett. After scandals exposed the hypocrisy and corruption of Claypool's sanctimonious regime, Rahm appointed Janice Jackson (Claypool's "Chief Education Officer") to head the school system. Few asked how Jackson could be chief of "education" and miss the sexual abuse scandals during Claypool's rime, and since then Jackson has issued nearly a dozen revised revisions of the already existing guidelines on reporting and dealing with the abuse of children in the schools. June began with another scandal for Chicago Public Schools: an expose by the Chicago Tribune of sex abuse and assaults by employees of CPS students. The media has been instrumental in getting Chicago Public Schools to act quickly as the reprint of a Chicago Tonight report below is one of a number of media outlets covering this story. Rahm Emmanuel had to come out and say something about this as he is gearing up for running in next year's mayoral election. In an unusual press conference that had not only Janice Jackson, CPS's fourth CEO under Rahm, but Frank Clark and Jaime Guzman, the President and Vice President of the unelected school Board of Education stating they are going to allow Nicholas Schuler, the Inspector General to investigate the cases of sexual abuse allegations made against CPS employees.
CPS Failed to Protect Students from Sex Abuse: Tribune Report
Through repeated failures and mistakes, Chicago Public Schools failed to protect hundreds of students from sexual abuse and misconduct by its own employees, according to a bombshell report from the Chicago Tribune. The multi-part series "Betrayed" details how CPS used ineffective employee background checks, failed to alert authorities about sexual misconduct allegations and inflicted "psychological pain" on victims across hundreds of cases of abuse. (To see the report go to the following link:
http://graphics.chicagotribune.com/chicago-public-schools-sexual-abuse/)
CPS now says it's revising its internal policies and bringing on an external attorney to audit district practices in order to fill the gaps that allowed this level of abuse to continue for years. "I think it's important to note this is something we take seriously," CPS CEO Janice Jackson told Chicago Tonight on Friday morning. "There's a lot that has been done, but my test is that if there's one case, that's one case too many, and so there's opportunities for us to do a better job."
The Tribune story, published late Thursday night, details systemic issues within the school district, which failed to correct "obvious child-protection mistakes" and allowed hundreds of students to become victims of abuse by CPS employees over the past decade. "When students summoned the courage to disclose abuse, teachers and principals failed to alert child welfare investigators or police despite the state's mandated reporter law," the Tribune report states. "Ineffective background checks exposed students to educators with criminal convictions and arrests for sex crimes against children. And CPS failed to disclose to other districts that past employees had resigned after investigators found credible evidence of abuse and harassment."
In all, Chicago police investigated more than 500 cases of juvenile sexual assault or abuse within CPS schools over the past decade, according to the report. Abuse allegations were made in schools throughout the city and included student claims of rape, unwanted groping or kissing and verbal harassment. Tribune reporters combed through CPS and Chicago Police Department data, including state disciplinary information and records from criminal arrests, trials and various lawsuits. Through their research, they identified 72 alleged perpetrators who've been accused of sexual misconduct within CPS schools since 2008. More than half of those (39) were teachers, while the rest consisted of coaches, security staff, custodians, bus drivers and even school administrators, who likely all had regular contact with their accusers.
Erin Walton, executive director of the Chicago-based Rape Victim Advocates organization, said about 90 percent of sex abuse victims know their abuser. "It's someone who is considered safe or someone who is in their safe space," she said. "So whether it's a family member or close friend of the family or a trusted teacher, coach, mentor, it's typically … someone that's in their safe zone." These victims often struggle to socialize with their peers and are more likely to see their grades fall and drop out of school or transfer elsewhere because they don't feel safe, Walton said. Walton's organization runs various training seminars with students and staff inside about 35 CPS schools, teaching kids about body boundaries, safe and unsafe touching and appropriate relationships. And almost every time they do, they encounter a student who says they have been sexually abused in some way. "Nearly 100 percent of the time we have at least one child disclose that they have been harmed," she said. "Every single time."
Char Rivette, executive director of the Chicago Children's Advocacy Center, wasn't surprised by the Tribune's findings. "We have been concerned for a long time about whether or not all of the cases that are getting reported at schools are actually getting official investigations through the criminal justice or child welfare system," she said. "We've always wondered how much of this stuff gets past (schools' internal processes)."
ChicagoCAC partners with local and state authorities to handle sex abuse investigations within the city of Chicago. Rivette said mandated reporters – which make up all school-based CPS staff – are often confused about their role and try to further substantiate their suspicions about abuse instead of simply calling in a report to the Illinois Department of Children & Family Services hotline as they're required. "It's revealing to me to see how many cases that we might not have even seen at ChicagoCAC that we should have," she said.
CPS says all employees accused of sexual abuse have been removed from their schools pending further investigation. In response to the report, Jackson said the district is putting a renewed focus on employee background checks and staff. The Board of Education this month will consider a revised policy requiring CPS employees to report any predatory behaviors or "inappropriately intimate" relationships between students and staff.
CPS plans to develop a comprehensive framework for investigating harassment claims, while stating it will put a "particular emphasis" on offering victim support, particularly after student victims told the Tribune they felt "betrayed" by school officials. The board last month also approved a $500,000 contract with Schiff Hardin law firm attorney Maggie Hickey, a former assistant U.S. attorney and Illinois executive inspector general, to conduct a district wide review of its existing policies and practices designed to address sexual misconduct. Jackson said that money will come from CPS' general operating budget. "While that is a new expense," she said, "to me money is not even an issue if it's about protecting children."
In a policy memo detailing its plan of action, CPS says it has worked to strengthen its background checks and staff training in recent years. Yet the Tribune report states the number of sex abuse allegations within district schools has not diminished, even as total enrollment has fallen from more than 400,000 students to about 371,000 in only a few years. Jackson, whose own daughter is a current CPS student, claims to share the same concerns as any other district parent on this front. When asked why these new changes weren't implemented sooner, she pointed back to the district's previous policy changes and said she views this report as an opportunity to "go even further" in making students feel comfortable coming forward with their stories of abuse.
It's not OK if it happens to one student or 100 students," Jackson said. "We have an obligation to do everything within our power to make sure kids are safe. And I want them to know that as I sit in this seat, I'm going to do everything within my power to make sure that happens."
[Chicago Tonight | WTTW. (2018). CPS Failed to Protect Students from Sex Abuse: Tribune Report. [online] Available at: https://chicagotonight.wttw.com/2018/06/01/cps-failed-protect-students-sex-abuse-tribune-report ]
What is puzzling is that the Illinois Department of Children and Family Services (DCFS) in their Manual for Mandated Reporters is very clear about how sexual abuse reports are to be made and what is the role of a mandated reporter. There is little need for Janice Jackson to say CPS is going to change their policy about reporting it. It is very clear that all that work for CPS are mandated reporters and that no one should stop a person from making a report to the DCSF Hotline. This reporter has had principals try to stop a report to be made but reminded the school administrator that they are allowed to do that. The following passages are taken from the DCFS Mandated Reporters Manual (Revised 2015):
As professionals who work with children, mandated reporters are assumed to be in the best position to recognize and report child abuse and neglect as soon as possible. Mandated reporters are the state's "early warning system" to identify probable abuse early enough to avoid serious and long-term damage to a child. The State's primary goal is to protect the child and, whenever possible, to stabilize and preserve the family so that it may remain intact. The Abused and Neglected Child Reporting Act places several requirements on you as a mandated reporter.
• You are required to "immediately report or cause a report to be made to the Department" of suspected child abuse or neglect. • Privileged communication between professional and client is not grounds for failure to report. Willful failure to report suspected incidents of child abuse or neglect is a misdemeanor (first violation) or a class 4 felony (second or subsequent violation). Further, professionals may be subject to penalties by their regulatory boards.
• You may have to testify regarding any incident you report if the case becomes the subject of legal or judicial action. • State law protects the identity of all mandated reporters, and you are given immunity from legal liability as a result of reports you make in good faith. (p. 5)…
…Ideally, the mandated reporter with the most direct knowledge of the suspected abuse should be the one to make the call. Having more information and details of the situation may make the difference between getting a report taken or not. Sometimes someone else in the organization is asked to make the actual call. This practice must not delay the making of the report. In addition to calling the Hotline, a mandated reporter may also notify his/her supervisors in the organization that a report has been made. It must be noted, however, that ANCRA prohibits any individual, even a supervisor, from suppressing, changing, or editing a report (ANCRA Sec.4). (Reporter's emphasis) (p. 11)
[Icasa.org. (2018). [online] Available at: ttp://www.icasa.org/docs/illinois%20imagines/cfs_1050-21_mandated_reporter_manual.pdf]
The Chicago Teachers Union came out with a following statement on the situation: We must do better in protecting our children
The Chicago Teachers Union is calling for an independent task force of parents, students, clinicians, teachers, union leaders, administrators and outside experts to address issues of sexual abuse in Chicago public schools – and to devise policies that will create safer school communities – in the wake of a series of blockbuster Chicago Tribune reports.
"As a father and a teacher, I'm horrified by these reports," said CTU Vice President Jesse Sharkey. "Any abuse of a child is morally repugnant and wrong on every level. There can be no code of silence in our schools, and we've got to do better at listening to our students. Schools must be a safe space where students, their families, and workers are protected."
The CTU is also renewing its call for more school clinicians, who are trained explicitly to address issues related to physical, sexual and emotional abuse of children. CPS has consistently understaffed clinicians – including social workers and nurses who can provide age-appropriate health training for students to recognize and report inappropriate or abusive contact. Responsible follow-up for those who identify and report child sexual abuse is also lacking, as is regular information for parents and guardians on how to identify warning signs of abuse or access assistance and resources to support children and families.
"The entire process in our schools is a bureaucratic mess," said school social worker and CTU member Emily Penn. "Where are the preventive measures? CPS, for example, has made no mention of Erin's law, which mandates that schools teach body safety awareness and give children tools to report abuse in a safe way, as well as staff training to respond to concerns and report appropriately. While some schools cover this material in health and sex education classes, other schools do not."
DCFS requires school staff to complete online certification on how to report sexual abuse. But some administrators and principals do not follow mandated reporting requirements, don't take reports from children seriously, and discourage teachers from contacting DCFS, says Penn.
"School nurses and social workers are specially trained in how to handle sexual abuse," said Penn, "but we have too few clinicians to support students, teachers and staff – less than 150 certified school nurses and only 170 counselors to cover over 600 schools. Much of our time is bound up with the burden of special education paperwork. That's not enough to get students and staff the support they need, at the same time that we deal with real shortcomings in administrative follow-up or reporting on outcomes."
CPS has been plagued for years with a lack of transparency and accountability at the highest levels of authority, from board members that the mayor appoints to school executives who serve with the mayor's blessing. Without input from an independent task force unencumbered by political constraints, the CTU fears next steps on remedying the prevention and identification of sexual abuse may also fall short.
"These reports once again demonstrate the failure of mayoral control in our schools – and why we demand an independent, representative elected school board," said Sharkey. "As long as the public face of our schools is linked to a mayor's political fortunes, CPS remains vulnerable to practices driven by political expediency rather than by what is right and best for our students. That must end."
CPS must deploy policies built on best practices that work for students – and must adequately staff schools with expert clinicians as frontline advocates to support students, says Sharkey.
"In the era of the Me Too movement, we need to remember that the first thing required of us is to listen to students," said Sharkey. "Our union cares deeply about the integrity of the teaching profession and our members' vitally important work to educate and care for students. We support members' due process rights, just as we support preventive strategies and due diligence in reporting possible abuse. None of that can happen when CPS won't staff social workers with expertise on this critical issue, or when administrators put political imperatives ahead of every student's right to safe, secure learning conditions."
[Ctunet.com. (2018). Chicago Teachers Union | We must do better in protecting our children. [online] Available at: https://www.ctunet.com/blog/we-must-do-better-in-protecting-our-children]