A closer look at the racism of Paul Vallas's New Orleans 'miracle'... When School Reform Falters (if You're Black and Poor) in New Orleans.....
Jean Schwab - May 11, 2018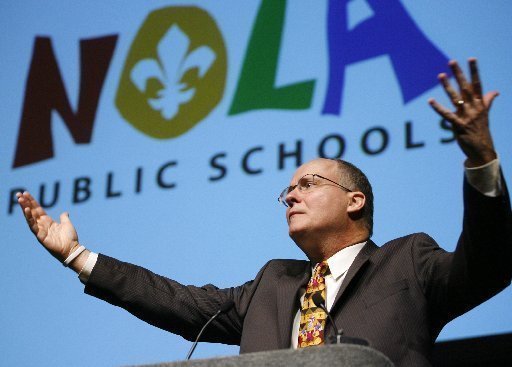 Paul Vallas during his ignoble time as schools chief in New Orleans. The legacy of racism from the Vallas era "school reforms" continues to hurt black children and the black community of New Orleans.[Introductory by Jim Schwab. While I was in New Orleans April 19-24 for the American Planning Association's 2018 National Planning Conference, my wife, Jean, was also there. A retired Chicago Public Schools teacher and retiree delegate for the Chicago Teachers Union, she has remained active on educational issues and in 2014, on a prior trip to New Orleans, interviewed Ashana Bigard, an advocate for students' rights and leader in the Education Justice Project of New Orleans. Jean decided to interview Bigard again, producing the somewhat condensed interview below.
At a time when Paul Vallas, former CEO of the Chicago Public Schools, and the post-Katrina architect of school reform in New Orleans, has recently declared his candidacy for mayor of Chicago, the consequences of that reform take on new importance—not that schools in New Orleans were great before Katrina (they were not), but one hopes that reform is a step forward, and Bigard's critique suggests serious and troubling issues of racial and social equity remain unaddressed.
I wish here to add a personal mea culpa. Readers may have noticed a more than one-month gap since my last posting at the end of March. Part of that was due to travel. In addition to six days in New Orleans, I spent three days immediately prior to that at a Federal Emergency Management Agency meeting in Richburg, South Carolina. Life was also full of some other turbulence, and this blog is essentially a one-man show. Since launching "Home of the Brave" five years ago, I have always preferred, as a professionally trained researcher and journalist, to put quality ahead of speed, to produce thoughtful commentary and to dig deeper. Sometimes, time does not permit this, in which case I prefer to write nothing than to write hastily for the mere sake of writing. There will be much new material coming in May. I guarantee it.]
Interview with Ashana Bigard by Jean Schwab
What is better and worse about New Orleans since 2014?
Bigard: It depends on from whose perspective. So, I think better for young white people in the city of New Orleans, absolutely. But if we are talking families and communities of native black New Orleans, no, they are much, much worse because the voices of the community, parents, and students continue to be unheard. We have been erased.
Our mayor talks about how much better New Orleans is doing, how it has recovered, meanwhile child poverty is at 39%, mostly black poor children. The wage gap between white and black families has widened since Katrina. Of course, we had $76 billion come to the city after the storm, and the native black population has 18% less wealth.
We've had a gigantic land grab. Things are worse in education because our city, just the Parish of New Orleans, has been experimented on.
What is the problem with experimenting?
First, no one has been taking data to see what works and doesn't work.
Second, the experiment was done in the only black parish. That would be a red flag to anyone. We are almost at 100% charter schools except for McDonogh 35. Parents have less choice. Parents apply for pre-school only to find that there are no pre-school spots available.
One parent reported that she made eight selections and did not get any of the eight selections. Parents want a school near their homes, so they can catch one or two buses to reach the school, but the schools are not close to students' homes. Parents with children with asthma, [who] need epi pens, or [with] special problems are literally afraid because charter schools do not have full-time nurses, or full-time counselors. Nurses are in the schools twice a week. The schools are not near their homes, so parents can't get to them. We've had an epidemic of children traumatized, partly because of the storm.
We had problems before the storm, but there were full-time nurses and counselors at the schools. We had children who had nervous breakdowns, and the schools were close to their homes so parents or someone could come and pick them up. Now with the schools far away from students' homes, no full-time nurses or counselors, there's been an epidemic of students' nervous breakdowns for two reasons.
First, our kids have had a lot of trauma which was not been addressed after the storm. Some of this is [former] Governor Bobby Jindal's fault because, after the storm, he gutted our mental health budget and closed our Adolescent Hospital [a psychiatric facility]. Jindal gutted the mental health budget when people needed it so much.
Our new Governor John Edwards is trying to repair that by opening the Adolescent Mental Hospital again. The second reason is that schools are operating like mini prisons as if they could discipline trauma out of kids. A lot of schools have no recess and quiet lunches. During quiet lunch students are not allowed to talk. So, we do the opposite of what children need after being traumatized. These children need a lot more social interaction, talking, touching, art, and music to really deal with their emotions and express themselves.
Our school system is the opposite of what children need, which leads to children that are on the edge, we have mini bombs (explosive), and we continue to reinforce that. Students are in pre-school and not allowed to sing, talk, dance, play and nap. A lot of our children suffer from sleep deprivation because, if you need to be on the bus at 6:00 a.m. and you need to be out there 30 minutes in advance, then you must be outside at 5:30, and if you must be on the bus at 5:05 a.m., [that] means you must be up by 4:30 a.m.
That is exactly what happened to a five-year-old girl in kindergarten that we advocated for. She arrived at school at 8:30 a.m. and was back home at 6:00 p.m. Her school had no recess, quiet lunch, and no nap. I bring this up to point out how insane the schools are. We know that children that are in kindergarten need more sleep for brain development. We know that children need from 13 to 14 hours of sleep. However, apparently schools have decided that they can go against brain development because apparently poor black children do not have human brains. The little girl got suspended off the bus for three days because she ate three crackers on the bus on her way home. We advocated for her by going to the school to discuss the suspension.
At first, the school said it was a bus policy, but later admitted that the suspension was a school policy, and they offered to reduce the suspension to one day. We felt like one day was too much for eating three crackers. How about no-day suspension because a five-year-old girl ate lunch at 10:00 a.m. and was hungry on the bus home? They expect our children to be non-human. This correct behavior is not correct behavior for human beings. I asked, "Should you be running a school? Who do you want to make them into? A person who ignores their personal needs for bathroom and food like that is not healthy. If a person does not take care of their own needs, how can they have compassion for others?"
(Bigard described going to Science and Math High School to talk to the principal about bathroom privileges. "The students could go to the bathroom during lunch period every day and were given three bathroom passes each month for emergencies. We asked the principal if he had any teenage girls at that school and he answered, yes they did, and that is why the three passes were given." I told him that three passes a month was not enough for the girls or any of the other students.") Why do they feel the need to be so strict?
Bigard: Conditioning and control. If you go into a school district and you believe that the people you are working with are out of control, and that they are savage and animals, the first thing you do is get them into control and compliance.
If a student has a brown belt instead of black, then that student may get a detention or after-school suspension if they have too many violations. If they lose the belt, they can't just go out and buy another. Kids [in] k-1-2-3 grades don't buy their own clothes. So, when you hold them responsible for what their parents put out for them, they don't have any control. You are punishing them for being poor. The response from the school is that they are teaching them to be responsible. How many colleges have uniforms? Are students put out of college for not having a tie or black belt?
We have all these schools where they have 60% suspension rates, and when you start to dig, you come up with things like an A-B student who during tests needed to chew on a straw because he was so nervous and could concentrate better when chewing on a straw. It didn't bother anyone else, but we had to put him on the 504 program, so he could chew on a straw during tests. Or the girl that twists her hair or the student that did not track the teacher with his eyes. Many of the administrators want to greet each child with a handshake every morning. A child that was uncomfortable with touch--one-third of our children have been inappropriately touched, and others fear germs and did not want to shake the school administrator's hand. (The interview then shifted to the question of how schools handle students who cannot provide money for school lunches, a subject covered by The Louisiana Weekly in a very recent article by reporter Kaylee Poche about state legislation to resolve the issue of "shaming" regarding inability to pay.)
The Senate Education Committee on Thursday (April 19) voted 4-2 to reject a bill that would have prevented schools from punishing students with lunch debt even though the bill had easily passed the House earlier this month. Rep. Patricia Smith, D-Baton Rouge, authored the so-called "lunch-shaming bill," which also was supported by Gov. John Edwards. It would have prevented students with unpaid lunch bills from being publicly identified, required to do additional chores, or excluded from any school privileges. "I'm just trying to make the change to the law so that we can continue to feed our children in our schools and make sure that the person who is actually responsible for the debt pays the debt," Smith said. Students who owe money currently eat cheese sandwiches for lunch at school. (Bigard explained that middle school and high school students with a school debt do not receive lunch.)
The bill also would have allowed schools to notify parents that they would have to contact the Department of Children and Family Services if they failed to pay for 10 or more school meals. Also, lunch money could be collected through income taxes and the Louisiana Department of Revenue. The bill would cover only families that do not receive reduced or free lunches. Smith's bill failed.