Members First draws 250 CTU rank and filers to April 13 event...It's official that Members First will be challenging CORE in the 2019 Chicago Teachers Union election...
Susan Hickey - April 16, 2018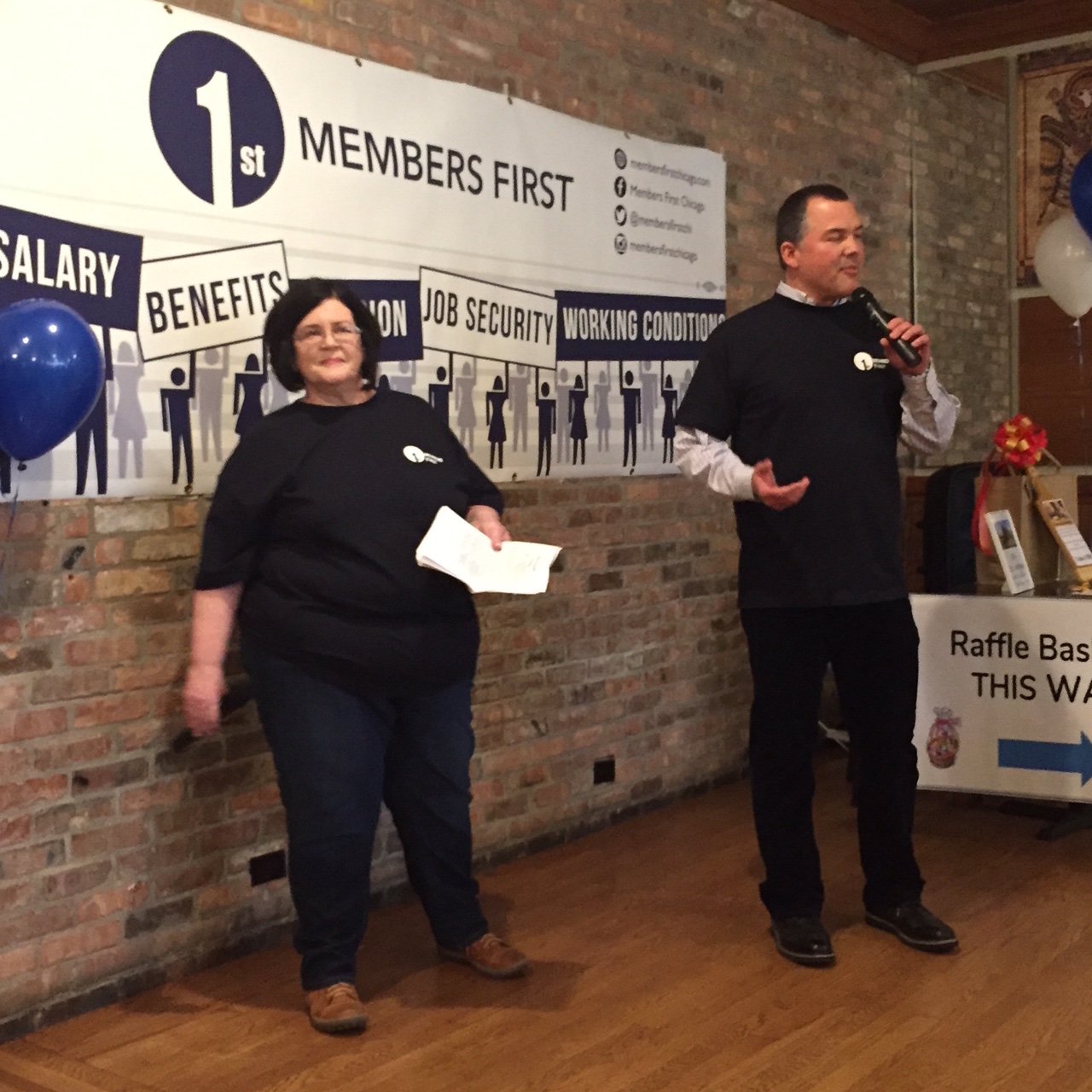 Therese Boyle and Victor Ochoa spoke to the crowd of more than 250 at the Members First event on Friday, April 13, 2018. Substance photo by Susan Hickey.There were slightly more than 250 people attending a fundraising event at Cork and Kerry's on the south side of Chicago for Members First, and they were enjoying pizza and other treats (including "Board of Ed cookies", old style). When speaking with the organizers of the event. Attendees said there were a number of people who were not able to come but sent a contribution. What was noticeable about the crowd is that it had quite a number of younger teachers in attendance and that it was diverse. They were passing out free lanyards and selling Member First tee shirts.
It was at this gathering where it was announced that Therese Boyle, a school psychologist, is running for CTU President and Victor Ochoa, a counselor at Schurz High School, for Vice President. Those who came out were very excited about the shift of Members First from a group that was a discussion group to becoming a viable alternative to the current leadership regime at the Chicago Teachers Union. Members First leaders told this reporter that the decision did not come easily, but as CTU leadership moves further away from the 'bread and butter' issues that daily confront teachers, clinicians, and PSRPs, it became a necessity.
The next election for Chicago Teachers Union officers and other leaders will be held on the third Friday of May, 2019. The current leadership, all of whom are members of the CORE (Caucus Of Rank and file Educators) caucus was first elected in 2010 and was re-elected in 2013. No one opposed CORE in the 2016 election. CTU elections are held every three years.
A strong supporter gave an outstanding reason the need to have new union leadership:
The union delegate explained that the very definition of a labor union indicates that it is an organization of workers for the purpose of advancing members' interests in respect to wages, benefits, and working conditions.
A caucus, on the other hand, is more of a closed meeting of a group of persons usually to decide on policy. For some time now, the direction of our labor union has been determined behind closed doors at caucus meetings. After attending the Members First fundraiser event on Friday, April 13th, she reflected on conversations she had with many members at the event.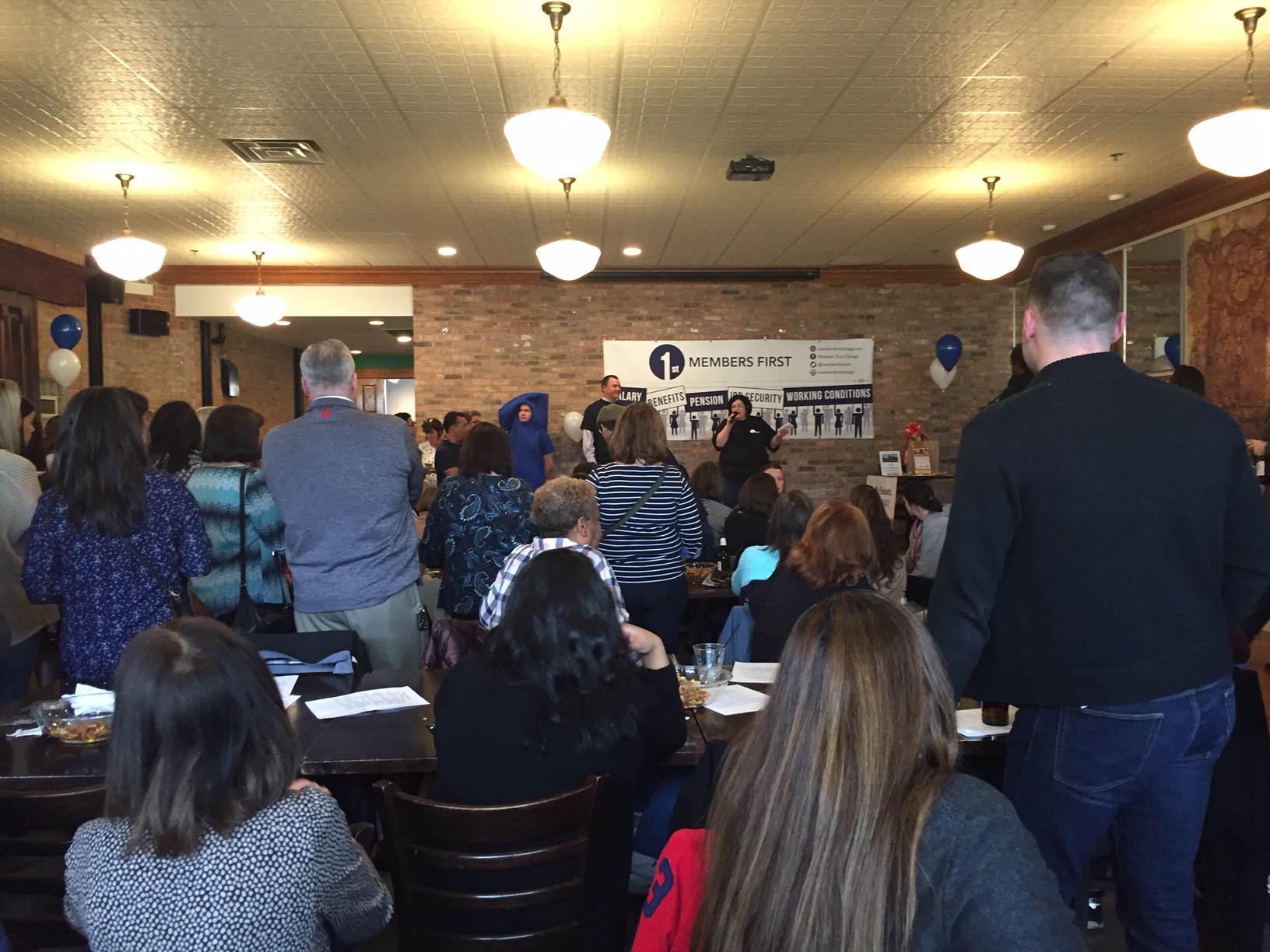 Part of the diverse crowd of about 250 CTU members who were at the Friday April 13, 2018 Members First event on Chicago's South Side. Three days later, CORE, which is supposedly the caucus of the "rank and file," drew fewer than 20 actual rank and file active CTU members to its monthly meeting on Monday, April 16 (most of those at the CORE meeting were retiree members and paid CTU staffers. Photo of the Members First event by Susan Hickey.She noted, "We want our union to reflect what our members need — salary, benefits, job security, clean and safe schools, smaller class sizes, and limits on workloads. This is the same in all schools and for all our members. This is what a good LABOR organization does."
She also emphasized, "We want our union members to organize and represent what they believe our students need — social justice, sanctuary, better housing, but this is what we do as part of being a good person. This is one of the reasons we chose education. We care about our students and what they need. But if I am working so hard just to keep up with the bills and paperwork, I don't have enough time or energy for these other things."
This reporter sent an email to Therese Boyle with three questions and here are the questions and her replies. Victor Ochoa answered the first question:
1. Briefly, why the need to have Members First?
Therese Boyle, a CTU citywide clinician delegate, is on the Members First 2019 slate. Therese explains that Members First will "focus on salary, pension, benefits, working conditions and job security. Members First believes CTU members need to feel confident that their union is taking care of them; so that in turn, the members can do the super hero job of teaching and caring for the students, families, and communities of Chicago Public Schools."
Victor Ochoa, delegate at Schurz HS, is also on the Members First 2019 slate. Victor explains the need for Members First, "We will return CTU's attention to the issues of the members in the schools. Our members want a union that doesn't shift more and more work onto the delegates. Field reps are needed to defend the members so members can do their challenging work. CTU leadership should not use our members to further their personal agendas. Notoriety and demonstrations are not the goals. Members First will listen to members and prioritize our resources to support members in the schools. We will fight to give our members a fair salary, solid benefits, and good working conditions. Our goal is to ensure all CTU members are treated fairly and are rewarded for their hard work."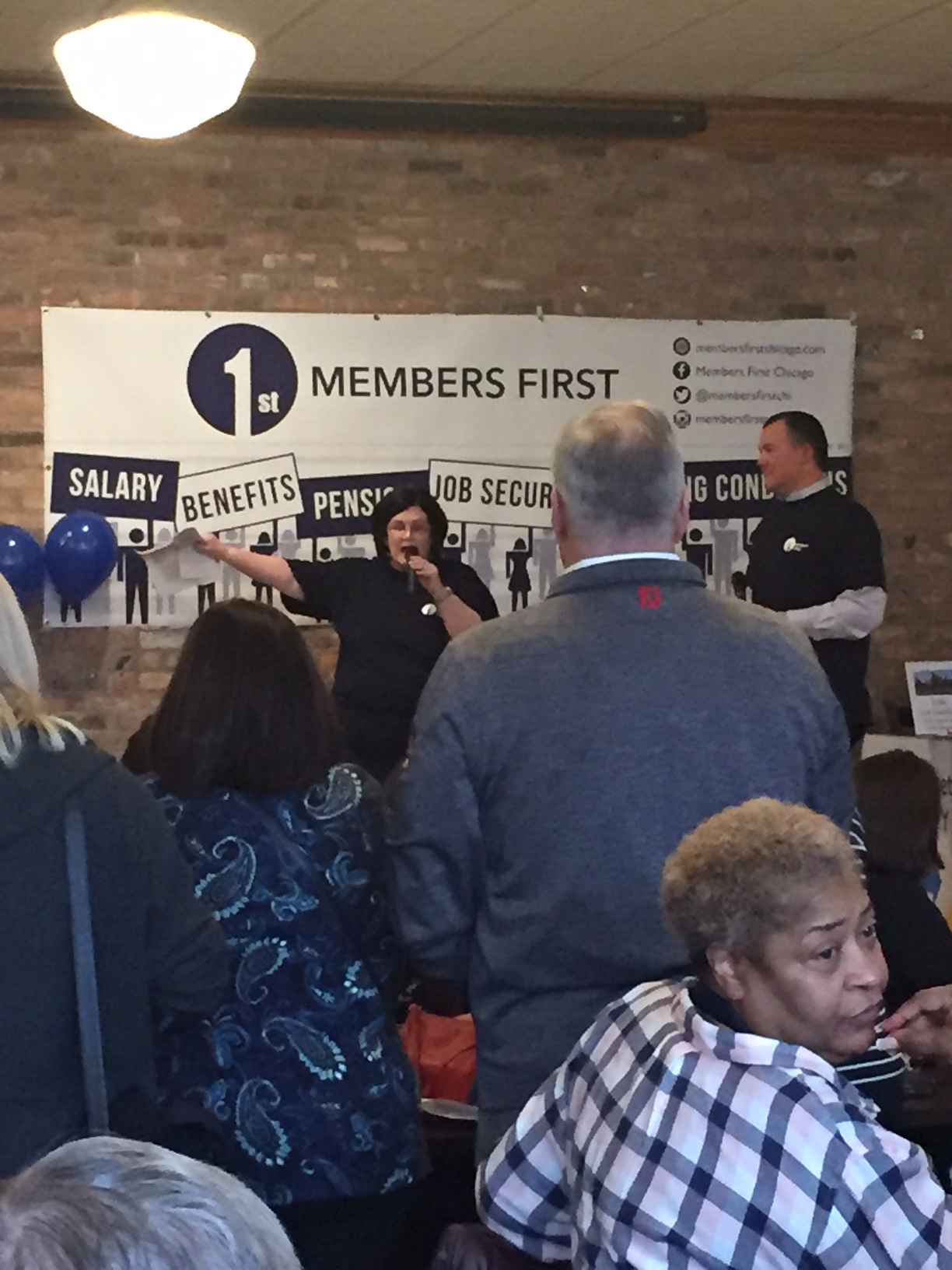 The diversity of the Members First April 13 crowd was evident as more and more CTU members study the disappointing contracts brought in by the CORE leadership since 2010 and demand answers to questions about mismanagement of union finances. Therese Boyle (above, speaking) explained that Members First will "focus on salary, pension, benefits, working conditions and job security," all realities that she and Members First charge the current union leadership has neglected, especially in the two contracts negotiated by the leadership since 2010. Substance photo by Susan Hickey.2. What are three (or up to five) concerns you have about the union right now?
Members First believes our current union leadership is out of touch. They have insulated themselves from the members. Their agenda for Chicago does not prioritize the welfare of the dues paying CTU members. The stress and anxiety that comes from REACH and from working with so many students — with so little support, only gets lip service from union leadership.
Members First also has serious questions regarding financial stewardship of union monies and assets. We continue to pay over a million dollars in rent to the Merchandise Mart because we are under a lease and at the same time, we are paying nearly a million dollars in rent to the CTU Foundation which owns the building we use for office space and meetings. A self-inflicted financial crisis is upon us as we wait for the Janus decision, which will likely further stretch our financial ability to protect and serve members in the schools.
There has been little to no transparency around the spending of the $60 million plus proceeds from the sale of Fewkes Tower. We have made a million dollar loan to the CTU PAC and members were not informed of the loan or its terms. Last year, CTU closed about a $700,000 budget deficit by shifting Quest Center salaries to the CTU Foundation budget. This year, CTU could be facing a deficit of up to $3 million dollars. CTU leadership keeps marching to their own beat at the members' expense.
3. Name three contract issues that are not being addressed and what would do differently?
Salary has not been fairly addressed by the last two contracts. From 2012 to 2019, the contracts have given members an aggregate of 11.5% over eight years. However, when considering the loss of 8 days of pay due to furloughs and a 'Day of Action', the raise goes down by 3.8% to a disappointing 7.7% over 8 years -- that's less than 1% per year. But wait, members must also consider the added 10 days to the school year for which we were not compensated; together with increases in health care costs and the high cost of living for Chicago residents. We are working harder and longer for less pay than we were 8 years ago. Our salaries have not grown at all under this leadership. Members First will fight to get members a fair raise.