Rallies against tax breaks for corporations say schools and communities must benefit from Amazon's new 'HQ2'...
David R. Stone - April, 2018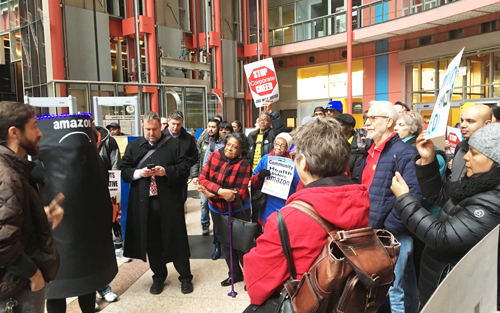 Chicago Teachers Union staff coordinator Jackson Potter (far left) questions "Alexia" about the tax breaks being offered to Amazon by Illinois. Substance photo by David R. Stone.As Chicago's mayor and Illinois's governor offer some $2 billion in corporate tax give-aways to Amazon – in a competition between cities to see which will offer the most public financing to become the site of Amazon's second headquarters – community organizers, unionized workers, supporters of public schools and others are fighting competition with cooperation, and sunshine. A coordinated set of rallies on Tuesday, April 10, 2018, in cities across North America shone a light on how much the city that "wins" Amazon's competition for its so called "HQ2" might lose in funding for schools, healthcare, housing, public transportation and equal access to good jobs.
Of course, Amazon describes things differently. On its website, the world's largest online retailer says, "Amazon HQ2 will be Amazon's second headquarters in North America. We expect to invest over $5 billion in construction and grow this second headquarters to include as many as 50,000 high-paying jobs – it will be a full equal to our current campus in Seattle. In addition to Amazon's direct hiring and investment, construction and ongoing operation of Amazon HQ2 is expected to create tens of thousands of additional jobs and tens of billions of dollars in additional investment in the surrounding community." It claims that its first headquarters, in Seattle, Washington, generated an additional $1.40 for the city's economy for each $1 invested. Yet asking cities to provide as much of the investment as possible creates a "race to the bottom" that will drain resources away from neighborhood needs, according to speakers at Tuesday's rally in Chicago. The rally started at City Hall, then moved to the James R. Thompson State of Illinois Building a block away in downtown Chicago. The local rally was organized by the Grassroots Cooperative, which says it "unites eleven membership-based organizations in Illinois in order to create policy change on local and statewide levels." Members of the cooperative include the Chicago Teachers Union, the Service Employees International Union, several neighborhood associations, and some non-profit social service agencies that work on issues of hunger, homelessness and poverty.
Amisha Patel, executive director of the Grassroots Cooperative, said "It's not OK for Amazon to be playing Hunger Games" that pit city against city. She called for transparency rather than deals made behind closed doors, and said local groups should be at the table to craft Community Benefits Agreements, because any public funding for the corporation "must directly benefit the people of the city."
Other speakers included:
• a former Amazon warehouse worker, who said Amazon limits workers' hours, to avoid paying higher benefits, and offers few opportunities for entry level workers to move into management positions.
• a representative of the Action Center for Race and the Economy, who cited a study showing that corporate tax give-aways generate few jobs, and who also give examples of how Amazon discriminates against Muslims. • a local restaurant owner, who told how his business contributes more tax revenue to the city than Amazon would, and how Amazon's model of a closed campus (to boost productivity by providing all sorts of services inside their headquarters) would keep workers from leaving for meals, entertainment, dry cleaning services, etc., and thus keep Amazon from doing much to boost neighborhood economic activity.
• Elisabeth Greer, chair of the Local School Council at National Teachers Academy, which she described as "a high achieving, majority African American elementary school that Mayor Rahm Emanuel has directed his appointed Board of Education to close." She pointed to the contrast that "while Rahm closes schools in black and brown neighborhoods claiming the city is broke, he offers Amazon billions of dollars in incentives." (The full text of her remarks are reprinted below.)
A highlight of the rally was when the Grassroots Coalition's Patel interviewed "Alexa," Amazon's computerized "virtual assistant." In this case, Alexa was played by someone dressed as an Amazon smart speaker, with the smile of the Amazon logo turned upside-down to a frown.
Q. Alexa, how much were Amazon's profits last year?
A. $3 billion.
Q. Alexa, what is [Amazon Chief Executive] Jeff Bezos's net worth?
A. $116.8 billion
Q. Alexa, how much would the total cost of Chicago's Amazon bid be worth to each CPS student?
A. $5,500 per pupil.
Signs held by protestors at the rally included, "No Amazon without us," "Stop corporate greed," Community health before Amazon wealth" and "Babies before Bezos."
[The following remarks were given on Tuesday, April 10, 2018, during a rally against plans to offer billions of dollars in tax breaks for Amazon to build a corporate headquarters called HQ2.]
My name is Elisabeth Greer, and I am the chair of the Local School Council at National Teachers Academy, a high-achieving, majority African American elementary school that Mayor Rahm Emanuel has directed his appointed Board of Education to close.
We have a public education crisis here in Chicago. While Rahm is kicking out children from NTA and from Englewood high schools, he's welcoming in Amazon with open arms. While Rahm closes schools in back and brown neighborhoods claiming that the city is broke, he offers Amazon billions of dollars in incentives. While our children go to school in filthy buildings, Rahm pretties up potential HQ2 sites around town for Amazon executives. While Rahm destroys the educational futures of black and brown children by displacing them from their schools, he brags to Amazon that Chicago has an educated work force.
Rahm's courting of Amazon is coming at great cost to the average citizen of the city of Chicago. Our children, our cost of living, our quality of life are all at risk in this race win the heart of a multi-billion dollar corporation who has everything to gain and who has to sacrifice nothing. Amazon, do you want our talented workers? Do you want our prime real estate? Do you want Chicago? If so, then what's in it for our city?
No Amazon without us!