Eyewitness... The Situation in Puerto Rico and the US Virgin Islands: What the Press Is Not Reporting
Susan Hickey - October 17, 2017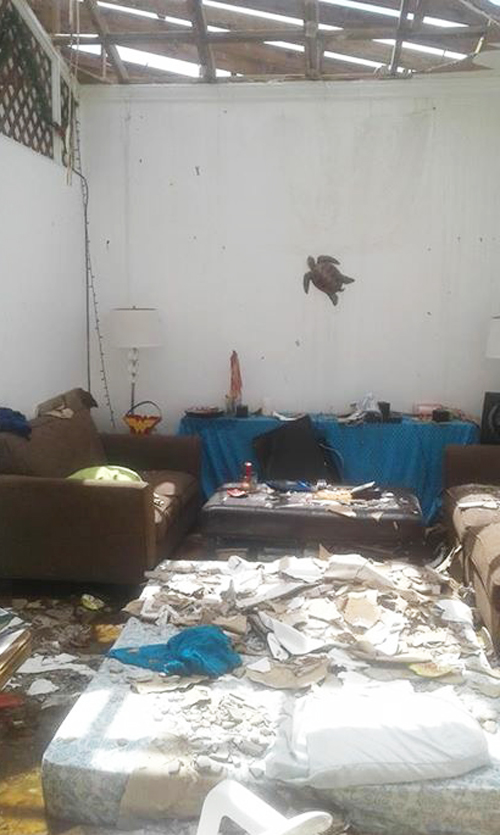 The damage inside one home in the U.S. Virgin Islands following Hurricane Maria. Substance photo courtesy of Julia Hickey.As Donald Trump has been tweeting about NFL players not standing for the pledge or how he is being badly treated by the press ("Fake News"), the people in the American territories of Puerto Rico and the US Virgin Islands are facing starvation and even death from his administration's neglect and being totally unprepared to deal with the disaster. This reporter has an eye-witness account from her daughter, Julia, who was on Saint Croix when Hurricane Maria destroyed that island and Puerto Rico. Julia came to Chicago on Sunday, October 8, 2017 on the second commercial flight that was able to leave the island even though the airport was supposed to be up and running on Thursday, October 5th. She was unable to take her dog and the dog is staying with friends.
FEMA had a mercy flight for pets schedule the same day she was leaving and it was only going to Florida. Luckily she did not sign up for it as it was cancelled. She is in regular contact with those still on the island and the situation is getting even more harrowing.
The disaster really began when Hurricane Irma struck the Caribbean islands which included the British and US Virgin Islands before wreaking havoc on Florida. They were utterly destroyed along with the Leeward Islands, especially Barbuda and Saint Martin. Irma was a slow moving hurricane that hit the Virgin Islands on September 6th.
One contrast with the U.S. and Donald Trump: The British had positioned naval ships near so they can move in quickly to help their islands. Julia told me that the British were also involved in giving out MREs (meals ready to eat) in the US Virgin Islands. Being British, she had to explain to her friends what they were eating. For those of you who do not know what MREs are, they are meals that you put a little water in, wait for a while and presto- you get a hot meal! She brought me two to see what she was eating while she was there.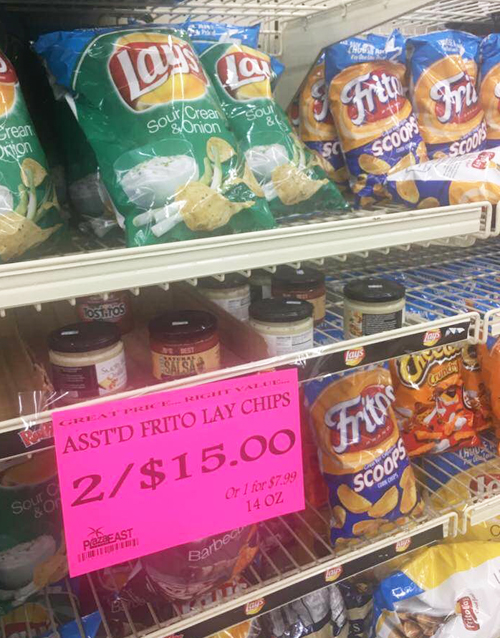 Donald Trump-style capitalism in action a week after Hurricane Maria devastated the U.S. Virgin Islands. Substance photo courtesy of Julia Hickey.Saint Thomas and Saint John along with the British Virgin Islands were badly damaged by Hurricane Irma, and Saint Croix was spared only getting minor damage but lost electricity. The electricity they only got back for 48 hours until Hurricane Maria hit Saint Croix late on September 19th. Island officials shut down the power grid because a repairman was electrocuted earlier on Saint Thomas.
According to Julia, the severe hurricane winds with the damaging rain continued from 11 pm on 9/19 until 5:30 am on 9/20. Someone clocked the winds in Frederiksted, Saint Croix at 220 miles per hour which is well above the minimum of 155 mph for the highest category level. She had friends staying in her apartment since it was away from the coast line. One of them was knocked unconscious when a piece of the ceiling fell on his head. Julia had to drag him to safety. She huddled in a closet with her dog on her lap and heard the roof, ceiling and her personal belongings destroyed.
Pictured in this article are photos of before and after of one wall in her living room which can give you a sense of what was lost. She was able to keep in contact with her cell phone sporadically because AT & T towers were the only cell towers functioning but often they had their power generators stolen and had to replace them.
There has been a curfew put in place immediately. They had to do their business between 10 am until 4 pm. This made it difficult because you had to choose what you were going to do as one had to stand in lines for 3 to 4 hours. This included trying to get money, bottled water and MREs, filling your car with gasoline among getting other items. Julia and her friends would have chairs and umbrellas to help the elderly waiting in line because they were fainting. They will not have power for at least six months and most of the island has no potable water. The first few days they were eating cold food out of canned goods until they were able to get MREs. They are still not able to send mail but they can receive mail as of 10/17, almost a month after the storm.
Looting is happening which will get worse especially after there will be no more food and water being distributed. Stores will only take cash and now there are no ATMs in Frederiksted which was the hardest hit area of Saint Croix. Stores are price gouging as shown in the photo of two bags potato chips going for $17. Landlords are throwing out their tenants leaving them homeless with no shelter to go to as they are closing as well.
What is Trump's administration -- the U.S. Government -- doing for them?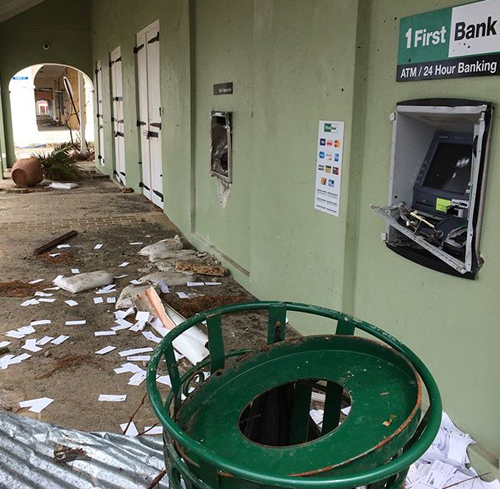 The hurricanes may not have pried open ATMs, but... Substance photo by Julia Hickey.We hear that he met the President of the Virgin Islands which is funny as he only had to look in the mirror. Kenneth Mapp, the governor of the USVI is considered a joke by the USVI residents. He is a Republican who is insensitive to the plight of the people he is supposed to govern. An example: the day after Hurricane Maria he told them in his radio broadcast that they should make sure that they would be welcomed by those they are trying to stay with on the mainland.
About twenty of Julia's friends would gather around the radio hoping Mapp would give them information on how they can get food and water. Mapp would talk about himself (just like Trump) and not give out crucial details such as where one can go to get food and water. Julia said they would look the long lines were to know that is where you should going for essentials.
They have no internet but in order to register for FEMA help you must go to FEMA's website! Most of the shelters were destroyed and there is no hospital on Saint Croix. The patients in US Virgin Islands hospitals were transported to Georgia. There were 'mercy ships' sent to take the elderly, pregnant women and disabled but that was a mess as they were delayed and were badly coordinated.
The rich white people on the island were able to board those ships as they were given notice of spaces available.
Trump has been talking about how Puerto Rico needs to deal with their debts to the banks -- which the situation is the same in USVI. Let us hope that Congress will send the necessary funds to not only give emergency food and water but build the infrastructure and economy there.