HISTORY LESSON II: American Federation of Teachers gave support to Barbara Byrd Bennett long before Karen Lewis joined up to back BBB... AFT pushed so-called 'innovation' -- which meant Common Core and other reforms pushed by Gates and Broad...
Susan Ohanian - May 06, 2017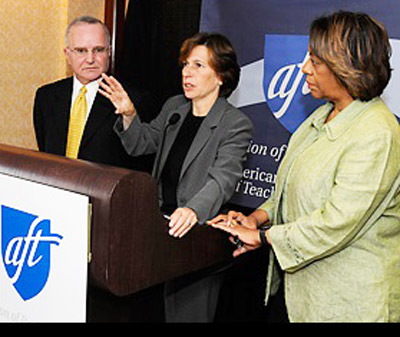 Promoting what they called "innovation," AFT President Randi Weingarten (center) stood with Adam Urbanski (Rochester) and Barbara Byrd Bennett. This is the article text. "From left, Innovation Fund executive director Adam Urbanski, AFT president Randi Weingarten and board chair Barbara Byrd-Bennett, Published in NYSUT, April 30, 2009, in an article pushing the "AFT Innovation," which pushed the Common Core.
https://www.nysut.org/news/2009/april/aft-innovation-fund--grants-to-boost-your-students--achievementChicago Teachers Union President Karen's Lewis's current support of Barbara Byrd Bennett is in line with American Federation of Teachers (AFT) history. Below is just one detail revealing a closeness between BBB and the AFT.
In the article the NYSUT (New York State United Teachers)vice president urges members to consider "bold ideas," ideas like "lengthening the school day or school year, creating national standards, using value-added measures as part of accountability, performance pay and replicating programs that are working in charter school."
BBB was on the original advisory board of the Common Core Mapping Project (now Common Core, Inc), funded by the Bill and Melinda Gates Foundation and headed by former American Enterprise Institute fellow Lynne Munson. This project preceded the National Governors' Common Core that we know today. The AFT's Antonia Cortese was on its board. For those of you who don't remember Cortese: At that time Cortese was the secretary-treasurer of the American Federation of Teachers, having served as AFT executive vice president from 2004 to 2008 and as an AFT vice president from 1974 to 2004. As AFT executive vice president, Ms. Cortese oversaw the union's education policy, which included chairing the AFT task force on the No Child Left Behind Act.
Project reviewers for this scheme included included members of the American Federation of Teachers.
Then, with money from grants from the Eli and Edythe Broad Foundation, the Ford Foundation, the Bill & Melinda Gates Foundation and the Charles Stewart Mott Foundation, the AFT set up what they call the Innovation Fund--to push the Common Core into big locals like Chicago.
Here's a 2008 headline from the Cleveland Plain Dealer: "National teachers organization chooses Byrd-Bennett for fund." Former Cleveland schools CEO Barbara Byrd-Bennett has been named co-chair of the American Federation of Teachers' new national "innovation fund," which is designed to help spark union-led efforts to improve public schools.. . .
"At the AFT, we aren't just asking our nation's leaders to invest in innovations," said President Randi Weingarten. "We're putting our money where our mouth is."
The Shanker Institute notes that Randi and BBB were original signers of support of the Common Core State Standards. There are a number of AFT officers among the signers, not to mention Lou Gerstner. And others of disrepute. http://www.shankerinstitute.org/curriculum
I've documented all this a couple of times on my website and in Substance. I suppose it's small potatoes, but more people should remember that old dictum: follow the money. For her whole career, BBB was expert in sidling up to people who'd help her along the money trail. If she ever decides to write her memoir, she just might have a few stories to tell.