Rally in support of Sarah Chambers brings 200 people to Southwest Side school...
Marybeth Foley - April 20, 2017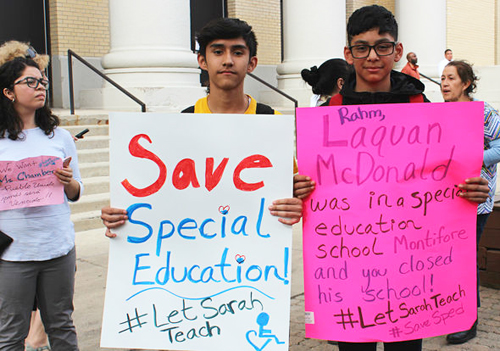 Young students are learning to become activists -- and to place special education cuts in a dramatic historical context -- as part of the protests on behalf of Sarah Chambers.On Tuesday, April 18, 2017, students, teachers and parents rallied in support of Sarah Chambers, who has been removed as a teacher at Saucedo elementary school. Various sources cited the number of people at the rally as approximately 200. Chambers, with a reputation as an exemplary teacher of special education students at Saucedo Academy (2850 West 24th Boulevard) is challenging a CPS order that removed her from the school. She is currently suspended with pay, with no explanation from CPS as to why she is no longer in the classroom at the school where she taught for years.
During her years at Saucedo, Chambers developed a reputation as a fearless activist. She organized for the Opt Out movement against high-stakes standardized testing and recently she has been helping to lead the Chicago Teachers Union's "Special Education Task Force." The Task Force has been gathering information to challenge the ruthless cutbacks in special education services to children across Chicago.
In addition to the parents and students, many Chicago Teachers Unions (CTU) members and Caucus of Rank and File Educator (CORE) members were also present at the spirited April 19 event. Within view of this reporter were Bernie Eshoo, Alix Gonzales, Bob Schubert, Kim Goldbaum, Francine Greenberg, Lisa Levy, Xian Franzinger Barrett, Debbie Pope, Natasha Carlsen, Tom Lalagos, and others. Also present were former Alderman Bob Fioretti, Jesus "Chuy" Garcia (former candidates for mayor of Chicago), and Rod Estvan of Access Living, representing special needs students.
The rally began around 4 p.m and ended around 5 p.m. The rally began with speeches by Jesus "Chuy" Garcia and others. Cameramen and reporters from Channel Nine, Channel Seven or Five or both, and a Spanish language station were present. During the speeches and following the speeches, many chants in support of Sarah Chambers could be heard. A large banner showing the support of the Chicago Teachers Union could be seen in the background.
After the rally, the participants marched from the entrance to the southwest corner of the school and back, once again chanting in support of Sarah. After the march returned to the school entrance, more speeches took place. In the background, three Chicago Police Department (CPD) officers plus their superior (white shirt) observed, after arriving in four separate police vehicles. The rally and march ended peacefully at 5 p.m.
Media coverage of the rally included the following story by DNA Info Chicago...
Students, Parents Rally For Special Ed Teacher Facing 'Political' Firing, By Stephanie Lulay | April 19, 2017 8:29am, DNA Info Chicago
LITTLE VILLAGE — Chicago Public Schools' plan to fire a Little Village special education teacher is a "political" attack, Cook County Commissioner Jesus "Chuy" Garcia said Tuesday. Sarah Chambers, a lauded special education teacher at Maria Saucedo Scholastic Academy who has advocated for students with special needs across the city, was suspended from her job earlier this month as CPS officials move to fire her. At a rally in support of Chambers outside the school Tuesday, Garcia slammed CPS leaders, saying they aim to make an example of the eight-year educator because she stands up for fellow teachers.
"For anyone who knows anything or a little bit about politics in Chicago, this sure is smelling political with each and every passing day," Garcia said.
Chanting "We want Chambers, we want books, we want the money that Rahm took," parents, teachers and students rallied in support of the suspended teacher Tuesday afternoon. CPS officials have accused Chambers of violating Illinois State Board of Education and Chicago Board of Education policies, but they have repeatedly declined to say which CPS policies Chambers allegedly violated.
Chambers said she is accused of encouraging a student to opt out of the PARCC test, an annual standardized test given to students in third through eighth grades and high school, a charge she denies.
Chambers was notified of the suspension April 6, right before spring break. She is expected to present her case against her dismissal to an independent Illinois State Board of Education hearing officer.
On Tuesday, Chambers said she remains on suspension with pay, and a hearing has not been scheduled. An outspoken teacher who serves as co-chairwoman of the union's special education task force, Chambers previously has called on Mayor Rahm Emanuel and CPS to "stop this witch hunt."
She claims CPS is moving to fire her in retaliation for union organizing and for standing up for the needs of her special education students.
Chambers has been a vocal critic of the mayor and CPS leadership for years, and has accused the Chicago Board of Education of silencing special education students and critics.
"I'm a distinguished teacher, and I've never been written up before," Chambers said. "I truly believe it's because I'm being a leader and advocating for the rights of special education students around the city."
At the rally Tuesday, Rod Estvan, an education policy analyst with Access Living, the city's largest disability rights group, said Chambers should be reinstated immediately. "We believe she is being targeted because she has been an effective leader of special education teachers and has defended the rights of children to receive their appropriate services under federal law," Estvan said. "Right now in that building... there is no one teaching those children except an unqualified substitute."
John Toman, a seventh-grade math teacher at Saucedo, said he has worked with Chambers for eight years as she supported special education students in a traditional, inclusive classroom setting. "She works before school, after school, on weekends, in the summer. She is one of those teachers who has always gone the extra mile," Toman said. "We need more teachers like Sarah, not less, especially with the shortage of special education teachers. It affects the entire school."
Rodrigo Anzures-Oyorzabal, advocacy manager at the Illinois Safe Schools Alliance, a group that works to support inclusion of LGBTQ students in schools, said Chambers has been a vocal supporter of LGBTQ students at Saucedo as the school's gay-straight alliance sponsor.
"We find it really disheartening that Sarah would be targeted and disciplined at a time when LGBTQ students should be affirmed, supported and lifted up more than ever," he said. Crystal Rosas, an eighth-grade student at Saucedo, said Chambers "goes beyond" for her students "because she believes we are the best."
"Ms. Chambers has done her job to inform her students, and inform them of their rights," Rosas said. "We don't get teachers like Ms. Chambers often, but when we do, we need to show them the respect and the love they deserve."
Ines Figueroa is a parent of an eighth-grade special education students who was taught by Chambers.
"She is one of the most caring teachers I know," Figueroa said of Chambers. "We really need her here." Garcia, an outspoken critic of Emanuel who ran against him for mayor, has known Chambers for several years. He called the teacher a "dedicated, passionate and compassionate" educator. "She should be brought back to Saucedo as soon as possible so she can resume the passion of her life, which is to be an excellent public school teacher," Garcia said.
Several observers told Substance they were surprised that none of the four officers of the Chicago Teachers Union bothered to appear at the rally, as Sarah has been a union leader not only at the school but citywide for years.
Parents and teachers have launched a petition online in support of Chambers, urging CPS not to fire her. As of Tuesday night, more than 3,400 people had signed.
LABOR BEAT PRODUCED A FOURTEEN MINUTE VIDEO OF THE EVENT...https://www.youtube.com/watch?v=craBJK40j-Q&feature=youtu.be