CPS attempt to fire Sarah Chambers prompts nationwide petition in support of the Chicago leader in Opt Out movement...
George N. Schmidt - April 07, 2017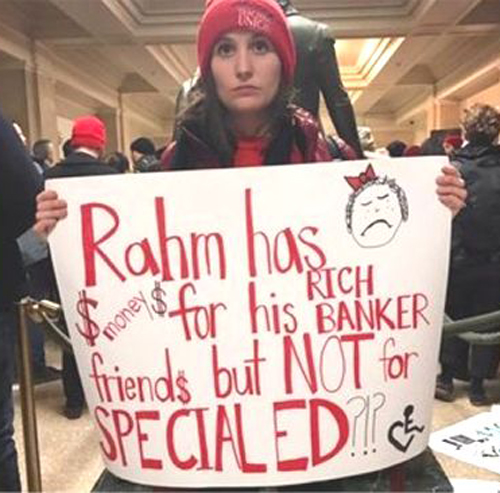 Chicago teacher and union leader Sarah Chambers has most recently added protesting on behalf of special education to her list of activist work. Above, Chambers was part of a protest against Chicago Mayor Rahm Emanuel's special ed cuts at Chicago's City Hall.Less than a day after Chicago Public Schools officials informed Saucedo elementary school teacher Sarah Chambers that she was being removed from the school and facing trial that could end her teaching job, the attack from the Emanual administration on one of the leaders of Chicago's Opt Out movement has resulted in a national outcry against CPS.
An eruption of protests on behalf of Chamber began on the day before Chicago's public schools began Spring Vacation (with a one day "furlough day" on Friday April 7) when CPS officials informed Chambers that she was being ordered out of her teaching job at Saucedo elementary school on Chicago's Southwest Side. CPS officials did not explain their reasoning, but the majority of those who have followed CPS for the past several years attribute the move to Chambers's impact on the protests against the policies of Mayor Rahm Emanuel and his appointed schools "CEO" and school board. Prior to this school year, Chambers has been one of the leaders in the citywide Opt Out movement against Chicago's merry go round of so-called "standardized" tests. With the additional cutbacks against special education this school year, she became a leader of that too.
Chambers began her union activism in 2010 as part of the rank and file of CORE, the Caucus of Rank and File Educators). In July 2010, CORE took over the leadership of the Chicago Teachers Union, and CORE lead the Chicago Teachers Strike of 2012. By 2012, Chambers was part of the CORE Steering Committee (which also included this reporter), where she helped lead the CORE organizing for the caucus's victory in the next CTU election. By that time, Chambers was also a member of the Chicago Teachers Union's 45-member Executive Board and a regular speaker against CPS policies.
While the details of the CPS pretexts for attacking Chambers are secret, the outcry was immediate, and after a few hours of Chicago organizing it had also gone national:
MONTY NEILL OF FAIR TEST ASKED EVERYONE TO SIGN THE PETITION SUPPORTING CHAMBERS...
April 7, 2017
From: FAIR TEST
Chicago teacher Sarah Chambers faces firing because she has been fighting cuts to funding for special ed (she is cochair of special Ed taskforce) and against citywide education cuts. In recent years she also was a leader of the hugely successful teacher boycott of standardized tests at Saucedo school (complemented by mass parent and student opting out in this overwhelmingly Latino school). Here is a petition that was created to try to defend her: http://www.thepetitionsite.com/768/541/715/dont-fire-sarah-chambers-defend-a-powerful-voice-for-special-education-students./?taf_id=35415218&cid=twitter#bbfb=340110318 I hope you will join me in signing the petition.
Monty