Former Byrd Bennett aide Tim Cawley named to top post in Chicago Catholic Schools...
George Schmidt - March 10, 2017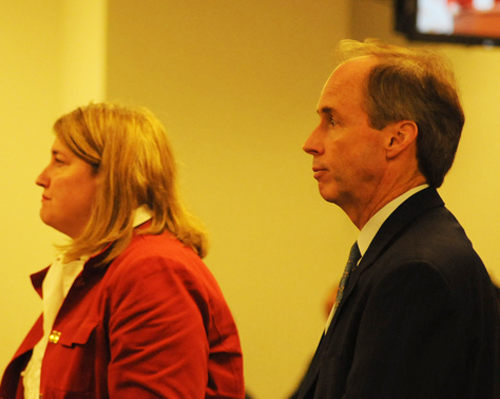 Tim Cawley (right) at a meeting of the Chicago Board of Education. Substance photo by George N. Schmidt.While the city awaits the sentencing of former Chicago Public Schools "Chief Executive Officer" Barbara Byrd Bennett (who pleaded guilty to federal corruption charges in the SUPES case), another former administrator of CPS now has a new job. And the news report on March 10, 2017 about the appointment of Tim Cawley, who under Byrd Bennett was "Chief Administrative Officer" of CPS, notes that he still lives in Winnetka, despite the fact that CPS fires teachers and other school workers regularly for refusing to go along with the Board of Education's residency requirements.
Cawley's job at the Catholic schools will be chief of school operations.
SUN TIMES ARTICLE ON CAWLEY....
Former CPS administrator named to similar Catholic schools post
Timothy J. Cawley, former chief administrative officer for Chicago Public Schools, has been named Chief of Parish & School Operations for the Archdiocese of Chicago schools.
"We are proud to welcome Tim to our team at the Archdiocese of Chicago," Cardinal Blase Cupich said in a statement. "His experience in business and education has been a valuable asset in his school board service and he will lend this unique and necessary perspective to the new initiatives the Archdiocese has begun."
Cawley joined the Archdiocesan School Board in 2016 and helped make "significant contributions on schools strategy and operational issues," a statement from the archdiocese said.
As chief of school operations, he work with parishes and schools to "improve the operating effectiveness of their ministry and education missions," the statement said.
Before his role at CPS, which lasted from May 2011 through October 2015, Cawley worked in several large corporations, including executive roles at Procter & Gamble, Motorola and Ameritech.
"I'm excited to join Cardinal Cupich and the strong management team he is leading to help the Archdiocese improve its operating discipline. Doing so will enhance how we support our parishes and schools in their critical work for Catholics throughout Chicagoland," Cawley said in the statement.
The Winnetka resident has a business degree from Notre Dame, and he completed the University of Michigan's Global Leadership executive education program.