Catholic school teachers criticize Trump and DeVos for using a Catholic school for a publicity stunt...
George Schmidt - March 08, 2017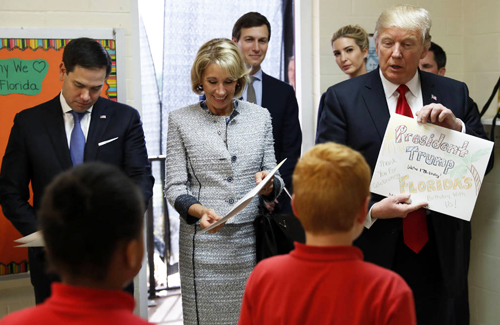 Senator Marco Rubio, U.S. Education Secretary Betsy DeVos, and President Donald Trump during their publicity stunt on March 3, 2017 at the St. Andrew Catholic school in Orlando, Florida. Their decision to utilize the Cathollc school to promote the voucher plans being promulgated by DeVos have been criticized both in the press (see Washington Post article with this article) and by Catholic educators (see latter with this article). The following communication was sent to President Donald Trump from Catholic school teachers who are part of the ACE program at Notre Dame University. The Catholic teachers object to the use of a Catholic school to promote the policies of Trump and Besty DeVos to push vouchers against public schools.
There is irony here. One of the most important policies that has been undermining Catholic and other parochial schools in Chicago and across the country has been the expansion of charter schools. Many charter schools deliberately recruit students from nearby Catholic schools, in the case of at least one in Chicago by telling families that they can have a "safe" education just like in Catholic schools but without paying Catholic school tuition.
The publicity stunt has drawn criticism from both Catholic teachers (see first piece below) and from some in the corporate media (see Washington Post column below).
The ACE letter from CATHOLIC SCHOOL TEACHERS follows:
Dear President Trump and Secretary De Vos
From: Leadership of the Notre Dame Alliance for Catholic Education Academies...
We, the undersigned alumni of the Alliance for Catholic Education, write to express our concerns about President Trump's visit to St. Andrew Catholic School, a Notre Dame ACE Academy, in Orlando, Florida on Friday, March 3, 2017. We also write to offer our prayers for the St. Andrew school leadership, community and particularly the students in this time of unexpected attention.
This visit is an important symbolic moment that should be addressed by advocates of Catholic education. St. John XXIII encouraged unity in essentials, liberty in doubtful matters and charity throughout. We believe the essential unifying principle of serving the least among us is affronted by much of President Trump's policy and rhetoric.
The visit, regardless of its genesis, could be taken as tacit approval within the broader Catholic education community for these policies, including the scapegoating of immigrants, refugees and the economically marginalized in service of a nationalist stance and the targeting of Muslims as enemies of Christianity.
Catholic schools have heroically served what Pope Francis has called the bruised, hurting and dirty Church. We fear this visit will associate Catholic schools with policies that violently conflict with their Gospel mission, and therefore ask ACE make a statement affirming our bedrock shared values. Protection of the least of these is the responsibility of us all, and especially those with the platforms to be heard.
Our first concern is that this visit has been designed to use the children and school community of St. Andrew as props by an administration that opposes core aspects of their identity. The primary focus of a visit to a Catholic school should be celebrating the mission of that school. Of course, politicians often use community organizations to advance their agendas. Further, past presidents of both party affiliations have visited Catholic schools to celebrate their identity and academic achievement.
However, given the incompatibility of President Trump's agenda with Catholic schools' mission, we are concerned that this visit takes advantage of Catholic schools, students, families and communities without humanizing or benefiting them. President Trump did not visit a Catholic school during the recent Catholic Schools Week (though he did tweet about it). Why should his first visit to a Catholic school serve to benefit him and his agenda?
Our second concern is this visit could be taken as tacit support of policies that run counter to the mission of Catholic education and attack the very dignity of those served by Catholic schools. As current and former classroom educators, we know for many teachers, children and their families, President Trump's campaign and administration have placed new stress upon the most vulnerable among us.
For those of us in classrooms, we are facing challenging conversations about what the future holds for the children, youth and families we serve. As all those touched by ACE are well aware, many children in Catholic schools are already hard-pressed to maintain focus on their day-to-day learning given the challenges they face due to their race, class, language or country of origin outside of school. We know the St. Andrew community has worked tirelessly for decades to serve marginalized communities in Orlando. But this visit has not been designed to celebrate that fact; instead, it provides a platform for President Trump to showcase his marginalizing policies.
WASHINGTON POST ARTICLE ABOUT THE TRUMP DE VOS VISIT FOLLOWS HERE:
Why the Trump/DeVos visit to a Catholic school is so unusual — and what it really means
By Valerie Strauss March 3 Trump tours Florida school, gets photo with children Play Video1:19
President Trump and Education Secretary Besty DeVos visited St. Andrew Catholic School in Orlando on Friday to promote school vouchers, which he mentioned in his address to Congress on Feb. 28. (Reuters)
President Trump and Education Secretary Betsy DeVos made their first official joint trip to a school on Friday. It was a highly unusual trip for a president, but one that clearly signals his educational priorities.
Trump and DeVos visited St. Andrew Catholic School in Orlando, where nearly 300 students attend with help from the controversial Florida Tax Credit Scholarships program. They were joined by Trump's daughter, Ivanka, and her husband and White House senior adviser Jared Kushner, as well as Florida Sen. Marco Rubio and Florida Gov. Rick Scott, both Republicans who support school choice.
Both Trump and DeVos have praised the Florida Tax Credit Scholarship program, which offers tax incentives for individuals and corporations to donate money to organizations that provide "scholarships" for private and religious school tuition and other educational expenses. Supporters say such programs help students from low-income families attend private schools, while critics say they are privatizing public education, offer the public no accountability and violate the constitutional tenet of separation of church and state.
Incidentally, Trump and DeVos, both billionaires, own homes in Florida.
The Associated Press reported that Trump first visited a fourth-grade classroom at St. Andrew, and shook hands with students who told him they were learning about Florida's history. The AP said that he told one girl who said she wanted to open her own business that she's "gonna make a lot of money," but he warned her "don't run for politics."
A report from the pool of journalists permitted to accompany the president said that when the visitors were ushered into a "chilly" classroom, "teacher Jane Jones instructed some in the class of roughly 25 students to remove their sweaters." It also said:
The pupils waited patiently for the arrival of the president in identical red polo shirts. Ms. Jones kept their attention from diverting by discussing the presidency. "One day this could be for you," she said to the class, referring to the security and press awaiting the president.
"What are our goals? Where are we going?" Ms. Jones asked.
"College and heaven," the class replied in unison.
"We're on our way," she said.
Trump is the first sitting president to visit a Catholic school since Ronald Reagan visited St. Agatha Catholic School in the Archdiocese of Detroit on Oct. 10, 1984, years after he was elected. According to a story in a local newspaper called Observer & Eccentric, Reagan was invited by a student named Carol Tumidanski, who sent him a letter and then presented him with a school jacket when he arrived.
Barack Obama visited a Catholic school, St. Columbanus on Chicago's South Side, in late 2008, when he and his wife Michelle Obama were in a nearby parking lot to distribute food to needy families, and kids began to wave to them from the school windows. The Obamas stopped in for an unscheduled visit, and the then-president-elect urged the students to do their math and respect their teachers and parents.
Once a minor part of the education debate in the United States, "choice" has become a central focus of school reformers, and DeVos has been a leader of the movement for decades. She once called public education "a dead end" and recently said she would not be upset if the U.S. Education Department were closed.
Answer Sheet newsletter
Education questions and answers, in your inbox weekly.
Sign up
The visit to St. Andrew was a clear signal that the Trump administration intends to push forward with expanding school choice as a key priority. Trump has said that he wants to spend some $20 billion to incentivize states to grow choice options. During his address Tuesday night to Congress, Trump urged lawmakers to pass an education bill that "funds school choice for disadvantaged youth, including millions of African American and Latino children." He also invited as a guest to the speech a student who had attended a Florida private school with help from the Florida Tax Credit Scholarships program.
DeVos last month made her first solo trip as education secretary to a D.C. public school, Jefferson Academy, where she was initially blocked by protesters from entering via a side door and later drew the wrath of teachers when she characterized them as essentially standing around "waiting to be told what they have to do." She didn't say anything like that at the two charter schools in the District she visited this week:
One of those schools, Perry Street Prep, had its high school closed in 2014 because of poor performance.
Criticism from public school advocates of the Trump/DeVos visit to St. Andrew was swift. Randi Weingarten, president of the American Federation of Teachers, said in a statement:
"To borrow a word from President Trump, it's so 'sad' that the president and his secretary of education have demonstrated such an antipathy toward public schools. He has taken a page right out of the extremist playbook by criticizing, undermining and proposing the defunding of public schools and instead trumpeting private alternatives.
"The evidence overwhelmingly shows that vouchers don't help kids. And as Betsy DeVos learned when she spent $5 million to push a private voucher ballot measure in Michigan, voters overwhelmingly oppose these efforts. So it's sad that rather then listening to the public they are sworn to represent and who have a deep connection to public schools, Trump and DeVos' first official joint trip is to a religious school, which they use as a backdrop for their ideological crusade. Instead of lifting up a great public school in Orlando—such as the Evans Community School, which focuses on the well-being of children by offering health and dental care, a food bank, free meals, and after-school programs and education programs for families—Trump is in Florida to push school choice and a backdoor voucher proposal as a way to turn education into a commodity."