Madison remembered...A Look Back in the Mirror at the Wisconsin Uprising:
Kim Scipes - February 16, 2017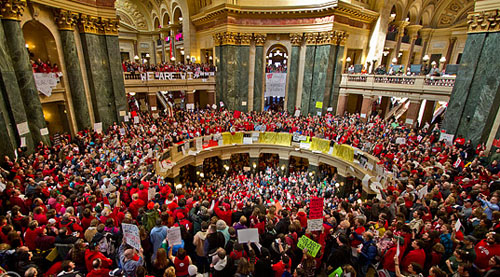 Despite the dramatic protests in the Wisconsin state capitol building, the protesters lost -- big.A Review Essay of It Started in Wisconsin: Dispatches from the Front Lines of the New Labor Protest, ed. by Mari Jo Buhle and Paul Buhle; Uprising: How Wisconsin Renewed the Politics of Protest, from Madison to Wall Street by John Nichols; and Wisconsin Uprising: Labor Fights Back, ed. by Michael D. Yates
--Reviewed by Kim Scipes
The Wisconsin Uprising in February-March 2011 was one of the most exciting events in a long time in this country's history. People mobilized on a scale not seen since the early 1970s, initially to protest a draconian assault on working people and public services intended to serve them, but it developed into a larger protest over the meaning of "democracy" in the contemporary United States. And though the protests ultimately failed to stop passage of an unjust law, it served and still serves as an inspiration to people in Wisconsin and around the world.
We now have three books specifically focused on this Uprising. I think they deserve consideration, and can be used to advance the larger conversation about Labor, protest movements and democracy. Since I have been active in the labor movement for over 30 years, made two visits to Madison (from Chicago) during the Upsurge, and have written some on the Upsurge—I have a chapter in the Buhles' book, although was not involved in conceptualizing the collection and did not know even who was writing the other chapters, and published an account of the Iraq Veterans Against the War (IVAW) march in Madison on March 19 in "The Veteran," the paper of the Vietnam Veterans Against the War (VVAW)—and am also an elected labor leader (I'm the Chair of the Chicago Chapter of the National Writers Union, UAW #1981), I thought I'd look at the reporting and analysis about the upsurge. (This review was begun before Scott Walker's re-election as Governor but finished afterward: I've analyzed the books on their own terrain—before the election—unless specified otherwise.)
It Started in Wisconsin approaches the struggle—which began on February 11, 2011, when Governor Walker announced his Budget Repair Bill and with the first protest on Valentine's Day, February 14—from a heavily Madison-flavored perspective. Primary emphasis is on the cultural aspects of the struggle. Most importantly is the discussion of "The Wisconsin Idea"—the idea that the State should serve the well-being of its citizens, an idea that has historically driven much of the progressive experimentation that has emerged from Wisconsin—which is strongly developed in John Nichols' introduction, in Mari Jo Buhle's chapter, as well as in Patrick Barrett's interview with Ben Manski. (Having lived in 11 states across different parts of the country, including 1993-94 in Wisconsin, I've never gotten a sense comparable to this anywhere else.) The book highlights cultural themes—the music of Tom Morello, the presence and story-telling of documentarian Michael Moore (whose reports give a good flavor of events where they were present)—as well comic book-style presentations by Nick Thorkelson, Thorkelson and Paul Buhle, and Paul Buhle and Gary Dumm, each illustrating aspects of the struggle or its historical precedents in visual form. These are joined with a number of photographs from the protests. The point is to ground the collection in the traditions, history and contemporary reality that is Wisconsin, and this is very well done. (The success of conveying this, however, suggests that efforts to replicate events in Wisconsin elsewhere are not easily done, as subsequent events in Indiana, for one, have shown.)
Along with this cultural focus is excellent reporting. Mary Bottari helps to expose the right wing network behind the assault, ALEC, the American Legislative Exchange Council, the organization from which most of the initiatives of Governor Scott Walker originated. Building on the important role that teachers played in Madison in initiating the protests, there is considerable reporting of teacher-related issues: Ruth Conniff provides an excellent report on "The War on Schools," and Matthew Rothschild tells the story of a teacher's suicide in response to Walker's proposed cuts, while Sharon Rudahl visually reports on earlier teachers' struggles in the state. These are joined by Roger Bybee's excellent account of how corporations have been attacking Wisconsin workers over the past thirty-plus years. Ben Manski provides an important view, as one of the founders of the Wisconsin Wave, a broad coalition of organizations that had been building organization to fight austerity programs and assaults on democracy. He says that there were meetings with labor officials and community activists before Walker announced his Budget Repair Bill, talking about how they could mobilize to counteract the obviously up-coming attacks from the Republicans. He says local and state labor leaders were on board, and were supportive from the beginning of the protests, but he didn't expect them to fight as hard, nor as quickly as they did. Governor Walker's assault on collective bargaining forced a reaction quicker than expected. Further though, he reports, that these local labor leaders were undercut by national-level AFL-CIO staffers' decisions. (This is probably true in some regards, but it lets Wisconsin labor officials like Marty Beil of AFSCME [American Federation of State, County and Municipal Employees], and Mary Bell of WEAC [Wisconsin Education Association Council], off the hook, each who was offering Governor Walker massive economic concessions by February 21 in exchange for collective bargaining-related sections being removed from the Budget Repair Bill.)
These background pieces are joined by excellent, first-hand reports from during the protests. Charity A. Schmidt, a doctoral student in sociology and member of the Teaching Assistants Association, a local union of the American Federation of Teachers, provides an eye-witness account of how the protest actually began. Paul Buhle and Frank Emspak report on "Labor, Social Solidarity, and the Wisconsin Winter," noting the emergence of "the persuasive sense of solidarity" throughout the protests and putting it in the context of labor developments, especially public unionism, throughout the state. Dave Poklinkowski, the president and business manager of IBEW (International Brotherhood of Electrical Workers) local 2304, provides another viewpoint from inside the labor movement; he reports that when Tom Morello led the crowd in singing Woody Guthrie's "The Land is Your Land," "Here we were … a huge contingent of traditionally conservative trades workers, singing as loudly as we could so they could hear us inside the capital in Wisconsin and in the streets of Cairo. There were a lot of teary-eyed sisters and brothers."
And then there are a couple of reports, one by me that I won't comment on other than to note it's my analysis about the impact of Wisconsin on the US labor movement, and an excellent analysis by Ashok Kumar and Simon Hardy, writing from the UK, about how Wisconsin fits into the global protests that emerged in 2011.
In short, this is a strong collection that gives a good overview to the struggle.
One important thing missing, however, and I don't know how this was missed, is that there is nothing specifically about the occupation of the Capitol Building itself—and not even any pictures! Having spent a day inside of the capitol with my 10-year old son, I feel a great hole here.
The sounds and sights inside the capitol were incredibly beautiful. The chant, "Whose house?" answered always by a throaty, "OUR house!," was a strong assertion that the protesters believed that the purpose of the government was to meet the needs of the people, instead of the elites and their corporations, and that this subsumed everything else. Likewise, the ubiquitous chanting, "THIS is what Democracy looks like!" validated and valued the act of mass protest itself. Accounts of the unity, the friendliness, the self-organization, the looking out for each other, the signs, posters and the copies of thousands of e-mails from across the US and around the world posted on the walls, the self-organized library, the donated food (my son particularly liked the pizza), the drumming, the people's mic, the public calls by Iraq Veterans Against the War for the National Guard to refuse any orders from Governor Walker to clear the capitol, and then the response to off-duty police, carrying signs saying "Cops for Labor," or the Dane County Deputy Sheriffs ("Deputies for Democracy") are not here—and that's a downright shame. Because, in my mind, it was the Occupation of the Capitol Building that was central, it grounded the protests, and provided synergy to everything else. (You get some sense of the slogans on the signs from Nick Thorkelson and Paul Buhle's contribution, "What's So Funny 'bout Beer Brats and Cheese and Unions?")
John Nichols' Uprising is the work of a proud Wisconsinite, whose heritage comes from deep in the soil. Nichols has been arguably the most visible and articulate spokesperson for popular, grassroots democracy in the state, and has traveled and spoken widely to explain what went on, during and since the initial popular explosion.
… what I saw in Madison, on that February night and across the days and nights of February and March and April, what I see now, months later, as the uprising in Wisconsin continues and fresh variations play out in the Occupy Wall Street movement, is different. The connection was made, and not just at one show or for one night. The high school and college students showed up, again and again, for rallies, marches and vigils. They learned the intricacies of pieces of legislation and political processes. And they did so on their own terms: with the energy, the passion, the steadiness of vision and purpose that reminds older activists that idealism at its best comes with an edge (11).
Nichols contextualizes developments in the state as efforts continuing the struggle for popular democracy. After detailing Governor Walker's attacks, he connects the struggle against Walker back to the efforts of the best of the Country's founding fathers, including the capital city's namesake: "… the truest accomplishment of the protests in Madison and cities across Wisconsin was that they renewed an understanding of citizens not merely as voters in elections but as active censors of an elected despotism that can never be allowed to go unchallenged"(39-emphasis added).
Nichols also made an important observation regarding the labor movement: "… the mass uprising against Governor Walker's action revealed a popular understanding of the necessity of the labor movement that is far richer than even the most optimistic organizer imagined. The bonds are not just economic or political; they are emotional and personal. And when the determination of corporate interests and their political pawns to destroy unions—not by slow cuts, as is so often the case, but all at once—is revealed, all that talk about building coalitions, of creating movements, linking union members with those who have never joined, suddenly moves from theory to practice (p. 45-emphasis added).
Yet, Nichols actually has only a little to say about Labor. What he says is pretty much arguing that Labor should build coalitions and mobilize with local forces in various states rather than put all their efforts in electoral efforts—a point with which I agree—but he does not try to understand what could be learned about the failure of labor leadership in the Wisconsin Upsurge, nor does he delve into the reality of much of the present-day labor movement.
Wisconsin Uprising, which specifically includes contributions by Marxist-inspired and specifically Marxist-identified writers, looks at the Uprising from another perspective. The subtitle announces, "Labor Fights Back," but the reality is that Labor—and I'm specifically talking about most labor organizations—did not fight back, not the first week and especially not after the first three weeks; it was labor activists and individual workers who fought back, along with many people with little or no connection to the labor movement. Ultimately, however, it was labor leaders—particularly at the national AFL-CIO level, according to Ben Manski in It Started—who undercut the struggle, channeling it from the solidarity and exhilaration of the Capitol Building and the streets into the stale, individualistic and uninspiring world of recall petitions and institutional politics.
In his introduction, Michael D. Yates notes some of the problems faced by working people across the country:
High unemployment, enormous and growing inequalities in wealth and income, and endless wars are pestilences that stalk the land, leaving their wakes a litany of woes: homicides, suicides, heart attacks, hypertension, arrests, prison admissions, mental illness, post-traumatic stress disorder, alcoholism, drug addiction, homelessness, family dysfunctions, and a host of others. Job growth is so slow that it will take nearly a decade just to get the unemployment rate down to 5 percent (20-21).
Yates argues that the future for working class people "is at best stagnant, and at worst continuously downward" (21).
The alternative, he avers, is to organize ourselves to change all of this. His most recent contribution to this project—following years of teaching, writing and publishing—is this collection he edited. The book is divided into three thematic sections: "On the Ground in Madison," "Moving Forward: The Lessons of Wisconsin," and "Broadening and Deepening the Struggle." I'm going to concentrate on the first section, because that's where the meat of the collection lies in regard to Madison.
The first section, "On the Ground," includes pieces by Connor Donegan ("Disciplining Labor, Dismantling Democracy: Rebellion and Control in Wisconsin"), Andrew Sernatinger ("Capitalist Crisis and the Wisconsin Uprising"), Lee Sustar ("Who Were the Leaders of the Wisconsin Uprising?"), Dan LaBotz ("A New American Workers' Movement Has Begun"), and Frank Emspak ("The Wisconsin Uprising"). Connor Donegan, discussing Walker's Budget Repair Bill, detailed the extent of the Governor's assault:
It was a monstrosity designed to destroy public sector unions, expand executive power over all government agencies, and slash health and social services by $50 million while restricting eligibility, raising fees, and excluding undocumented workers. He also aimed to privatize public utilities in no-bid sales. Thought the last item was removed before signing, the rest remained intact: the entire public sector will be 'right to work', the state will no longer deduct union dues from paychecks, contracts will expire if union representatives fail to receive support from a majority of members in annual elections, employees' contributions to pensions will increase to half the actuarial costs, and collective bargaining will be limited to wages. Certain university and health care workers will have no right to organize whatsoever. The legislation promised to land a deadly blow to all of Wisconsin's public sector unions, on top of an immediate drop in take-home pay totaling roughly $1 billion each year (31).
Yet, it was Andrew Sernatinger who pointed out that this Budget Repair Bill was a "scam," a pretense to launch Walker's (and ALEC's) political attack: Wisconsin had a $121.2 million surplus when Walker entered office, but he and the Republicans paid "over $140 million to special interest groups in January through tax deductions, credits and reclassifications. They could then say that was actually a budget crisis (keeping quiet that they themselves had created it) and move forward with measures to 'correct' it" (49).
It was the phony budget crisis, and the draconian "fix" to it, rammed down people's throats, that provoked Wisconsinites. The initiative of graduate students at the University of Wisconsin-Madison—themselves already organizing against another proposed attack, efforts to separate the flagship Madison campus from the rest of the UW system—along with students from the nearby Stoughton and then Madison and their teachers, that set off the upsurge.
Lee Sustar provides the most detailed description of the struggle. He discusses in detail the "long war" against Wisconsin labor, although he would have benefited from Roger Bybee's chapter in It Started. Sustar also provides the most detail about how union leaders—especially above the local union level—were to eager to surrender members' wages in order to keep the institution of collective bargaining intact, as well as the unions' income streams. He points out that "the big union operations—AFSCME [American Federation of State, County and Municipal Employees], WEAC [Wisconsin Education Association Council] and the State AFL-CIO—literally pulled the plug on mass protests after February 26 and turned their backs on the occupation of the capitol" (80). And how these union "leaders" channeled the protest into recall elections, first against state senators and then later against Walker.
Sustar claims that "union members weren't confident enough in their own capacity and organization to reject concessions" (82), and he asserts that networks of rank and file labor activists did not exist sufficient to change this. Forty years of "industrial restructuring, a relentless corporate offense against unions and a demographic transition had all but eliminated such rank-and-file union organization in corporate America" (82).
Dan LaBotz follows Sustar, trying to make sense of the developments from Madison. Optimistically, he writes, "… we have a new level of social and political consciousness among tens of thousands of workers in Wisconsin, Ohio, and other states throughout the Midwest and around the country" (96). He sees the Upsurge in Wisconsin as the beginning of the struggle to expand workers' power (97). Unfortunately, LaBotz never considers that workers could have been fed up with labor leaders' passivity, especially in light of such involvement and sustained mobilization, or that once back home, they could have relapsed into the hopelessness incumbent in the face of massive assault by Walker's media barrage. (Post-Walker's re-election, I think we need to be a little more critical of our own analyses.)
Frank Emspak gives another evaluation. Talking about the Teaching Assistants Association (TAA) call for a demonstration at the State Capitol on Valentine's Day in support of the higher education budget, he notes "hundreds and then thousands began to gather at the capitol." He continues:
Many were union members, but at least as many were there not as union members per se but because they were upset with what they saw as an assault on working people. The number of people coming to the capitol, primarily on their own initiative, was unprecedented.
The outpouring was completely unexpected. Just as state union leadership was surprised, so were all kinds of political experts. No one expected an attack on the system of collective bargaining or the existence of unions, and no one expected the response—an uprising of historic proportions.
But on this first day, the organized labor movement was not giving directions… (107-108).
Emspak describes the mobilization of students, teachers, private sector trade unions, all coming to the "people's house," the capitol.
People came unbidden by anyone, perhaps because they felt that, at last, it was time to stand up. People wanted to stand up for something—union rights, decency, and a better way of doing things. One sign said, 'Walk like an Egyptian', referring to the then ongoing uprising in Egypt.
For the first time in at least a generation, the non-union people who came to the capitol saw the physical presence of unionized workers—their neighbors—standing up for union rights, proud and not talking about concessions. Throughout the first days, as thousands were in the capitol building and additional thousands were marching around it, one saw ironworkers, sheet metal workers, plumbers, electrical union members, and teamsters with their big trucks. The effect on the public was incredible, but it was soon dwarfed by the principled and outspoken leadership of the firefighters, who brought their bagpipes. The sound of the bagpipes meant the firefighters were there, and it gave those occupying the capitol a huge psychological lift.
During that first week, we saw and felt the power of working people. Workers had slowed the machine and for a moment disabled it (108-109).
However, despite the incredible mobilization, and even despite slowing the machine, if not disabling it momentarily, the fact is that the Upsurge was unable to stop the Governor's Budget Repair Bill. The struggle failed to block the assault.
"Moving Forward," the subsequent section, features a strong chapter by Rand Wilson and Steve Early. They recognize the defeat in Madison—the loss of most public sector collective bargaining—and look to struggles in right-to-work states to see what can be learned from them, so as to help provide Wisconsin unionists with some ideas of how to rebuild their labor movement.
The third section, "Broadening and Deepening the Struggle," is also very uneven. There is an excellent chapter by Michael Hurley and Sam Gindin that specifically discusses how we have got to work in our unions to transform them into being able to fight. This is an extremely important contribution as it seriously recognizes many of the weaknesses of Canadian and American unions, and suggests how workers can challenge them from inside.
Yet, in my opinion, many of the chapters in this section should not have been included in this book. It's not because there aren't good (most of them are quite good), or that I disagree with them (when, in fact, I agree with most of the positions), but because they really aren't about Madison. Elly Leary's five year old article on "The Roads Not Taken," David Bacon's chapter on immigration, Jon Flanders' chapter on "Fighting Wage Cuts in Upstate New York," Michael Zweig's chapter on US Labor Against the War and its New Priorities Project, Fernando Gapasin's excellent study on building community solidarity in Bend, Oregon, and Michael D. Yates' chapter on the International Longshore and Warehouse Union's (ILWU) struggle against a multinational corporation in Longview, Washington, are each quite interesting and informative, but their connection with Madison is, at best, tangential. And Dave Zirin's chapter on sports, and particularly about how Wisconsin-based athletes supported the protests, would fit much more comfortably in the Buhles' book than this one.
The strength of this collection, nonetheless, is its overwhelming concentration on the labor movement. Yet, rather than being satisfied with this, it tries to shoehorn everything about the Wisconsin Uprising into a "class" bag—and much simply does not fit: the Wisconsin Upsurge was much too broad to accurately be confined by anyone's ideology or political program.
The protest in Wisconsin was not just a Labor fight-back. It was the people of Wisconsin in general who fought back, as the Buhles' collection and Nichols' book illuminates: students, teachers, farmers, service consumers, small business folks, environmentalists, unemployed, kids, housewives, veterans, retired people, workers, cops, firefighters, etc. (And yes, some could be identified as "workers," but most identified moreso on the basis of occupation and/or union membership.) Others participated on the basis of their self-identification, such as women, gays, lesbians, transgender folks, anarchists, communists, socialists, wobblies, Native Americans, African Americans, Latinos, etc. Still others—including infants, as well as some dogs—were dragooned into carryings some signs, indicating extreme dissatisfaction with Governor Walker, his Koch Brother allies, or Republicans in general. Some of this protest was out of self-interest, whether opportunist or "enlightened," such as wanting to ensure that public services would be there when needed. Some of it was based on the emotional but real concept of "solidarity." But as was shown in the Buhles' collection, some of it was over the larger idea of what people understood to be "the Wisconsin ideal," the idea that the State should serve the well-being of its citizens, while leaders were democratically elected. Nichols approaches it via the concept of radical democracy, which he roots in some of the Founding Fathers and the Constitution and "Fighting Bob" La Follette, THE Wisconsin progressive politician of the late early 1900s. So, while people mobilized in great numbers, we cannot assume that there was any one "thing" in common that drove mobilization; the motivations were diverse—and many. Certainly, however, one aspect was, as Lee Sustar shows, people were tired of being screwed over, being attacked small group by small group (such as unionized workplace, by unionized workplace), and here they were all under attack and joined together to fight back.
This suggests the ideological weakness of the Yates collection: these writers try to cram what happened into a "class" framework, when it was really much broader. Yes, there were conscious class understandings there, but that was only a limited part; it certainly was not the whole, as the Marxists assume.
The problem here is that Marxists accept Marx' general dichotomous distinction that there are two "classes" of people in any social order, workers and bosses (using terms that are more contemporary, albeit less precise, than "proletariat" and "bourgeoisie"). Therefore, people are said to be in one class or the other. And, supposedly, they act accordingly. The only problem is people don't only act on their understanding of their position in production relations at work. People construct personal identities—each having a number of them, based on the differing roles they play in their society and which can change over time (daughter, son, wife, mother, father, parent, worker, teacher, electrician, etc., etc.), and then combine them differentially in response to their understanding of the situation in which they find themselves—and then act socially on the basis of this personal understanding developed in any particular situation.
Now, I'm not saying that people cannot develop what could be called a "class" identity, and act accordingly, but it must be constructed; for most people, it does not exist automatically, as Marxists generally assume. What we saw in Wisconsin could more accurately be understood as the public emergence of at least some of the 99%.
---
However, there are themes that didn't get sufficiently drawn out. Part of that was because Nichols and the editors of the other two volumes appeared to be unclear on what they were trying to accomplish: was each of these an account of the Uprising itself, or were they using the Uprising to argue that it signified the "rebirth" of the labor movement? I think all three were trying to do the latter, especially Nichols and Yates, but that meant that some key factors were lost about the Uprising itself that would have made the story more complete. (These pro-people accounts did not include any real understanding of conditions that might lead to, say, Scott Walker's re-election in June 2012.) At the same time, because of the specificity of Wisconsin, how much could be generalized to Labor in other states?
Let me simply make a few comments that are merely suggestive, and not thought to be complete.
One key sector was ignored—farmers—and agriculture is an important sector for Wisconsin, as the movement was not confined to Madison, Milwaukee or other cities. Actually, I think the larger term of "small town and rural Wisconsin" should be used rather than simply confining it to "farmers." Yes, there were mentions of farmers by Nichols, but he didn't go any deeper than that. However, the attacks by Walker also hit the small towns and rural Wisconsin as a whole, and it was noted that attacks on the school system were attacks on these areas, as schools are often social centers of these areas, but there was no real examination of them. Walker's attack on the University of Wisconsin system also threatened many of these areas. The long-time attacks on the agriculture and the food processing industry, often located in these smaller towns, have harmed many of these areas over the past 20 or so years, and Walker's attacks on social services in these areas have been especially hurtful. The protesters came from across the state, and many came from these smaller towns and rural areas. That these folks are generally more conservative (certainly than many Madisonians!) suggests that outreach to these areas might be more fruitful than commonly believed, and certainly it would be interesting to try to understand the impact of their experiences on them.
Another sector that deserves much more attention is the media. Neither of the two collections explicitly focused on it, while Nichols did to a certain extent. Yet his reporting was just descriptive, delineating between corporate and alternative media and their respective coverage, and no analysis of the impact of the media on protesters—or on bystanders. Yet for most people, the corporate media is important in providing "meaning" to social events, especially those outside of one's personal experience—and it's what many turn to so as to understand what is going on. So, it is important to understand how the media is framing the story, and working with them to advance affirmative reporting, while undercutting and challenging negative reporting. (And having an idea how to challenging media "bombing" when paid advertising gets dumped in buckets, as was done prior to the election in June 2012!) We also have to expand the reach of alternative media, which did provide good reporting—especially WORT Community Radio in Madison, and Workers Independent News, also based in Madison but with a national audience—so as to get people to check out more accurate news than what the corporate media generally serves.
Still another aspect that would seem to deserve attention—although it might seem initially a reach—is the environment. There were Green Party members and environmentalists there with everyone else, but there seemed to be no efforts to try to incorporate ecological thinking (beyond recycling) into the larger picture, and certainly not to try to include an environmental perspective into any future visioning that was done; most of what was "advanced" was merely a return to the past, as in demands to "restore the Middle Class!" Unfortunately, climate change is upon us and we cannot return to the past, and in fact, we have to crease a totally new vision of an ecologically- and economically-sustainable society for future survival.
This is the larger issue here: what is our vision of the future? This, in my opinion, is one of the most important issues facing us: what is our vision of the future?
However, rather than just complaining about what was not even considered, and therefore was outside of the chosen parameters of the books, I want to comment further on two things that I think should have been addressed as they certainly were within these parameters. While there were descriptive accounts of what labor leaders did or did not do—Lee Sustar's piece on "Who Were the Leaders of the Wisconsin Uprising" in the Yates collection being quite detailed—there was no analysis of Labor in general. What I'm arguing should have been considered specifically is the form of trade unionism that has existed since the beginning of unions in this country but which has predominated in the United States since the CIO threw out the left-led unions in 1949: business unionism. This is unionism that is confined to only improving the wages, benefits and working conditions of its own members, regardless of the impact on other workers or anyone else. (It's ok if others benefit from Labor's actions, but that is not the reason Labor acts the way it does.) In other words, this form of unionism is based on collective individualism, and replicates the "I've got mine-screw you, jack" approach that we have in the larger American culture.
This business unionism is accompanied by a hierarchical power structure within union organization, meaning that decisions are not generally made by the base membership and carried by the tops, but rather decisions are made by the tops and inflicted upon the base, whether those of the "rank and file" want it or not. (While less true at the local union level, it certainly becomes truer the further one goes up each union's hierarchy.) It is a form of unionism based upon, and ensuring, member passivity. Yet, if labor is going to survive, we absolutely must get our members to reject this passivity, and to act assertively, on the shop floor as well as in the union hall, as well as in the larger social order.
This ties in with Labor's lack of participation with other movements as an equal, based on collective decision-making, and positive interaction. Ben Manski (in the Buhles' collection) argued that, unusually, the labor leaders in Madison were much more involved in broad social justice projects than is common elsewhere; Manski argues that Labor took the turn away from mass mobilization that it did because of AFL-CIO leadership from outside Wisconsin. His argument makes sense, and he obviously knows much more about the specific internal discussions/interactions than do I. Two points, however: one, my considerable years of experience show that even where leaders are involved with other social justice groups, this almost never involves rank and file members. There is almost never any long-term education or leadership development (beyond training people to act as shop stewards in the workplace) in these business unions that might have prepared rank and file members to think critically about the issues, present their opinions and demand a say in union decisions. Thus, while individual labor members activated themselves to participate and get involved—and this was one of the most inspiring parts of the Upsurge—they had no pre-existing networks or organizations by which they could obtain accurate information, and force union leaders to take their concerns and opinions into consideration. (While there was an effort to build these within the five or so weeks of the Upsurge, the emotional excitement of the protests, and the efforts to build the Upsurge, precluded serious and dispassionate discussion that could activate such organization.) This meant that when decisions were made, they were made by leaders who were overwhelmingly consumed by protecting their union's institutionalized position, regardless of impact upon others, including their own members. (Now, to be clear, I am not saying that protecting the union's institutional position should not be considered; I am saying, however, that it is one of only a number of considerations that should be considered, and it should not automatically be the most important, unless the members consciously decide to make it so.)
This not only had an impact on internal union decisions; it affected the entire Upsurge. Because unions have a firm base among working people—which is important especially in struggles that involve unions, collective bargaining, etc.—decisions of Wisconsin unions basically over-ruled every other group's decisions, no matter how pertinent, cogent, well thought-out, etc. In other words, unions threw their "weight" around, implementing decisions by union leaders without serious input that I can see from rank and file members, and regardless of impact on individual group participants or the movement overall. Thus, institutional processes of the labor movement overwhelmed the rest of the movement and—as the recall strategy shows—to its detriment.
My analysis: business unionism was an overwhelming failure in Madison, and offers no way forward from here. If labor leaders could not take things outside of the channels established by political institutions, with the kind of demonstrated political support that multiple assemblies of 150,000 people can give in a city of 220,000—whether to launch a local general strike, or to occupy the freeway near Madison—then Labor is simply is incapable of providing the "muscle" that working people need; confining our struggles to established processes, especially at times like this, defangs the power of our challenge.
My argument is that we've got to educate our members and let them decide if business unionism should be the path forward, or should we adopt a "social justice unionism" approach—based at the point of production, distribution or exchange—and where the labor movement is seen as participating in the struggle for the oppressed and dispossessed, not in some paternalistic way but as one working with others in a respectful coalition for the good of each.
This is perhaps the key thing missing from any of these books: a critical examination of the internal processes of the labor movement. The US labor movement is in horrendous shape: it has shrunk from approximately 35 percent of all non-agricultural workers being in unions in 1954 to today, where about 12.1 percent are members. In the private sector, only 6.8 percent of workers are unionized—a level below that of 1900! We have serious issues we need to address. Celebrating an incredible Upsurge, which was wonderful, is not the way to overcome serious internal problems that must be addressed if Labor is to survive through the rest of this century.
----
Post recall election of June 5, 2012: As probably all know, Scott Walker won his recall election, and this will have serious, deleterious, long-term affects on Wisconsin, Labor and the rest of the country. This will need more examination than can be done here.
However, Walker's election was served by a seven-to-one funding advantage. From second-hand reports, most of this money was spent in corporate media buys. Two things I would argue need to be examined, that wasn't in these books: first, rural and small town Wisconsin needs to be specifically considered, as I argued above. Even though considerable numbers of people who made it to Madison were from these areas, and were oftentimes joyous participants, when they returned home, they returned to much more conservative areas, where my guess is that they were socially isolated and individualized. That can be scary in areas where mutual sharing and cooperation is deemed necessary for long-term success, if not survival. They were also returning to areas that were overwhelmingly if not totally white, where racial diversity is generally thought of as a threat, instead of as a strength—and accounts I've seen suggest Walker framed his message as being against "Milwaukee," which served as a code word for "African Americans." Additionally, social values portrayed as "patriotic," such as uncritically accepting whatever elected officials say, have been challenged in the more urban areas, but my guess is they haven't been in the rural areas, and that the corporate media buys were specifically used to motivate voters with these traditional "patriotic" values.
My analysis suggests that the Right's advantage is in the ability to reproduce "traditional" American values and attach them to particular politicians. People from rural areas generally come from monolithic, white communities that are taught the (unchallenged) values of belief in God and country, without hearing alternative viewpoints. Tied into this is the belief that our politicians are elected because they want to "serve" all of their constituents; that they are willing and/or able to subsume their personal and political interests below that of the public; and that they advance on the basis of "merit." This is understandable; after all, it's the American experience—at least as it is portrayed by the textbooks chosen by conservative State Boards of Education, such as from Texas. Likewise, I think the left has got to get very serious about understanding how the media actually works. Those millions of dollars in media buys had an impact, and one that overcame specific, extensive mobilization over a significant period of time. Why was the media advertising able to overcome the work done on the ground? We've got to understand what's going on.
I think we in Labor and/or the Left must directly attack this media megaphone that the Right so adroitly utilizes. We have to seriously understand the media and make media education a priority among our educational efforts, and train people to go out and train others, both in our organizations and outside, so as to weaken the Right's hold on people. This includes not only teaching people about the media itself and how it "works"—that there is no common definition of "news," and that "news" is what those highest in the organizational hierarchy of a news organization decides what is news; or that the audience for "news" is not "old" people who read, but advertisers—while also introducing people to the burgeoning field of "alternative" media. This obviously is a long-term project, but as events in Wisconsin have shown, it is absolutely necessary.
In short, three interesting books that bring a range of perspectives to help us understand the Wisconsin Uprising. At best, they give us a good understanding of what went on and the passions inspired. They allow us to identify where we are weak, especially in allowing hierarchical union structures to override the democratic will of members during a time such as an upsurge like this one; the need to educate and build "solidarity structures" on the ground to provide bottom-up leadership in situations like this seem obvious. This ties into long-term educational programs for activists.
To me, however, the larger point is that we cannot be content to wait for future upsurges from below, while we hope there will be more—and soon. We have to learn from this one, so as to try to overcome identified weaknesses, and we need to develop horizontal networks of activists so as to enhance the capabilities of "ordinary" union members to join with and advance all struggles as we try to build a new world out of the ashes of the old.
____
Kim Scipes is an Associate Professor of Sociology at Purdue University North Central in Westville, IN, and Chair of the Chicago Chapter of the National Writers Union, UAW #1981.