Illinois moving on out!... Chicago's drug gang murders are one part of the story of the state's dysfunction...
John Kugler - January 04, 2017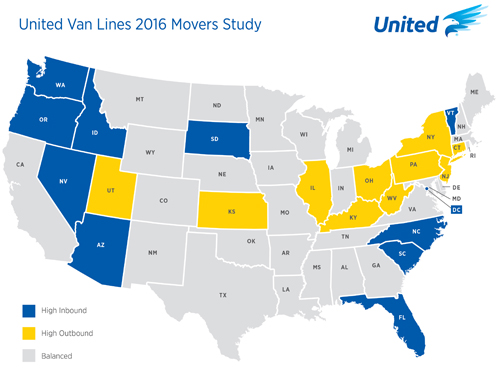 The map tells part of the story about why people are leaving Illinois.In the 40th Annual National Movers Study, which tracks customers' state-to-state migration patterns over the past year. Illinois is moving up the Rankings to the number two spot of the top states which people were moving out of. Illinois (63 percent) moved up one spot on the outbound list, to No. 2, ranking in the top five for the last eight years. The study is the latest in bad news for the state in addition to the 72% increase in the Chicago murder rate in 2016. Shootings were up more than 88% that is using the 762 murder statistic widely used by mainstream media.
There are statistics from more reliable sources that in 2016 murders are actually 795 and most likely will be over 800 when some of the people that were shot in 2016 die of their injuries. The true statistics will be available at the end of January or mid-February or even as far out as early March.
"Chicago murder rate is record setting - 4,331 shooting victims with 762 murders in 2016. If Mayor can't do it he must ask for Federal help!" President-Elected Donald Trump tweeted, a day after the Chicago Police Department released year-end crime stats showing homicide numbers that were more than those of New York and Los Angeles combined.
Growing murder rate and a growing exodus from Chicago spell bad news for the future of public services. Migration patterns have a large influence on public sector work and resources. Less people means less taxes to collect. Less taxes means there is less money to provide services. In public education, migration has a more immediate effect of less students than services needed.
[National Movers Study Press Release]
UNITED VAN LINES' ANNUAL NATIONAL MOVERS STUDY SHOWS RETIREES LEAVING SAND AND SUNNY BEACHES FOR WESTERN MOUNTAINS South Dakota Ranks #1 Moving Destination for First-Time, Bumping Oregon to #3 ST. LOUIS – Jan. 3, 2017 – South Dakota narrowly overtakes Oregon, which held the top spot for the previous three years, as the nation's "Top Moving Destination." This is the first time South Dakota has held the no. 1 spot. Vermont inched out Oregon for the no 2. position, with Oregon rounding out the top three. Those are the results of the United Van Lines' 40th Annual National Movers Study, which tracks customers' state-to-state migration patterns over the past year.
Retirees are continuing to move to the Mountain and Pacific West. The Western U.S. is represented on the high-inbound list by Oregon (67 percent), Idaho (65 percent), Washington (58 percent), Nevada (58 percent) and Arizona (57 percent). Of moves to Oregon, the highest ranking Western state, a new job or company transfer (53 percent) and retirement (19 percent) led the reasons for most inbound moves.
The Southern states also saw a high number of people moving in with 53 percent of total moves being inbound. United Van Lines found the top reasons for moving south included company transfer/new job, retirement and proximity to family. The Northeast continues to experience a moving deficit with New Jersey (63 percent outbound), New York (63 percent) and Connecticut (60 percent) making the list of top outbound states for the second consecutive year. Pennsylvania (56 percent) also joined the top outbound list this year. "For 40 years, United Van Lines has been tracking which states people are moving to and from. We also survey our customers to understand why they are moving from state-to-state," said Melissa Sullivan, director of marketing communications at United Van Lines. "As the nation's largest household goods mover, the data we collect is reflective of national migration trends." "This year's data clearly reflects retirees' location preferences. We are seeing more retirees than ever decide to relocate, and as a result, new retirement hubs are popping up in Western states, said Michael Stoll, economist, professor and chair of the Department of Public Policy at the University of California, Los Angeles. "Interestingly enough, these retirees are leaving at such a fast pace that the movement of millennials to urban areas in the Midwest and Northeast is being overshadowed." Regarding why people are moving, the Mountain West led the way with retirees, with one in four movers indicated they chose to move to this location for retirement reasons. Regions which saw the most inbound moves for company transfers included the Midwest (63 percent) and Pacific West (62 percent). The region with the largest exodus of residents due to finding jobs elsewhere was the southern U.S. (62 percent). Across all regions, nearly one in five of those who moved in 2016 moved to be closer to family.
United has tracked migration patterns annually on a state-by-state basis since 1977. For 2016, the study is based on household moves handled by United within the 48 contiguous states and Washington, D.C. This study ranks states based off the inbound and outbound percentages of total moves in each state. United classifies states as "high inbound" if 55 percent or more of the moves are going into a state, "high outbound" if 55 percent or more moves were coming out of a state or "balanced" if the difference between inbound and outbound is negligible. Moving In: The top inbound states of 2016 were:
1. South Dakota
2. Vermont
3. Oregon
4. Idaho
5. South Carolina
6. Washington
7. District of Columbia
8. North Carolina
9. Nevada
10. Arizona South Dakota is the most popular moving destination of 2016 with nearly 68 percent of moves to and from the state being inbound. The state has continued to climb the ranks, increasing inbound migration by 23 percent over the past five years. New to the 2016 top inbound list are South Dakota at No. 1 and Arizona at No. 10 with 68 and 57 percent inbound moves, respectively. Moving Out: The top outbound states for 2016 were:
1. New Jersey
2. Illinois
3. New York
4. Connecticut
5. Kansas
6. Kentucky
7. West Virginia
8. Ohio
9. Utah
10. Pennsylvania In addition to the Northeast, Illinois (63 percent) moved up one spot on the outbound list, to no. 2, ranking in the top five for the last eight years. New additions to the 2016 top outbound list include Kentucky (58 percent), Utah (56 percent) and Pennsylvania (56 percent).
Balanced
Several states gained approximately the same number of residents as those that left. This list of "balanced" states includes California, New Mexico and Delaware. Delaware appeared on the balanced list for the second consecutive year. ###
About United Van Lines
United Van Lines is America's #1 Mover®, offering a full range of moving solutions from do-it-yourself to full-service. With headquarters in suburban St. Louis, United Van Lines maintains a network of 400 affiliated agencies. For more information about United Van Lines visit UnitedVanLines.com. If you are interested in specific information for your area, please contact Melissa Sullivan at melissa_sullivan@unigroup.com References
"2016 Final Totals" (2017, 3 January) HeyJackass! http://heyjackass.com
"2016 National Movers Study" (2017, 3 January) United Van Lines' 40th Annual Movers Study. https://www.unitedvanlines.com/contact-united/news/movers-study-2016
"762 Murders. 12 Months. 1 American City" (2017, 2 January) Baldacci, M, Hernandez, S. and Wills, A. (Reporters) CNN. Cable News Network.
http://www.cnn.com/2017/01/02/us/chicago-murder-rate-2016-visual-guide/
"Chicago's Murder Rate Soars 72% in 2016; Shootings up More than 88%." (2016, April 1) Madhani, A. (Reporter) USA Today. http://www.usatoday.com/story/news/2016/04/01/murders-shootings-soar-chicago-through-first-three-months-2016/82507210/
"Chicago's 'Out of Control' Violence Produces 762 Homicides in 2016" (2017, 3 January) Gallagher, J.J., and Shapiro, E. (Reporters). ABC News. ABC News Network. http://abcnews.go.com/US/chicagos-control-violence-produces-762-homicides-2016/story?id=44402951
"Trump to Rahm: Get Chicago Violence under Control or Feds Will Step in" (2017, 3 January) Fox News. FOX News Network. http://www.foxnews.com/politics/2017/01/03/trump-to-rahm-get-chicago-violence-under-control-or-feds-will-step-in.html