BOARDWATCH: August 24, 2016 meeting of the Chicago Board of Education hears from dozens of angry parents and teachers denouncing the latest round of cuts and the attacks on special education services...
Marybeth Foley - August 25, 2016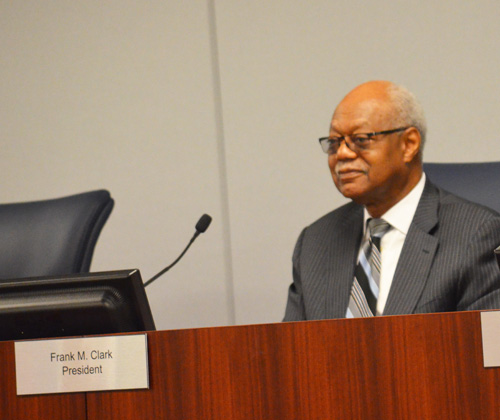 Frank Clark, a retired CEO of Commonwealth Edison, has been president of the Chicago Board of Education since being appointed by Rahm Emanuel in July 2015. Above, Clark is seen presiding over the August 24, 2016 meting of the Board. Substance photo by George N. Schmidt.The Chicago Board of Education met for its monthly meeting on August 24, 2016, with six of the seven members of the Board present. The Board's meeting had to approve the main item on the agenda, which was the "Final Budget" for the 2016 - 2017 school year. Although the Board is supposed to hold hearings and vote on its "Final Budget" for the next fiscal year prior to the end of the prior fiscal year, the Board of Education of the nation's third largest school system once again delayed the hearings and the vote into August, rather than hold them in June (the fiscal year ended June 30, 2016; the new fiscal year began on July 1, 2016).
The August 24, 2016 regular monthly meeting of the Chicago Board of Education held at Chicago Public Schools (CPS) headquarters at 42 West Madison Street featured many public participation speakers concerned about the proposed FY 17 budget that was going to be voted on Wednesday. Many asked for the use of surplus TIF (Tax Increment Financing) funds for the schools. Fifty-five public participants were signed up to speak, but only 34 actually did speak.
Roll call indicated the following members were present: Mark Furlong, Board Vice-President Jaime Guzman, President Frank Clark, Dr. Mahalia Hines, Gail Ward, and Reverend Michael Garazini, S.J. Absent was Doninique Jordan Turner. Chief Executive Officer (CEO) Forrest Claypool, Chief Education Officer (CEdO) Janice Jackson, and Ronald L. Marmer, Chief Counsel were also present.
CEO Claypool began the meeting by relating that the property tax levy was included in today's budget, as well as the equity grant from the state that the Board called "20 for 20" and $250 million for teachers' pensions. He stated that we were in a "much worse situation a year ago" (when Claypool was appointed CEO in July 2015 by Rahm Emanuel following the disgrace and indictment of former CEO Barbara Byrd Bennett).
Claypool stated that six public hearings were held last week. He added that the budget is balanced, it reduces spending, and it provides long-term stability. He said that the teachers work hard and we are trying to give the best raise we can. He also said we remain committed to putting children first. He concluded by saying that we are still at the bargaining table and hope that there will be no strike.
Next, CEdO Janice Jackson named corporate sponsors of the Board, including Aramark. She also said that she would report on the School Quality Performance Rating (SQPR) system. She explained that today there would be one modification to the SQPR, "a new growth metric." The ACT Growth Differential will apply to entering high school freshman when they reach 11th grade. She emphasized that the SQPR is based on growth. She said that more money will be spent on Educational Technology and problem solving, etc. She mentioned three Board aims: improve academic quality, establish a sound fiscal budget, and restore public trust. She added that some principals who "took schools from Level 3 to Level 1" will be new network chiefs.
The next speaker, Alfonso Dehoyos-Acostas, Chief Administrative Officer (CAO), reported on the results of lead testing. He said all CPS schools were tested. He said that when a school is above the Environmental Protection Agency (EPA) actionable level, a plastic bag fixture covers the device (such as a water fountain) that is not to be used. Other actions to be taken include talking to the building engineer, analyzing each situation, coordinating actions with the principal and perhaps flushing pipes, cleaning aerators, and replacing fixtures and/or piping. He said of the schools that had been tested since September 2015, 184 were found actionable, including 94 drinking fountains and 16 sinks. He added that there are action plans for all 184 that were found to be actionable. He said that on Thursday, September 13, 2016, the new round of testing will begin, first with K-3, the rest of elementary, and then high school.
Board Member Reverend Garanzini wanted to know, "Why did you wait till the opening of schools to do this?" CAO Dehoyos-Acostas responded that we were advised by EPA to test when the devices were in use. Board Member Dr. Hines added that we plan to monitor this. CAO Dehoyos-Acostas replied that retesting is planned for all the schools and we will continue to do a form of testing. Board President Clark asked, "Will the children be in a safe environment when they start school?"
Next, Matt Walter of the Finance Department gave a Power Point presentation about the Fiscal Year (FY) 17 Budget beginning with a recap of the FY 16 Budget. He said the budget was balanced and included $255 million in "scoop and toss," debt reserves, and $480 million in unrealized revenue. He stated that the FY 17 budget included $680 from the state and he named the items. He added that the closure of the $300 million gap is real and that there was over $550 million in "expense reduction" since the the start of FY 2016.
Board President Clark then remarked that we must reduce costs, adding that CEO Claypool was "great" in Springfield.
Matt Walker went on to name the percentage of the budget was that included salaries and teachers' pensions. He stated that the $266 million in bonds will help fund the FY 17 Capital Budget. He then mentioned that the property tax came to $245 for the average home and that amounted to 67 cents per day. He said the TIFs were also funding the Capital Project and that the TIF surplus was a one-time revenue source and that it changes from year to year. Board President Clark noted that we need permanent solutions.
The subject then switched to diverse learners and the funding of every Individualized Education Program (IEP) first. CEdO Jackson said that diverse learners are programmed first and then the rest of the school is programmed. She said principals have a process to appeal. Board Member Reverend Garazini then remarked that one issue is transparency, and by combining funds, people can't see which is which. He asked, "How do we get around that?" Mark Walker responded that we worked to clarify that.
Board President Clark then explained the procedure to schedule office time with board members or ask questions by going to www.cpsboe.org.
Board Secretary Estela Beltran announced that the next Board meeting would be Wednesday, September 28, 2016, at 10:30 a.m. once again at the Loop Office. Sign-up to participate will take place beginning at 10:30 a.m. on Monday, September 26, 2016, and end on Tuesday, September 27, at 5 p.m. or when all 60 slots are filled, whichever comes first.
Alderman Susan Garza of the Tenth Ward spoke first. She said she was formerly a counsellor for 22 years and had no aide. She said she was offended when the Board said "Children First" because she said the Board's actions don't reflect that. She mentioned that in one school there were 41 in one class last year, 39 in kindergarten with one teacher and no aide, and a 24-year teacher was lost. She charged that CPS has created a "culture of distrust." She added that she doesn't believe a word that comes out of the Board's mouth anymore. Members of the audience murmured in agreement.
Garza also told about Marsh Elementary where diverse learners had a substitute teacher all year. She named the Board cuts. She said that of 17 teachers from Gallistel and Addams who applied to go to the new consolidated school, only three were hired. She concluded, "Our students in Chicago deserve better. We're tired of being lied to."
CEdO Jackson replied that six teachers chose not to leave Gallistel or Addams.
Remarks that the "teachers follow students" guarantee was not being followed causing some teachers to have no positions and the relation of per-pupil budgeting to "Hunger Games" followed. Board President Clark agreed, "There's a credibility gap."
Next, Maria Moreno, new Chicago Teachers Union (CTU) Financial Secretary, expressed deep concerns about the budget and Mayor Rahm Emanuel's mantra that it's "up to the teachers to sacrifice." She said the cuts were causing an exodus. She talked about conditions when she had been a clinician. She mentioned the now proposed budget and the lie that Rahm's and Claypool's cuts would have a minimum impact on the classroom. She added that this year, layoffs are hitting African-American teachers disproportionately. She said racist policies impact kids, too. She added that Special Education students are the most vulnerable students. She said the Board doesn't pursue Special Education teachers, but they are out there. There were murmurs of "that's right" from the audience. She asked the Board to follow the City Council proposal of Aldermen Garza and Cardenas and declare the entire TIF surplus available.
The first public participant to speak was Angela Cunliffe, a teacher who is happy with her new school but wanted a hearing soon in regard to her former principal and school. She asked that the Inspector General conduct an investigation and that credence not be given to students' comments intended to get teachers in trouble.
Zerlina Smith asked the Board, "How many of you have grandchildren?" She commented on the beauty of the room where the Board meets. She said attendees must pay for parking to come down here and must take time off. She asked the Board, "Why not go to one of the buildings that you closed?" to hold Board meetings. She added that the Board should have brought their old furniture from their old office. She concluded, "Look into your own pockets and make some cuts."
Tammie Vinson, a Special Education teacher in the Austin area asked, "Why are people leaving Chicago" Why are people being forced out?" She said to the Board, you're expanding on bad policies from years before, we have shared more than enough sacrifice and we are also residents of the city and taxpayers.
The next three speakers praised charter schools. Danielle Anderson wanted to be the first in her family to hold a college degree. She said she fell in love with Noble because she said it has a college-focusing atmosphere. She has now accepted a position at DRW Prep in North Lawndale. Evelyn Lenore's grandson, Julian, attends Baker College Prep, a Noble School. She herself was born in the Chicago and lived all over the city. She said that the parents of this grandson were addicted to drugs so she took responsibility for him. Another grandson was murdered in the yard of his home. She asked that the budget at Baker not be cut. Chelsey Billingsley, a Bulls College Prep Noble Network graduate, grew up in Englewood. She said she was abused, demeaned, and lived in a shelter, but she is in college today because Bulls College Prep prepared her for college.
School librarian Nora Wiltse then spoke of the loss of school librarians and libraries. Where once there were 454 librarians, she said, there were 217 three years later, and now there are 157.
She said that four years ago 80 percent of the schools had libraries and that you need libraries to have access to information. She added that all CPS schools should have a librarian. She asked the Board to cut the networks, pay off the debt, and renegotiate the bank debts.
Another librarian, Megan Cusick, talked about the relation of the budget to librarians. She mentioned that digital skills and information and important to finding jobs. She added that because of the loss of librarians, students are reading fewer books. She also said that schools are ineligible for a number of grants without librarians and libraries.
Jelani McEwen of Illinois Network of Charter Schools (INCS) told of the charter school graduates marching in the Bud Billiken parade and added that charter schools are all public schools.
Andrea Calhoun, of Pierce Elementary, asked that Board President Clark sign a bill from Alderman Burke that the TIF surplus would go to the schools. She said that the cuts are impacting classrooms. Board President Clark gave an answer but not the answer Calhoun wanted.
Huu Nguyen said she was deeply troubled that, "You believe the cuts will not affect the classrooms." She said the letter-writing campaign from earlier this year was a short-term fix. She asked Board member Mark Furlong, "Will you support the Public Education Revitalization Act?" He didn't answer her.
Marquita Banks whose children attend Holmes Elementary School in Englewood, said she is now with Stand4Children and she has learned how to help her children in school. She asked the Board to take the Stand for Children pledge to fix the budget mess. Carolina Espinosa of the UNO Tamayo Charter school expressed satisfaction with the United Charter School Network (UCSN), the new name for UNO charter schools. She noted that charter schools are public schools, that charter schools are 16% of CPS enrollment, and they deserve equitable funding. Leticia Acevedo of Brighton Park spoke in Spanish that was translated. She said she has two students in the United Neighborhood Organization (UNO) charter school network and asked for equal funding for charter schools. She said she is satisfied with the high quality there. She said that sometimes charter school students get short-changed. She added that charter schools are public schools, too, and deserve equitable funding.
Gabriel Sheridan in her 19th year at CPS has taught for all 19 years at Ray Elementary. She said she also grew up in that neighborhood. She now teaches second grade and says she loves it. She added that her new principal is talented. She mentioned that the school is now down to two inclusion teachers and that special education students do not always get the minutes they deserve. CEdO Jackson remarked that Special Education numbers are going down. Sheridan replied that the new principal had inherited the current conditions.
Krista Lee told the Board that she teaches second grade at Mollison Elementary in Bronzeville. She said that Mollison is a new International Baccalaureate candidate school. She said that the school lost $400 thousand with the budget cuts. She said that the schools does not have the resources or a music teacher. They finally do have a library that they can use, but, she added the library has "only three operational computers" -- but no tech person. Only 50 percent of the computers in the school itself are operational, she went on. She likened this to "Death by a Thousand Cuts." She added that there were 37 children in kindergarten with no aide. She said "When I look at Mayer and Lincoln Park, they have..." and was not allowed to finish.
Marc Kaplam, from Uplift, said the Board was appointed by Mayor 1%. He spoke of hocus-pocus with the finances. He said lumping Special Education with regular students would lead to cuts. He mentioned that the TIF surplus is available. He concluded, "You were appointed to act in support of children."
Anna Swiatek of Jane Addams Elementary on the Southeast side spoke of Rob DePrimo, a history teacher who was let go and now the school has no history teacher. She said he did creative things, such as having the children take off their shoes, closing the windows, discovering how hot it was, exchanging shoes, undoing laces, and putting the shoes back on and opening the windows again to learn how hot and smelly it was in sweatshops. He used this creative approach with other topics and made history real. She said Rob DePrimo needs to be rehired.
Rodney Estvan, of Access Living, presented the 31-page Access Living budget analysis to the Board. Noting that Board members had met with his group, he said they needed to note what they agree that CPS is doing right. He added that block programming is death for Special Education students and he noted the usual lack of transparency in the budget's presentations of special education -- and the loss of funding for Special Education students. He added that there are numerous fiscal problems with this district.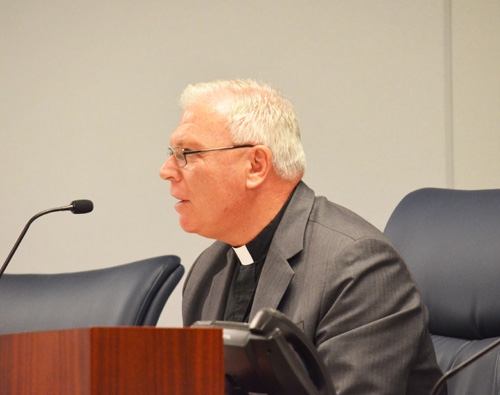 Rev. Michael Garanzini joined other Board members in refusing to support the school revitalization act in front of City Council. Substance photo by George N. Schmidt.Karen Zaccor said there should be no cuts at all and that the Board needs to invest in students. She said the school budgets were cut after 50 schools were closed. She stated, "We were not fooled when you said no cuts to the classroom." She added that the only solution was to increase resources. She asked that the TIF surplus be redirected to the schools. She also asked Board Member Reverend Garanzini, "Will you support the Public Education Revitalization Act?" Like the other Board members who received this question, he did not respond.
Curtis Harris spoke of students with autism and severe learning disabilities. He said schools have suffered from years of lack of Special Education funding. He added that Special Education students will fall through the cracks.
Patricia Boughton, retired after more than 20 years of teaching, said she herself was a CPS K-12 product and her children were, too. She said that she was here as a taxpayer and was concerned about the effects of budget problems and layoffs. She mentioned that children suffer many problems because of budget cuts. She added that the cuts affect all children in classrooms, not just Special Education. She said that the violence children suffer resembles Post Traumatic Stress Disorder (PTSD). She asked the Board to reconsider the cuts.
Sarah Hainds of the CTU stated that CPS was wasting money by outsourcing with little accountability. She mentioned how bad outsourcing is and said,"It's your job to ask tough questions." She said the contracts were deficient in details and yet the Board turns a blind eye to these contracts.
Pavlyn Jakov, also of the CTU, said that new school construction is more for white students. He stated that buildings were built where there was room at nearby schools. He mentioned that Boston, Tampa, and St. Paul spend more on Special Education students and that this district needs to spend more on Special Education.
Anthony Jackson, a parent of four CPS students, talked about the impact of budget cuts, inadequate books, hand-me-down computers, and confused priorities. He stated that taxpayer dollars are being spent on bike lanes and flowers downtown. He said that we will all get old someday and children will become productive citizens or criminals. He then asked Board Member Dr. Hines to support the Public Education Revitalization Act.
She replied that she hadn't read it yet.
Laura Nieto of Burroughs said that cuts impact the whole community leading to increased rates of violence in the community. She said that the cuts are unjust and unnecessary and schools should be put first. She mentioned that Alderman Cardenas ordinance would send TIF dollars to classrooms and that she agrees with him. She then asked Board Member Guzman to sign this letter: the Public Education Revitalization Act.
He replied that he was happy to go out to Burroughs.
Natasha Carlsen said there is no funding formula in the Board's Special Education budget. She said that the Board refuses to acknowledge facts. Addressing CEdO Jackson, and CEO Claypool, she stated that the media had been manipulated with a false narrative about caring for children. She concluded that 41 out of 50 alderman had supported the Public Education Revitalization Act, but no one here will sign.
Ralph Affrunti, President of the Chicago and Cook County Building Trades of the AFL-CIO, said that all children deserve schools that are safe and not over-crowded. He mentioned that the average school building is 75 years old, that the boilers are old, that the roofs are going to cave in, that air-conditioning is needed, and that billions of dollars in deferred maintenance is needed at CPS. He added that capital plans are vital to keeping a system moving forward.
Brendan Daley, Local School Council (LSC) Chair at Lenart and parent of a fourth-grader and an eighth-grader there, said that no significant repairs had taken place at Lenart in the last few years. He said a roof is needed (the roof has been patched but not repaired), trash cans are being used to catch water, asbesto tiles need to be replaced, exterior lighting is needed, there are no security cameras, plumbing needs to be replaced, and the lockers are missing handles.
Willie Osborne, retired from the Chicago Transit Authority (CTA), lives two blocks from Ashe School where he has been an LSC member since 2014. He said he is involved with Stand4Children. He said that first day attendance at the school is stressed. He asked the Board, "Will you stand with me to fix funding?"
Vanessa Fawley, a parent of three, said one had spent three years in a blended grade and could not write his name. She mentioned 31 children in a kindergarten class. She said that my child deserves the least restrictive environment and my child was "cured" of autism based on a questionnaire. She asked the Board to stop cutting the most vulnerable because it's easy.
Sherry Dabney-Parker who attended CPS and whose children did, too, said she was a 32-year para-professional. She mentioned that CPS doubled up students and took out the aide leaving the students and the teachers to pay the price. She said that paras are the backbone of the school and go beyond the call of duty.
Carlos Carrillo, a parent at Washington Elementry and a laid-off teacher, said the property tax went up at the same time that he is getting less. He asked the Board members, "Are you happy up there?Are you content with being an appointed School Board Member? Others have gone down in corruption scandals. Are you happy working for Rahm? Are you happy giving tax dollars to banks for debt payments? You are supporting this. Leave the Board. We deserve a better city than this. Sue the banks for toxic swaps."
Rosita Chatonda, a founder of CAUSE, mentioned that Earl Kelly Prince, formerly with the CTU, had passd away. She went on to say thaI she has been writing about the plight of Black teachers. She said that every cut has impacted the African-American community.
Last to speak was Xian Franzinger Barrett who told the Board that this was the third time his program was destroyed. He said that there was no enrollment decline at his school and yet he was laid off at 7:20 p.m. a few weeks ago. He mentioned that he has applied for 30 positions, but that principals don't want to hire experienced and senior teachers. He asked that all police be removed from schools and asked for the Board to respond.
When Board comments were called for, the only Board comment came from Roland Denard, Chief Financial Officer (CFO), who talked about the TIF surplus.
After this, Board Member Dr. Hines was asked to read the motion for the Board to go into closed session.