AFT 2016... Why I will vote for Hillary Clinton in November... Before we go on, let's make sure everyone knows where Sharon and I stand... and how history will not repeat itself in 2016 running a partial script from 1968...
George N. Schmidt - July 23, 2016
Hillary Clinton speaking to the 2016 convention of the American Federation of Teachers, while AFT president Randi Weingarten looks on. Substance photo by Sharon Schmidt.As I write this, two days after Sharon Schmidt and I returned home to Chicago following the 2016 American Federation of Teachers (AFT) convention in Minneapolis, we have all experienced the witlessness of the Republican National Convention and the almost completely mendacious versions of reality presented by the Trump family, culminating with Donald Trump's speech on Thursday night. As I'll be reporting elsewhere, the model for Trump's push for power may in part be Richard M. Nixon's 1968 "Law and Order" campaign, but the underlying model is actually the "Make Germany Great Again" election campaign of Adolf Hitler. (That story will be a series here, since we need to discuss all that history again, and make some things, as Nixon would say, "perfectly clear")...
But today I want to utilize our few photographs from the AFT convention (Sharon and I were both delegates, part of the 150-person delegation representing the Chicago Teachers Union) to make clear why I am supporting Hillary Clinton in the 2016 election and how this year is giving me flashbacks to a big mistake that I (and millions of other then-young people) made in 1968.
If you were among those of us protesting at the Democratic National Convention in 1968, as I was every night (except the time I spent in jail), you remember just how nasty it was. The Chicago police were beating demonstrators viciously. (Since virtually all of the demonstrators were white, and since most of the leading black activists in Chicago had left town because the police threatened to kill them, things were as nasty as possible). As one of the chants went: "The whole world is watching."
But as I noticed then and have noted ever since, the whole world was not there in front of the Conrad Hilton Hotel with the rather small number of people with us. In fact, even demonstrators who had come to Chicago to protest were so cowed by that point that you could find as many of them hiding out in Hyde Park in "movement centers" near the University of Chicago as you could find downtown in Grant Park and on Michigan Ave. Later, those people would say, accurately, that they had been with us in Chicago, leaving others to assume, untruthfully, that they had been on Michigan Ave. with us.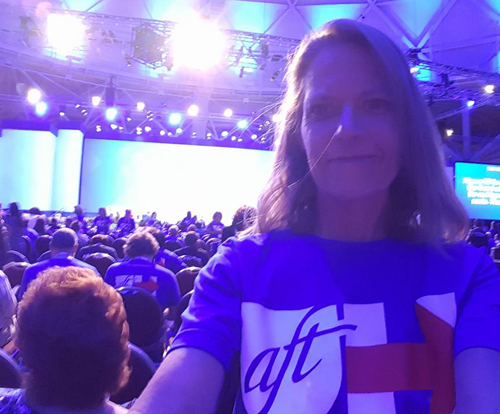 Before going into the AFT convention on the afternoon of the HIllary Clinton speech, Sharon and George Schmidt decided to wear the AFT for Hillary tee shirts the union had provided all delegates. Substance photo by George N. Schmidt.That famous night we sung along with Peter Paul and Mary (the one I remember best was not "Blowing in the Wind" but "The Times They Are a 'Changin') and "reviewed the troops" with Quentin Young and those brave people from the Medical Committee for Human Rights, you probably could have counted all of us in an hour. There were not many of us on Michigan Ave. that night, and it wasn't because so many people had been injured during the earlier police attacks. Many of those who had come to protest were afraid, and that was understandable.
The context needs to be shared, especially now. I walked late that night with Quentin Young as he did his "review" of the soldiers, all of whom were holding rifles with fixed bayonets. As the soldiers said when Quentin asked them "Why are you here?"
"We're here to protect you from them..." more than one said to us, gesturing towards the Chicago police who were by then arrayed behind the line of soldiers across Michigan Ave. from the Hilton.
And so, in all that confusion, many of us were chanting "Dump the Hump" as well as "Hey. Hey, LBJ. How many kids did you kill today?"
And so those of us who were rightfully enraged over what had taken place on the streets of Chicago became a bit too righteously angered at the choices we faced in the 1968 election (the first time I was old enough to vote). I don't know how the men (and one woman) in my "affinity group" voted a couple of months after the Democratic Convention, but I know how I did. I voted "Peace and Freedom Party" and thus for Richard M. Nixon. Simplistically (and a bit childishly), we actually took the position that there was no "fundamental" difference between the two major party candidates -- Nixon and Humphrey.
And in doing so, we worked on one of the most important voter suppression movements of the 20th Century and helped elect one of the most reactionary national figures of the 20th Century. Nixon had gotten himself elected to Congress in a nasty re-baiting campaign in California, the most reactionary wing of the Republican Party had forced Nixon on Dwight Eisenhower in 1952 (the "Checkers Speech" was part of Nixon's amazing ability to combine such stuff) and then re-elected that "team" in 1956. But in those days I was a kid growing up on the working class streets of Linden New Jersey. ("in the shadow of the refinery..." which was five blocks from our home in Linden...). We were trying to figure out a lot, but it wasn't easy.
Voter suppression in 1968?
Oh, yes. Especially in Black Chicago. In fact, Nixon invited Jeff Fort, then head of the Black P. Stone Nation, to his inauguration. Fort and his colleagues had gone around their part of Chicago warning their "community" "Don't vote -- they're all the same." Then, as now, Republicans knew that Black people in Chicago were likely to vote for a Democrat. Hence, anyone who stopped Black people from voting was doing voter suppression. And Nixon knew how to say "Thank You."
In 1968, in addition to being the "Law and Order" candidate, Nixon was the "peace candidate" -- and Hubert Humphrey was the "war" candidate. After all, HHH had served as Lyndon Johnson's Vice President following their election in 1964. And Humphrey had not, we reminded people, spoken out against the Vietnam War.
"Dump the Hump!" chanted across the USA in 1968 was one of the many reasons why Richard Nixon, with his "secret plan" to end the War in Vietnam, became President of the United States. This was long before Watergate, but anyone who was paying attention knew that there was a big difference between the New Deal senator from Minnesota who became Vice President under LBJ and the vicious right wing former Congressman from California who had served two terms as Vice President during all those secret wars and reactionary policies pushed by the Eisenhower administration from 1952 through 1960.
I don't know if "Dump the Hump" made the difference, but it was a mistake, just as some of the other stuff done in the name of the "movement" in those days was.
And so, in Minnesota, preparing to hear from two of the most progressive senators in the country, we were wearing Hillary AFT tee shirts, and I was preparing, if necessary, to explain how I did not intend to make "that mistake" twice. Of course we are dealing with a "less evil" question, again. And over the next three months, we'll have lots of time to discuss it. But now that Hillary Clinton is our candidate, with all her flaws, I'll teach those I reach that there is a difference, as big a difference in 2016 as there was almost a half century ago, in 1968.