Social Justice Unionism vs. Contract Unionism... again... How badly is this false dichotomy weakening the Chicago Teachers Union in the current financial and contract fights?...
Kim Scipes - July 08, 2016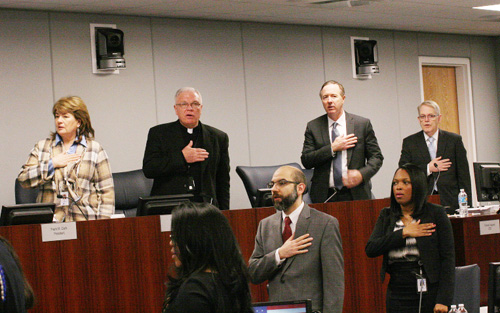 The latest "Chief Executive Officer" of Chicago's public schools, Forrest Claypool (above, second from right) pledges at the beginning of the Board of Education's March 2016 meeting. Claypool has dedicated his political career -- at the Chicago Transit Authority, at the Chicago Park District, at City Hall, and now at Chicago Public Schools -- to massive privatization and union busting. Substance photo by David Vance.A few months ago, I wrote a piece that was published in Substance, arguing that the distinction between "social justice unionism" and "contract unionism" was a false dichotomy (www.substnacenews.net/articles.php?page=5911§ion=Article), and putting it in dichotomous terms was debilitating. I want to again address this issue, as I'm concerned about what I'm hearing when I talk with teachers at a number of CPS schools.
[Although I have been writing for Substance for almost three years, I am not a CPS teacher. About 20 years ago, I taught high school for a couple of years in an inner-city district in the Richmond, CA area, but I have been teaching sociology at the newly named Purdue University Northwest in Westville, IN since 2004: I specialize in labor, in the US and globally, and have been actively engaged in building global labor solidarity for over 30 years. I have been a member of the NEA and AFT, and am currently a member of the National Writers Union, UAW #1981. If interested, my web page is at http://faculty.pnc.edu/kscipes.]
One of the exciting things about the CTU since CORE took over is its increasing identification as a social justice union. In other words, a considerable number of members recognize a form of trade unionism that is broader than just obtaining higher wages and better working conditions. In my opinion, unions need to address issues in the community and the larger society beyond those just at the workplace. And this seems especially important for teacher unions, which need to stand up for their students.
My concern, however, is that in projecting CORE's vision outward, social justice advocates are ignoring the basics: member power at the point of production; in this case, at the individual schools. In other words, CORE's base — and that of the CTU — is in the individual schools.
Key to building/maintaining that base is mobilizing members in each school, both teachers and PSRPs. It also involves protecting and involving substitute teachers. And this needs to happen on a day-to-day basis.
In other words, CTU members need to work to make each school a good place to work, where union members are respected, and where an atmosphere of educational professionalism is predominant, so that students are encouraged to excel and be excited about learning. (After all, isn't that why most of us got involved in teaching in the first place…?)
Now, unfortunately, there seems to be many — if not most — CPS schools where these conditions do not exist. There are some good administrators, but conditions in Chicago are not optimum, to say the least. Many good administrators have left, leaving many of the jerks, and the misleadership from the top (first and foremost, Mayor 1%1 and his minion, Forrest Claypool, and the rest of the Board of Education) has left many debilitating situations. And this misleadership has made things worse by creating the Networks and staffing them with many—shall we say "underserving"?—bureaucrats that only seem to make things worse.
To be honest, I'm glad I don't work in this clusterf*ck known at CPS.
For those who do work in CPS, the union's job is to make things better for its' members. And although there are certain people who lead and/or staff the union who can be legitimately critiqued for some of the things that they do or don't do, it seems like most of the union leaders try to do their best. There is no question that teachers are better off being in a union like CTU, and they are better off with CORE leadership than much of that which has preceded it.
However, even the best, most well-intentioned and hard-working staffers cannot solve all the problems in all of the schools: if for no other reason, there are not enough hours in the day, much less the century. Yet, there is another problem: even if the staffers can solve members' problems, is it good for the union?
A good union, a strong union, depends on the ACTIVE participation of its members. Now, obviously, that includes paying dues, voting in union elections, going on strike when necessary, honoring picket lines, helping out whenever they can, etc. I argue, however, this is not enough: union members need to be actively involved in improving the conditions in their schools for all members.
That means, ultimately, that each union delegate must be actively seeking to mobilize each and every union member in their school to join in the struggle for improve the conditions for all members. If each delegate is not doing this, then the union has failed leadership in the one place that makes most difference to most teachers' working lives: the individual school.
Does CTU have in place delegates in each school that can and are doing this? And if not, what is CTU doing to address this situation?
Now, I understand that being a good delegate is a demanding task—but it is absolutely central to the well-being of the union. If you can't improve conditions at work for all of the teachers, then why should they care about the well-being of the union…?
I'm arguing that CTU needs to make sure that they have good delegates in each school—and I emphasize the term "good"; a placeholder is not enough.
Now, there are two ways that a delegate can operate once in position. She or he can try to be "superdelegate," and solve all of the members' problems. They can be a hero to all. And then they can burn out, because no one can do a good job teaching and being a superdelegate for long.
The other way a delegate can operate once in position is by being a "facilitator," by trying to mobilize members to get involved. This way, teachers and PSRPs can come together, decide what needs to be done to improve conditions at their particular school, design a strategy to make it work, and then work to implement it. It also means, however, protecting each other should the administration come after any union member. And that means there must be more than verbal solidarity at each school.
What do I mean by more than "verbal solidarity"? Ultimately, it means CONSOLIDATING your membership in each school: just being a formal union member is not enough—the union needs every member to become actively involved.
We oftentimes forget or ignore the role of personal connections in building organization, whether in the individual school or the union overall. This is something that CANNOT and SHOULD NOT be overlooked in building the union in each school.
What I am arguing for here is that the delegate in each school should actively be engaged in building a collective identity among union members in each school—that of an active CTU member. This means consciously creating personal relationships among all of the members, going beyond those few chosen relationships that develop among some members, usually developed by themselves. This takes work—but it is key to building a strong union in each school. And there are no shortcuts.
How would this work in practice? Assuming you are a good delegate that wants to build the union in your school, you need to identify those members in your school that actively support the union. You want to make sure you are not limiting this to just faculty members or just PSRPs, but you want to look at each different department in the school and try to get activists across the staff involved in building the union. This may be one or it may be all, but it probably will only be a small group, especially in the beginning. And that's ok; that's something to build off of.
First step is to get these active members together. Now, obviously, once together, you can talk about the good things in your school, and the things that aren't so good. Most any organizer would tell you this is the place to start. I want to take this "deeper": it's not enough only to share what you like/don't like about your situation. I think people need to learn about each other: hopefully, something about their lives, but there should always be an effort to learn about why each person came to be a teacher/PSRP: why did you enter this profession? What were your aspirations? What are your hopes and dreams now that you are working in this school? If you were queen or king of the universe at your school, what would you do better to make this a better place to work and to educate your students?
This process, of building personal relationships among members is key to building a collective identity. It allows you to go beyond just a "surface" relationship, to begin really to get to know each other. And that's important: to know one another makes it much more likely that you will stick together during problems or times of strife. Because then, it's no longer LaQuisha or James or Maria or whoever as an individual, but it's my friend and union brother/sister. And that's key to building solidarity.
Now, there are three other steps to building a collective identity. You have to commit emotionally to the new group. Now, hopefully, each of the activists will commit to the union—and to the union organization in each particular school—as long as they are employed there. This takes it out of a rational, "yeah, I'll stay involved as long as it's good for me," but it tries to get people to commit to the union "through thick or thin."
And that means that you are also committing to defend each person who makes that commitment should they get mistreated, targeted as a union activist, etc. It means making real the old union saying, "An injury to one is an injury to all."
But it also requires developing an internal process—an "inside the group" decision-making process—that allows the activist group to make decisions in cases where decisions must be made, and yet you want to make decisions efficiently. You have two concerns here: (1) you want to build as much consensus as possible, so each person is comfortable with the outcome, but (2) you don't want to take all night to come to a decision. A veteran's group that I was part of in San Francisco years ago—I served in the US Marine Corps from 1969-73—developed what seems to be an excellent approach: divide decisions into two categories: those requiring a "yes/no" type of answer about some action needing to be taken/not taken, and those that could have a major impact on the organization. And then, set different decision-making processes for each. So, for an "action item," we always sought consensus, but voted if we couldn't get it, and a majority of those present ruled. For those more serious issues, we required a "super-majority" requirement, whereas we needed two-thirds affirmative (and it could be 60%, 80% whatever, but not 100%) to implement a decision. In other words, high enough requirement so that thorough discussion was required, without immobilizing the organization (or taking all night!).
Now, once a core group is in place, this should also involve a commitment to develop leadership in that school. Obviously, that means learning the contract and how to enforce it. But it also means seeking more staff members in that school to join the core group. Those in the core group should use their personal relationships to recruit others to become part of the activist core. In other words, use your people to "map out" the other staff in their departments, to see who is close to whom, etc., and then think out how best to get that "targeted" person involved.
As more and more people get involved, then you need to recreate the collective identity with the new people being integrated into the core. That means learning about each of them, while sharing who you are, etc. Now, newer people may not want to commit emotionally to the group, at least at first, so you might seek their commitment for the first period of time—say a semester, or a school year. During that time, you need to develop their leadership skills, involve them into the group's activities, etc. Your goal should be to get each person involved, trained, and get them to commit to the group as long as they are at the school.
And by the way, the training should be such that even if they don't stay at your school, that they'll take this determination to build the union to any school they move to—or for that matter, any community organization they join, etc.—and to develop additional leadership there.
Developing leadership is so very crucial: if everyone carries a part of the load, so no one has to carry it all—you can build a sustainable organization instead of having those active burn out and leave the school leaderless.
At some point, members are going to have to take some "collective action" to further build support among members and solidarity. This can involve things like everyone wearing red (union t-shirts) on particular days. This can involve sending a delegation to express positions to the LSC. Etc. But it can also be used to defend members should they be unjustly penalized by the administration.
Filling a principal's office with union members who are not willing to accept victimization—in one way or the other—is a powerful tactic. Once when I was teaching at El Cerrito High School in that city in California during the early 1990s, we had a problem: a school "screw-up" had completed his requirements for graduation, but he had been a terrible problem for his teachers for all the years he was there. He had also bullied students and generally been a pain in the ass. While we couldn't affect his actual graduation—and we shouldn't have been able to—we still did not want to "honor" him. Teachers got together and decided we didn't want him to be able to walk across the stage, to publicly receive his diploma. A bunch of us teachers jammed our principal's office, and told her that if he walked, we would boycott graduation. Needless to say, she didn't want that—and this student later received his diploma privately in the principal's office. Talk about building solidarity!
Think about standing behind a teacher who had been victimized: instead of the teacher facing discipline alone, or even with a union rep, what would happen if 20-30 teachers went in with her….?
The larger point I'm trying to make is the need for the CTU to build a strong, active membership in each school, so as to help insure the good education of each student, and to protect staff from unjust punishment, administrator incompetence, etc. Doing this will improve each member's work life, and will further enhance support for and strength of the union. It is crucial to the well-being of the union.
Yet, this—building organization in each school—does not seem to be a priority for particularly those who want to enhance social justice. In fact, one rarely hears this discussed at all. Yet I argue it is the very basis for getting the union to fight for greater social justice: being able to make a real difference in the lives of members in the workplace is essential for building the strength and the ability of the union to fight for social justice for all.
I hope that these issues will be faced within CORE, and ultimately the union. The purpose of a union is to give workers' power at their workplace. From there, a strong and progressive union will expand its concerns into the community and fight for social justice. But it also recognizes that if this quest for social justice is not based on strong membership participation in the workplace, it is ultimately building on a foundation of sand—and that's not the foundation I want my house to be built upon.
---
Kim Scipes is the editor of a new book (April 2016), Building Global Labor Solidarity in a Time of Accelerating Globalization, which is available from Haymarket Books.