Dixie Chicks are back and still not ready to make nice while 'taking the long way...'... Remembering the hypocrisy of the Republicans and their minions from 2003 through today...
George N. Schmidt - June 16, 2016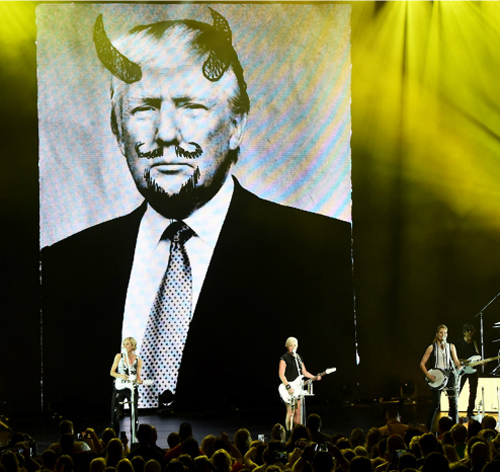 In 2016, the Dixie Chicks are back, and reminding their fans that the Republican Party has gone from one nasty form of reactionary to a new depth -- but that little has changed since the Chicks were blacklisted by corporate American following their critique of George W. Bush's wars. The above photo is from one of their 2016 concerts...For my own sons, and hopefully for many others, it's now a "teachable moment." Go back to 2003, when reactionaries were more powerful, and now update to 2016, using country music as part of the lesson plan. The Dixie Chicks are back, and there is a story here that goes way beyond the music and into the heart of American politics and American reactionary lore.
You had to be taking a vacation in the Florida Panhandle and a country music fan back in the early days of the "war(s) on terror..." to fully appreciate the viciousness, then and now, of the Republicans and their minions. While some might look back fondly on the regimes of George H.W. Bush and George W. Bush, that's only possible if you volunteer for the amnesia operation.
During the summer of 2003, we got an overdose of Republican viciousness while on vacation at Cape San Blas, Port St. Joe and Mexico Beach Florida (all of which are so far west that they are in the Central time zone and are really southern Alabama). Among the most popular groups in country music back then (and beginning to make the "crossover") were the "Dixie Chicks." Then Natalie Maines drew the viciousness of the Republican establishment by making a vocal public criticism of George W. Bush's invasion of Iraq.
At the time, Natalie Maines was the lead singer of the hugely popular "country" singing group "The Dixie Chicks." In England at a concert, she made a comment against George W. Bush and the invasion of Iraq. Within a week, Clear Channel Communications and all the other outlets of right wing propaganda in the USA went after the once very very popular singing group. The singers received death threats and their music was blacklisted in most country venues. The grossness of the attacks on the women has been documented in a film, and is worth remembering in 2016, as a reminder of how things were manipulated by the Bush family and those dynasties in 2003.
We were in Cape San Blas and Mexico Beach, Florida, in the "Panhandle" at the time of the anti- Dixie Chicks explosion. That's when the local Panama City (Clear Channel) radio station went nuts against the Chicks for Maines's comments about George W. Bush's war.
"Crystal the Pistol", a local Panama City DJ, announced that the station was going to hire a steam roller to crush Dixie Chicks CDs (the main way music was available back then). They got enormous publicity for the event. The Chicks were blacklisted in lots of places, received death threats thanks to the manipulation of the media -- and relaxed for a time. Meanwhile, day after day the attacks on the once famous group and its three members escalated, in some of the most misogynistic ways anyone could imagine. To play any of the famous Dixie Chicks songs -- especially "Traveling Soldier" -- was almost a political act, especially in place where the country music dictators reigned.
But the Dixie Chicks didn't take the abuse lying down. The women who had created the famous feminist manifesto "Goodbye Earl" roared back with "Taking the Long Way." And now, in 2016, they are now back even better. While the Bush family had masks behind which it could hide its misogyny, Donald Trump is now the face of Republican Party reaction. And he and his supporters are surpassing anything George W. Bush and his minions could have imagined. But it's important to remember history, and in this case how those who dictate popular culture can try to dictate political culture as well.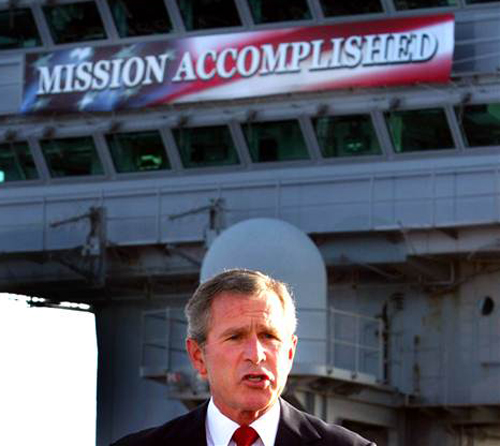 Those who are not taught history are doomed... and not just to repeat it. Above, then President George W. Bush on an aircraft carrier announcing that the invasion of Iraq had been a success -- thirteen years ago! Bush's allies in corporate America engineered a vicious attack on the "Dixie Chicks" for their critique of Bush then, but in 2016 the Chicks are back and the bankruptcy of the Republican Party is more clear to the world than ever...Specifically what got the Dixie Chicks into trouble in 2003 was a comment Natalie Maines made before singing "Traveling Soldier" in England.
Now things are almost more fun, as the Chicks feature Donald Trump, instead of George W. Bush, as they continue their work, and some reports say that the attacks have resumed, now through Facebook. But it's over for the Republicans, and the current reality gives us the opportunity to teach our children a bit about how history works in the USA and how reality can be distorted. When Crystal the Pistol was following the party line from Clear Channel Communications on behalf of George W. Bush in 2003, it looked to some like the attacks on the Chicks were spontaneous. Hardly. The main difference between the reactionaries who ran the Republican Party then (with the Bush family in control) and now is that back then the friends of Bush could do their dirty work by remote control, via buddies who owned outfits like Clear Channel. That was 2003.
In 2016, the Bush dynasty has crumbled, and the reactionaries have to come out in front. And so with some delight the Dixie Chicks are still making it clear where they stand on reactionaries, but there are fewer Clear Channel channels to orchestrate the nonsense and facilitate the blacklists.
CHICAGO TRIBUNE REPORT, FROM THE NEWS YORK TIMES, ON THE CHICKS IN 2016 IS FAR CRY FROM 2003...
Long past making nice... Through with doubt, the Dixie Chicks are back together again
By Alan Light, New York Times News Service
CINCINNATI — In 2011, Martie Maguire of the Dixie Chicks took her twin daughters to a Taylor Swift concert, and it churned up some melancholy.
The Chicks, whose bluegrass roots and rock 'n' roll spirit broke down country music barriers and made them the best-selling female band of all time in the United States, were in the middle of a lengthy hiatus. The trio had not been heard from since scaling back a 2006 tour that suffered from continuing reverberations from "the incident": a remark that singer Natalie Maines had made about President George W. Bush a few years earlier.
"I was feeling like maybe our time had passed, and this was Taylor's time," Maguire said. Then Swift covered the Chicks' 1999 hit "Cowboy Take Me Away," much to her daughters' astonishment, and the crowd sang along. Loudly.
Maguire said the moment was "surreal" and "super emotional." Apparently, the world had not forgotten about the Dixie Chicks, whose four studio albums sold more than 30 million copies. Now, the band — Maines, Maguire and Emily Strayer — is finding out how much of its fan base is still out there. When the group members realized that 2015 would be their 20th anniversary together, they started thinking about how to mark the occasion; this month, they set out on their first headlining tour in the United States in 10 years. During the band's break, Maguire and Strayer released two albums under the name Court Yard Hounds, and Maines put out a solo record, but they say that, for now, new Dixie Chicks music is "not on the agenda." Strayer (who was known as Emily Robison during the band's glory years and who remarried in 2013) said that she and Maguire write regularly, "just to keep the muscle moving." Maines added, "My muscle for songwriting is like a 600-pound man right now — way flabby, not exercised at all."
But live, the trio sounds like it has never been away. "I just wait for it to feel right, and it felt right," said Maines, 41, on the night before the "DCX MMXVI Tour" kicked off. The Chicks gathered in a backstage lounge at the Riverbend Music Center, an outdoor amphitheater on the banks of the Ohio River here, and happily talked over one another, making their decision to return to the spotlight sound casual and carefree.
If the Riverbend audience is representative, the Chicks' fans are primed for this comeback. The sold-out show cleared more than 20,000 tickets, one of their biggest crowds ever. Forty-something fans filled the more expensive seats under the roof, while packs of raucous college-age women in tank tops, jean shorts and boots packed the lawn area.
The rise and fall of the Dixie Chicks, with its extreme highs and lows, seems practically scripted for maximum drama. Strayer, 43, who plays banjo and guitar, and Maguire, 46, a fiddle player, are sisters (born Emily and Martha Erwin), who were among the co-founders of the band. It took its name from Little Feat's hit "Dixie Chicken," in Dallas in the late 1980s. After a few independent releases and lineup changes, Maines stepped in as lead singer in 1995.
The group seemed to come out of nowhere when its 1997 album, "Wide Open Spaces," spun off three No. 1 singles on the country charts and was certified 12 times platinum. Its 1999 follow-up, "Fly," slightly modernized the band's sound and style and sold 10 million copies.
As they racked up honors, including multiple Grammy Awards (13 to date), the Dixie Chicks were helping transform the playing field in Nashville and empowering a generation of female musicians.
"When we saw these women writing witty, intelligent music; playing instruments; and basically doing it all, it inspired us to do the same," wrote Madison Marlow, of the country duo Maddie & Tae, in an email.
Her partner, Taylor Dye (who, like Marlow, was all of 2 when "Wide Open Spaces" was released), added, "The Dixie Chicks encouraged us all to unapologetically be who we are."
Then, in 2001, the Chicks sued their label, Sony Music, for unpaid royalties; they settled out of court, but it delayed the release of the 2002 acoustic-based "Home." Although the record's sound was less conventionally commercial, it sold 6 million copies.
But in March 2003, in the days leading up to the invasion of Iraq, Maines introduced the song "Travelin' Soldier" at a London concert. "Just so you know, we're on the good side with y'all," she said. "We do not want this war, this violence, and we're ashamed that the president of the United States is from Texas."
A firestorm erupted back home. Country radio stations banned the group's music; protesters smashed and burned the band's CDs; Maines received death threats. The Chicks appeared nude on the cover of Entertainment Weekly magazine, with some of the slurs directed at them — "Saddam's Angels," "Dixie Sluts" — painted on their bodies. (The events were chronicled in the 2006 documentary "Shut Up & Sing.")
Although "the incident" has come to largely define the public legacy of the Dixie Chicks, often overwhelming their musical contributions, the band members now seem to shrug it off. They laugh when Maguire recounts recently visiting a friend, who instructed her not to go into the bathroom because she might be offended by something on the wall — a picture of the family with Bush.
"I'm really proud of what went down," Maines said. "I spoke up for what I believe — that's what art is about and what musicians should be about. And if I'd known anybody was listening, I would have said something to really make a mark."
Maines has remained active in various social causes. She has been a supporter of the West Memphis Three, a group of Arkansas men convicted of the 1993 murder of three young boys. And on the current tour, she is raising funds for Proclaim Justice, an organization that advocates for the wrongfully imprisoned. Maines expressed reluctance, though, about getting involved in the current presidential election.
"I hate politics," she said. "It's become an industry. It sickens me."
During the concert, the Chicks' performance of "Ready to Run" was accompanied by video screens with goofy animated images of all the candidates, crosscut with shots of clowns and hot dogs. But one moment in the show received particular attention in the news media: While they sang their 2000 hit "Goodbye Earl," a tale of a woman and her best friend killing an abusive husband, a montage of criminals and shady-looking characters through history flashed to a quick shot of Donald Trump, with devil horns, a mustache and a goatee scribbled on. In a sign of changing times, it drew cheers.
"He's great entertainment for a reality show," Maines said. "He's scary as hell for president of the United States." (Social media response was predictable, with the Dixie Chicks' Facebook page instantly filling up with comments like "You idiots should keep your politics to yourselves and stick to playing music.")
One thing that never recovered was the Dixie Chicks' relationship with Nashville. Their last album, the 2006 LP "Taking the Long Way," took a more pop-oriented direction on its way to winning five Grammy Awards. The band members claim to pay no attention to country music today; Strayer even needed to describe to the other two last year's "Tomato-gate" controversy, when an influential radio consultant insisted that country stations needed to limit how much music they play by female artists.
The 24-song set at Riverbend illustrated some of the music that is closer to the band's heart these days, including covers of a song by Lana Del Rey and by the group favorite Beyoncé: a hoedown version of "Daddy Lessons," which became a viral hit when they first performed it, just a week after the release of "Lemonade."
Maguire expressed the closest thing to regret about taking a decade away from the group. "I don't love that we didn't do anything for 10 years," she said. "But I'm really proud that we focused so intently on our children."
THE GUARDIAN ASKED WHEN THE 2015 - 2016 TOUR BEGIN, AND NOW THE ANSWER IS CLEAR...
Is country music ready to forgive the Dixie Chicks? from the Guardian, Thursday 19 November 2015, Last modified on Thursday 19 November 2015
In 2003, the Dixie Chicks denounced George W Bush on stage in London and the country establishment turned against them. Now they're touring the US for the first time since 2006 – in an even more politically divided environment
The Dixie Chicks at the Grammys in 2007; while they won an award, their core audience had turned against them. The Dixie Chicks at the Grammys in 2007; while they won an award, their core audience had turned against them.
After a nearly decade-long hiatus, the Dixie Chicks are finally ready to tour the US once again. On Monday, the country supergroup announced an American leg of their upcoming jaunt, which will kick off next year in Europe and arrive in Cincinnati, Ohio, on 1 June for a run of more than 40 dates in North America.
The Dixie Chicks – Emily Robison, Martie Maguire, and lead singer Natalie Maines – have performed sporadically at various events over the past few years, but this tour marks their first string of headlining shows in the US since 2006, when they hit the road in support of their album Taking the Long Way, a collection recorded in the wake of Maines's comments about George W Bush and the Iraq war, which put the women at the center of a massive political firestorm.
Oh, you don't remember? Well, in case you blocked the whole controversy from your mind (and who could blame you?), here's a refresher. While performing in London in March 2003, just nine days before the US invasion of Iraq, Maines told the crowd: "Just so you know, we're on the good side with y'all. We do not want this war, this violence, and we're ashamed that the president of the United States is from Texas."
Almost immediately, Maines's statement proved explosive in the country music world, which has traditionally presented – and continues to present – a proudly patriotic front. In fact, tributes to American soldiers have become so commonplace in country music over the past 20 years that, these days, it almost sounds normal for Cole Swindell to randomly proclaim, "I'm raisin' my glass to those savin' our ass overseas!" in the middle of a derivative breakup song.
At the time of Maines's quote, though, not even two years after the 9/11 attacks, country music was particularly steeped in earnestly patriotic drum-banging. Toby Keith's Courtesy of the Red, White and Blue, on which he promised, "You'll be sorry that you messed with the US of A/ 'Cause we'll put a boot in your ass – it's the American way," became his career-defining hit in 2002.
And in 2003, just weeks after Maines's comment, Daryl Worley's Have You Forgotten?, which urged listeners to remember the shock that they first felt about the terrorist acts, stayed on top of Billboard's Hot Country Songs chart for seven weeks. This was, of course, before doubt had set in about America's presence in the Middle East, and Maines was seen as downright traitorous by many country fans for not voicing support for Bush and his war on terror.
The response from the country music establishment was swift: in one week, the Dixie Chicks' single Landslide plummeted from 10 to 43 on the Hot 100, falling off the chart after that. A throng of ex-fans met in a parking lot and crushed their old Dixie Chicks CDs with a bulldozer. The band immediately lost their promotional deal with Lipton. DJs on many country stations were prohibited from playing their music at all, and two Colorado DJs were suspended for doing so. Despite the group's attempts to alleviate the fallout with a PR campaign, the damage had already been done. The Dixie Chicks, the single bestselling female group of all time, had been blackballed by country music overnight.
In 2006, the Dixie Chicks released a pop-rock album called Taking the Long Way, which featured the unapologetic single Not Ready to Make Nice. The album won them critical acclaim and a Grammy in 2007, but its sales paled in comparison to their previous efforts, and country radio wouldn't touch it with a 10-foot pole. And after the release of their documentary, Shut Up and Sing, the Dixie Chicks weren't ready to make much of anything for a while. Maguire and Robison released two albums as a duo called Court Yard Hounds, but Maines, always the spark plug of the trio, kept a lower profile. It's hard to blame her.
But now the Dixie Chicks are making their comeback in what is arguably an even more politically divisive time than a decade ago. The conservative/liberal divide remains vitriolic and unhelpful as the US continues to debate its role in the Middle East – a question that's returned to the forefront of people's minds in the wake of the Paris terrorist attacks. Add on the fact that we're entering an election year already marked by absurd overstatements from both parties, and it seems that the Dixie Chicks could be headed for a second round of political criticism. I can only assume Donald Trump and Hillary Clinton will both have something to say about them soon.
It's not clear whether the trio will release new music ahead of their tour, and for now, the Dixie Chicks aren't making a peep about their plans. (Two of them did sign a new publishing deal last December, though.) If they do decide to release new material, it will be very interesting to see whether they will attempt to return to country music, and, if so, whether country radio will be willing to play them. We can only hope that both things happen. It would be a huge deal, not just for country music's reputation as a "community" that's able to accept political differences – even though (shocker!) Nashville is, privately at least, a pretty liberal town – but also for the state of thriving female talent in the genre.
The Dixie Chicks' swift removal from country radio in 2003 is one of the key reasons that country music has developed such a woman problem over the past 15 years. At the time of the Dixie Chicks' album Fly in 1999, female-led songs made up 38% of the annual top 100 country songs. But since their ousting from the airwaves, that number has dwindled at an alarming rate. Last year, the percentage of songs led by a female vocalist on that list had sunk to just 18% – and one programmer ruffled feathers earlier this year when he suggested that radio stations could garner higher ratings if they'd further reduce women's airplay.
All of this has not gone unnoticed. In the past few years, radio conglomerates and programmers have continually claimed that they're committed to developing and supporting female talent – never missing a chance to pat themselves on the back for doing so. Most of this talk has been hot air, and critical darlings like Kacey Musgraves and Ashley Monroe still aren't getting played on radio despite good album sales. But lately, a few women do seem to be making an impact, providing a glimmer of hope for aspiring female artists wanting to make it big in the mainstream. In the past year alone, Kelsea Ballerini, Maddie & Tae, Jana Kramer, and Cam have all had breakthrough moments with viable radio hits, and although Kramer and Ballerini tread in much poppier territory than the Dixie Chicks ever did, Cam and Maddie & Tae actually hark back to the fiddle-driven sound and lyrical sass that made the Chicks famous. From a sheer numbers standpoint, the fact that these talented women are actually getting played at all is a small but significant step in the right direction.
This bit of progress is encouraging, no doubt, but what would be even more encouraging and more galvanizing for country music's quest to showcase great female talent would be a full re-embracing of the Dixie Chicks. Whether that means allowing them to perform at the Academy of Country Music awards, reincorporating their old catalogue back on to country radio, or (fingers crossed) even playing their new material on the same stations, the powers that be in country music (including its listeners) need to admit that they overreacted, and welcome back one of the genre's biggest acts with open arms.
The Dixie Chicks play their own instruments, write their own songs, and, before they were backed into a corner and forced to endlessly defend themselves for a single political comment made 12 years ago, they were viewed as beloved storytellers who stirred up feelings of wide-eyed romance, humorous revenge, and big-dreaming adventure. If country music doesn't want those traits and doesn't want pitch-perfect songs like Wide Open Spaces and Cowboy Take Me Away on its stations – and if it really can't handle a little political commentary from grown women – then that's the genre's loss, and sane country fans' loss, too...